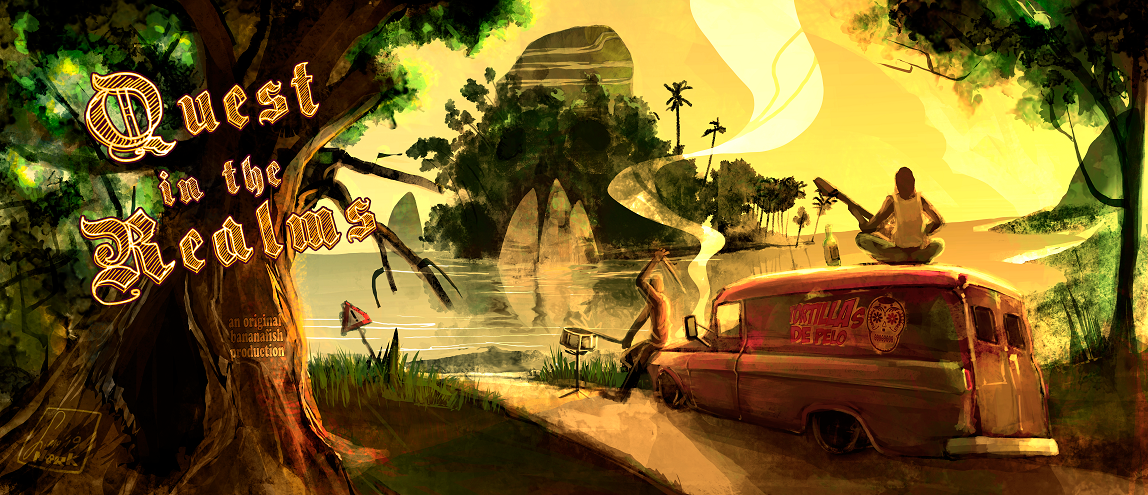 Look who's there, a wandering adventurer looking for the Bananafish treasure! This episode is part of the interactive story/treasure hunt called "Quest In The Realms". If you landed on this page because you're trying to solve the mystery, don't hesitate and keep delving in the story. If you came here through random loitering, what are you waiting for!?

1
Backstage, a thumping ba-dOnk-a-dOnk rhythm is filling the air along with the smokescreen produced by your cigarette.
"Uoooohh... Ostrich's egg! Ostrich eggs! You're just a chicken but I see ostrich eggs!"
Sitting on a broken Marshall amp, you cannot help but smile listening to the shouts of the Nihilist Hamsters, your new support act.
"They kick ass, Mendoza, huh? I like this chicken thing. I find it very anatomical and deep at the same time." Tres Culos tells you, waving the bass between his legs.
You glance at his face. It's tense from the adrenaline and some other unspecified drugs. It looks like the skin of a drum, punctured by a dozen syringes overflowing with botox. His lusty piggy eyes point at you like joyful pins, with a lovely expression somewhere between the zany and the obsessive-compulsive.
"If you mean that the Hamsters are willingly using an allegory, then I would start worrying," you answer Tres before noticing that he has already left you to go and stir up the crowd and steal the show from the opener.
You hope it takes a while before the Nihilist Hamsters will understand their only function: that of stopgap when Machete is too collapsed to play.
When did it happen? you ask yourself while, under your buttocks, the old amp resounds to the musical assault. When did this crowd transform into a benign and - most of all - paying entity? A creature that, in a fragile truce, won't throw dead cats or decomposed materials on us before we can steal the last beer. A being who, on the contrary, waits for us out there and simply wants to ... listen.
"Eeek! Eeeek! Eeeekkkkkk!" Beastly screams from the stage interrupt your trail of thoughts. Definitely a difficult birth, that of the hen.
Things are going strangely well for your band, the Tortillas de Pelo. You're even getting hired for official events like this annual meeting of A.O.C.H. (Association of Coprolite Hunters).
"We play," Tio Billy's hand suddenly lays on your shoulder, kind and heavy like a cast-iron shovel.
"Your bro, Tio," you reply, turning around. With the other hand, the towering drummer is holding Machete up by his leather jacket like a puppet moving in slow motion.
"I'm here, Mendo. Let's show them who the real coprolites are," Machete mumbles, slurring his words.
You decide to postpone the scientific explanations until after the concert.
"Yeah, they'll see."
Turn to 2