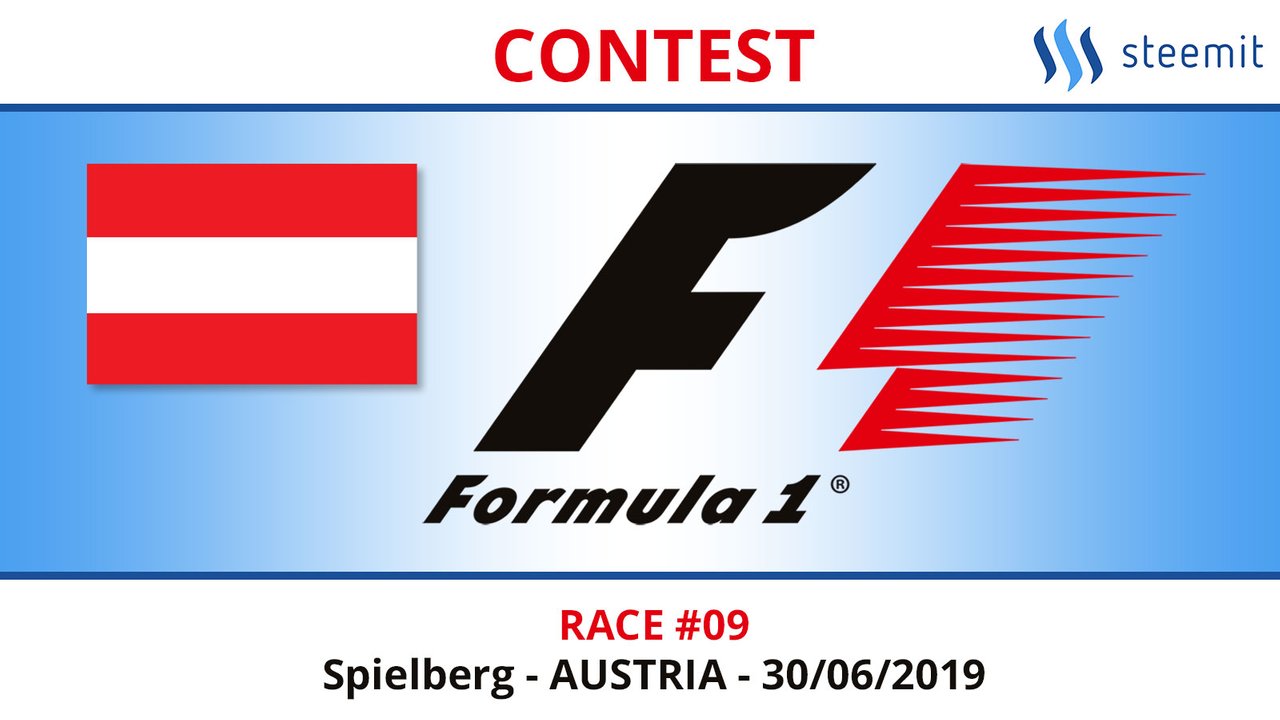 | GP | 1° | 2° | 3° |
| --- | --- | --- | --- |
| Austria | - | - | - |
| Francia | Hamilton | Bottas | Leclerc |
| Canada | Hamilton | Vettel | Leclerc |
| Monaco | Hamilton | Vettel | Bottas |
| Spain | Hamilton | Bottas | Verstappen |
| Azerbaijan | Bottas | Hamilton | Vettel |
| China | Hamilton | Bottas | Vettel |
| Barhain | Hamilton | Bottas | Leclerc |
| Australia | Bottas | Hamilton | Verstappen |

Gara #09 – Spielberg, Austria
Un saluto a tutti,
senza pause questa settimana: appena terminato il weekeend del GP di Francia, siamo di nuovo in pista con il GP dell'Austria, a Spielberg sull'A1 Ring, pista di casa della RedBull. Aspettiamoci quindi una buona performance da parte loro. Le Mercedes, reduci dall'ennesima doppietta, sono i favoriti su ogni pista, quindi anche qui. La domanda quindi è sempre la stessa: riusciranno le altre squadre a batterle?
Parlando del tracciato, questo non è molto lungo, con velocità medie abbastanza alte e curve impegnative. Data la brevità del tracciato, si potrebbero avere presto già i primi doppiati.
Non mi dilungo troppo oltre che sono in vacanza. La giornata è stata abbastanza lunga e molto calda, e infatti ho dovuto aspettare le ore notturne più fresche per scrivere questo post.
Buon divertimento a tutti!
---
Regolamento del concorso
Dovete upvotare il post manualmente al 100%.
Resteem non obbligatorio, ma consigliato: ovviamente può aiutare a far aumentare il valore del post portando nuovi concorrenti (ditelo anche ai vostri amici).
I pronostici vengono raccolti commentando questo post, per i primi tre classificati, ad esempio 1. Vettel - 2. Hamilton - 3. Raikkonen.
Potete votare fino alla partenza della gara. L'orario verrà controllato anche attraverso GinaBot su Discord e SteemWorld.
Vengono assegnati 3 punti a chi indovina il primo classificato, 2 al secondo, 1 al terzo. La somma dei punti, farà la classifica dei vincitori, che eventualmente si divideranno i premi: 30% - 20% - 10% del valore del post al momento del pagamento, dopo 7 giorni.
Ricordo i premi extra di fine campionato:
15% di quanto raccolto e non assegnato per il vincitore del nostro campionato Formula-1-Steemit;
15% (come sopra) per il vincitore del pronostico sul pilota campione del mondo di Formula 1. Il vincitore sarà chi esprimerà la preferenza corretta per primo, quindi meglio farlo durante i primi GP o quando iniziate a partecipare.
Aspetto i vostri commenti e pronostici.
In bocca al lupo a tutti!
---
Passiamo ora al recap nostro concorso
Ringrazio i partecipanti al contest della Francia di settimana scorsa.
Guardando alla tabella dei risultati dei nostri pronostici, tutti abbiamo effettuato l'upvote al 100%.
Gara monotona e abbastanza noiosa quella che si è disputata a Le Castellet, senza stravolgimenti di sorta: l'ordine di arrivo è stato lo stesso con cui i piloti sono partiti in griglia.
Venendo al nostro contest, ben 6 concorrenti hanno indovinato l'intero podio, sicuramente effettuando un pronostico abbastanza scontato, dopo aver visto la sessione di qualificazione.
sei concorrenti indovinano l'intero podio, quindi si spartiscono il premio del 30% /6;
due concorrenti centrano le prime due posizioni. Per loro il 20% /2;
due concorrenti indovinano solamente il vincitore, dividendosi il 10% /2;
@jonelescalona resta al comando della classifica, nonostante non abbia ottenuto punti per questa gara. Da segnalare @c3r34lk1ll3r e @genuino1980 che salgono a parimerito al secondo posto.

Race #09 – Spielberg, Austria
Hello everybody,
no breaks this week: as soon as the French GP weekeend is over, we are back on track with the Austrian GP, at Spielberg on the A1 Ring, RedBull's home circuit. So let's expect a good performance from them. The Mercedes, returning from yet another double, are the favorites on every track, so even here. The question is therefore always the same: will the other teams be able to beat them?
The track, this is not very long, with fairly high average speeds and challenging curves.
I will not dwell too long beyond that I am on vacation. The day was quite long and very hot, and in fact I had to wait for the cold night to write this post.
Have fun!
---
Rules of our contest
You have to manually upvote the post at 100%.
Resteem not mandatory, but recommended: obviously it can help to increase the value of the post by bringing new competitors.
Predictions are collected commenting on this post, for the first three classified, for example 1. Vettel - 2. Hamilton - 3. Raikkonen.
You can vote until the start of the race. The timetable will also be controlled via GinaBot on Discord and SteemWorld.
Who get the 1st position will raise 3 point, 2nd place 2 point, 3rd place 1 point. The sum of the points will make the ranking. The ones in the same position will divide the prizes: 30% - 20% - 10% of the final value of the post at the moment of the payment, after 7 days.
I remember the extra end of season prizes:
15% of the amount collected and not awarded for the winner of our Formula-1-Steemit championship;
15% (as above) for the winner of the prediction on the World Champion Formula 1 driver. The winner will be who will express the correct preference first, so it's better to make your guess during the first races or when you start playing with us.
I'm waiting for your comments and your choices.
Gook luck to all!
---
Let's talk about our contest
I thank the participants in the French contest last week.
Looking at the results table of our predictions, we all made a 100% upvote.
The monotonous and rather boring race was held in Le Castellet, with no changes whatsoever: the order of arrival was the same with which the riders started on the grid.
Coming to our contest, as many as 6 competitors guessed the entire podium, surely making a fairly predictable prediction, after seeing the qualifying session.
six competitors guess the entire podium, then divide the 30% /6 prize;
two competitors hit the first two positions. For them 20% /2;
two competitors guess only the winner, dividing 10% /2;
@jonelescalona remains in the lead of the chart, despite not having scored points for this race. Worth noting @c3r34lk1ll3r and @genuino1980 which rised both in second place.

Race #08 - Results


FESteem Ranking

Official FIA Formula 1 Site
Official FIA Formula 1 Youtube Channel

Call for the Players
@bubbolo21, @hasbydiaz, @chabertonvideo, @catgio, @zipsardinia, @lokibalboa, @ciuoto, @isabel23011, @yocritico, @alfredolopez1980, @grof, @jonelescalona, @vicspics, @dexpartacus, @franz54, @nfelix92, @fuentesjo3006, @chipi17, @miss-ste, @edgarf1979, @photo-moment, @cmoljoe, @sportsjrfc2018, @bisec, @lucasantangelo, @carlood, @dianagomez, @pagliozzo, @lelluzzo, @antorchajohnny, @mekky, @dernierdiaz, @deusjudo, @lolyfuentes, @salazarcag, @colon2018, @linterio, @jclark, @neo-wiza, @sljivanono, @vibeof100monkeys, @beisbol7, @justamoment, @nordina, @lovetaxi005, @hollywwod, @steemforez, @barbadosso, @monopalla, @serialfiller, @sukhothai, @perdomo56, @adimantong, @pojo, @hellenita, @giornalista, @banditqueen, @coccodema, @alequandro and the others…

Immagini CC0 con diritti di modifica
CC0 Image labeled for reuse with modification