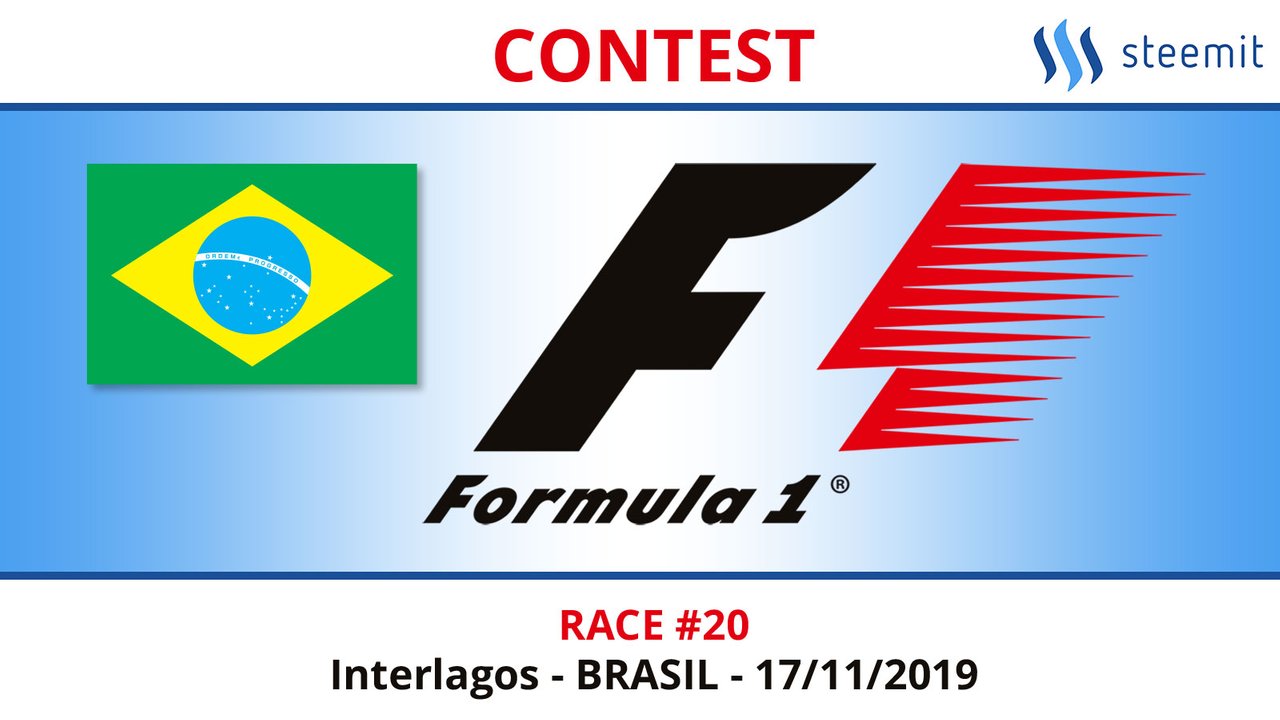 | GP | 1° | 2° | 3° |
| --- | --- | --- | --- |
| Brazil | - | - | - |
| USA | Bottas | Hamilton | Verstappen |
| Mexico | Hamilton | Vettel | Bottas |
| Japan | Bottas | Vettel | Hamilton |
| Russia | Hamilton | Bottas | Leclerc |
| Singapore | Vettel | Leclerc | Verstappen |
| Italy | Leclerc | Bottas | Hamilton |
| Belgium | Leclerc | Hamilton | Bottas |
| Hungary | Hamilton | Verstappen | Vettel |
| Germany | Verstappen | Vettel | Kvyat |
| Great Britain | Hamilton | Bottas | Leclerc |
| Austria | Verstappen | Leclerc | Bottas |
| France | Hamilton | Bottas | Leclerc |
| Canada | Hamilton | Vettel | Leclerc |
| Monaco | Hamilton | Vettel | Bottas |
| Spain | Hamilton | Bottas | Verstappen |
| Azerbaijan | Bottas | Hamilton | Vettel |
| China | Hamilton | Bottas | Vettel |
| Barhain | Hamilton | Bottas | Leclerc |
| Australia | Bottas | Hamilton | Verstappen |

Gara #20 – Interlagos, Brasile
Penultima gara del mondiale F1 anche quest'anno.
Siamo in Brasile, sul circuito storico di Interlagos, dove si corre fin dagli anni '70. Pista abbastanza veloce, si nei lunghi rettilinei che nella parte più tortuosa. Anche qui saranno avvantaggiate le Mercedes e le Ferrari, e potrebbe fare bene pure Verstappen. Gli altri li vedo un po' indietro e meno competitivi.
Probabilmente molte squadre sono già orientate al campionato del prossimo anno che porterà qualche novità alle vetture, soprattutto da l punto di vista di telaio, aerodinamica e sospensioni.
Godiamoci questa gara, pur sapendo che il campionato è già stato vinto da Hamilton e Mercedes.
---
Regolamento del concorso
Dovete upvotare il post manualmente al 100%.
Resteem non obbligatorio, ma consigliato: ovviamente può aiutare a far aumentare il valore del post portando nuovi concorrenti (ditelo anche ai vostri amici).
I pronostici vengono raccolti commentando questo post, per i primi tre classificati, ad esempio 1. Vettel - 2. Hamilton - 3. Raikkonen.
Potete votare fino alla partenza della gara. L'orario verrà controllato anche attraverso GinaBot su Discord e SteemWorld.
Vengono assegnati 3 punti a chi indovina il primo classificato, 2 al secondo, 1 al terzo. La somma dei punti, farà la classifica dei vincitori, che eventualmente si divideranno i premi: 30% - 20% - 10% del valore del post al momento del pagamento, dopo 7 giorni.
Ricordo i premi extra di fine campionato:
15% di quanto raccolto e non assegnato per il vincitore del nostro campionato Formula-1-Steemit;
15% (come sopra) per il vincitore del pronostico sul pilota campione del mondo di Formula 1. Il vincitore sarà chi esprimerà la preferenza corretta per primo, quindi meglio farlo durante i primi GP o quando iniziate a partecipare.
Aspetto i vostri commenti e pronostici.
In bocca al lupo a tutti!
---
Passiamo ora al recap nostro concorso
Gli USA hanno visto l'assegnazione del campionato del monto piloti ad Hamilton, che pur arrivando secondo dietro al compagno di squadra Bottas, ha ottenuto i punti necessari alla vittoria. Terzo è arrivato Verstappen, mentre non è andata benissimo per le Ferrari, con Leclerc quarto e Vetterl ritirato per il cedimento della sospensione posteriore.
Parlando del nostro contest, tutti abbiamo effettuato il corretto upvote e sotto la tabella dei risultati, come sempre:
Per quanto riguarda la classifica, c'è solamente un cambio di posizioni tra @green77 e @alfredolopez1980. @ciuoto che aumenta il proprio distacco da @genuino1980. @jonelescalona comanda ancora la classifica, ma @c3r34lk1ll3r ha ancora possibilità di vittoria. Staremo a vedere!

Race #20 – Interlagos, Brazil
Quite the last race of the F1 world this year.
We are in Brazil, on the historic Interlagos circuit, where the race take place since the 1970s. Pretty fast track, in the long straights as in the most tortuous part. Here too, Mercedes and Ferraris will do a good job, and Verstappen could do well too. The others I see a little behind and less competitive.
Probably many teams are already oriented to next year's championship that will bring some new features to the cars, especially from the point of view of chassis, aerodynamics and suspension.
Let's enjoy this race, even knowing that the championship has already been won by Hamilton and Mercedes.
---
Rules of our contest
You have to manually upvote the post at 100%.
Resteem not mandatory, but recommended: obviously it can help to increase the value of the post by bringing new competitors.
Predictions are collected commenting on this post, for the first three classified, for example 1. Vettel - 2. Hamilton - 3. Raikkonen.
You can vote until the start of the race. The timetable will also be controlled via GinaBot on Discord and SteemWorld.
Who get the 1st position will raise 3 point, 2nd place 2 point, 3rd place 1 point. The sum of the points will make the ranking. The ones in the same position will divide the prizes: 30% - 20% - 10% of the final value of the post at the moment of the payment, after 7 days.
I remember the extra end of season prizes:
15% of the amount collected and not awarded for the winner of our Formula-1-Steemit championship;
15% (as above) for the winner of the prediction on the World Champion Formula 1 driver. The winner will be who will express the correct preference first, so it's better to make your guess during the first races or when you start playing with us.
I'm waiting for your comments and your choices.
Gook luck to all!
---
Let's talk about our contest
The USA has seen the assignment of the championship of the drivers' riders to Hamilton, who, although coming second behind his team-mate Bottas, obtained the points necessary for the victory. Third came Verstappen, while it didn't go very well for the Ferraris, with Leclerc fourth and Vetterl retired due to the break of the rear suspension.
Speaking about our contest, we all did the correct upvote and below the results table, as always:
As for the ranking, there is only a switch of positions between @green77 and @alfredolopez1980. @ciuoto which increases its distance from @genuine1980. @jonelescalona still commands the ranking, but @c3r34lk1ll3r still has the chance to win. We'll see!

Race #19 - Results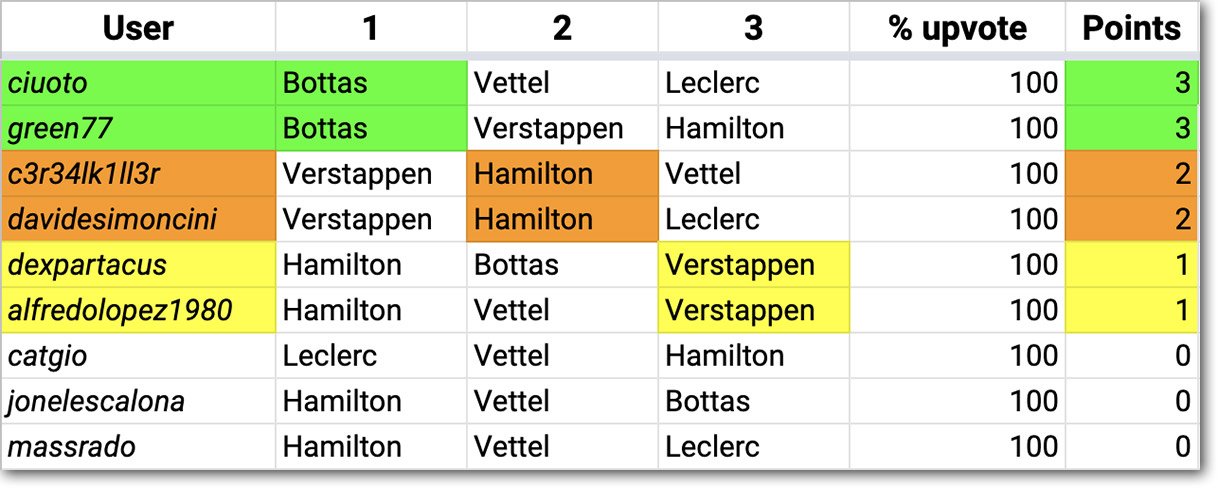 FESteem Ranking

Official FIA Formula 1 Site
Official FIA Formula 1 Youtube Channel

Immagini CC0 con diritti di modifica
CC0 Image labeled for reuse with modification