I used to be well known for my contests. Here's a quick one - hopefully.
When out voting one day,
I noticed this crazy animation happening with the arrow.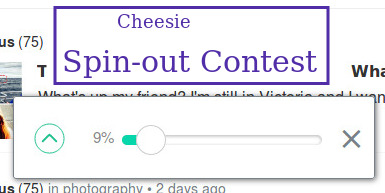 When I clicked to vote, the arrow started spinning. I am not sure what causes this or how to make it occur again. It happened today so I made a quick video.
Well here - figure this one out and win.

Rules
Watch the 11-second video
Upvote this post
Resteem this post
Tell me how I made the upvote arrow spin
Edited comments Will be disqualified
Detail clearly how anyone can get an upvote to spin!
Tell me which browser you use, what operating system.
The first one to get it right, wins!

The prize is 20 SBD
I am starting the contest at 5 SBD but...
The prize goes up as we wait longer for an answer, first increase at 30 minutes.
Contest goes for 24 hours. Prize increases every hour during EST waking hours