COMMENT WITH THE LOWEST NUMBER OF UPVOTES WIN!
Yes, you are trying to be the worst contestant and not to get upvotes :D But others also want the main prize so they will try to spoil your chances of winning by upvoting your comment. Previous rounds proved that entering with ANY comment guarantee you some comment payout at the end and if not... Congrats! You won the main prize!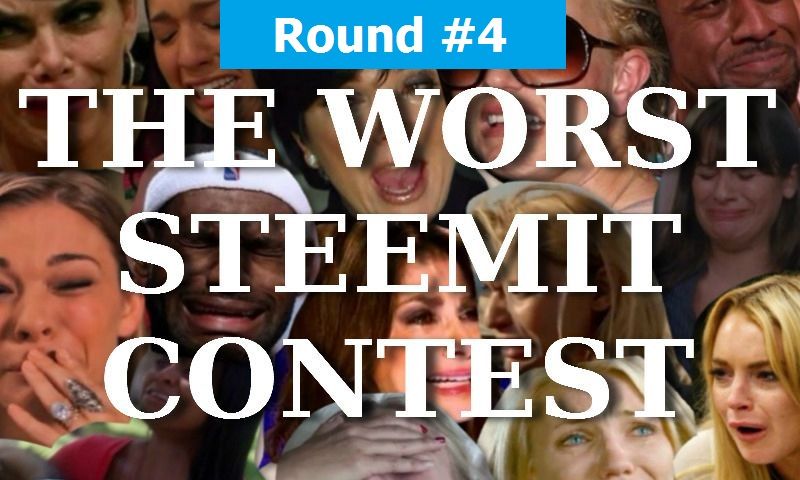 THE WORST RULES:
Write the worst joke in comments. (stupid, corny, offensive, unfunny, whatever:)
Upvote/Resteem this post.
Start upvoting your opponents comments to win!
Don't forget to come back to check your position from time to time...
ENTER UNTIL:
Wednesday (December 13) - 22:00 GMT (+00:00)
(I will not count entries posted after this time.)
You can check your time difference here:
https://greenwichmeantime.com/timepiece/world-clock/world/
COMPETITION ENDS:
Saturday (December 16) - 22:00 GMT (+00:00)
THE WORST PRIZES:
WINNER: 10 SBD + 10 Whaleshares
1st RUNNER-UP: 5 Whaleshares
2nd RUNNER-UP: 5 Whaleshares
(+much more SBD in comment payouts..:)
*I only count first comment from each user.
*Don't be angry at me for upvoting. I keep it fair and try to upvote ALL your comments.
*I will do random pick in case more people have same number of votes.
*Some people tried to post endless white images to confuse people in comments so NO, those can't win.
You can check previous round here: https://steemit.com/contest/@lepton/winners-of-the-worst-steemit-contest-experiment-stats People used interesting strategies and some of them wrote hillarious entries so I look forward to reading your jokes again.
Lets make some SBD together and as always:
May the WORST player win!