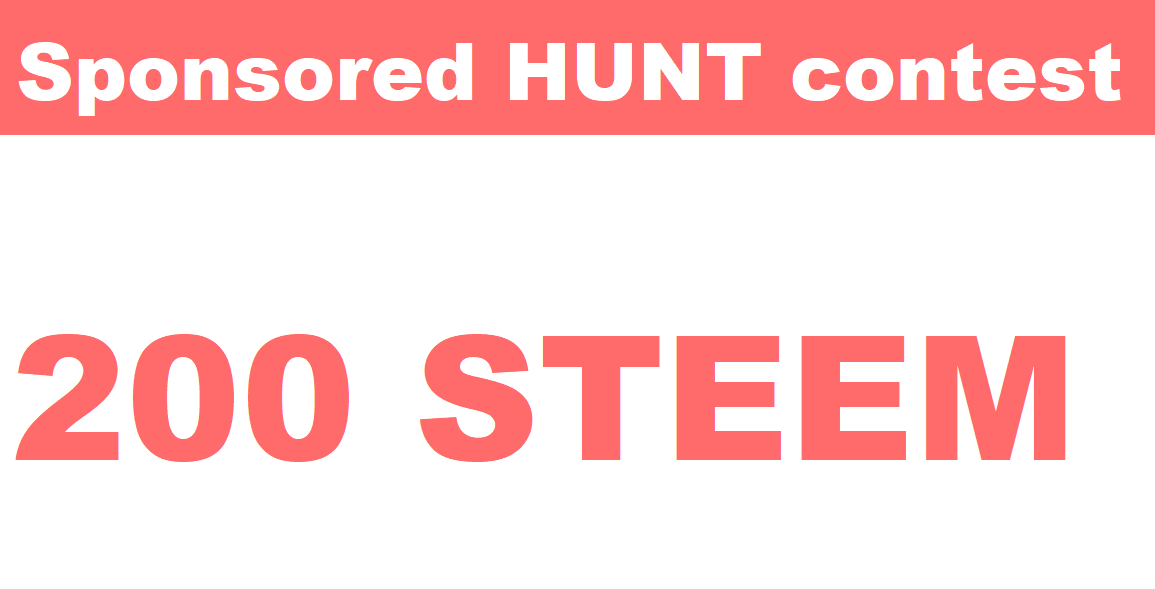 Hi everyone,
As some of you may probably remember I was organizing contests last year some of which were crypto-related writing contests and were sponsored. 
This time, I have brought to you a Hunt contest sponsored by @steemhunt
Steemhunt is a DApp built on top of the Steem blockchain, that rewards the 'hunters'. Hunters are those who find/ discover a cool product and write about it briefly (in maximum 1000 characters) and post it through Steemhunt platform.
Steemhunt has its own currency called Hunt that is ERC-20 token and has recently been listed on Daybit Exchange
CONTEST
The Task
Find a product from one of the following categories and write about it briefly (in maximum 1000 characters) and post it through SteemHunt. In Steemhunt terminology, this post is called HUNT.
Web services
Apps (Mobile/ Web)
Softwares / hardwares / smart wearable devices/ tech gadgets
API, open source software/ products
Games
Innovative Engineering/Design Products
Who are eligible?
You will be eligible to participate in this contest if:
Steemit reputation: Your Steemit reputation is not lower than 30.
Verified Steemit account: Your have verified Steemit account, which means that either you have published your Introduction post or have any of your social media links added in your Steemit profile, or any other way that shows the account you are posting from is your real account. This is to prevent abuse.
Hunt history: You should not have hunted more than 20 Hunts.
How to enter?
Login to Steemhunt or Sign up if you are not yet on Steemit.
Read and understand Steemhunt's posting guidelines by clicking here
Find a product from the above-mentioned categories and write about it briefly.
After you publish your hunt, drop the URL in the comments section below. Also, drop a link to any of your social media accounts OR a link to your Introduction post on Steemit. Follow this format : (i) Hunt URL (ii) URL of Social media account or Introduction post on Steemit.
Hunt will be judged on the basis of:
Image quality
Writing style
Coolness of the product
Whether the copied content is cited.
If all the guidelines are followed.
Where to find products?
Please read this article that I wrote mainly for newbies as a guideline. In this post, you will find a number of resources that you can use to find products. The post also has other tips to help you write a winning post.
The Reward
1st place - 30 Steem
2nd place - 25 Steem
3rd place - 20 Steem
4th, 5th, 6th place - 15 Steem each
7th, 8th, 9th, 10th place - 10 Steem each
20 Honorable Mentions - 2 Steem each
IMPORTANT
Your hunt will be evaluated for a reward ONLY if it is approved by SteemHunt moderator.
Hunts that are posted on or after 27th May will be considered
If we get great results....
If this first trial gets great result to promote newbie hunters to become great hunters, I may proceed for SH team to make it as a regular promotion for newbies.
The Deadline
2nd June 2019
Join Discord
If you have any question or if you just want to meet all the awesome hunters, please join Steemhunt's discord server.
You can send me a direct message if you have any question about the contest. My discord ID is :  MonaJam#4658