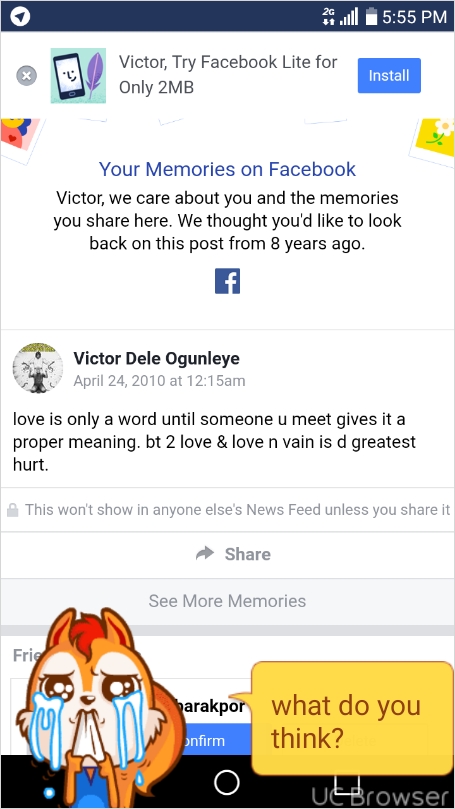 this post was made in 2010 and when i saw it on the 24th, i had to screenshot it and talk about it a litttle. I cannot remember the reason for this post but i suspect that it could be one of those experiences in love and heartbreak that made me pen the post. 8years after the post was made, this is what i have to say...
There is always that one person in the whole world that makes you feel different. Each time you are around that person you feel, and for the first time it will look like nature permitting you to do something you are not used too and in that process you learn the reason why you haven't felt this way before. For the first time, you will meet someone who takes your breath away and renders you breathless; someone who after you speak all the words on earth to, you still feel you have been speechless. Someone who has the capacity to make you lose your cool and yet you still want to be around them. Someone who, went you walk a thousand miles for, other people will call you stupid. That someone that when the sound of their voice hits your ears you feel like an angel just spoke even when this person is frail and weak, imperfect and impossible, we embrace them like a religion, serve them as god, love them like breath and live everyday longing for that one person because they are life to you.
Unfortunately many people will not find that 'one person' while many others would have traded the one person that gives them life for something that drains the life out of them. Love is just a word; like materials to build. The materials cannot work by themselves unless they interact with the right builder.
Love💘means a million things to a million people BUT feels a particular way for everyone. Without love you are like a clock ticking, programmed by dead. But before I take your breath away...
Have you ever being in Love?
Can you tell me how different you felt and what you did for that one person that you haven't done before or may not do again? Because when you are in love, you can walk into the lion den; be thrown into fire; carry the city gates on your shoulder; kill every opposition that tries to stop you. People who are in love sometimes lose every sense of reasoning because they know what they feel but other people don't.
But haven done so much for that 'one person' you realize that they don't feel the same way or that they are tired of feeling the same way, you begin to think that all the fires you have gone through, all the lions den you have fallen in, all the battles you have fought and every beating/punches you received were in vain.
The truth is you can do the very thing over and over again but somehow, the feeling has changed. Many people will go through life without an opportunity to fall in love; and they will never know what it means to find that 'one person' they can stop the world for.
Have you ever being in love and felt you have loved in vain? Share your experience as a comment to this post and the best five (5) comments will win 2sbds each.
NO RULES... Just make sure it is your experience. But you can resteem for wider participation and upvote if you please. The best comments will be shared and analyzed one after the other as a winner will be chosen daily starting from tomorrow 2nd May, 2018
It is with love!
I am @outhori5ed; love is the greatest thing that can ever happen to you.