I've seen contests like this going around and even participated in one. They are alot of fun and usually bring the community together for some creative brainstorming! So i want to start my own monthly meme contest for every month in 2018. Hopefully i will be able to grow the 1 Steem reward to higher amounts in following months.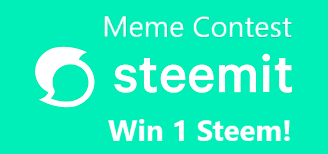 The contest is quite simple, the community will upvote the meme they think deserves 1 Steem. The highest upvoted comment containing an original meme Wins!
The communtiy should look for and upvote the memes they themself find funny and original.
The reward will be transfered 1 week after the initial contest post.
To enter the contest simply create an original meme and comment it on this post!
1 meme per comment to qualify for the contest.
Only your imagination is the limit for topic of your meme!
A great website to quickly generate memes is:
https://imgflip.com/memegenerator
Follow me for upcoming contests in the following months
@ozoo