---
Striking the right balance between regulating digital currencies to provide adequate protection for consumers and businesses, whilst not stiffling innovation, is crucial
---
With the growth of cryptocurrencies, proffesional investors are looking to get into the space. But cryptocurrency exchanges have often being perceived as risky due to numerous hacks and often unregulated nature of trading on these exchanges. Different regions of the world shares varied opinion on the issue of regulation; for example U.S SEC council have warned investors to stay clear from cryptocurrency due to unregulation. Also just lastyear, china outrightly banned 60 major ICO platforms for local financial watchdogs to inspect. There were calls for regulations to be enforced in by the regulatory bodies in each respective regions inorder to minimize the side effects of money laundering and tax evasion by using cryptocurrencies.
Apart from the torrents of scam ICOs which has affected investors believe on further investing into any blockchain project; the volatile nature of this cryptocurrency also constitute a source of worry to investors and businesses which many believed is largely due to whale manipulations, pump and dump actions and many more; therefore making it hard to class this asset class as a form of security. That is why today, you will find many people on the internet asking the question "Are cryptocurrency a form of securities or commodity?"
So until we find a way to regulate the activities of the different proponents within the cryptocurrency ecosystem including ICOs, mining and ultimately exchanges, this technology might likely not reach its full potential since the negligence of the entire system will be counted as too much risk for businesses or institutional investors to conduct their day-to-day activities including trading digital commodities, building business trust and sharing value between each other.
However, in this article I will like to talk about an exchange that is taking practical approach to introduce a fair regulation scheme on its platform whilst enjoying all the full benefits of using a centralised exchange; albeit they promise to improve on some key aspects of the present exchanges such as security, liquidity amongst other.
At this point, lets take a look at Onam exchange, its solutions to the issues confronting cryptocurrency mainstream adoption and features that makes it unique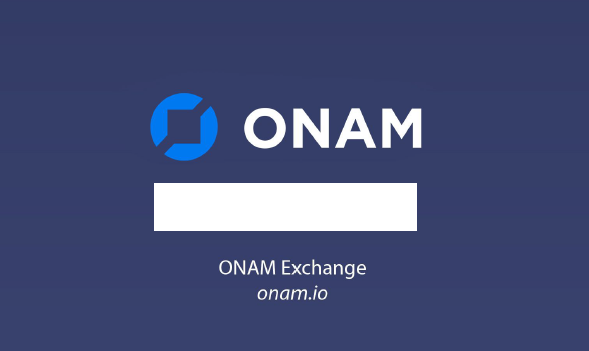 Onam is a compliant cryptocurrency exchange. Onam aims to be the exchange that is safe for all to conduct their activities in a fair, regulated environment. Onam is built to be pro active by employing machine learning to recognise unusual patterns and stop a potential attack from happening.
All this and many more is possible via the help of key technologies and strong ideals on which the exchange is founded.
Lets take a keen look at the present exchanges.
Drawbacks of the present exchange System
Exchanges are at the core of the value chain when it comes to cryptocurrency and therefore it must avail itself with the neccesary tools to ensure it is secure enough to stand against attacks, possess good liquidity for different market inorder to drive trading activities on time and also ensure they comply with exchange rules of the jurisdiction they serve inorder to get rid of "bad actors" within the ecosystem. The latter part is where most exchanges are sorely lacking and we shall get to see how in the review below
Centralised exchanges are inherently less secure as we have seen in recent times how billions have being lost when their system gets hacked. Being pro active about the issue of security could save them from loosing many of this assets. This can be done by allowing the system to learn patterns and be able to identify and stop a potential attack on the system. That is why using the latest technology in the form of machine learning is very important for an exchange like Onam.
Liquidity is how quickly an asset or security can be bought or sold without affecting its price. However, the volatile nature of cryptocurrency is caused by none other factor than low liquidity on most exchanges. As a matter of fact, only the top 20 exchanges out of the 300 exchanges holds more than 90% of the total cryptocurrency market value. So obviously, its hard to argue with the fact that most exchanges will not survive the long run.
Most exchanges are limited in the number of transactions they can handle due to rigid infrastructure. For example most exchanges can peak at most 1 to 2 million transactions per seconds. However, this might be sufficient but with the extra delay which will be accounted when transacting with the blockchain, it is customary to have a system that improves on the present infrastructure. Meanwhile, Onam exchange runs on a higher speed infrastructure, making it even more adaptable for mass adoption.
The volatile nature of the cryptocurrency market can make the value of an asset to appear and dissapear within a very short time. While this can be two-sided, it doesnt justify the unstable nature of the market; many of which is a product of speculations, manipulations or even pump and dump actions. Such actions can be arrested when the platform is being proactive at monitoring trading patterns and reconciling them with historical data. This is exactly what Onam exchange seeks to achieve by deploying machine learning technology within its platform to identify such patterns and stop potential attacks before it happens.
Inactive Customer Support
Obviously many exchanges are guilty of this. In a recent personal experience with an exchange(I wish to keep their name anonymous). I recalled getting in touch with their customer service for an issue I encounted 4 days ago while trying to recover my account with them since I lost my phone. Well to cut the long story short, am still waiting for their response and is 3 days already. How I wish this was not the case with many exchanges but researches have made it obvious and makes me to doubt if Onam can live upto their promise of 15 mimutes response window once a complain ticket is submitted.
Lack of Regulatory Framework
This factor adds to the risk associated with cryptocurrency since the unregulated nature of existing exchange platform means that clearing and settlement of these digital assets cannot occur through a traditionally regulated channel. Which constitutes abnormally high risk to the different classes of assets running on such platform. The solution is to have an exchange that enforce regulation via compliance with rules guiding the use of exchanges. Onam is an exchange that will be registered in all 50 states in the U.S. and operate under the SEC defined rules for an exchange.
Key technologies behind Onam's Exchange
Onam exchange employs the latest technology to create a platform that is matchless in terms of speed, scalability and security. We shall see below how this technologies are used and implemented within the Onam platform to derive all the benefits outlined and more.
Advanced Threat prevention, Intrusion detection and Trade surveillance
This is possible via the introduction of machine learning technology into the platform. The machine learning helps the platform to learn trading patterns and be able to reconcile it with previous historical data to be able recognise and flag unusual activities within the platform. All this happens in the background.
Highlights of ONAMs Enterprise-grade Security
| | |
| --- | --- |
| Anti-money laundering system | Anti-market manipulation system |
| Ip whitelist | Anti-phising code |
| Withdrawal confirmation | 2FA and U2F authentication |
| Custodian services and partnership with BitGO | Hardware wallet integration |
| DDoS Mitigation | Encrypted database |
However, this technology is implemented alongside other technologies such as DDos Mitigation, anti-phishing and 2FA solutions. Inorder to fully ensure the security of the platform from hacks, Onam will lock away all user informations in a secure encrypted database.
Real-Time Market Surveillance, Supervision and Compliance
Dont let the length of the word scare you, it uses the same concept of machine learning to achieve this purpose just that it does this in real-time by analysing pre-trade and post-trade data to identify irregular patterns or manipulation within the platform. Which are identified below
unusually large trades
Pass-through trades
Wash trades
Spoofing
Hammering
Front-running
Momentum ignition
Layering
Stuffing
Source : Whitepaper page 8
Apart from this, Onam will stage a 3rd party audit of its activities on a quarterly basis.
Prompt Customer Service
Onam promise to attend to relevant customer issues within the hour once a complain ticket is launched. And the dispute resolution window has being set at 15 minutes.
Note : There will also be a phone support within the first 6 months of full launch to make sure no issue goes unresolved.
10 Million transactions per second Matching Engine
In a bid to ensure that the platform meets present and future demands, the team is investing its efforts and resources into an infrastructure that is capable of handling 10 Million transactions per second with latencies as low as 40 nanoseconds, a better upgrade on what is presently available.
This structure is made possible via the implementation of the GoLang programming language designed by google specifically for computationally intense server applications Source : Whitepaper page 8
Reward-Based Platform
This is a mutual scheme to enable the platform attract large market-makers, volume traders and miners by providing them with incentives for holding the Onam tokens and using the platform as well. The purpose for this is to drive high liquidity for traders and users while the use of order books from multiple exchange will help to solve high price slippage and market manipulations due to poor liquidity these exchanges are facing.
The aim is to have a truly rich and transparent order books.
Operating within a full Regulatory-Compliance Culture
As mentioned earlier an unregulated exchange means difficulty in reconciling account balances during clearing and settlement exercise. Therefore the need to adopt industry best practices for now and the future by complying with regulations set forth by SEC and other regulatory bodies.
And they hope to achieve this by joining forces with a top legal firm to obtain licenses and registration as required by SEC before they can operate as an exchange.
Which entails
Register as money transmitter in all 50 U.S states
Obtain a Broker/Dealer License
Register as an Alternative Trading System (ATS)
Become a member of Self Regulatory Organisation (SRO)
Enforcing KYC/AML laws
Source : Whitepaper
Full features and benefits of Onam
However, traders must hold the Onam tokens to unlock some of this features
Conclusion
Having an exchange with the ability to trade cryptocurrency in a fair, regulated and transparent environment is important to the hopes of attracting new businesses and institutional investors, opening the blockchain technology to mass adoption and unlocking the full potential of this nascent technology. Onam exchange will help users to
Conduct their transaction in a regulated environment
Ensure a high liquidity platform to drive high trade action
Ensure exchange process are swift and attracts low transaction fee
Use Case
A cryptocurrency Asset Manager
Remy works with a crypto asset management firm and one of his challenges is finding a market with sufficient liquidity for some of the digital assets under his care. The available exchanges have a sparse market or either have insuffucient liquidity for him to initiate trade action for his desired and target asset.
Frustrated with the options at his disposal, he makes more research and come accross an exchange called Onam. He reads all the cool benefits and decided to give it a try once the platform launches. Now he is using it and doesnt have to worry about liquidity for the assets listed on the platform since they utilize truly transparent order books. Now, Remy can buy any asset at their real- time value at reduced fees.
So unlike his previous exchanges , he can reconcile his trade activities at the end of the day.
And he can trade this many asset once the platform launches initially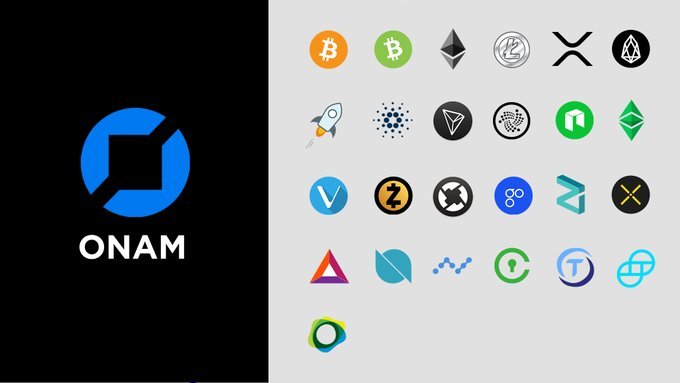 Synopsis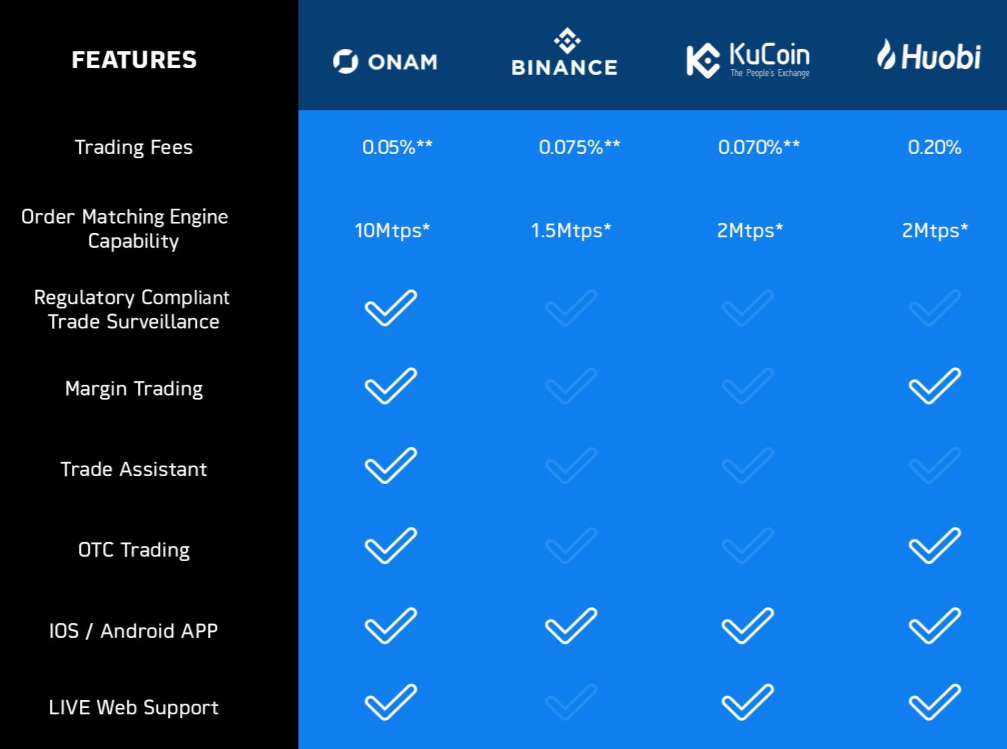 | Night mode | White mode |
| --- | --- |
| | |
Token and ICO Information
Roadmap and Partnerships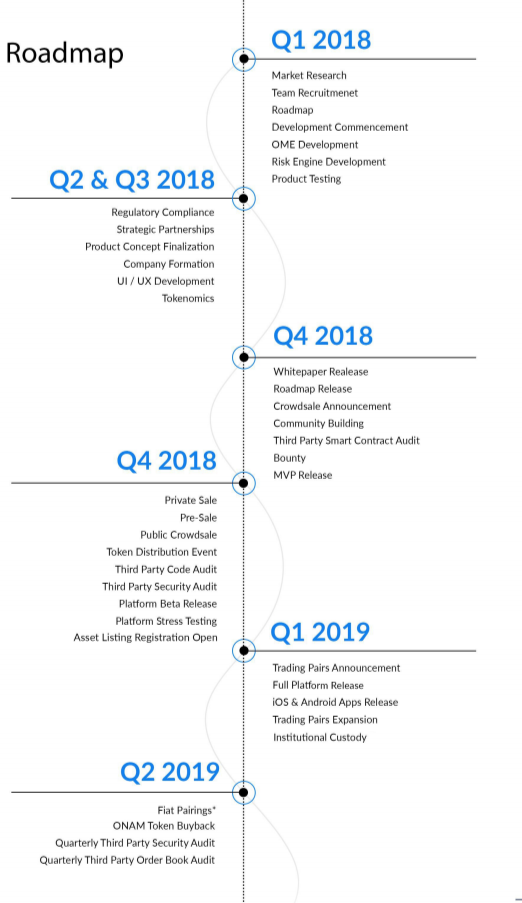 | | |
| --- | --- |
| BitGo is the market leader in institutional-grade cryptocurrency investment services." and offers Custodian services including: institutional-grade policy controls, and 100% cold storage with multi-signature in bank grade vaults for more than 75 cryptocurrencies | |
Meet the Team
Helpful Links
This article is submitted for @originalworks contest sponsored by Onam. Feel free to join here



Onam2018