Preamble
Remember earlier this year, snapchat, a popular social networking app lost more than $1bn of its market value because someone posted this :"soo does anyone else not open Snapchat any more? Or is it just me...ugh this is so sad". This is the power of social networking on the way people make decisions and because news travel fast on social media, somebody with a substantial following on numerous outlet such as instagram, youtube or twitter; could easy influence a large group of people to make decisions on a product. These people are called influencers and they hold the key to a new world of oppurtunities for businesses to ensure product popularity among consumers who vary geographically, have diverse taste and are spoilt for choice.
Some top companies which have being a great derivative of the sharing economy are Airbnb, Uber, to name a few.And today, these are the entities that are at the forefront in their respective area of specialty. While this is a relatively new concept, some countries are already embracing the culture to drive their economic efficiency far beyond their local capability. China is a great example in this respect, as it processed transactions worth of over $500 Billion in 2016 alone; which is a great feat in itself. Third world countries can be great beneficiary of this system if they replace their present crude system with an innovative concept combining the power of influencers to create a global marketplace (shared economy) for their local products and services.
However, some of the challenges they and businesses might face is the high cost involved in acquiring the services of influencers who in most cases are celebrities with high net worth capital .Therefore building a network around local influencers and interested party can have the same effect, if not more, at a relatively low cost compared to celebrity. Hence, the advantage of building a network around the major players far outweighs the benefits of using a celebrity to promote a product, who in the reality can have an immediate influence (could be positive or negative) on the decision pattern of its huge base of followers; because local influencers are far cheaper and will build a reputation which can leave a lasting impression on the mind of his followers. The pattern of response which can be received as a result of falling out of a celebrity can be seen as plastic as is not suitable for a business looking to build a brand to last long term.
Patron platform Overview
Patron is a platform built to help individuals, groups or companies to utilise local idle influencers with huge base of followers to drive an true economy of value sharing that is sufficient and affordable. Their concept is tweaked to allow the platform thrive on the blockchain via the introduction of smart contract instead of contracts in the present system; this holds a lot of benefit to the average user such as
Authenticity of contract terms and condition between influencers and sponsor company
Immutability of previous transaction without the chance of clearing past records which means that an influencer who have acted wrongly in the past is likely to be less reputable to sponsor company.
Only relevant information such as agency name or financial status might be collected by the platform in a screening process before a group or an individual can qualify as a sponsor or guest.
Due to the factor above, users leave little room for security breach which means hackers will have a swell time retrieving useful customers information from the platform which is also a major lapse of the present influencers communities/hubs such as *Upfluence, AspireIQ, Hypr amongst others.
Decentralised, many bad acts and manipulations still exist in the present scheme due to third party influence and cut-back fees which adds to the high cost of using influencers for small and medium businesses, creating a sort of monopoly for the already established giants in the industry since any competition can be phased out with their targeted ads which many startups cannot afford. Patron is offering a way out for them to participate actively in the economy by allowing such businesses to connect directly with the right influencers in a peer-to-peer fashion with minimal influence.
Last but not the least, it isbased on the Airbnb model; a successful home sharing platform
Identifying the major players within the Patron Economy
Patron is built for everyone including individuals,companies, influencers who are looking to build a reputable lead for their product or services as the case maybe and yield great rewards by doing so. That is why they have grouped participants into 3(three) major categories
They can set contracts with sponsors to generate a secure and stable means of revenue over a length of time agreed by both parties which could be on the spot basis, month or year-long. They get paid by promoting sponsor's material. With patron, influencers also gets the oppurtunity to advertise themselves actively to a sponsor via an appealing reputation which is determined by the influencer's worth based on these criterias
Number of Followers
· The number of people are available through this user's network
Engagement Level
· The frequency of engagement between the influencer and their followers
Reputation
· Reviews of the influencers from their followers
Businesses : Individuals or groups have to pass through the screening process before they can qualify as a sponsor on Patron and are guaranteed to gain leads that are relevant to their advertised product, material or brand since there is high tendency of being matched with the right influencers based on the specialised following and key demographics which the platform prides itself on.
Influencers can generate more revenue by building a high network of followings. while the followers benefit from better content and sponsors gets the desired visibility for their product or market in the process with minimal research and investment. Its a win-win situation for everyone involved.
Better Market Visibility
The bitter truth is the influencer-led culture has cloud the skills and expertise of many small businesses who cant afford to compete with giants in the field even though their product may not necessarily be the best. The present system is bought by the big players and that is why it is difficult for many small or medium businesses to thrive in the present economic landscape. Decentralising the whole landscape as Patron is doing, is the answer for many businesses to get the needed visibility their expertise, product deserves. Then add the option of attracting blockchain users, then the potential is endless for advertising businesses who patronise Patron.
Cost-Effective Ad Campaign
Also hiring an influencer on Patron is far cheaper when compared with other options due to the absence of middlemen to attract additional fees for businesses and individuals. Therefore, as more businesses will be willing to take a calculated risk by paying a small portion of their revenue to promote their business, influencers will swarm the landscape and make more revenue in the process.
Summary of the available Ad-campaign
It can help a barely thriving business to gain a good lead on its competitors within a very short time. This approach is used in a highly competitive industry like fashion.
Suitable for companies looking to hit periodic targets.This plan also ensures the sponsor gets the undivided attention of the influencer.
Ideal for businesses who are looking to build a brandname. Influencer gets to serve as a brand ambassador and the community manager as well.
Highlighting the full benefits and features of Patron to Users
To Influencers
Conveniently manage multiple SSN(Social Service Network) accounts via their one-tap feature
Better networking and high revenue generation
Void of manipulations which means equal oppurtunity for all participants
No need to submit users information ensuring better security of the whole ecosystem
To Businesses and Sponsors
Low Ad fees for running commercials on the platform
Improved market visibility of products and services to wider audience including blockchain users
Access to reputable and reliable network of influencers who share same interest as the sponsor
In the Offing
This is a hub for regular social media users to learn the art and skill of social media influencing . By Using the currency of the platform, users can gain access this services, fans could get the the training required for building an audience, when you're done with the workshop. Also, influencers could also access influencing consultancy services here.
Note: A digital certification is provided by Patron at the end of the program to prove this!
This feature enables fans to follow their influencers just from one app. This removes the no need to download multiple apps to be updated with their favourite creators. Influencers will also be able to make live broadcast from this DApp to their audience in all the major social media supported.
Note : Patron Live supports more than 10 active apps, including the leading ones such as Facebook Live, Youtube Live, Periscoop Live (Twitter)
√ Patron's Crowdfunding 2.0
√ Patron's Messenger
PAT token will be used to fuel major activities within the Patron Platform which makes it relevant to each users as follows
By sponsors; to engage with influencers and utilize their networks
By fans; to promote the content of the influencers their follow through "likes" which in turn raise the influencer's ratings and their marketability
By influencers; to reward fans for contests, promotions, and events
Final Thoughts
Image credit
It is add to argue that the advent of social media has turned the table for many businesses as they have failed to compete with those who have the resources to put their product on the minds of every potential buyer through the obvious advantage of social network advertising. It seems that afterall those with most power on social media have the least knowledge, and those with the most knowledge have the least convincing power to get a buyer to patronise them.
Patron will level the playing ground for small businesses and individual to be able to compete fairly with their established neighbours.
Use Cases
Red Square is a large organic tomato farm in the suburb where I live but I found out that most of their customers are companies who process them into packaged goods but they couldnt get enough patronage because most of their customers are not locally based. They have tried some of the influencers hub which they can afford but all to no avail. the last option now is to close the company if they cant get the needed visibility for their market.
Meanwhile, timatino is a brooding tomato-packaging company in Japan who is looking for more material to run at full capacity. Inorder to connect this two available market, Red Square can advertise his product at a cheap rate on Patron; acting as a sponsor in this case to attract new customers like timatino for his market.
Synopsis
Patron Sharing Economy model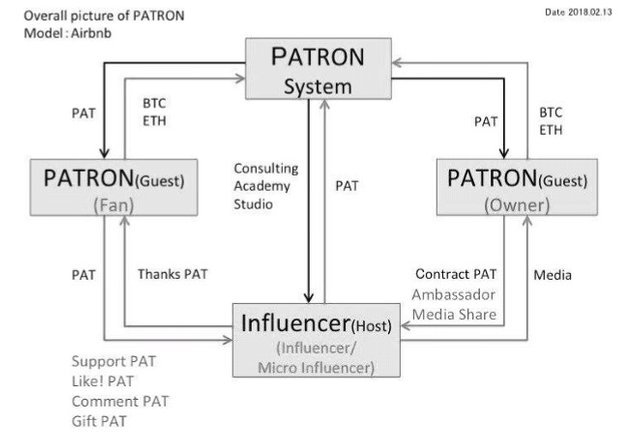 Token Metrics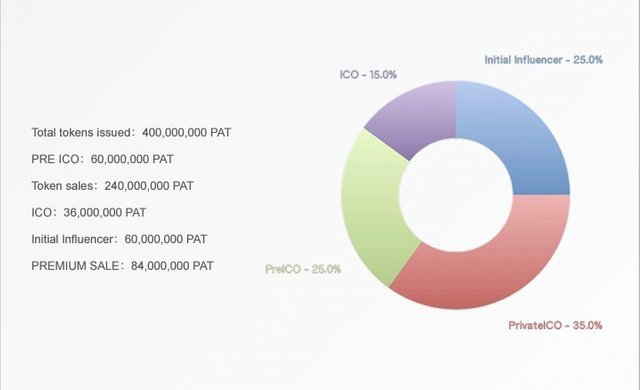 Note : Token sale has ended!
Meet the team


Useful Resources
This article is submitted for @originalworks contest sponsored by Patron. Feel free to join here



Patron2018