Be Patient Fellow Warriors, for Death Comes but Once in a Lifetime

Take a good look. Do I look like a monster? I don't even have a body--at least nothing of material substance other than some rattlin' bones. Do not be bamboozled! While my physical form departed this being hundreds of years ago, my mind and spirit have gained existential experience. It will be your ruin to assume I was ever a coward or a weakling.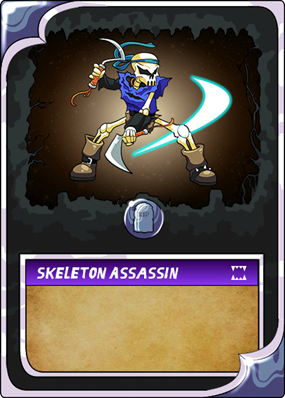 Steemmonsters image

I was born a fighter to a loving family of humans. My father was the guv'nor of a large village when a major national war thrust citizens throughout all the lands into starvation, disease and desperation. All nations blamed each other for the hostilities.
I grew up watching my father train young men for battle. Soon I developed a vigorous respect for weapons and their ability to transform minds through fear. The ideals my father implanted in soldiers in preparation for defense of our land became a hallmark for other leaders.
On my tenth birthday I was presented with my first weapon -- a small lance. To my surprise, the greater gift was a majestic black steed for my companion. I named him Giordano, my battle mount.
I practiced jousting several hours daily, switching hands and improving impalement arts. As my muscles grew stronger I felt ready for the heaviest of lances. While in the armoury searching through the lances, my attention was drawn to the beautiful knives, including the machetes, swords, daggers, and the cusped falchion. I endeavored to gain experience in all the weapons available.
During practice with the falchion, I nicked Giordano and wounded him. It was the first and only time I cried. My practice stopped for a few weeks as he regained his strength. I found solace in his company and our bond became stronger.
Returning to training, I used the secondary weapons and became confident with precision and spin techniques. After a few years, my father felt I was ready to acquire knowledge of the secret ultimate weapons – discipline of the mind, and moving meditation. I was then able to teach my weapons to obey my sub-rosa thoughts while I positioned fearful images into the enemy's mind. Giordano easily learned to accept my unspoken commands. We both felt fearless.

The supreme directive came as a surprise to everyone. All warriors were to commence battle in defense of our nation. I was still too young to be considered an effective fighter, but I stood tall and demanded respect for my accomplishments. Giordano and I took to the field at the forward edge of battle.
It was disheartening to observe the lengthy line of opponents. The rumors of their mighty skills were underestimated.
Giordano's training proved inadequate. During Giordano's attempted capriole, which is best described as a striking leap with all four legs, he was fatally struck with a flying metal star. His heavy weight fell abruptly on top of me crushing me to death. We died together.

Death suited me, but not at first. I struggled with the loss of Giordano. I knew our bond was not completely broken because his subtle energy was with me. As my own vitality slowly transformed, I kept alive the hope that Giordano would be at the ready should I need a mount for combat. My new community of dark souls was waiting for me at the end of my transition, and assured me that all things are possible in this realm.
As I continue on with my exercises of moving meditation and mind discipline I am aware that my muscles and form can be called upon in the spirit sense-ready for battle.
Take a look at me again. What do you see now?
Presented as a contest submission for Steemmonsters