INTRODUCTION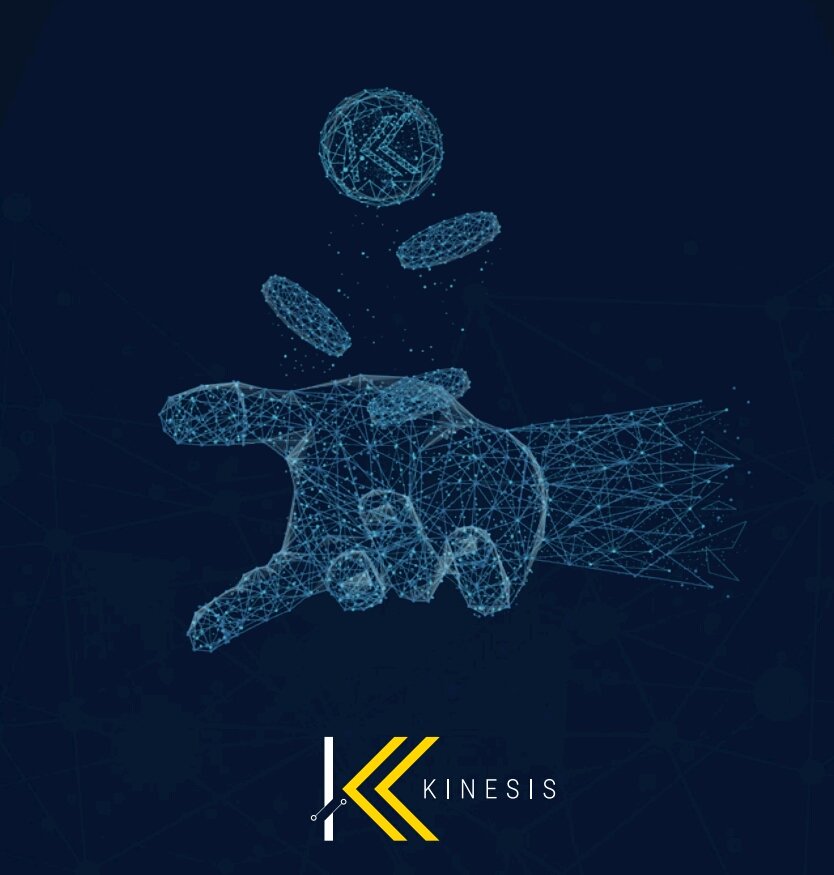 Money is an important part of our everyday lives, and we use it physically or electronically everyday to make payments for goods and services rendered.
There are many modes by which payments can be made these days, and with cryptocurrencies on the scene, the options out there increased.
Kinesis ensures that users are able to have their funds work to their benefit. By holding on to tokens, users are rewarded. By carrying out transactions or referring people, they also get a piece of the pie. Kinesis ensures that there is no need to hoard currencies, and its tokens can be used to retain value, seeing it's backed by a 1:1 ratio of physical gold and silver stored. This is important, because gold and silver are precious metals that have been stable over the ages. Hence, they offer stability to Kinesis tokens, which ensures that they can be used as a primary means of payment globally, seeing they are not volatile like other cryptocurrencies.



KINESIS: THE PLATORM, ITS FEATURE AND AN INDEPTH LOOK
YIELD
Velocity based yield system.

Getting your money to work for you results in a yield. Kinesis ensures that its users and individuals that make the platform flourish are not left out.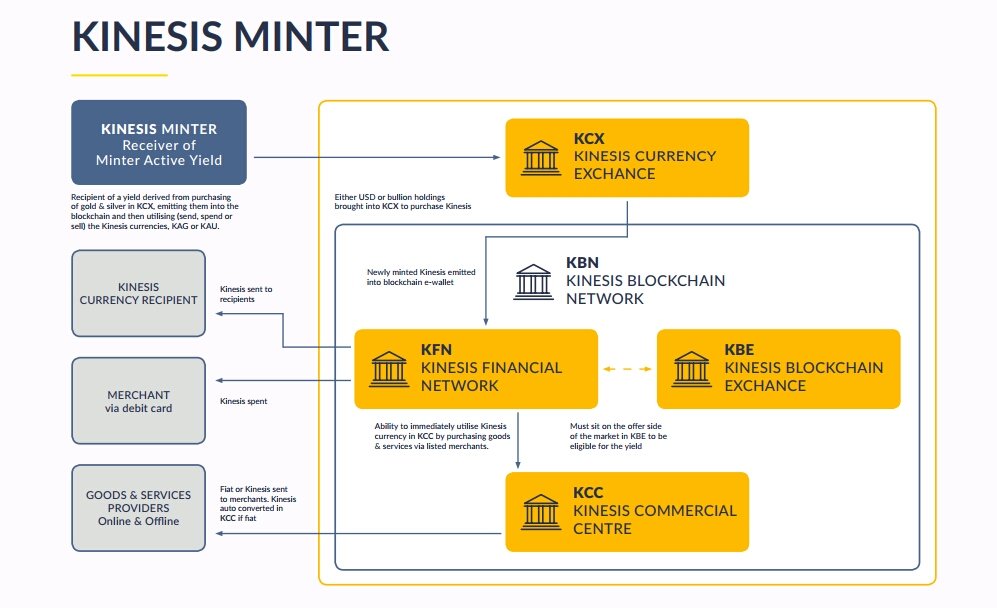 Minters, referrers, holders and depositors of Kinesis currencies, KAU and KAG are rewarded via a portion of transaction fees, ranging from 5% to 20%. It is also a reoccurring source of revenue that users can get, by carrying out activities such as making payments, receiving, and other activities highlighted earlier.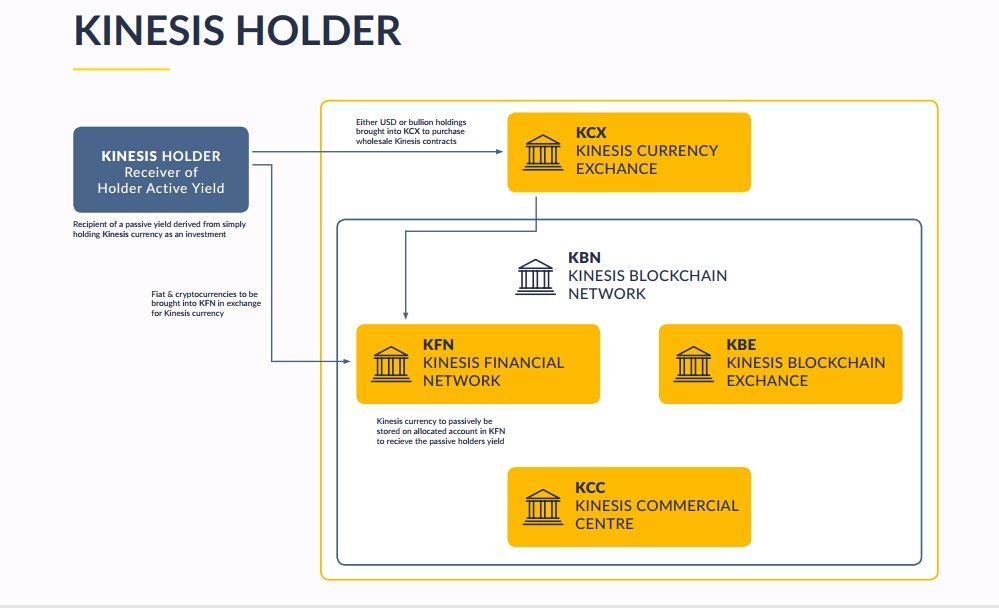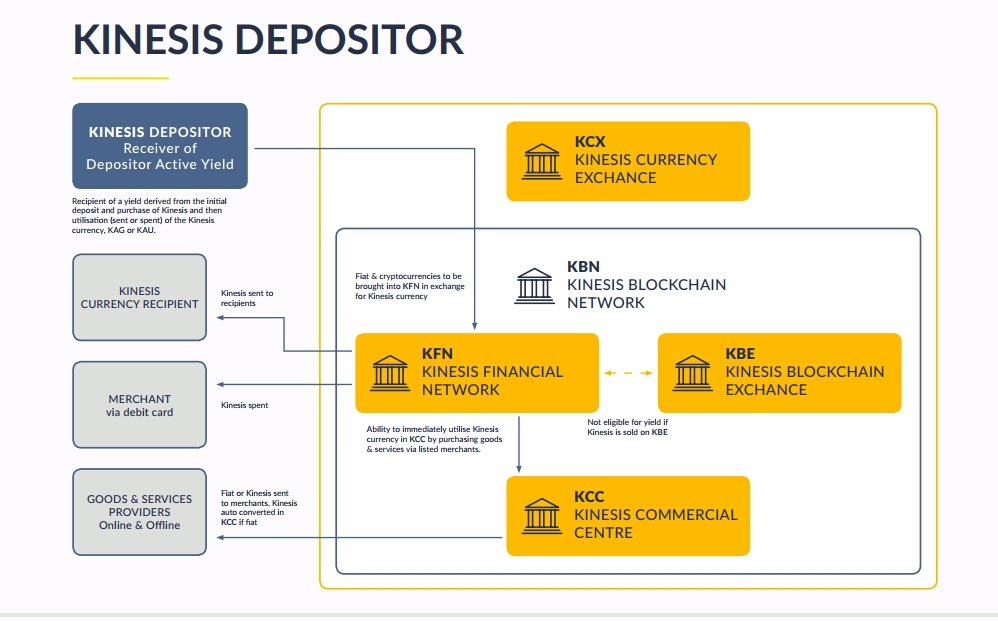 FEATURES OF THE KINESIS MONETARY SYSTEM
KINESIS CURRENCY EXCHANGE (KCX):
Kinesis currencies and made/minted here. This entails converting paper money to KAU and KAG.
KINESIS BLOCKCHAIN NETWORK (KBN):
The underlying technology of the ecosystem is the blockchain, which ensures that funds can be transferred from one wallet to another, and transactions can be carried out very quickly.
** KINESIS BLOCKCHAIN EXCHANGE (KBE):**
This ensures that Kinesis currencies can exchange hands, and other cryptos can be traded within the platform.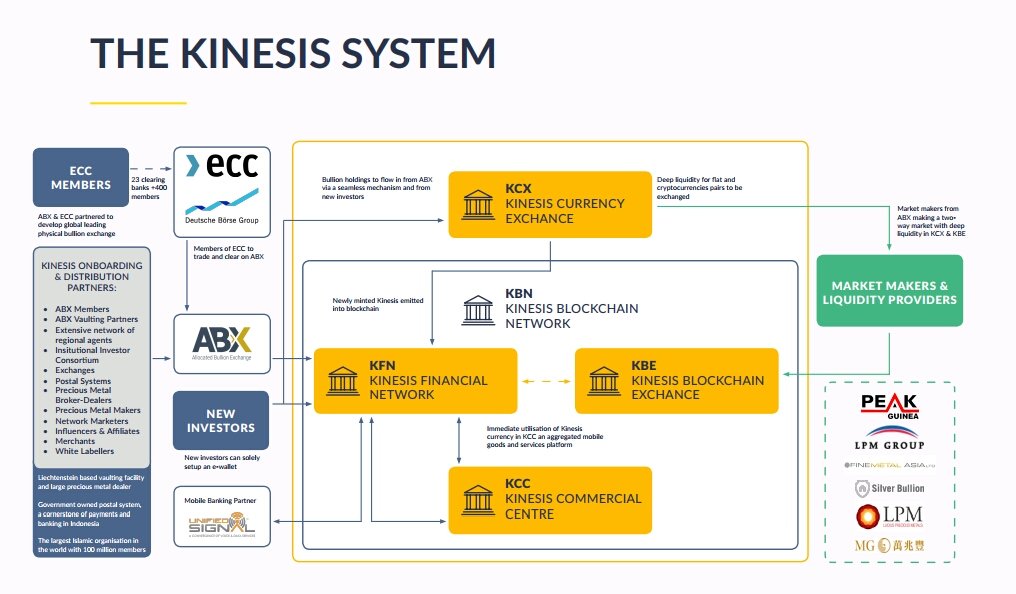 ** KINESIS FINANCIAL NETWORK (KFN):**
This ensures that currencies can be used to store up value, effect and receive payments. A debit card attached to it also ensures that this can be carried out anywhere.
** KINESIS COMMERCIAL CENTER (KCC):**
Goods and services providers are listed here. Kinesis ensures that its merchants can be found and paid easily, thanks to the KCC.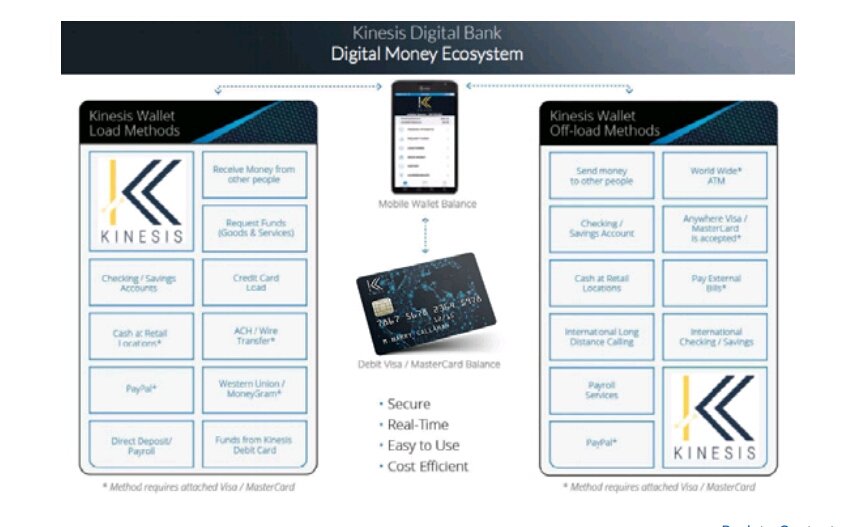 ** ALLOCATED BULLION EXCHANGE (ABX) AND KINESIS**
ABX is a public company that has several trading hubs, and has been in business since 2013. it's also the world leader with regards to allocated precious metals.
With ABX having strategic partnerships with major bodies such as Deutsche Borse Group and European Commodity Clearing, Kinesis solution has an easy access point to the global market. Being very experienced will ensure that mistakes made will be very minimal, and traction will be hit much more quickly.
Kinesis monetary system explained

This is very important with regards to global dominance, and becoming the defacto world currency.

KINESIS VELOCITY TOKEN (KVT)
This is an ERC-20 token, which is the highest form available. For having KVT, holders will receive a portion of transaction fees. It will be a tool for Kinesis to use in raising funds.
20% of all transaction fees related to Kinesis tokens and 20% of commissions from the Kinesis Commercial Center are reserved for holders, and are distributed according to their stake.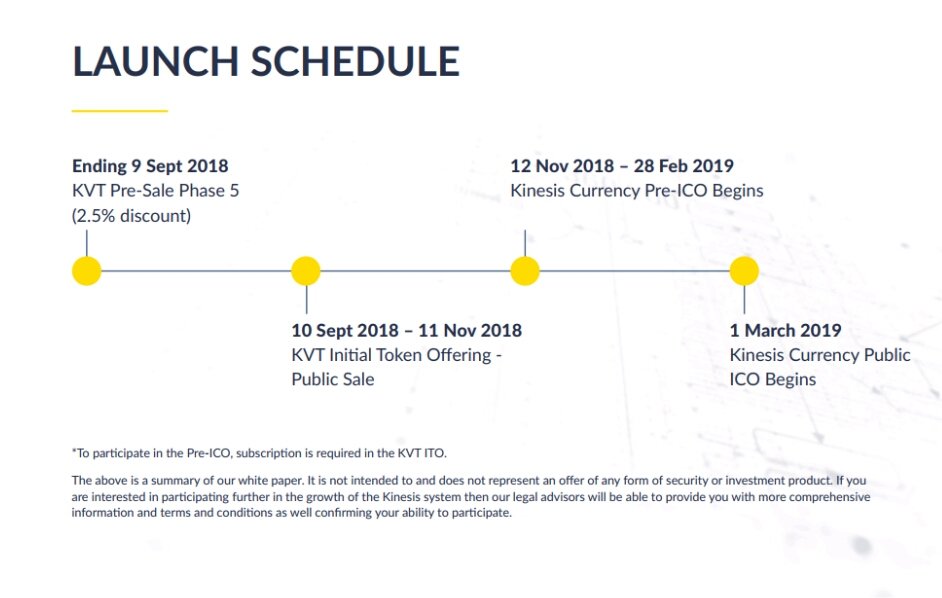 USE CASE
Maria is a student, and wishes to have a source of passive income to cover some bills, while she goes on with her studies.
She has tried a number of opportunities, including HYIP's, and lost part of the little she had.
With the poor returns offered by banks on savings, this is not even an option-not forgetting she has little cash to work with.
On the train on her way back from school, she overhears a man talking about his excellent returns from Kinesis.
She swiftly makes a dash to Google, and does a bit of research about it. A week later, after being convinced it's worth the risk, she takes the plunge.
By signing up she gets a portion of transaction fees related to her deposit. She uses her debit card to effect payments for things she will naturally pay for, and gets a tidy commission. This get her excited, so off she goes to preach the gospel of Kinesis to just about anyone, and she begins to rake in a tidy sum. Her problem is solved, and she can focus on her studies.



SUMMARY
Kinesis is more beneficial to over the counter solutions, because it offers better returns at the owners convenience. Funds do not need to be used to secure assets, as it might be the case in OTC solutions. Rather, users have the benefit of their tokens working for them and earning residual income.
Kinesis ensures that the average user that wants to be a part of the ecosystem is not left out. Having a low entry point, with easy to use processes ensures that anyone in any part of the world can be up and ready to go, without having years of investment experience.
With little activities carried out, users can get rewards that can be used to actually foot bills. Having a debit card attached to this solution ensures that users can pay for goods and services anywhere and at anytime of the day.
With all these in place, I will not be surprised to see Kinesis currencies at the fore of transactions carried out by humans, in a couple of years.


TEAM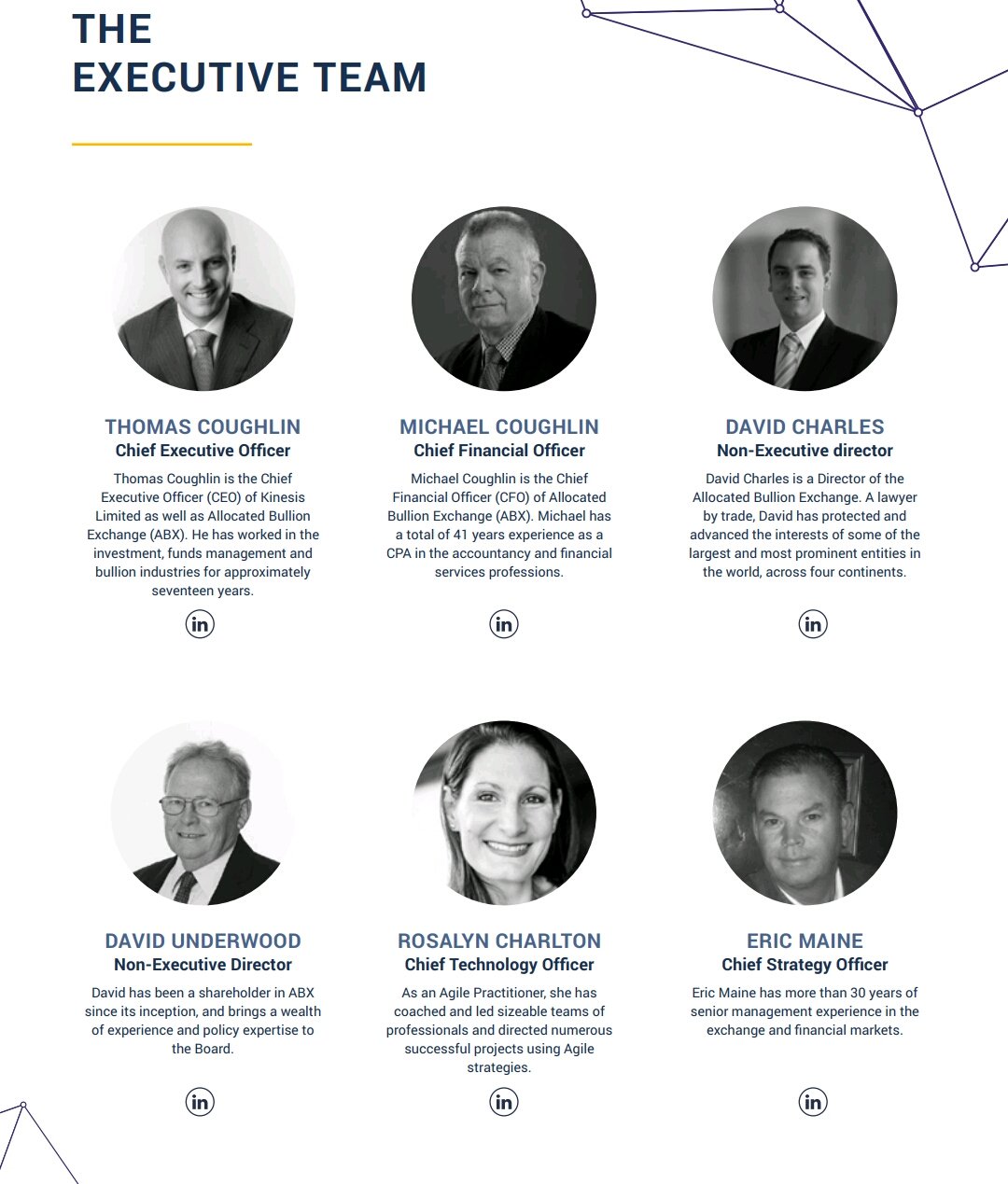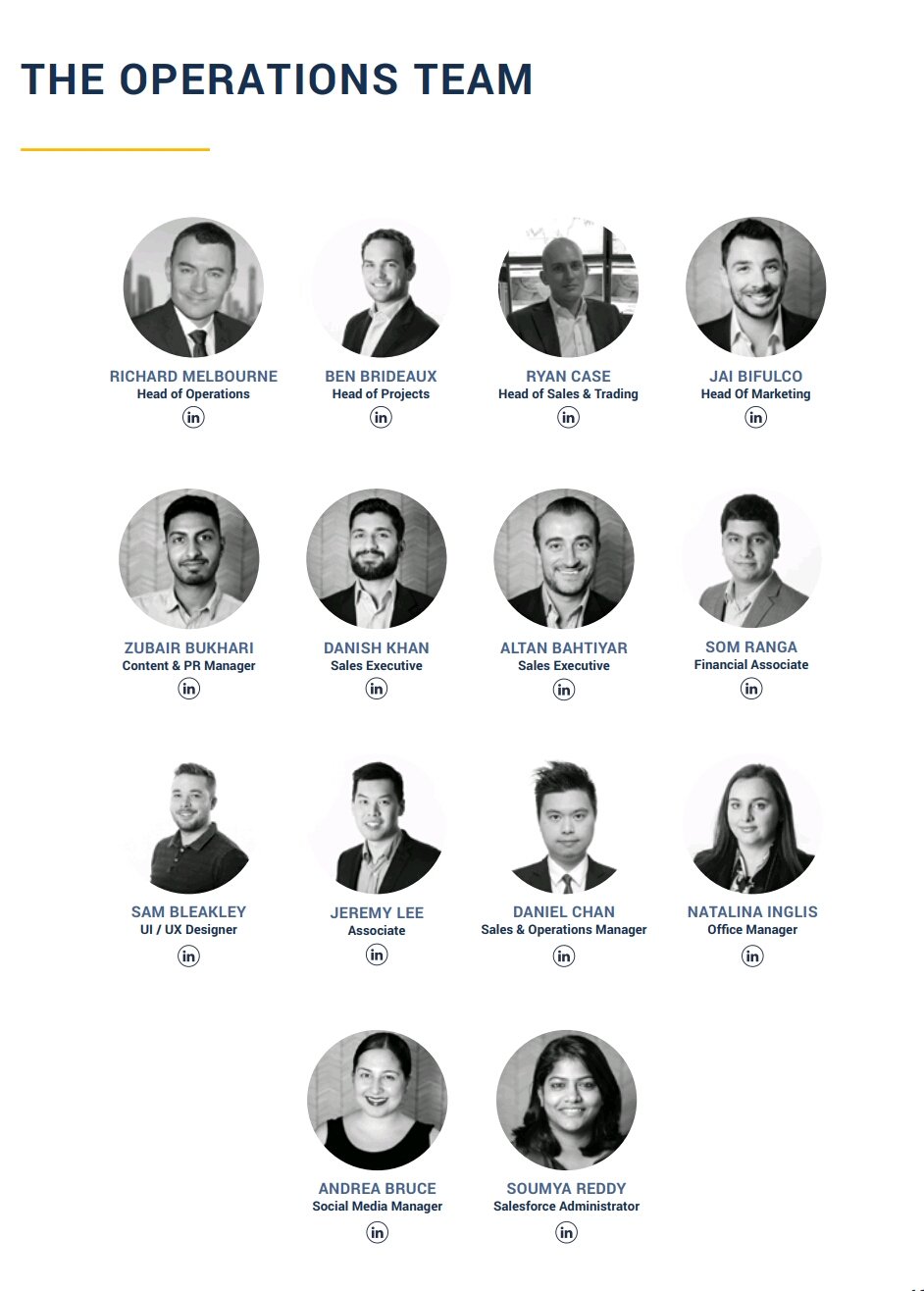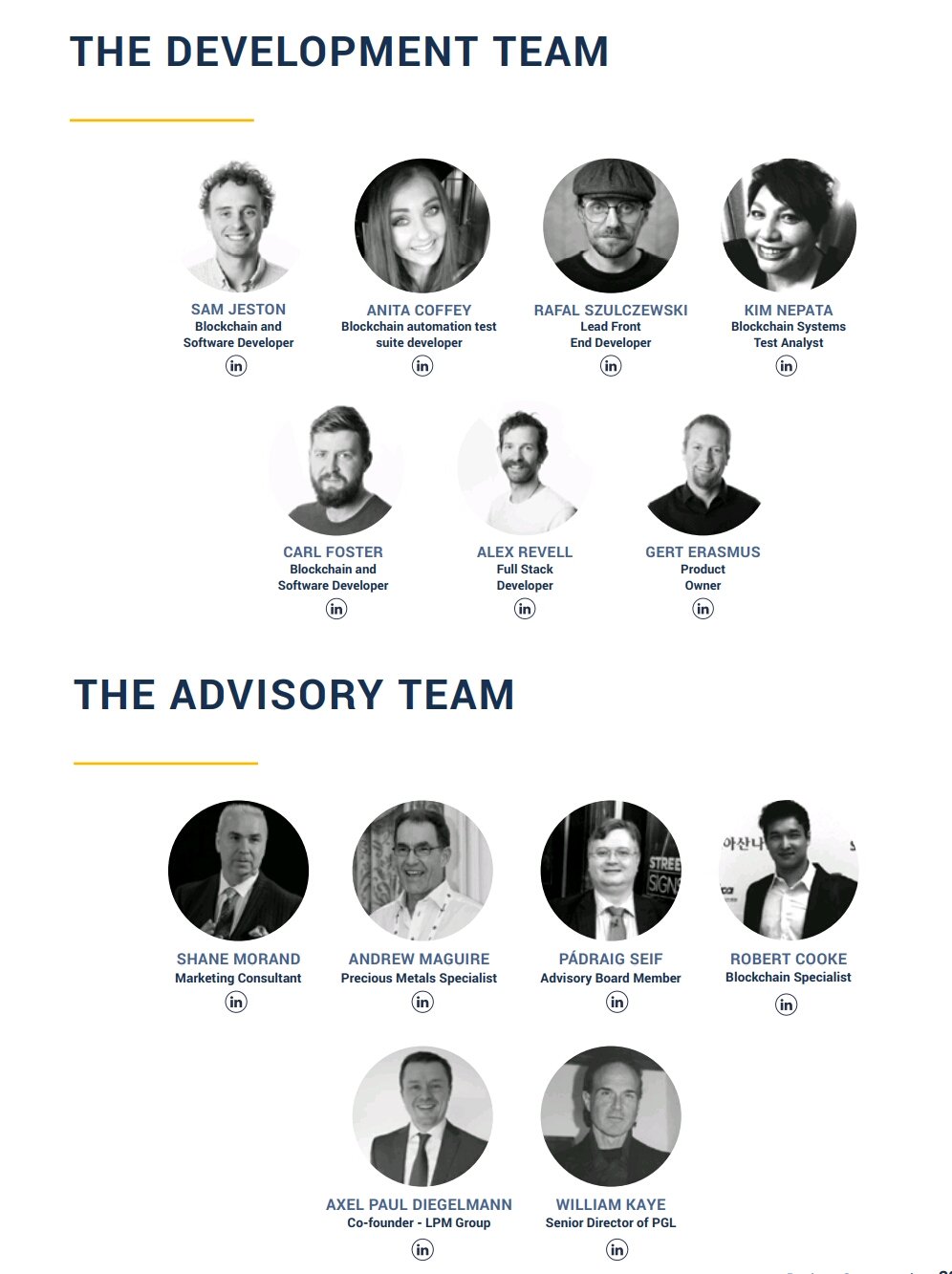 ROADMAP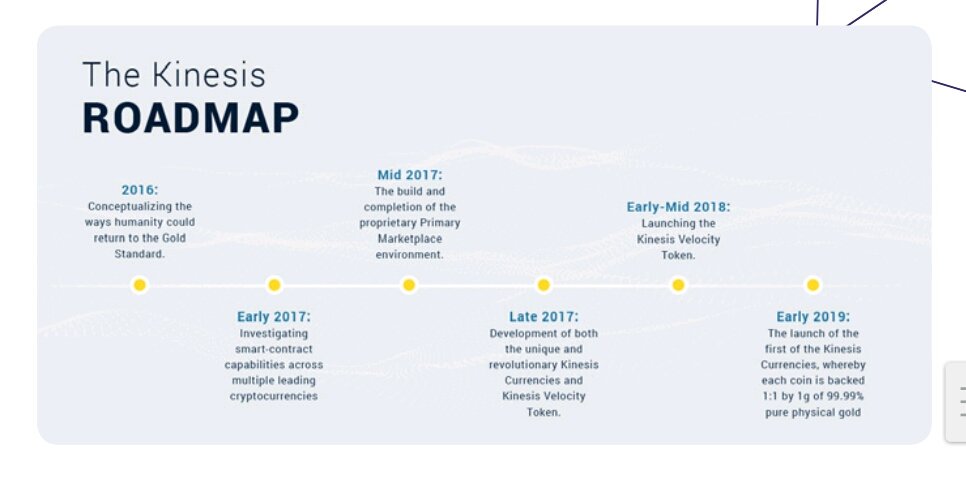 VIDEO
MORE INFORMATION & RESOURCES:
Kinesis Website
Kinesis.Money WhitePaper
Kinesis.Money OnePager
Kinesis.Money YouTube
Kinesis.Money Telegram
Kinesis.Money Linkedin
Kinesis.Money Github
Kinesis.Money Steemit
Kinesis.Money BitcoinTalk
Kinesis.Money Medium
Kinesis.Money Twitter
This is my entry to the originalworks contest here

Kinesis2018
Twitter
https://twitter.com/Lifeesbelle/status/1036705080181968896
Kinesistwitter