MASS ADOPTION OF THE BLOCKCHAIN A HUGE ASK
The next logical step for the cryptocurrency industry and blockchain technology is attaining mass adoption.
Obviously, this is easier said than done, and one wrong step can take the industry into the dark ages.
A number of solutions have been proposed, and shortly we will be taking an in-depth look at another, who have come up with a fix for the problems users face, when making use of exchanges.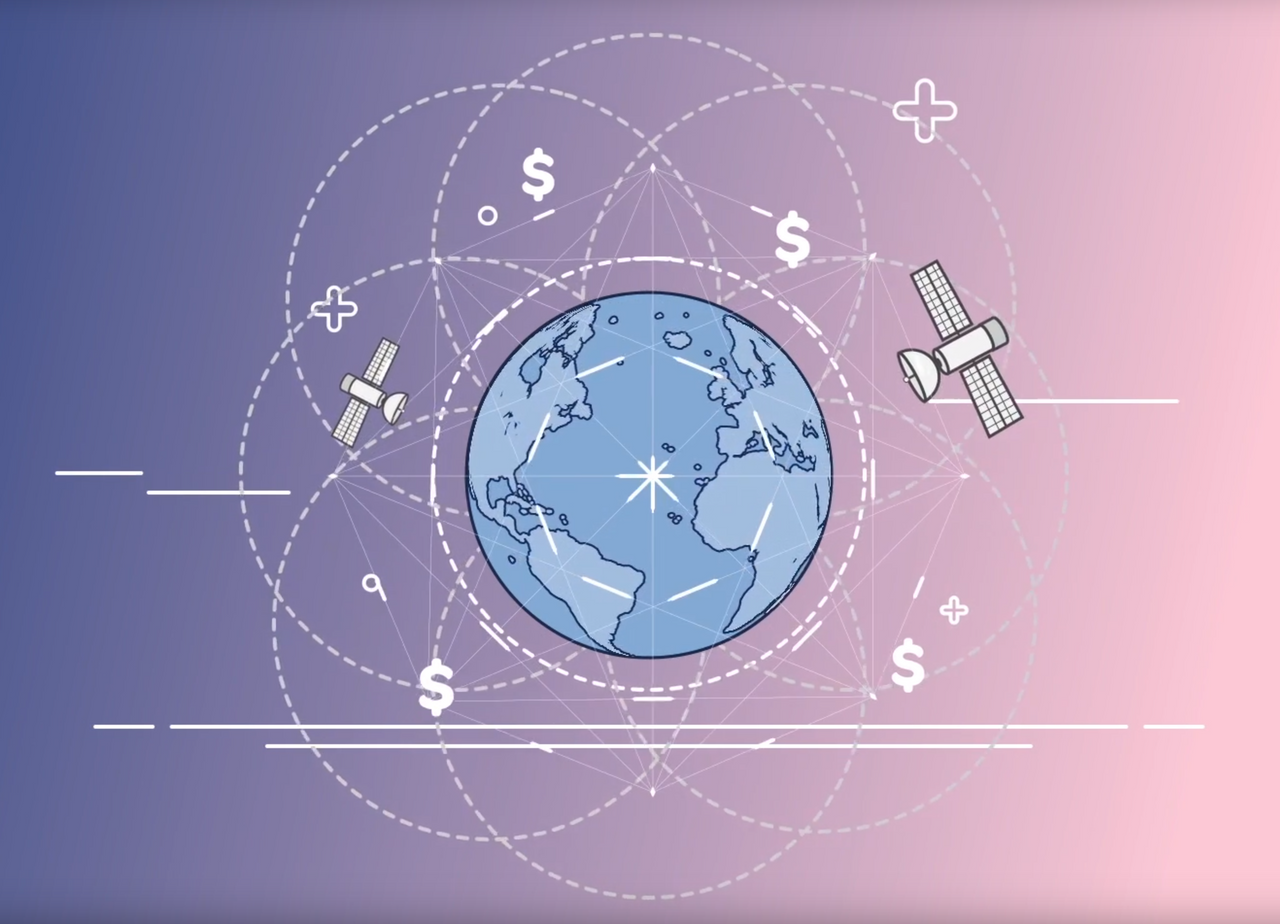 Liquidity ensures that its solution performs its tasks off-chain, while having a decentralised aspect to it all. By doing this they ensure that transactions are closed instantly, speeds are as achieved on any other superb centralised exchange.
With the lower cost of operation, Liquidity is able to implement transaction costs that are negligible, and having super servers off0-chain, ensures that users will not encounter issues such as a breakdown of the network, when transactions are effected during peak periods.
Liquidity also makes provision for redundancy, which we will look into in more depth in a bit.
LIQUIDITY
Liquidity's solution is based on the Ethereum blockchain. Its network ensures that financial payments can be effected, with it acting as an intermediary that does not need to hold on to any funds. It has the ability to support millions of users, which is talked about in depth, below. The backbone of Liquidity's Ecosystem is its NO-CUST(non-custodial) and REVIVE innovative solutions.
Liquidity's Exchange is an off-chain exchange that also does not require Liquidity to hold on to funds, when atomic swaps take place, off chain.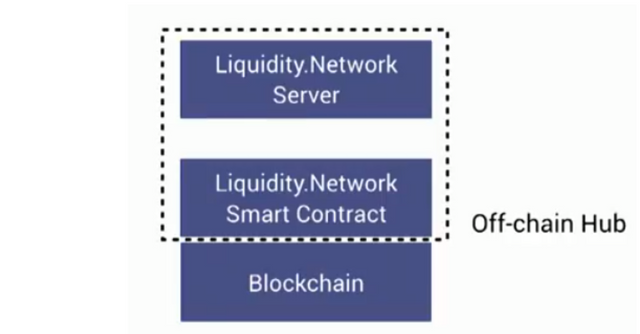 LIQUIDITY'S ABILITY TO SCALE-UP AND SUPPORT MILLIONS OF USERS MAKE IT BETTER THAN EXISTING SOLUTIONS
By being able to scale up and support millions of users, Liquidity has made sure that its users will not suffer as its userbase grows. Scaling up is a problem for many exchanges, and when exchanges are unable to meet the needs of users, a lot of them will leave.
With Liquidity, they have ensured that this will not be the case, rather its users can expect to have a host of problems experienced with exchanges taken care of.
ARCHITECTURE: OFF-CHAIN HUB:
Liquidity has applied a concept similar to universal hubs. When a user joins a hub, the user is not restricted to transacting with just one person, rather they now have the opportunity to transact to with thousands or millions of users. Liquidity ensures that value can be shared with a wider pool of users, but only users having private keys have the authority to make use of the funds. Blockchain technology provides the security, and users can be sure of being protected.
Multiple hubs can be connected, to ensure that the reach is amplified, and more value can be shared among even more people.
REVIVE
This gives arbitrary users within a payment channel the power to rebalance their channels when the need arises, or when they feel it is needed.
Asides from when disputes arise, there is no need for on-chain transactions.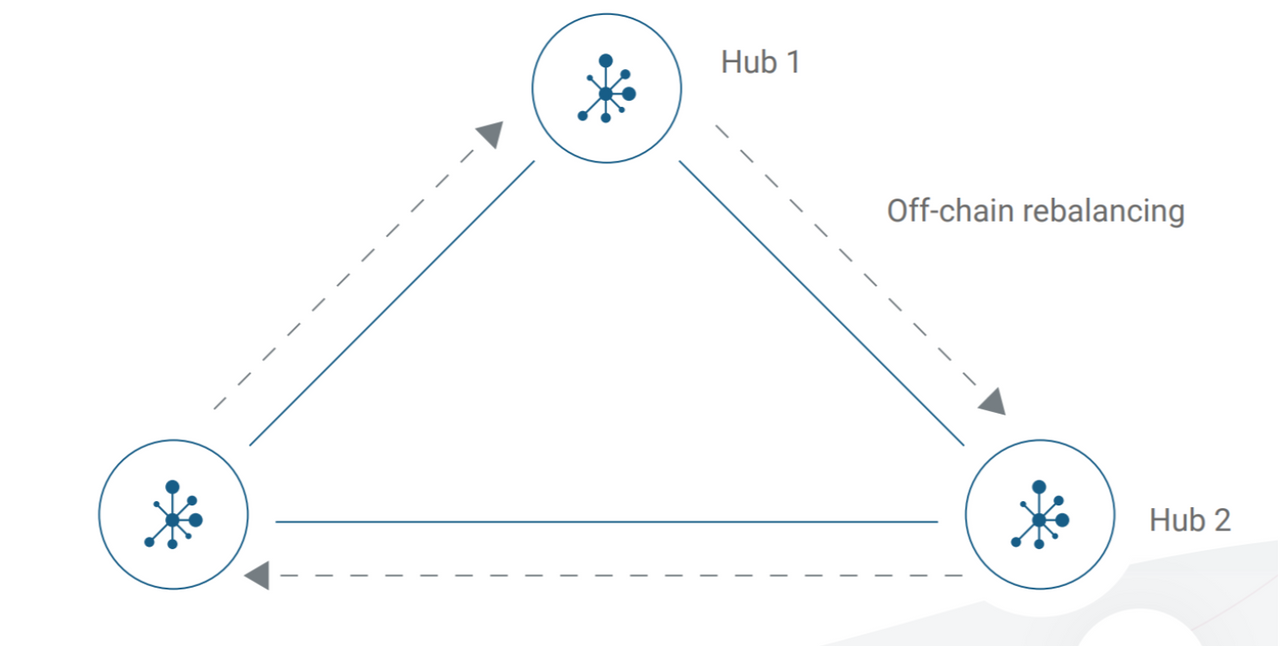 HOW LIQUIDITY CAN BE USED
*Airdrops powered by liquidity (allocation of airdrops to millions of users instantly)
Purchases
Money Transfer
IoT Sensors.
Non-custodial off-chain exchange.
LQD TOKEN
This is a tool that will be used to access advanced features, such as Service Level Agreement. It will also be used to make payment for auxiliary services, such as Channel Monitoring. Regular users will not have a need for the token.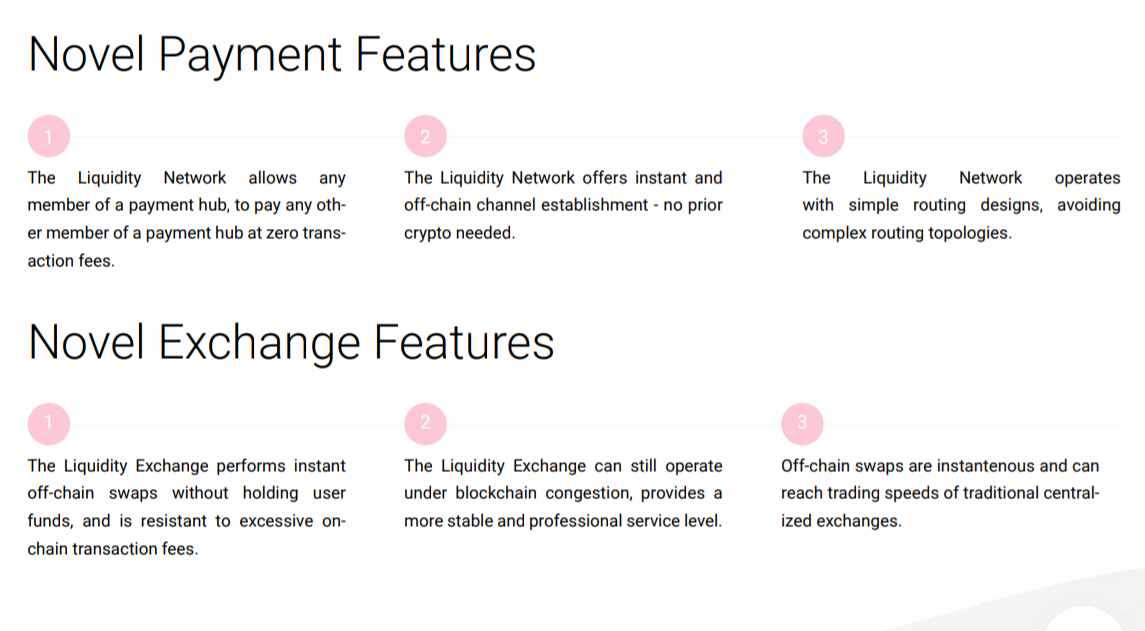 USE CASE
Scone has an airdrop coming up along with its ICO. They need to act fast, to ensure that they are able to meet their projections and follow their roadmap. Also, a solution that ensures every single person that is supposed to receive their tokens get them.
By making use of Liquidity, Scone does not need to spend heavy resources to ensure that their users get their tokens. Rather, millions can be attended to instantly, in a secure and safe environment.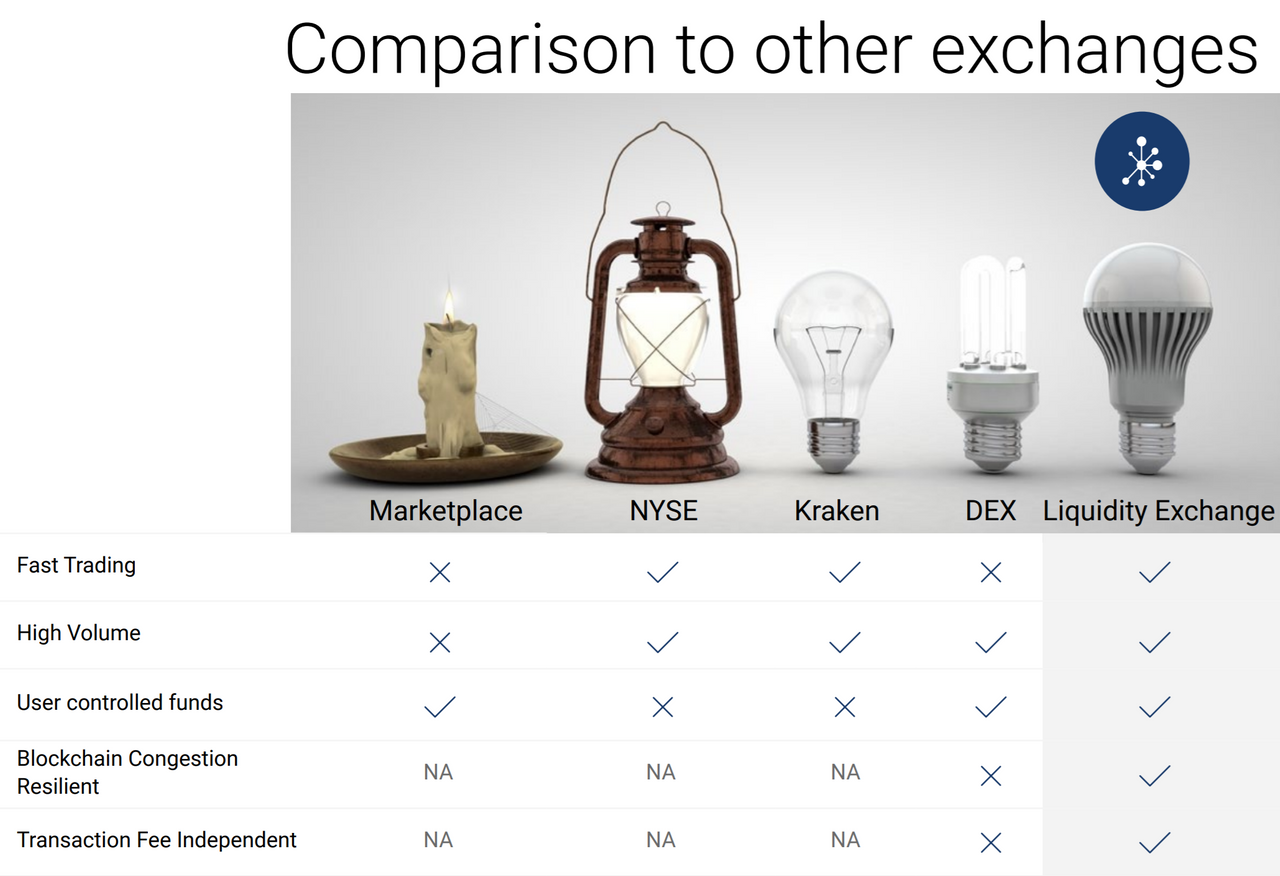 CONCLUSION
Being able to maintain control over private keys means that users cannot be held to ransom by the exchange or anyone. It keeps them in check, and also frees up the exchange to focus on serving its users better, like ensuring computing needs are top notch. By taking this off-chain, Liquidity is able to be ready for mass adoption, and being able to run its services at a lower cost, meaning that users need to fork out less, in transaction costs. They also will be able to make use of the exchange, without a breakdown in communication between their computers and Liquidity's servers.
Interconnectivity of hubs ensures that provision is made for redundancy. By having a lower overhead, and using feasible solutions that can scale up easily, this ensures that Liquidity can afford to offer very low transaction fees.
TEAM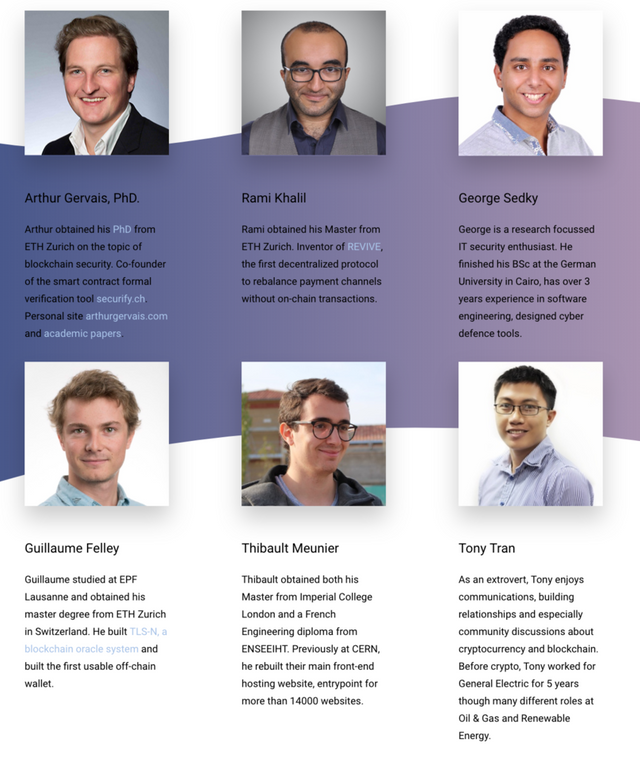 ROADMAP
(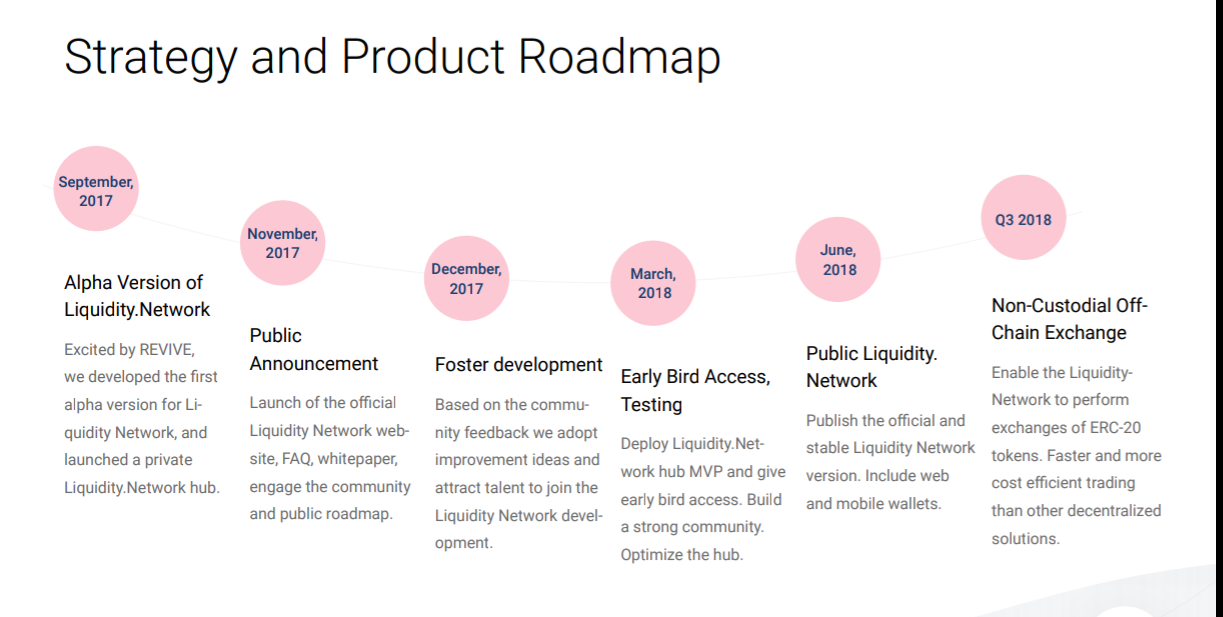 )
VIDEOS