The Prize Options:
Win this contest and take your choice of a Geodesic Dome Greenhouse, OR approx $200 worth of STEEM plus a delegation of approx $200 worth of STEEM POWER for 1 year! (1/6 plus 1/6 of total approx $1200 worth of accumulated payouts. Values may very depending on various factors.)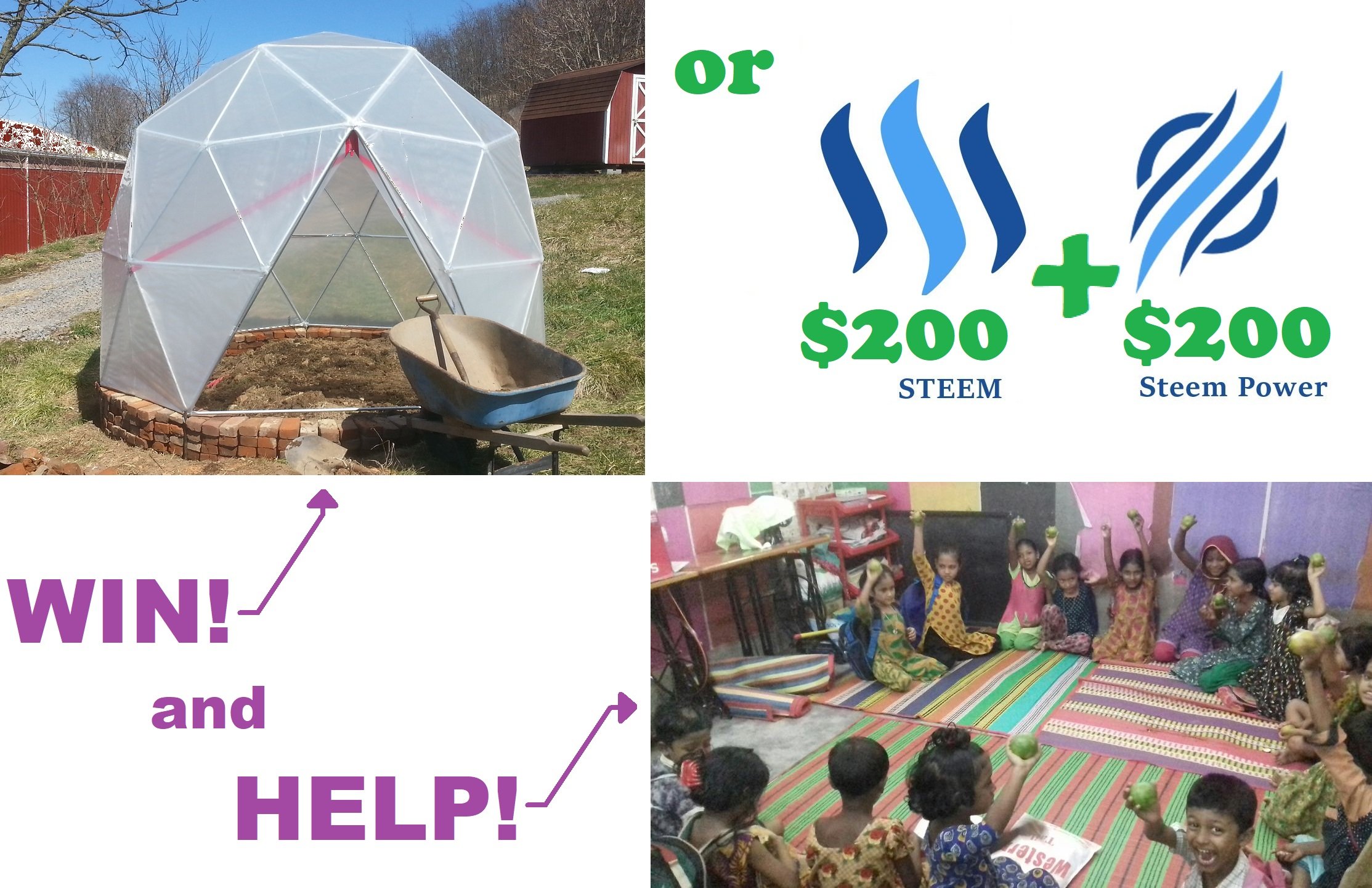 How to Win:
Follow Us @synergyu
Comment anything you want in the comment section of this post. (The more original, helpful or funny the more likely you are to get voted up)
Vote on your favorite comment(s) (no self-voting)
Upvote this post (any power level is appreciated)
Resteem this Contest
The winner will be chosen by number of votes. If there's a tie the winner will be chosen by comment value.
This is the third round of this contest. It gained $8 in previous rounds, so now there's only $1,192 left to raise of the required $1200. The contest will be repeated with the same (or similar) rules until we announce the winner!
Choose a Prize!
If you win and chose the Geodesic Dome Greenhouse, the remainder of the funds not used to create your dome, (approx) $400 of payouts from this contest, is to remain in Steem Power to upvote @schoolforsdg4 and other friendly content.
Winner will be responsible for any shipping cost...but handling is free! :)
If you choose to take the (approx) $200 STEEM, and delegation of (approx) $200 to your STEEM POWER for a year, of the remaining payouts, (approx) $400 will remain STEEM POWER with @synergyu and (approx) $400 will be donated to @SchoolforSDG4 in STEEM for school supplies!
Please comment below with any questions or feedback (especially how we can improve this contest, or other contests we can run to support @SchoolforSDG4).
GOOD LUCK!
P.S. For more posts supporting @SchoolforSDG4, follow @azizbd, @synergyu, @davidpantone, and @lindahas