@steemonboarding are running a competition to encourage signups with some large prizes for both the most successful onboarders (Steem prizes) and the most active community (11000 delegation)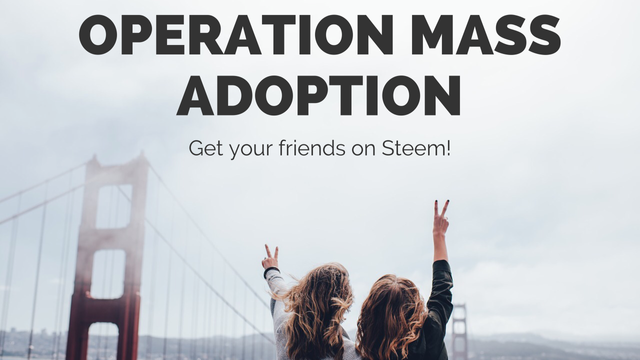 What is this all about?
You can see the full details here and make sure you read the rules carefully.
https://steemit.com/contest/@steemonboarding/contest-or-operation-mass-adoption-or-2-000-steem-in-prizes
The prizes
1st place - 300 Steem
2nd place - 250 Steem
3rd place - 200 Steem
4th place - 150 Steem
5th place - 100 Steem
*Prizes may grow
 
@Actifit is giving 100 Steem for the 1st place and 50 Steem each for the 2nd and 3rd place.
@Oracle-D will give a 100% vote for the top three winners.
@Cervantes will give a 100% vote for the top three winners.
Why should we?
This is a great opportunity to not only bring more people onto the blockchain and potentially win some cold, hard Steem - it is also a brilliant way to build community exposure and of course, develop trust and attract new members. There are many communities on Steem which means for a community to be successful it has to be able to stand out from the crowd, and these kinds of community driven initiatives are a perfect vehicle to get out there.
People and communities are always looking to get the attention of larger accounts and this contest is sponsored by some of the largest and most community driven out there. @steemonboarding is driven by @coruscate and @anomadsoul with a sponsor and supporter list including @blocktrades, @theycallmedan, @yabapmatt, @ocd, @fundition, @actifit, @oracle-D, @cervantes and all the people who will be keeping an eye on the progress.
Taking part should be a no-brainer decision for any community as while the exposure is great, it also helps develop the community itself through the interaction and coordination required to bring in users. These kinds of competitions don't come along so often and each should be leveraged to full potential.
The contest
By using the @steemonboarding videos at https://steemonboarding.com, get as many people to sign up on Steem. They have to be real people, users who will create content, engage in other people's posts, Steemians who will play one of the various games on Steem or that will be active users in one of the various DApps.
The Steemian who gets more users to sign up, wins the contest. It's that easy.
It starts TODAY!
This contest will run for 21 days: Starting on Wednesday, May the 22th at 00:01 PST, finalizing on Wednesday, June the 12th at 23:59 PST.
How many signups does it take to win?
Well this is the competition and it could be 5 or it could 100 depending on how active the communities are and that in itself is a challenge. Do you think your community is active, that it has what it takes? Prove it.
There is support on offer from some of the most community focused members on Steem, take the opportunity and run with it as there are so many advantages just for participating, let alone bringing in a prize or two.
Good luck and spread the Steem word wide.
Taraz
[ a Steem original ]