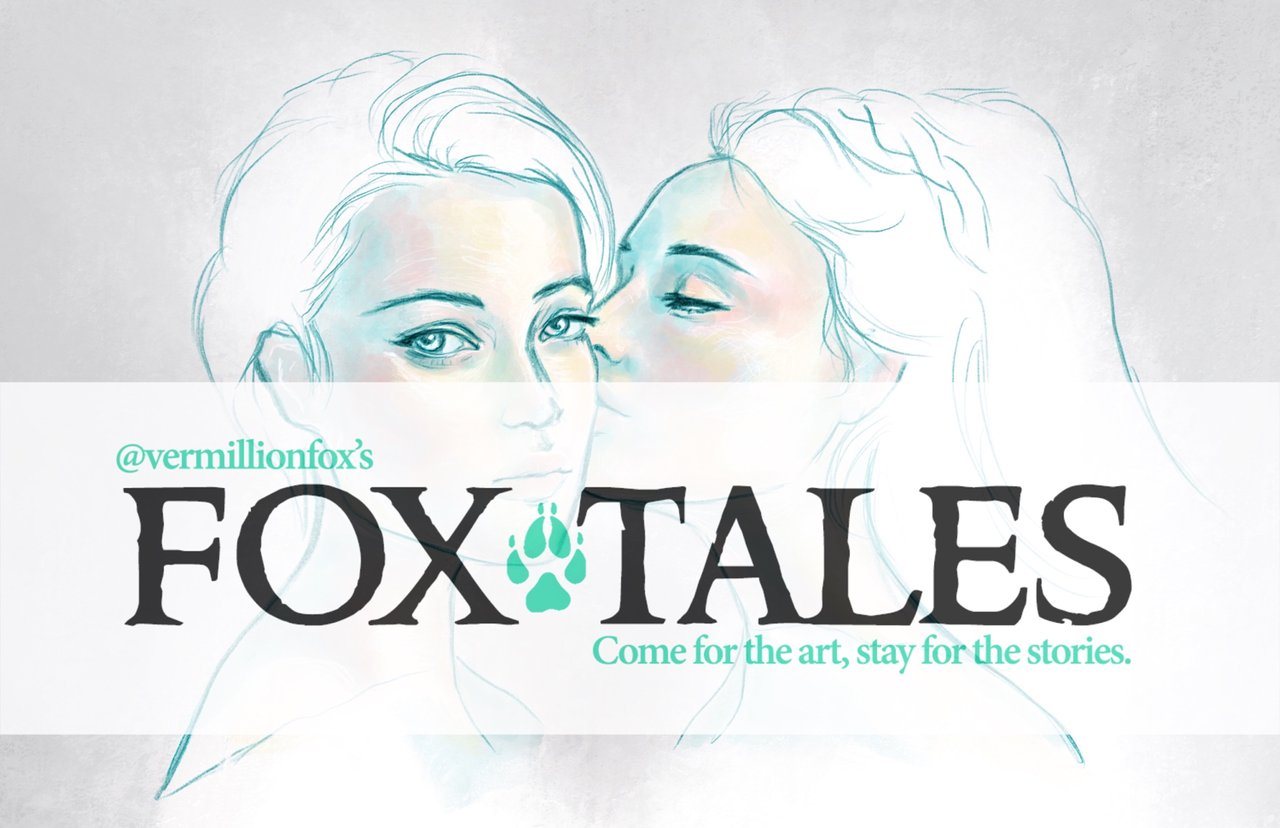 ---
If you love writing stories then this contest is for you! Write a short story about the image pictured above. Be creative, think outside of the box and follow the listed rules!
---
Hello writers and fellow art lovers! Sorry for the delay in making this announcement post! Better late than never, am I right? 😅 I played a long game of magic with the guys and then I took a break. My thoughts were floating around and I imaged a little foxy taking a walk in the rain, waiting to be struck by inspiration. I told myself that today was the day and it finally happened!
---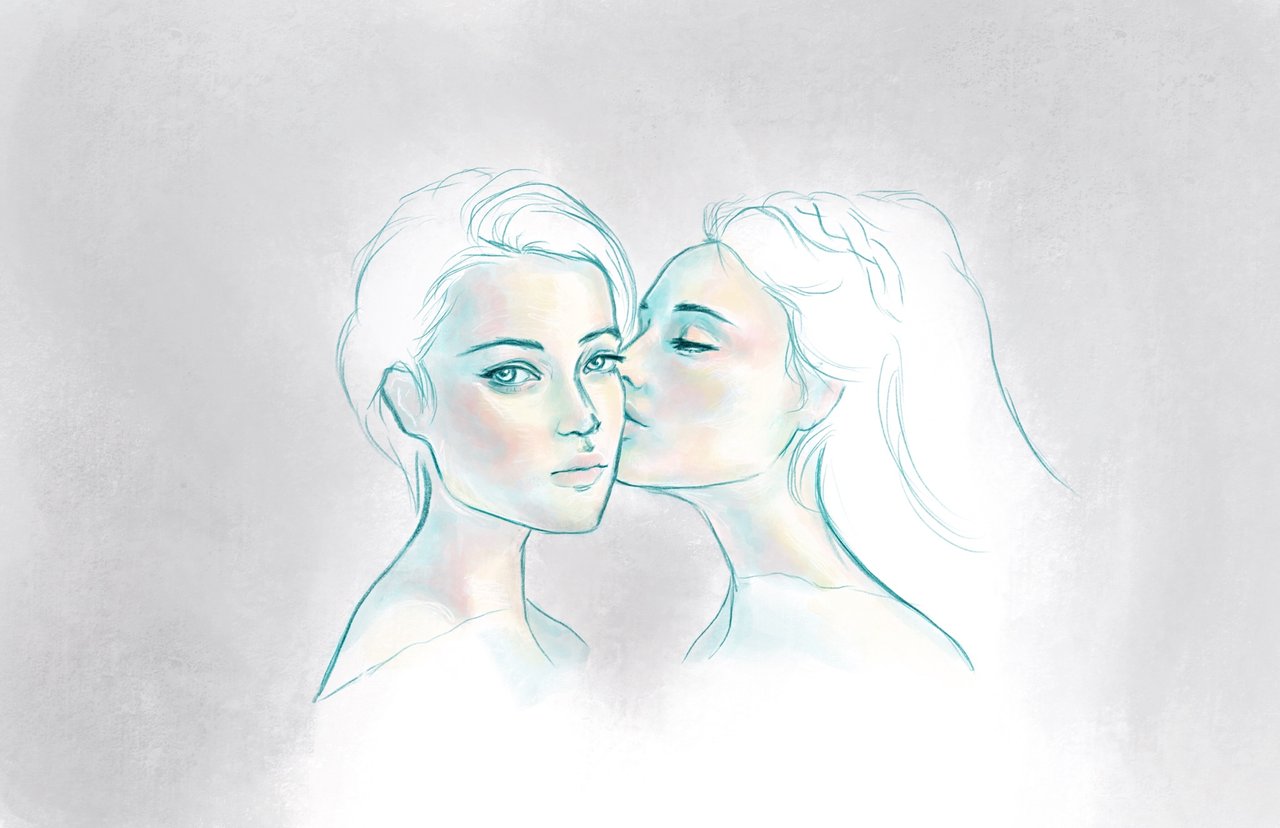 This week's image prompt is fresh off the press. I wanted the theme to be different from previous weeks so I had the idea of drawing two people interacting with one another. I hope this image sparks inspiration for all you writers! Thanks again for your patience!
---
The progress...
All my drawings are original sketches drawn digitally by me on the Procreate App using the iPad Pro with Apple Pencil.
---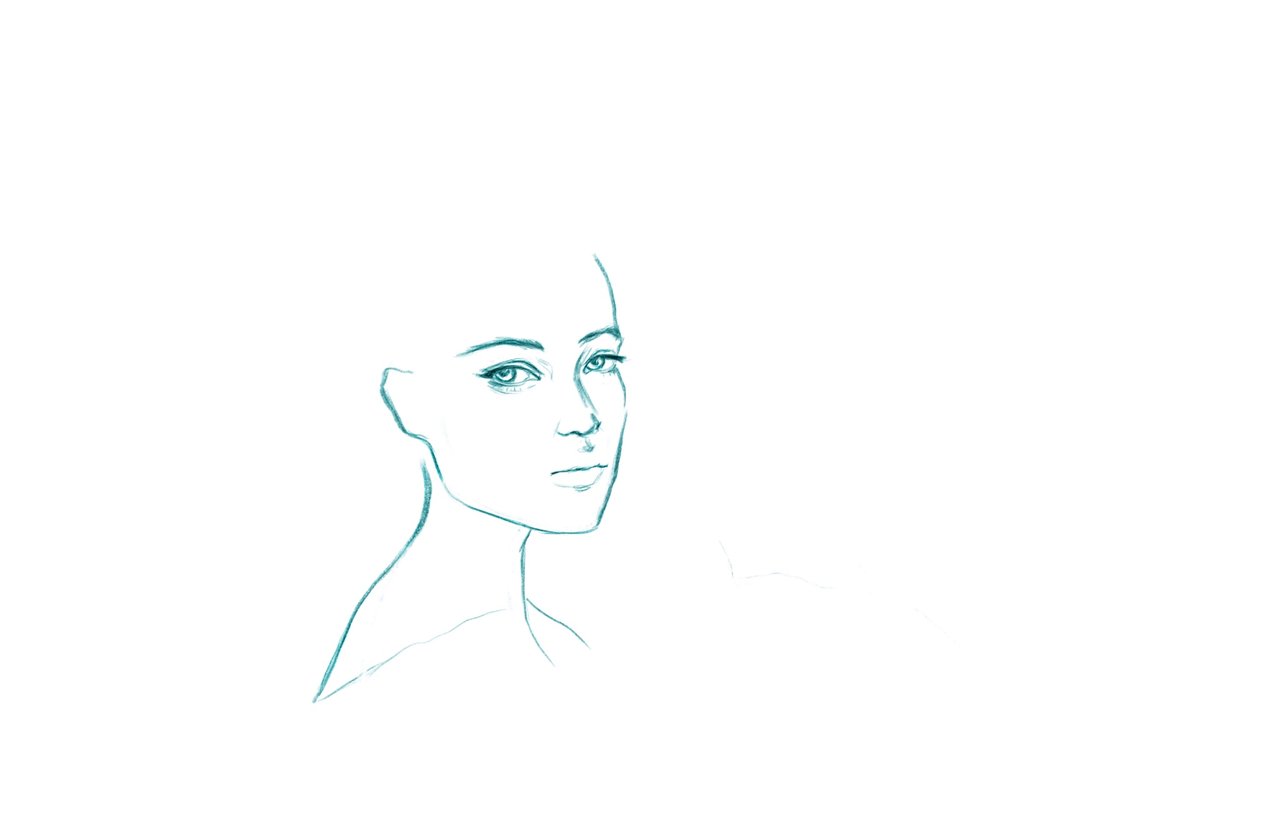 I sketched out the first person with my new downloaded carpenter's pencil. Her eyes were kinda wonky so it took several tries before I got her looking the way I wanted.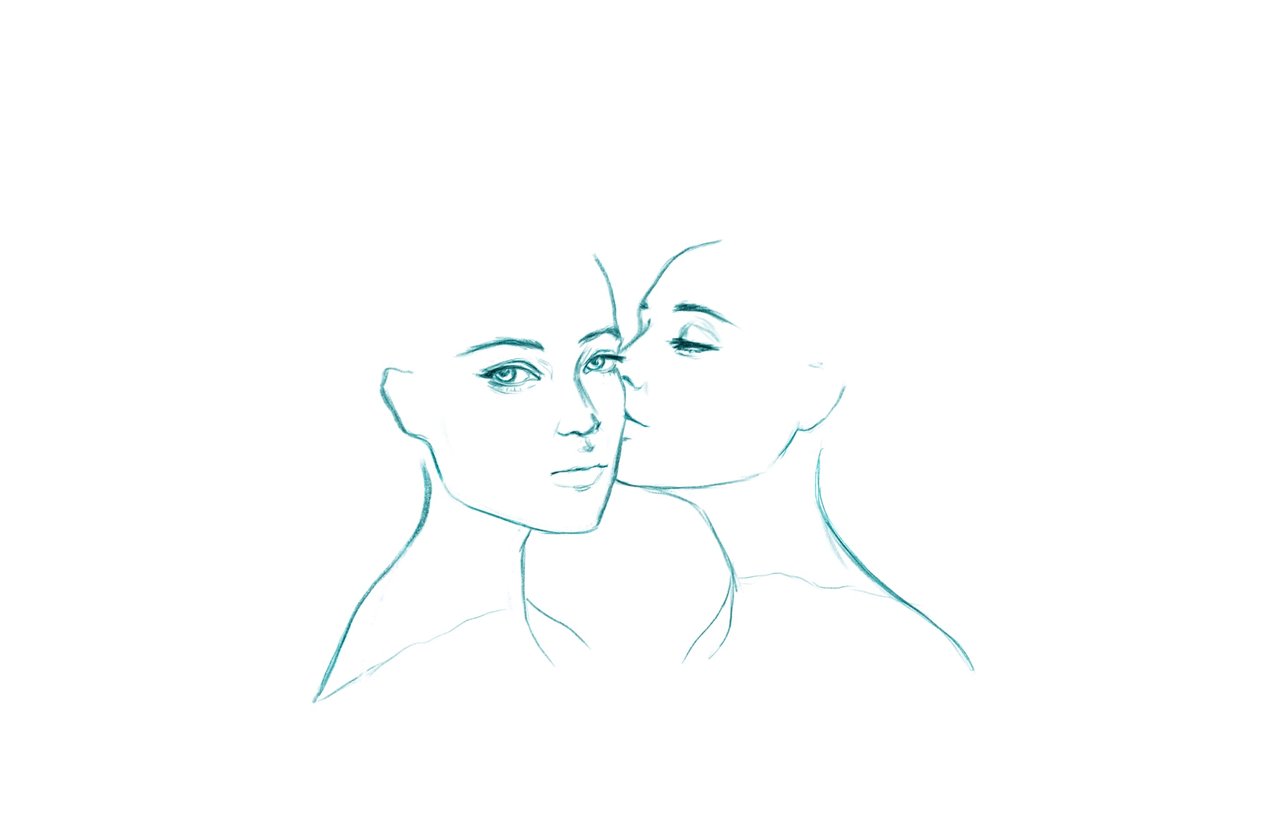 Then I drew in the second character.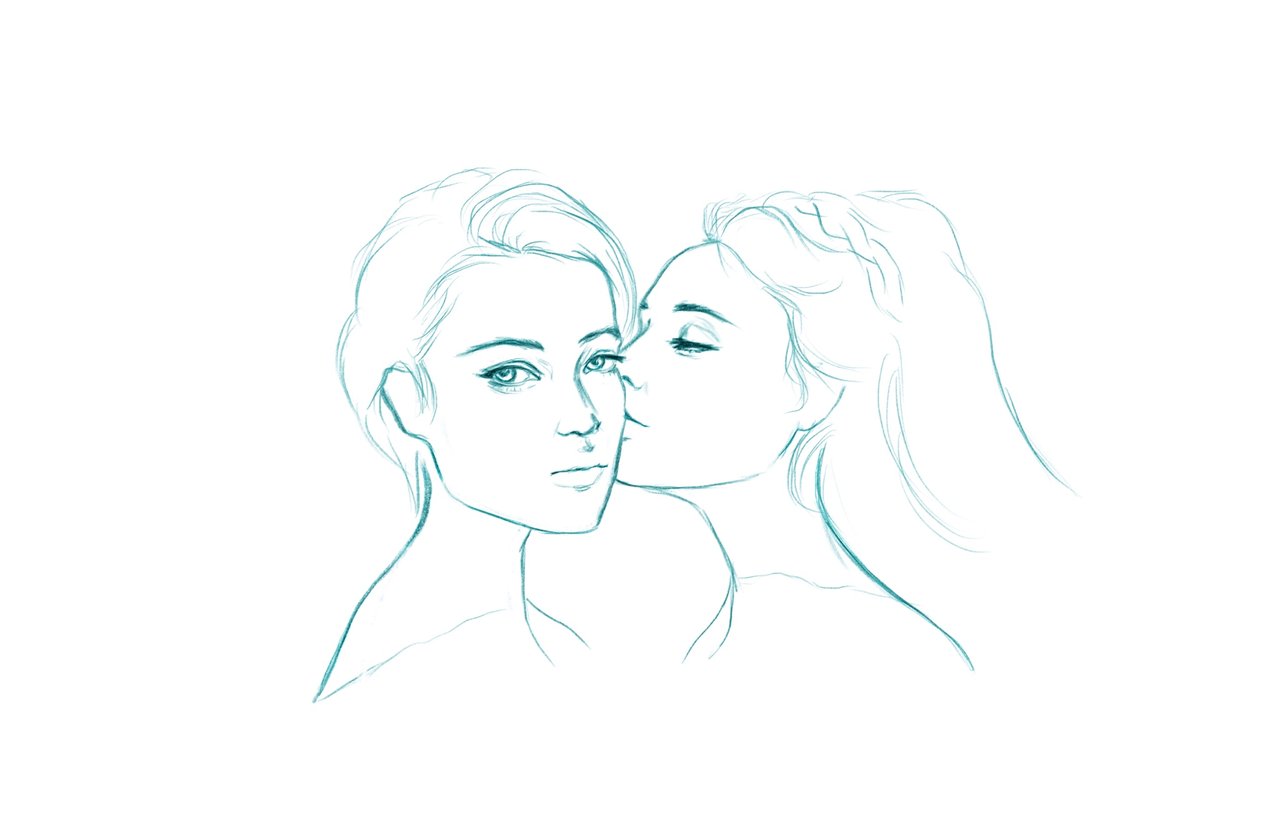 Short hair for one and long flowing hair for the other. I didn't spend too much time on it because I wanted the focus for this image to be the skin.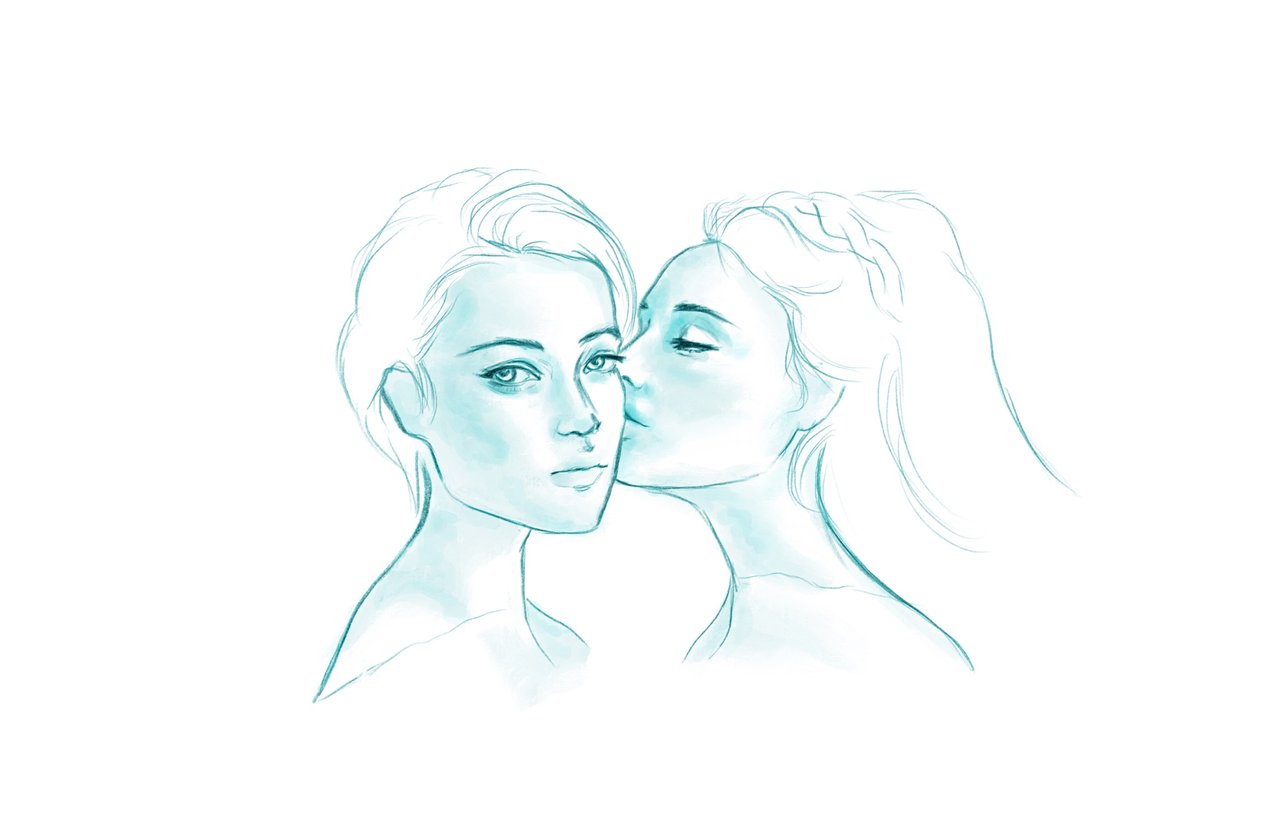 Shadows in a blue-green tone using the round brush tool. I blended the edges with the stucco artistic brush for texture.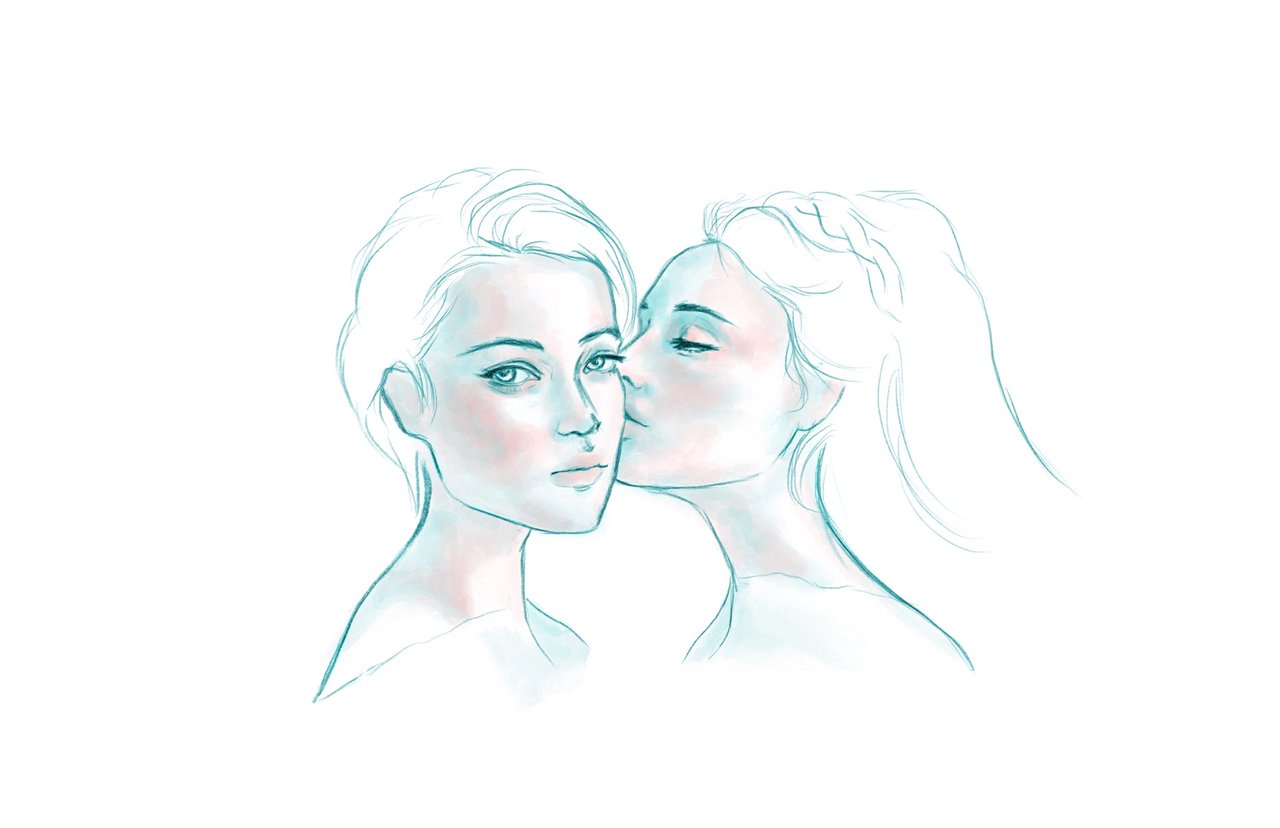 Then I added some warmth in a peachy-salmon color.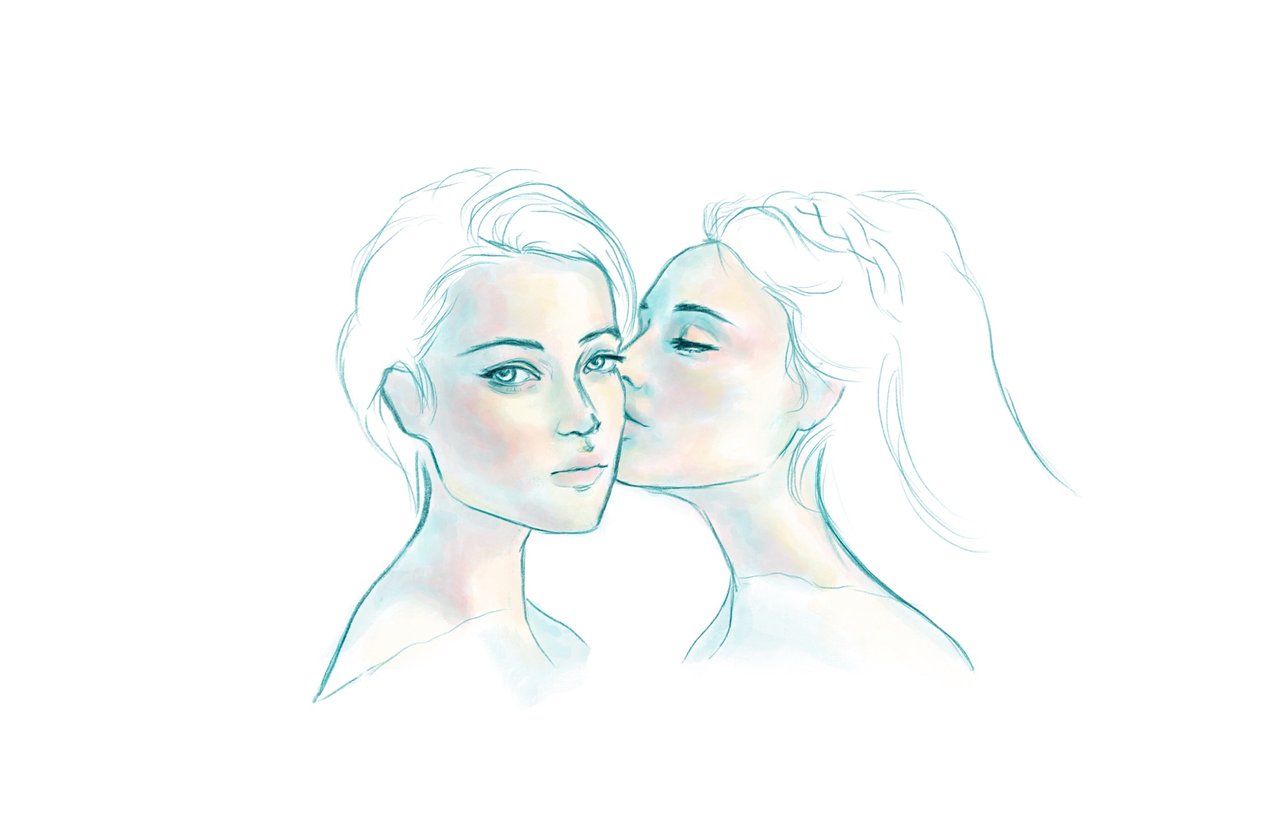 Highlights in a pastel yellow.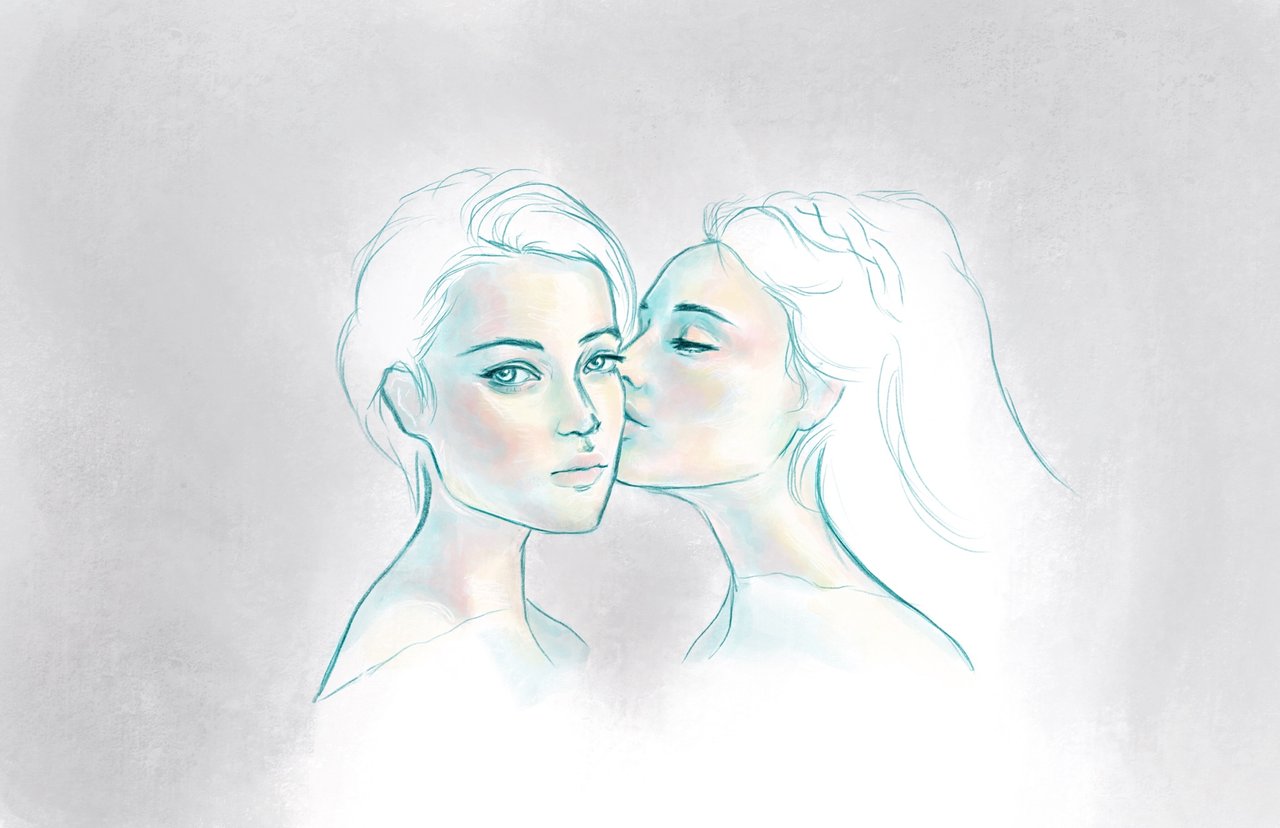 A dark background for contrast using the gouache tool. To finish the look I added highlights in white with the pencil tool.
---
Prizes:
---
1st // 5 STEEM
2nd // 3 STEEM
3rd // 1 STEEM
---
Contest Rules:
---
Upvote & Resteem this post.
Create a separate post with your short stories.
Maximum length 300 words. (I'll be monitoring this closely!)
Use the #foxtales tag.
Usage of the current story image in your post is optional.
Submit your post in the comment section below. (I'll sharing links to the stories submitted this way in the following Fox Tales announcement post!)
Maximum of 3 entries (only one story per person will qualify for a portion of the prize pool each week.)
Deadline is this post's payout.
---
WEEK #39 WINNERS & STORIES!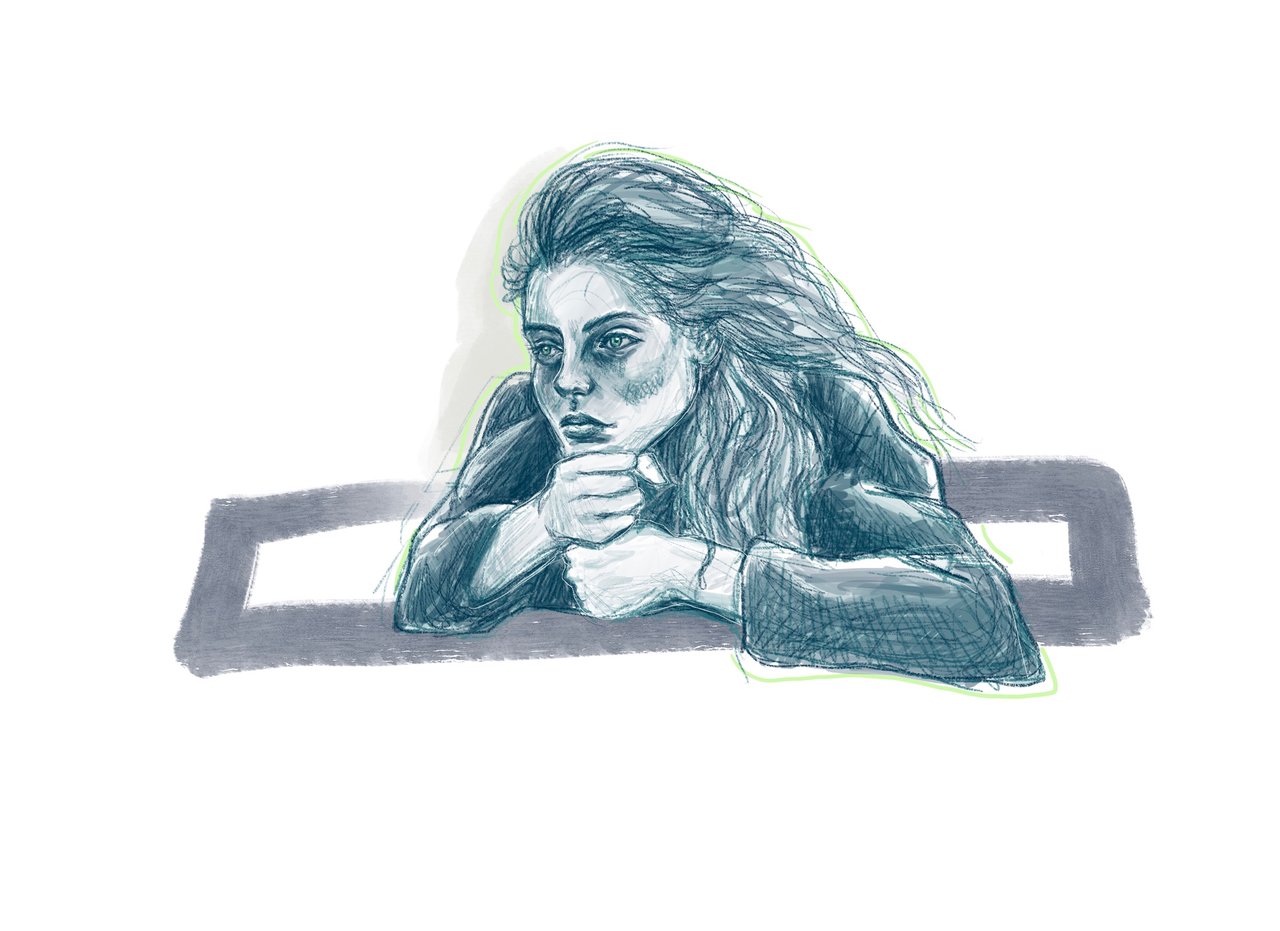 ---
1st place //
@calluna
"Still Standing"
---
She stared out over the water, the salted wind biting definition through her pale cheeks. She stood entranced in the soft slap of the waves against the wall, the scrambling and screech of passing gulls, the ebbing shouts of the docks; the same voice split over generations. There was peace here, in the steady passage of life. A heartbeat that was not her own, that kept on beating no matter the storm. Great waves had swept channels over the wall, cracks chased up the lighthouse, ships had sunk, lives had been broken, but still, the pulse remained. He would never love her again, she knew that now. Her love had made him brave, brave to pursue what he really wanted, and he did. The cold air lifted under her hair, the chill of absent caress touching her neck. His heart never bore her name, it had always been someone else. She would never have been enough. Not for him. The low clang, the tired creak of a boat, paint peeling as it dipped, bobbing past her. She stared out over the water, the salted wind biting definition through her pale cheeks, her chin nestling on her fists, the last note he wrote her slipping unseen below the waves.
---
2nd place // @seesladen "Stone dead...."
---
"He's dead..." The words fell out of the doctor's mouth like cold hard drops of rain on a work morning. Its effect both painful and cold, it was felt throughout the small room where we all gathered. I looked at mother. She sat across from me, her hands folded in fists, one atop the other. Both, a resting place for her set jaw. "We tried our best, but..." The doctor's sympathetic speech faded into the background as I continued to focus on mother. I admired her steeliness, her calm.. She didn't even move, as if she had been stung by a numbing insect. Her disheveled hair and unkept look made her worthy of sympathy. And if I didn't know I would also have pitied her. But I knew, I saw... I know it was mother who had poisoned father... And somehow, I envied her...
---
3rd place // @gaby-crb "Untitled Entry 2"
---
He watched as she sunk her head onto her hands, her shoulders slouching. A few hairs fell into her face and she pushed them back. He imagined running his hands through it, smelling it. She turned slightly and he saw the colour of her eyes, deep brown, to match her hair. His eyes followed the curves of her face, soft eyebrows, flushed cheeks, small nose and tasty lips. A cup was placed in front of her, pulling her from her posture and him from his fantasy.
---
Thanks so much to all the writers who participated!
⬇️ Please take the time to visit the links to their stories below!⬇️
Writers listed in alphabetical order.
---
"The Beloved." 
@adncabrera
"Haunting Vigil" 
"Still Standing" 
@calluna
"Untitled" 
@cyemela
"Short Stories" 
@gaby-crb
"No, I Didn't...!!!" 
@pokerm
"Stone dead..." 
@seesladen
"Haze" "Raining!" "Barophobia" 
@theironfelix
"Important job for John Tieferson" 
@vasigo
"Marion beats the witch" 
@wakeupkitty
---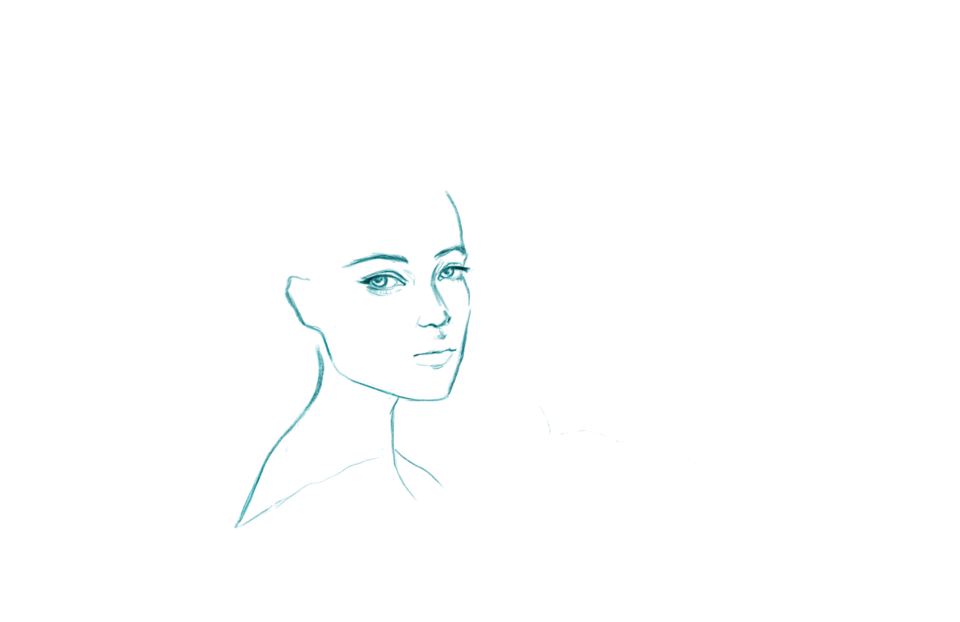 ---
Thanks for stopping by and good luck to those who decide to participate!
Do you have any questions? 🦊
---

---
Check out some of the previous #foxtales posts!
---