INTRODUCTION

The blockchain industry has grown in leaps and bounds since its inception. It has basically ensured that what was previously unachievable, can now be achieved.
Just as services before the blockchain have been integrated successfully with blockchain technology, the blockchain can be a foundation for technology that comes after, or those that are still trying to find their footing.
According to statistics released by IDC in 2015, the Internet of Things(IoT) industry had a total global investment of $736.9 billion, and it is estimated that this figure will be $1289.9 billion by 2020 (a 15% yearly growth).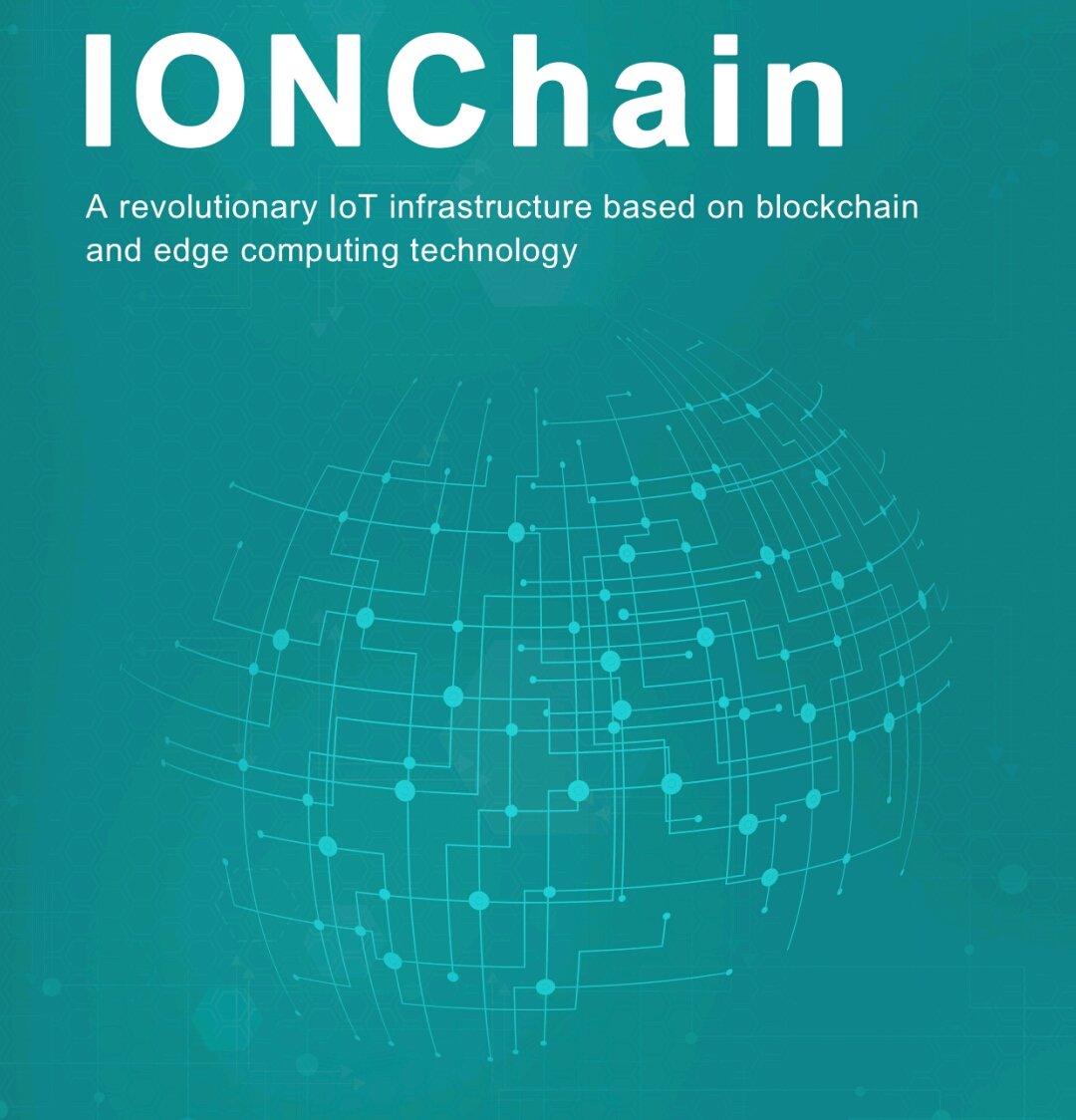 IONCHAIN: A POSSIBLE SOLUTION TO THE INDUSTRIES PROBLEMS
IONChain hopes to solve the primary problems associated with the IoT industry. Some of these major problems are security and high latency.
Some sectors, such as Virtual Reality where real-time interactions are important, suffer as a result of this. Data circulation and data sharing are other major challenges the industry faces, to name a few.
A concept introduced by IONChain is the concept of "One device, One Coin, One Code", which ensures that the integration of IoT devices and IONChain is possible. One device in this statement refers to the IoT devices, One Coin refers to IONC, which is the currency of the ecosystem and One Code simply means a means of identification, via a unique identification code on the network.
The impact of this is that seamless communication will be possible, and data can be traced much more easily. It also ensures that rewards can be earned as a result of mining activities, the network is more secure, and data sources will be always be available when needed-not forgetting easily verifiable, also.
PROBLEMS THE IOT INDUSTRY FACE
BUSINESS MODEL FOR THE IOT INDUSTRY NOT ESTABLISHED
The IoT industry is yet to have a business model clearly showing a path. RFID is the only example, where a solution can be deployed on a large scale. Data resources that have been generated as a result of IoT have not been applied on a large scale yet.
DATA AND PRIVACY PROTECTION ISSUES
Often on the news, we hear about cases where data has been breached, and customers have been left exposed. Centralised solutions have made users aware that they cannot protect their data/privacy adequately. When the data of a business is gotten, such data can be used to pinpoint the activities of the business in question.
Data storage is handled by a few organisations at the top of the food chain. If a hack was to take place, this means that millions of users will be at risk.
INTEROPERABILITY RELATED PROBLEMS
Data being stored on centralised channels ensures that it is difficult to share data and also circulate it.
As the industry grows, more stakeholders are becoming a part of the industry, and due to the fact that pioneers of the industry see them as competitors, it is extremely difficult for them to share required data with the new entrants. This ensures that development crawls, unlike the type of rapid growth that would have been seen, if true collaboration existed.
THE SHACKLES OF CLOUD COMPUTING ARCHITECTURE
In the recent past, there has been an improvement in network bandwidth. Cloud computing has become a part of the IoT industry. For sectors that deal with real-time interaction, what cloud computing offers is not just good enough. Delays of up to several milliseconds when executing is too slow in such a scenario.
WHAT IS EDGE COMPUTING?
Edge computing makes use of an open platform that ensures that network, computation, storage and applications are integrated at the edge of the network.
It helps in solving connection issues, application intelligence and real-time connection issues that the IoT industry faces.
It ensures that a connection between physical entities and industrial connections can be established. The cloud layer can also connect to the Edge Layer.
Edge computing brings the development of intelligence terminal along with it. This means that more stakeholders have been attracted to the industry, and many have taken a less favourable look to cloud computing.
This should not be so, as Edge technology could be used to complement cloud computing.
It solves the problems the IoT industry has had for a long time, and it can also be integrated with cloud computing, seamlessly.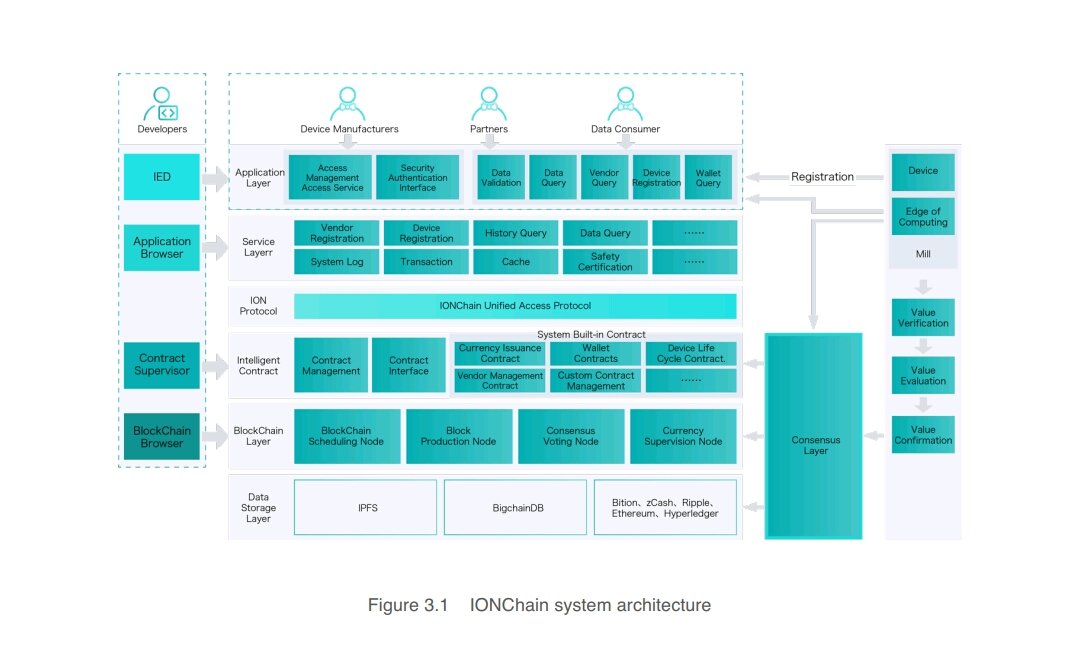 IONCHAIN FOG COMPUTING
IONChain meets the requirements of Edge technology, and this means that they will be able to use the full computing power of the network nodes, themselves. This is essential for efficiency and perception-to-computing-response process.
IONChain believes that every smart device can act as a mining machine, which effectively means that the network will be much secure and faster. Participating devices will also be able to get mining rewards.
To solve issues between data block volume and transaction speed, IONChain has introduced Inter Planetary File System (IPFS)
INTER PLANETARY FILE SYSTEM (IPFS)
This ensures that storage of encrypted data is possible and also easily distributed. Only users possessing the right private key, will be able to access the data. Seeing security is achieved by the combined computing power of all mining devices, illegal access will be extremely difficult.
IONChain makes use of a system that handles transaction processing and storage separately, which is what solves the data block volume/transaction speed problem via IPFS, the system will be able to handle larger volumes of IoT data in the future.
IONChain can be applied to a myriad of fields in the IoT industry.
DATA SECURITY AND PRIVACY PROTECTION
IONChain makes use of decentralised processes to store data, as centralised channels have proven over time that they cannot be trusted with data.
In the IoT industry, a few organisations control the data, which have been used for different purposes without the users consent. When a hack occurs, the effect is usually grave, as a result of this.
IONChain stores data in local or distributed nodes and this data will also be encrypted. Attack one on node would not lead the compromise of everyone's data.
TECHNICAL ARCHITECTURE
IONChain makes use of an ionisation algorithm which is inspired by the formation of ions. Ionisation algorithm is important, because it separates value creation and value transfer. Currently, they are both combined, and this is great in some instances. However, this will not be adequate for where the industry is headed. All users on the IONChain ecosystem can exchange value easily, via the value transfer layer.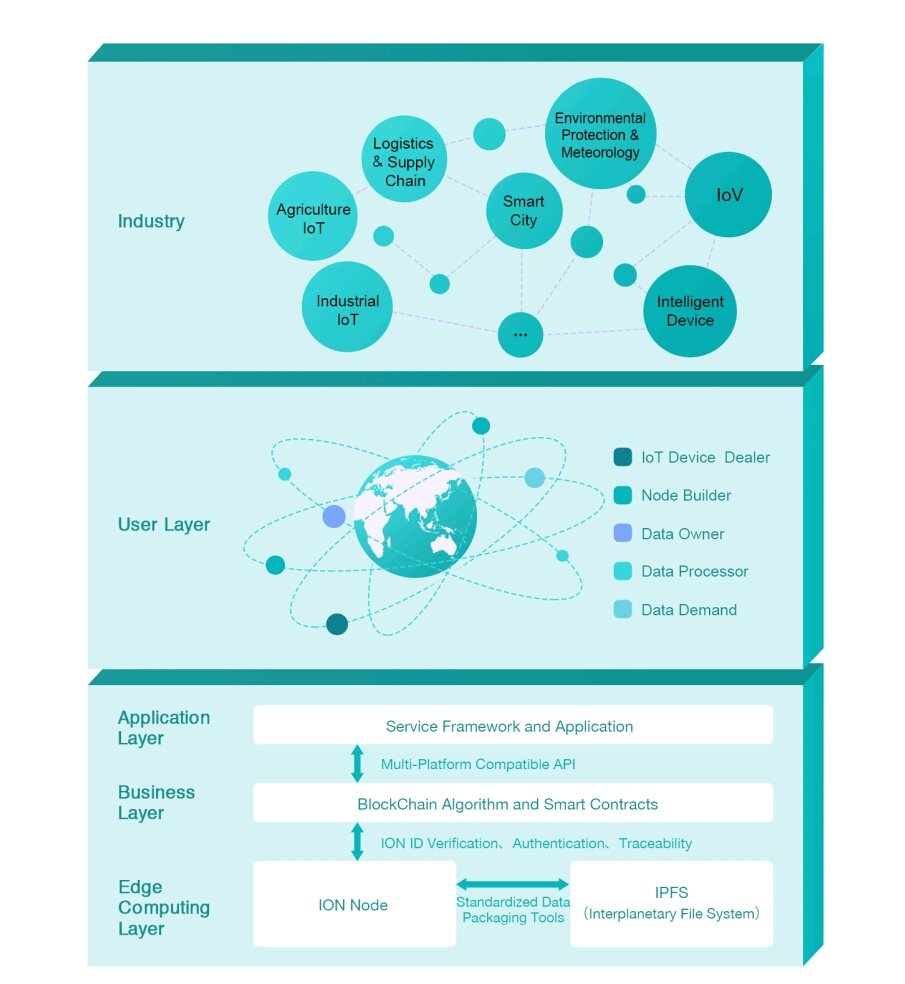 IONCHAIN VALUE GENERATION PROCESS
VALUE GENERATION
When relevant information is uploaded to the mining machines, they will carry out calculations via Data Quality Proof and Time Lapse Proof Algorithms. When value generation calculation is completed, it is passed on to the value verification stage.
VALUE VERIFICATION
This is similar to the consensus algorithm on a regular blockchain. All parties interested in the data generated by an IoT device are required to complete the value verification, after which value is transferred to the next layer.
VALUE EVALUATION
This layer is an extension of the previous. In this stage, verification of the authenticated data is carried out. Its a joint process by all relevant stakeholders. This layer ensures that malicious attacks can be withstood.
VALUE CONFIRMATION
The essence of this stage is to package the verified value, and have it passed on to the value transfer part, in order for value generated to be officially present in the IONChain ecosystem, in the form of a digital currency.
VALUE TRANSFER ON IONCHAIN
APPLICATION LAYER
Ensures its easy to connect new businesses. It will have built-in services such as data validation, data query and vendor query.
SERVICE LAYER
This layer houses a lot of components that provide external interfaces via the server.
PROTOCOL LAYER
The consensus protocol, currency swap protocol and network protocol all reside here. External services are provided via a unified protocol.
SMART CONTRACT LAYER
This is the connector between the blockchain and applications interacted with.
BLOCKCHAIN LAYER
This is the foundation of everything IONChain is trying to achieve. Its most important part is the consensus algorithm.
DATA STORAGE LAYER
On IONChain, data can be stored via IPFS and BigChainDB. It also provides a highly intelligent contract engine.
TOKEN
The token of IONChain is known as IONC. This will enable IONChain to reward miners and also carry other activities within the ecosystem.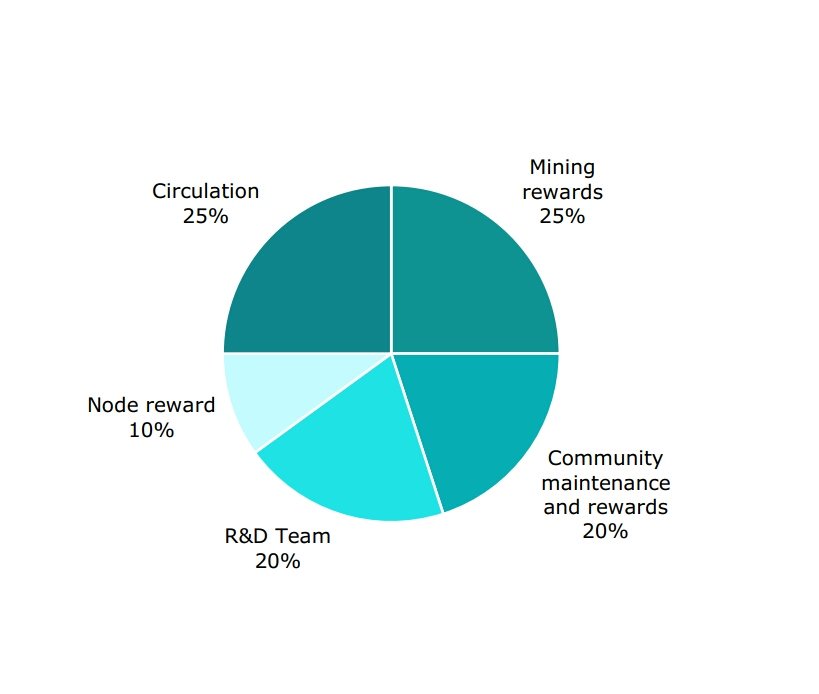 USE CASE
SooTech is a new entrant into the Virtual Reality space, and they have been finding it difficult to make rapid progress, because of a lack of access to data. For the progress that has been made, problems such as high latency ensures that they are not as efficient as they can be, and this ensures that the reception to their product is lukewarm.
By switching to IONChain, they are not only able to ensure that data received and sent is better protected, but high latency is now a thing of the past, thanks to IONChain's application of Edge Technology.
IPFS also ensures that encrypted data is much more easily distributed.
This ensures that their income quadruples for the next fiscal year, and they can also make rapid progress with regards to R & D.
SUMMARY
Having a global standard where DApps can be developed is important, because this will ensure that data can be much more easily distributed, and the industry can grow, seeing everyone can build on the progress already made.
Having a true IoT economy will ensure that the movement of information is smooth, and new entrants can have access to data, which they can use in creating solutions that can be applied on a large scale, to create solutions that meets the needs of a much wider audience.
This will ensure that the industry has a clear cut direction, and reap the rewards of promise shown in the past. Only then can mass adoption really occur.
Combining Edge technology ensures that every problem, from security challenges to high latency issues are taken care of. Not having a single point of failure ensures that data breaches wont be common place, as in centralised channels.
The security of the blockchain will ensure that IoT can thrive, and together with Edge technology, with which IONChain meets its architectural requirements, organisations can focus on developing solutions with one uniform standard that meets the needs of the population, adequately.
IONChain will ensure that the industry will be on its way to having a unified standard, which it is hoped that their "One device, One Coin, One Code" will help in speeding up the setting up of industry standards. This ensures that they have already laid down a template that can be followed. By also applying Edge technology, IPFS and also the introduction of BigChainDB, the major problems that hamper mass adoption of the industries solutions have been taken care of.
IONChain ensures that the sending and receiving of information between smart devices is vastly improved, and that latency issues that exist, when cloud computing was the primary way via which communication could be handled has been resolved. Smart devices can now be truly smart and function the way it was hoped they will.
TEAM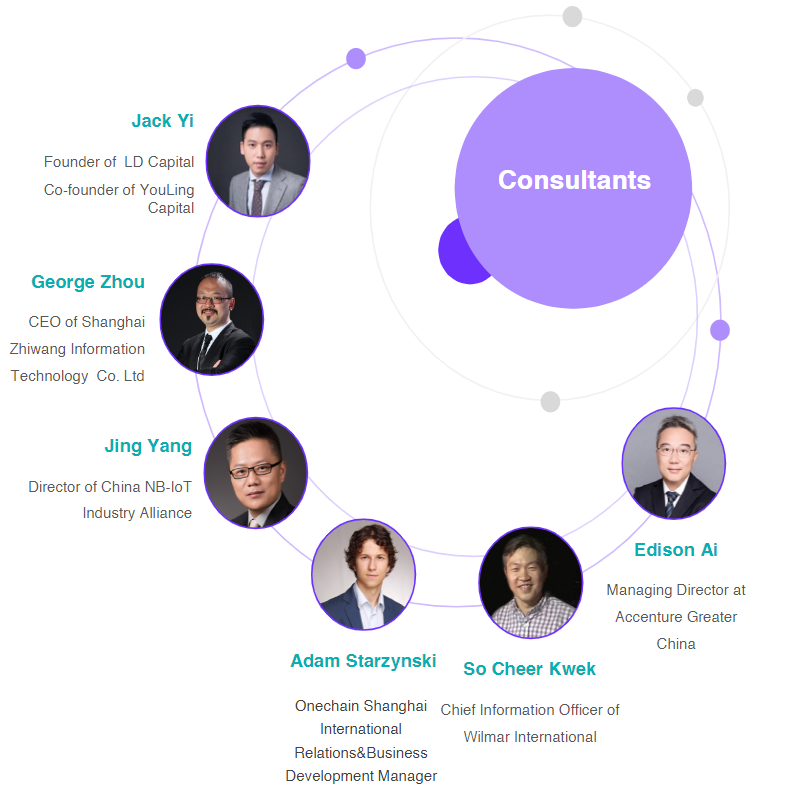 ROADMAP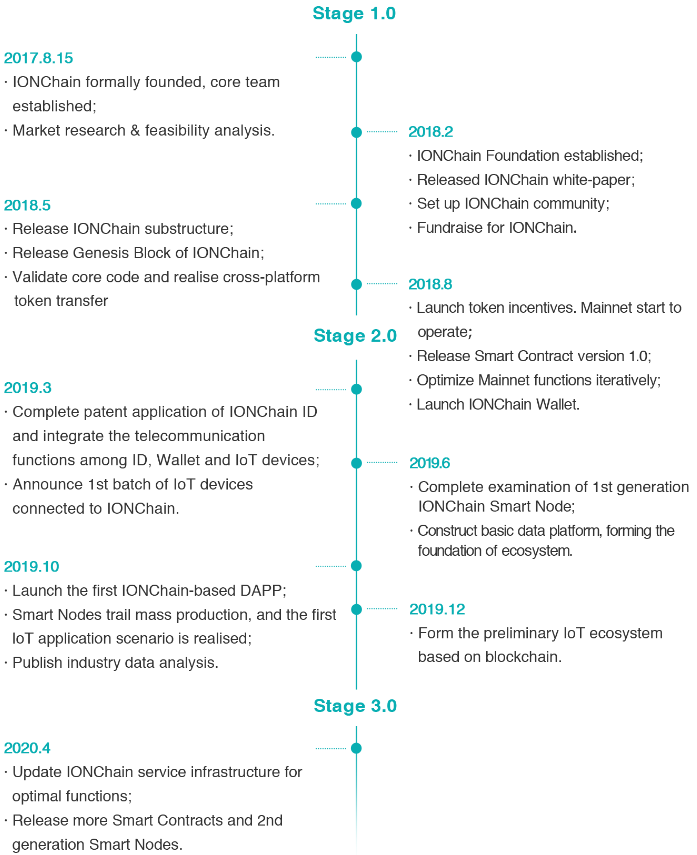 MORE INFORMATION & RESOURCES:
IONChain Website
IONChain Bitcointalk Explanation
IONChain WhitePaper
IONChain YouTube
IONChain Twitter
IONChain Medium
IONChain Linkedin
IONChain Github
IONChain Steemit
IONChain Telegram

My entry to the contest that can be viewed righthere
My Twitter Link
https://twitter.com/SoliBayNG/status/1059915885102686208
ionchain2018 ionchaintwitter