I'm back for another round in the festival of life that is @foodfightfriday, and this time, I'm going to make things a little mysterious.
What I mean by that is, I'm not going to tell you what I made, but let you guess, based on the pictures and the ingredients. I did the same thing with my son, his wife, and my wife. One got it right, the other two did not.
So, let's dive in and we'll see your guesses in the comments.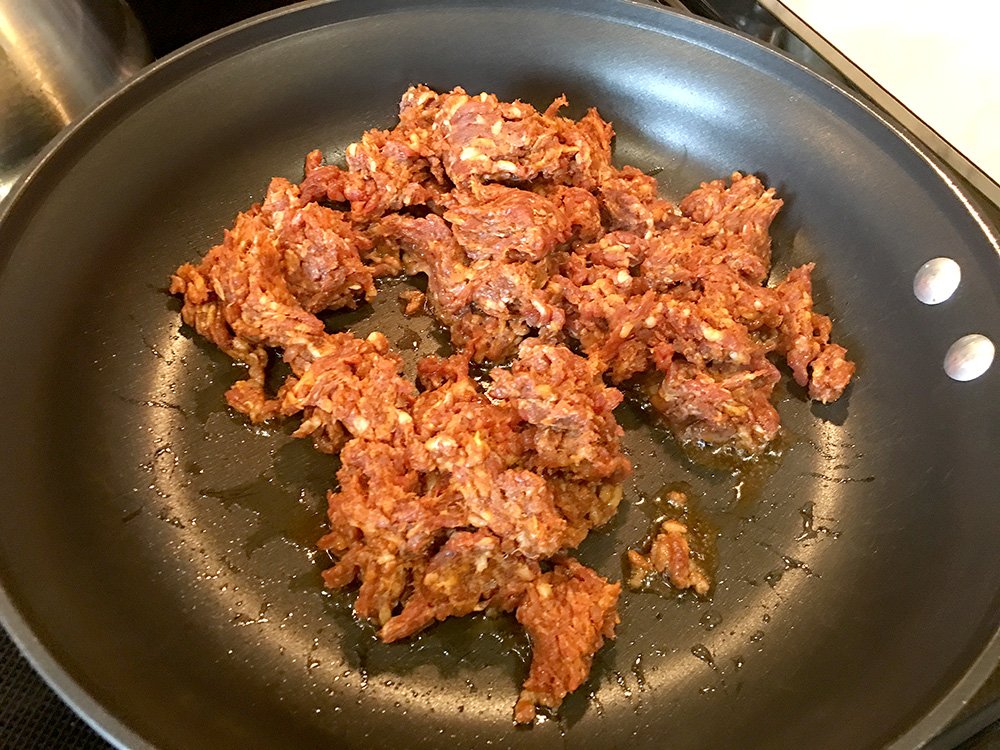 Now, first off, let me tell you that this meal is the crockpot version of it, and so, will probably vary from the way it's supposed to be made. However, much of it is the same, certainly enough to guess at it if you're at all familiar with the dish.
The recipe called for three meats—chorizo or some type of spicy sausage, chicken and shrimp. I was supposed to cook up one and a half pounds of chicken and a half pound of chorizo in the same large skillet, but I ended up with one and three quarter pounds of chicken and one pound of chorizo, and didn't have a big enough pan to begin with. So, what you see in the image above is the chorizo.
Now, I'm aware that there are different kinds of chorizo, principally Spanish and Mexican. I couldn't find any Spanish chorizo, so opted for the Mexican variety.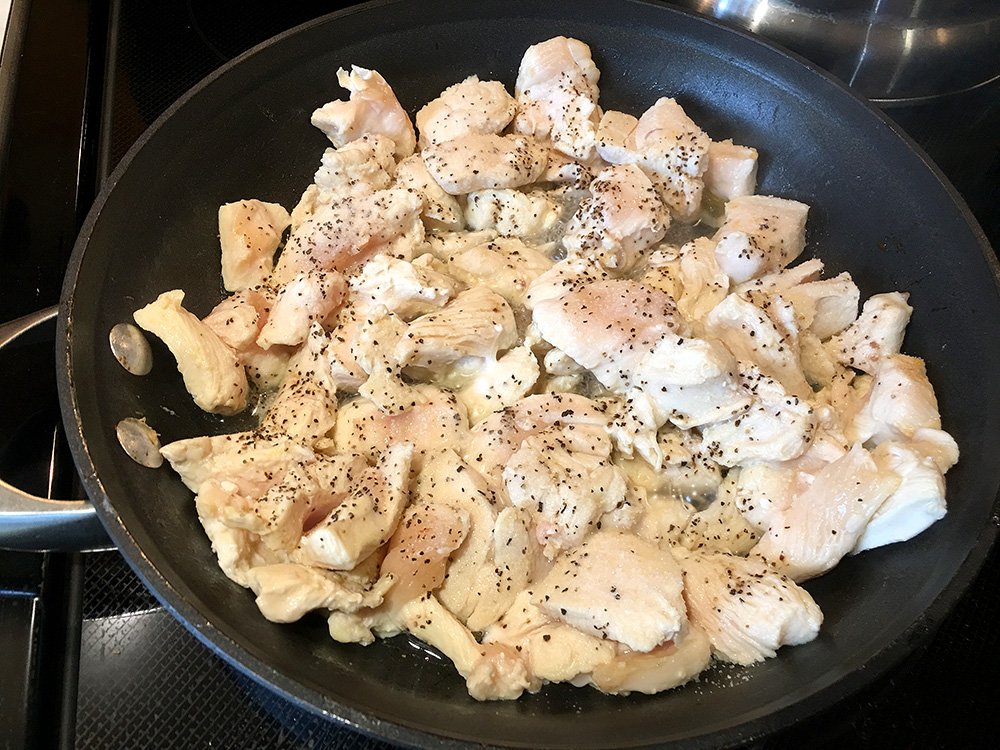 Next up, the chicken, cut up into little chunks and salted and peppered to taste. I don't know about you all, but I don't find chicken to be all that appetizing when cooked this way, but, fortunately, this wasn't going to be it's final form. However, it did answer the question I had a couple of weeks ago as to why ground beef always has to be browned before putting it into the crockpot. Apparently, depending on the circumstances and the recipe, so does chicken and chorizo.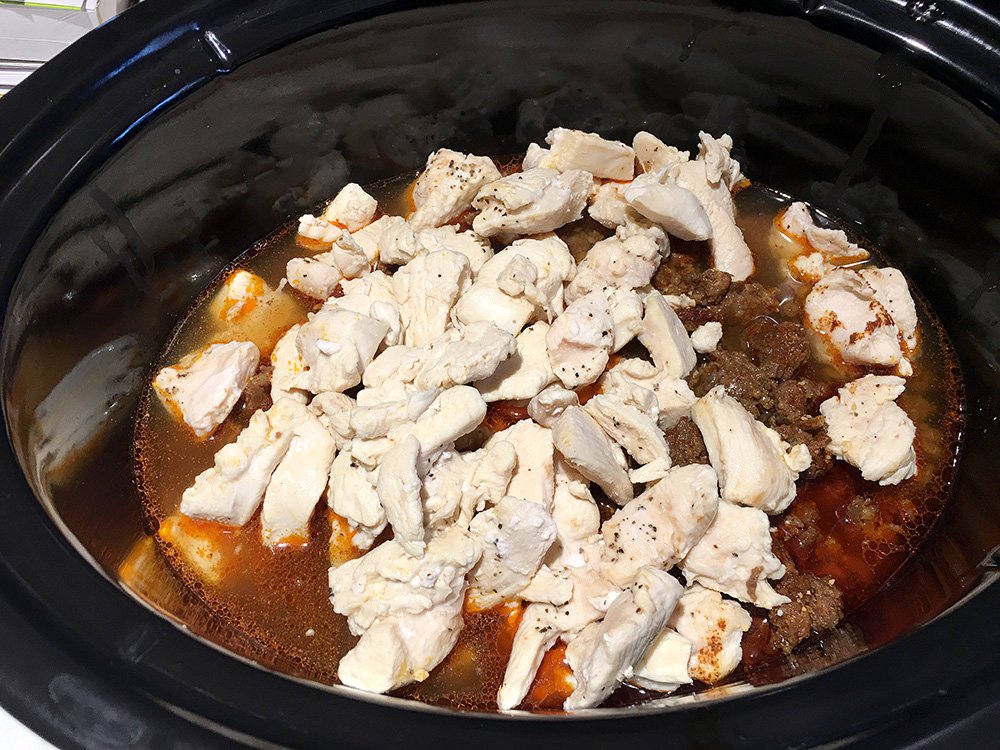 So, now we have the chicken and chorizo together in the crockpot along with the following ingredients:
short-grain rice
diced tomatoes
chopped onion
minced garlic
paprika
cayenne pepper
chicken broth
white wine
Now, in my case, I didn't use the cayenne pepper, thanks to the issues surrounding a previous dish, and instead of white wine, I substituted white grape juice. I didn't know how often I would be cooking with white wine, don't drink it, but figured I could probably drink the grape juice if I didn't have another use for it. Everything else went in as is.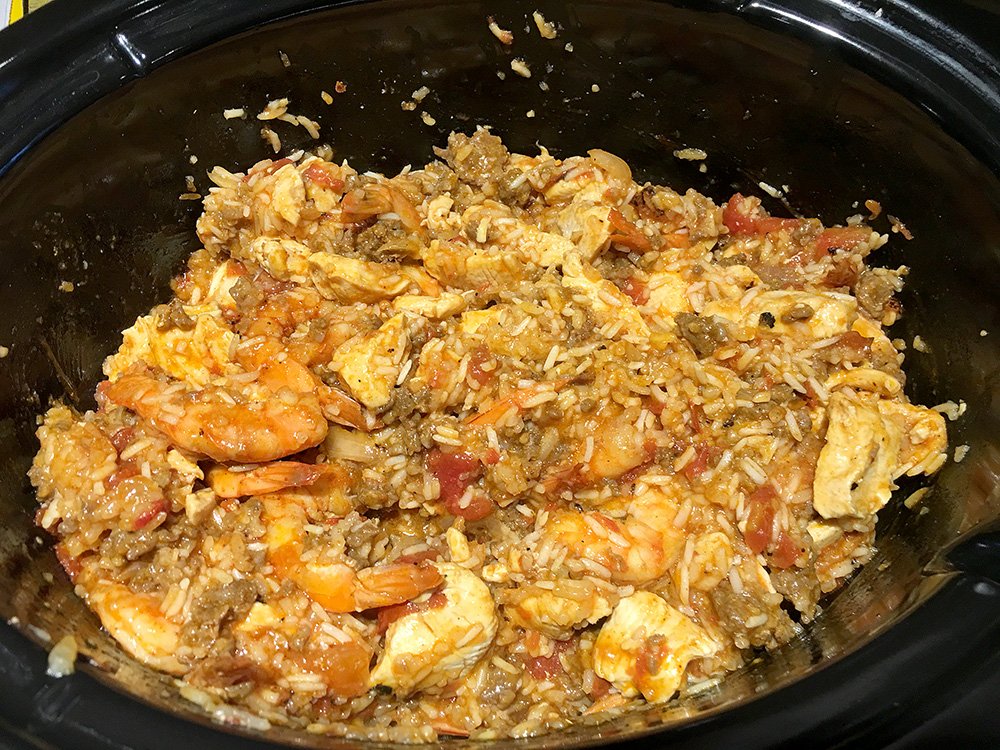 Cooking time for this particular dish was supposed to be one and a half to two hours on low. I ended up turning it up to high, because the rice wasn't cooking. In fact, when I served it, some of the rice that sat at the top of the mixture was still a tad crunchy. We ended up leaving it in the crockpot for another twenty minutes or so.
As you can see above, the shrimp was finally added to the mix. The recipe also called for peas, but no one really likes them, so I left them out, too.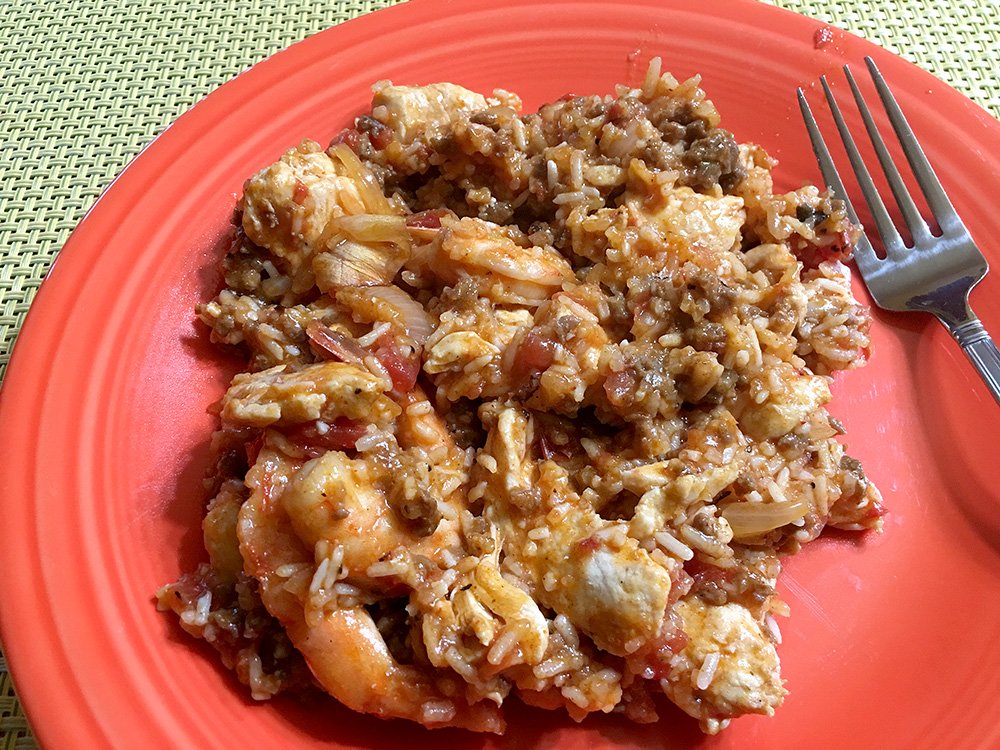 And here's the final dish.
Tale Of The Tastebuds
Both my son and daughter-in-law had seconds, so I believe that's the best way of knowing they liked it. My wife said she did, but she insisted I didn't make it right, because I left out some ingredients, like hot dogs. Now, to my understanding, you can have hot dogs instead of chorizo, but she said the hot dogs and chorizo both needed to be there, along with the chicken and the shrimp.
In fact, she was so insistent about the oversight that she told me she would make the dish so she could show me what it's supposed to be like.
Not a literal slap in the face, but a throw down nonetheless. Bring it on, I say! I would love to eat this again.
As it is, I think my version turned out really good. The chorizo really sets the flavor for all the dish. I think the chicken ended up just a little too done, as in a little dry, but other than that, with the rice finally cooked, I think it was very tasty.
Name That Meal!
Okay, it's up to you to see if you can figure out what I cooked. I don't think it will be that difficult. It does resemble at least one other dish, and so I imagine others could be similar to it, too. At any rate, this is supposed to be fun, so go ahead and guess.
All images courtesy of Glen Anthony Albrethsen
Grandpa Gotta Cook is published in conjunction with Food Fight Friday, a weekly contest about all things food. All are welcome to participate. If interested, simply write about food, post it on Friday, use the #fff tag, and then go and look at other entries, because you will probably want to help choose the weekly winner, since that's how it's done. Weekly winners get a healthy helping of SBI.