Bacon Cheese Fries
In this fried potatoes seasoned with ranchera sauce, bacon and cheese. Finally they are baked to melt the cheese.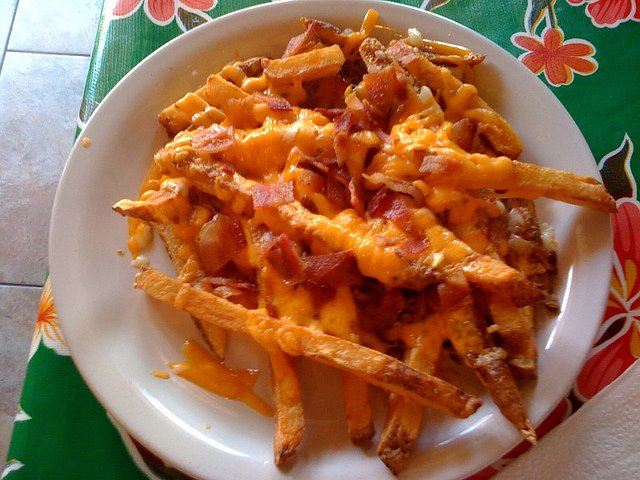 Image source
Ingredients
2 medium potatoes (400g)
40g bacon
50g of mozzarella cheese or similar
60ml of whipping cream (whipping cream)
1/2 lemon juice
1/2 teaspoon onion powder
1/2 teaspoon garlic powder
1 handful of chopped chives
1 tablespoon mayonnaise
salt and pepper
oil


Preparation
1.- We prepare ranchera sauce. In a bowl we put the cream, the juice of the half lemon, the onion and the garlic powder, the chopped chives, the mayonnaise, a bit of freshly ground black pepper and a good pinch of salt. We let this sauce stand in the fridge while we perform the following steps.
2.- In plenty of oil, fry the potatoes cut into sticks about 1cm thick.
3.- We put a little oil in another casserole and fry the bacon cut into strips. Once fried, we reserve.
4.- When the potatoes are fried, remove them from the oil and place them on absorbent paper. We put a pinch of salt.
5.- Once this is done, remove the paper from the potatoes and place the ranchera sauce, the bacon strips and the cheese on top. You can put more amount of cheese if you want but, with a little handful to me it seems enough. Finally, we bake in the oven at 200ºC for about 3 minutes. Long enough for the cheese to melt.
---
Thanks for following. Hope you like the article.