Wet carrot-banana pie with chocolate icing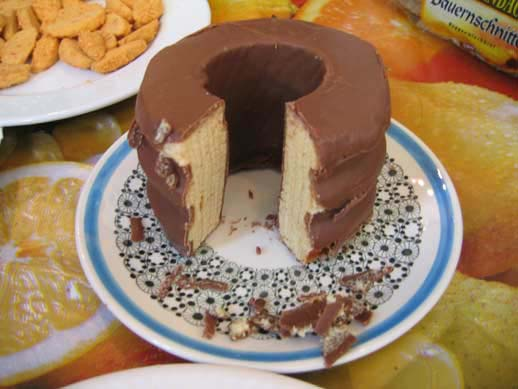 Image source
Ingredients
For the pie:
220 g of flour;
½ teaspoon baking powder;
1 teaspoon of soda;
90 g of cocoa;
a pinch of salt;
4 bananas;
150 g carrots;
240 ml of water or milk;
120 ml of vegetable oil or melted cream + slightly for lubrication;
100 g of powdered sugar;
pinch of vanillin.


For glaze:
125 g of dark chocolate ;
120 g of butter;
a little sugar powder - optional.


Preparation


Mix the flour, baking powder, soda, cocoa and salt. Cut the bananas and carrots into pieces and blend them in a blender. Mix the resulting mashed potatoes, butter and water or milk.
Add sugar powder to the carrot mixture and mix thoroughly. Lay this mass to a flour mixture, add vanillin and mix until smooth consistency.
Put the dough into a greased shape with a diameter of 16 cm. Bake in a preheated oven to 180 ° C for about 40 minutes. Before removing the cake from the mold, cool it.
In the pot, put pieces of chocolate and butter. Stirring, melt them in a water bath until uniform. If the mixture does not seem too sweet, add the powdered sugar. Lubricate the cake with a slightly cooled glaze and put in the refrigerator for half an hour.
---
Thanks for following. Hope you like the article.