I made a favourite of my family today. I make it semi frequently because it means I can eat pasta without disrupting the diet that @holoz0r is on, as he has an obscene hatred for vinegar, so it becomes all mine without tempting him away from the healthy lifestyle he wants to follow.
First you start with these ingredients: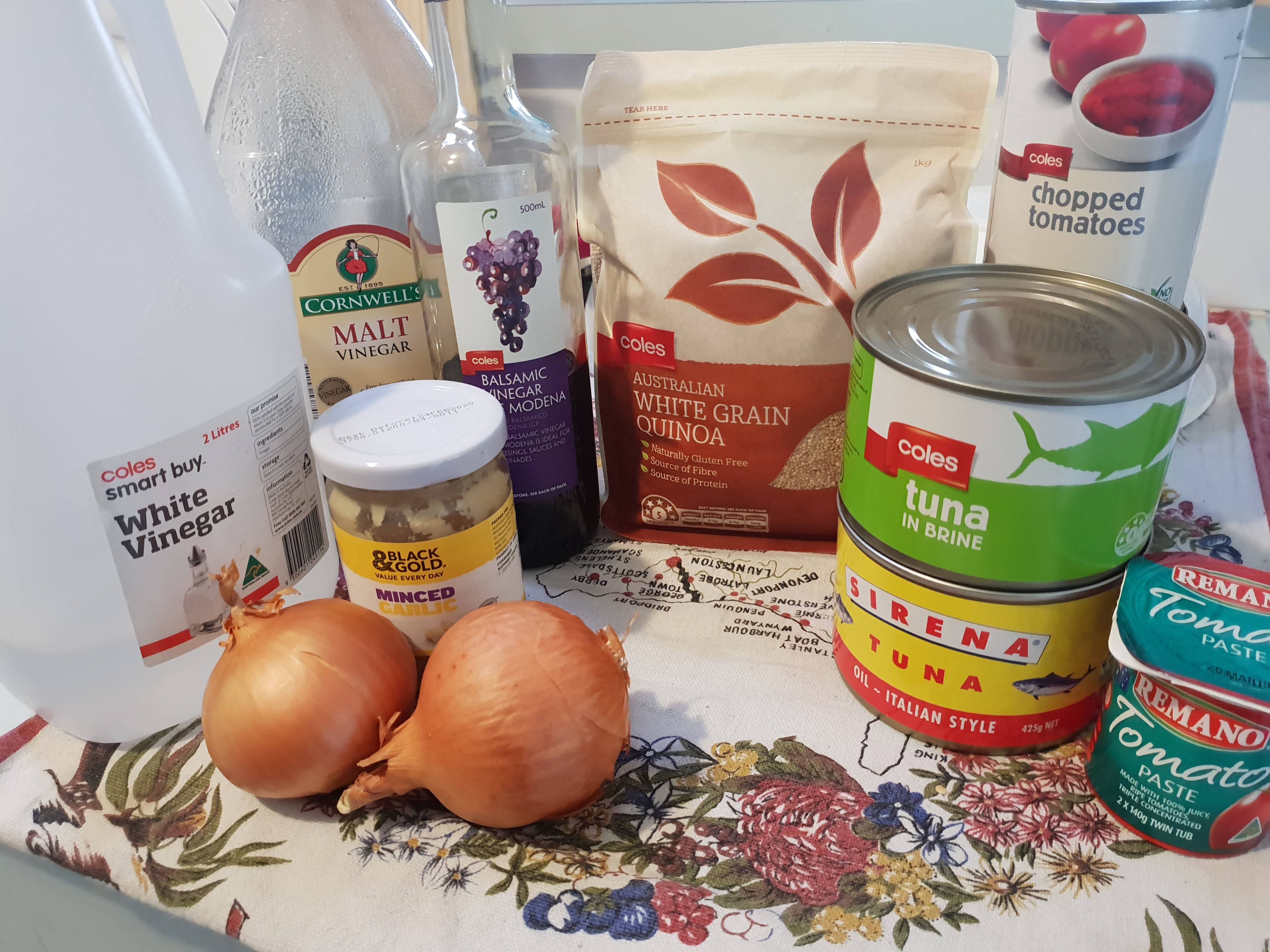 2 Onions
1-5 tspn Minced Garlic (depending on your taste)
1 Large Can of Tuna chunks in Oil
1 Large Can of Tuna chunks in Brine (If you can't get brine then spring water will do but then the dish will need to have salt added)
1 small tub of tomato paste (note americans: I think you call it tomato sauce there as opposed to paste. Tomato sauce here in australia is ketchup. basically tomato puree dehydrated into a concentrate)
2 cans of chopped or whole-peeled tomatoes, whichever you prefer
Minimum 1 cup of vinegar (I use 1.5 cups) doesn't matter what vinegar you use. You choose your favourite. I do a half cup each of white, balsamic and malt vinegars. Only one i've tried that just didn't taste quite right but still acceptable was apple cider vinegar.
Your choice of Pasta, though today in an attempt to be moderately healthy I'm using Australian grown Quinoa instead.
.1.
Dice or Chop your Onions.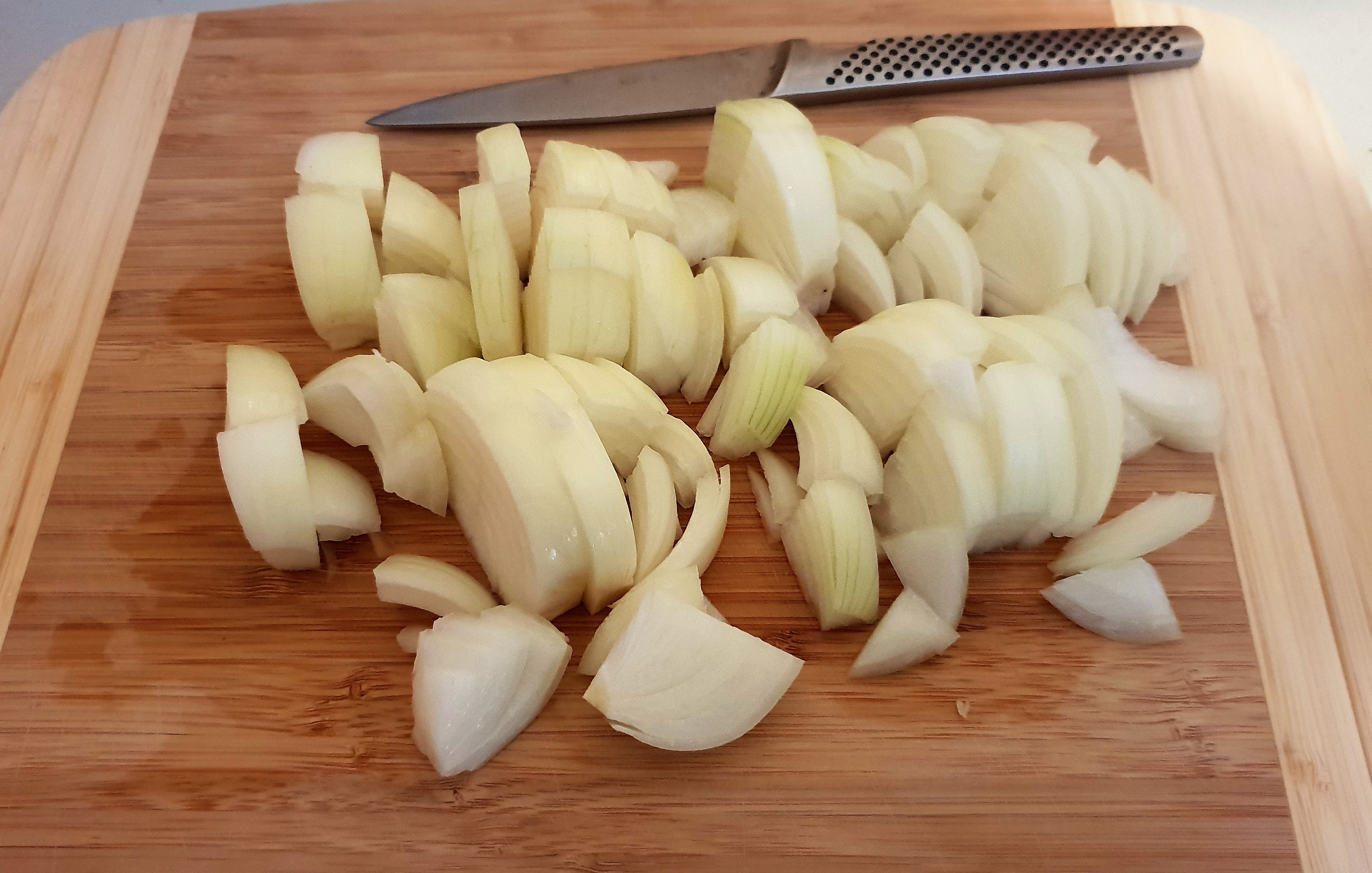 .2.
Open your can of Tuna in Oil and drain the oil into a large saucepan/pot.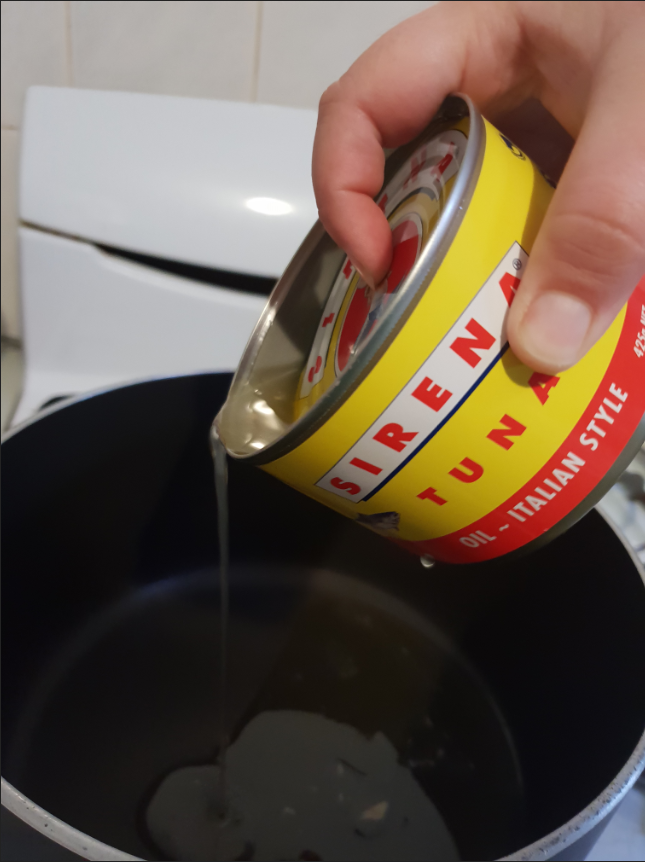 Heat it till it starts to sizzle of it's own accord then add chopped onion and as much minced garlic as you think you'd like. I put a heaped tablespoon in.
Note: Add the onion in the moment you start hearing any sound from the tuna infused oil heating up because if you let it get too hot it will begin to pop, spit and splatter in a dangerous and explodey manner. Adding the onion in seems to stop this from happening. Traditionally this dish does not have garlic. The elderly italian man I learned this off of taught that you either put onion in a dish or garlic, never both. I say pish-posh to that and put garlic in anyway.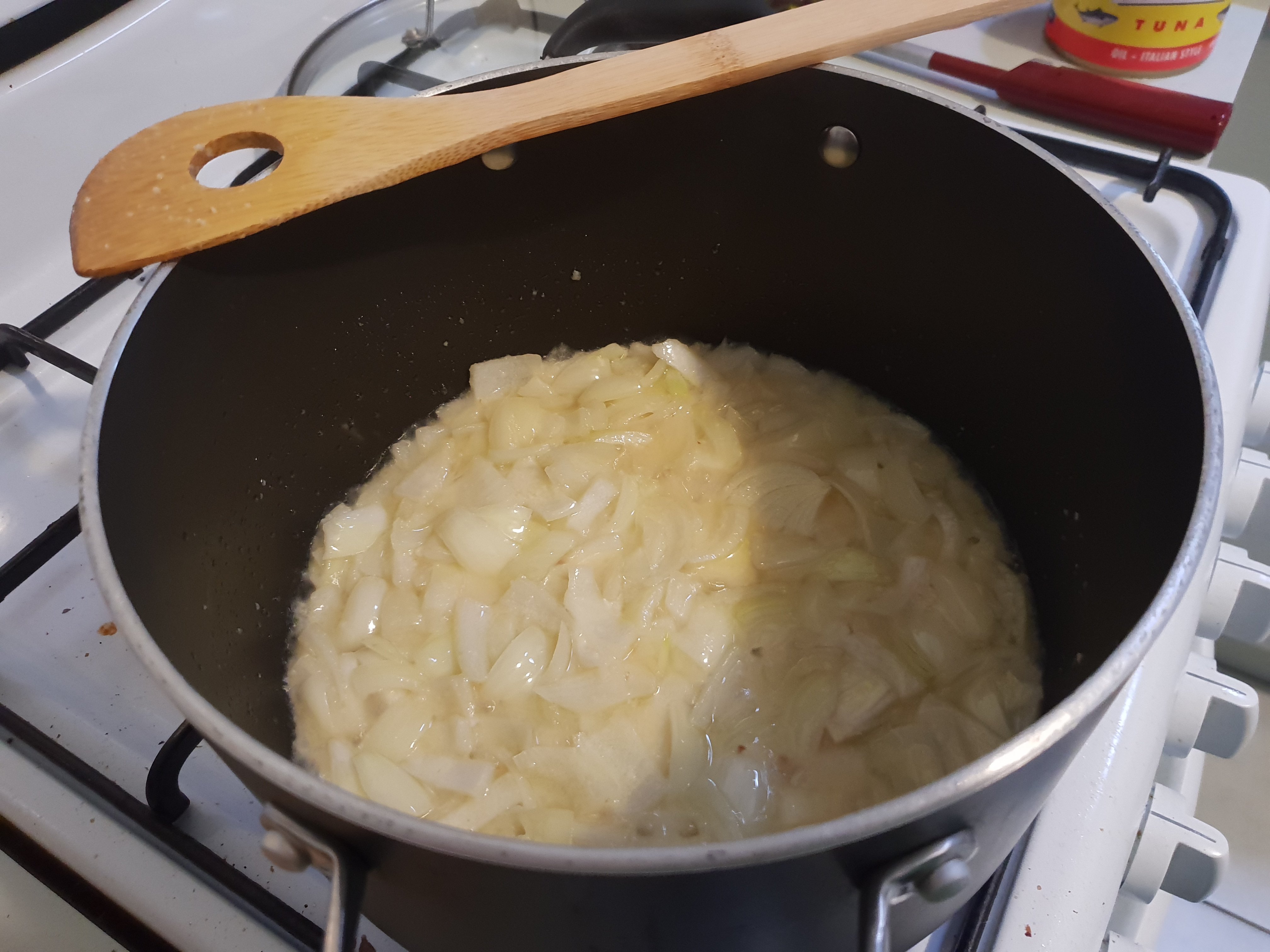 .3.
Once the onion is cooked and has gone sort of translucent add in the tomato paste and lower the temperature on your stove to let the tomato paste cook in the tuna oil and onions for a minute or two. This is not mandatory but helps get the flavor profile you're wanting, faster.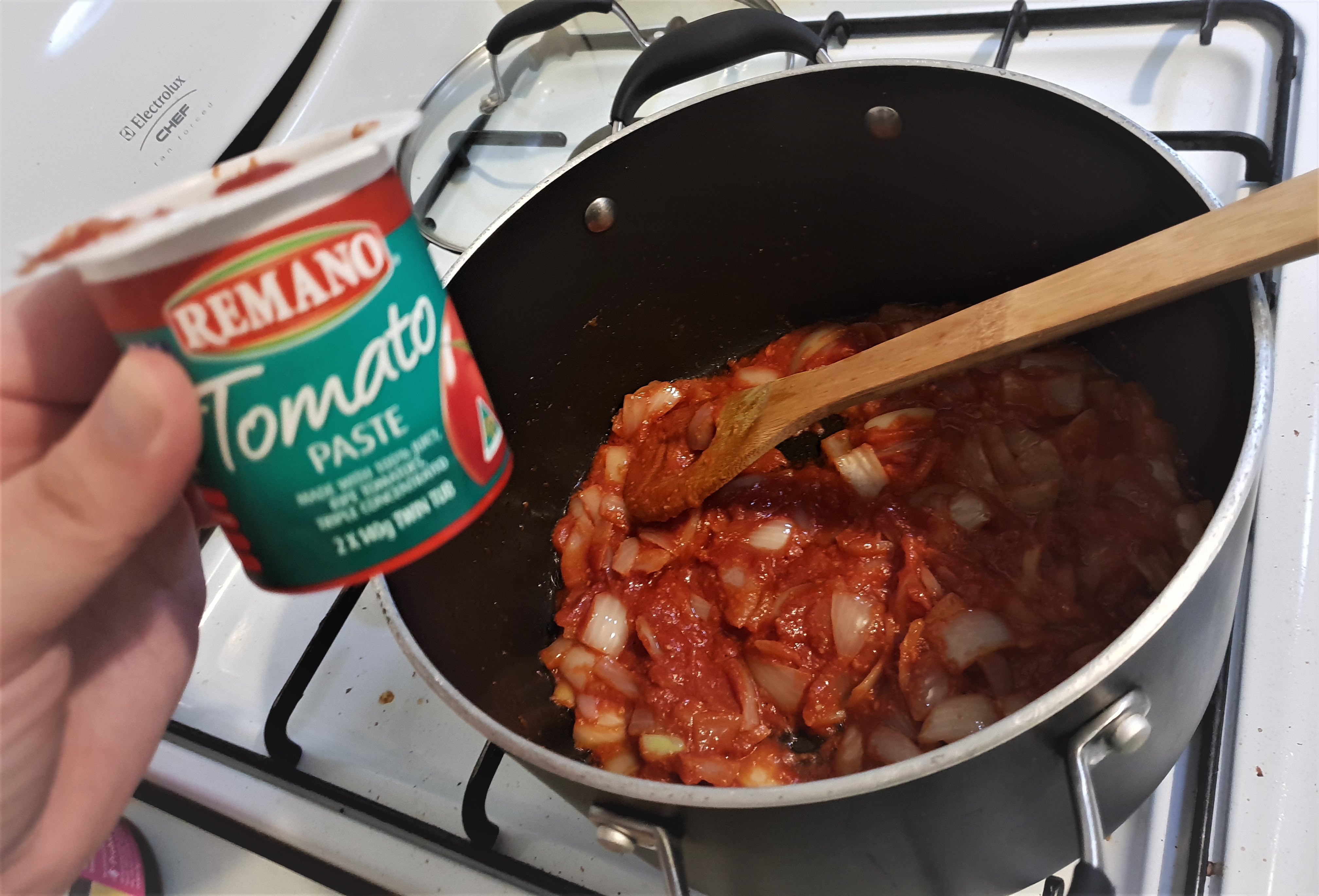 .4.
Now to add the other ingredients!
Open your can of tuna in brine and drain the brine in. If you only have tuna in spring water, this is when you would also add in salt.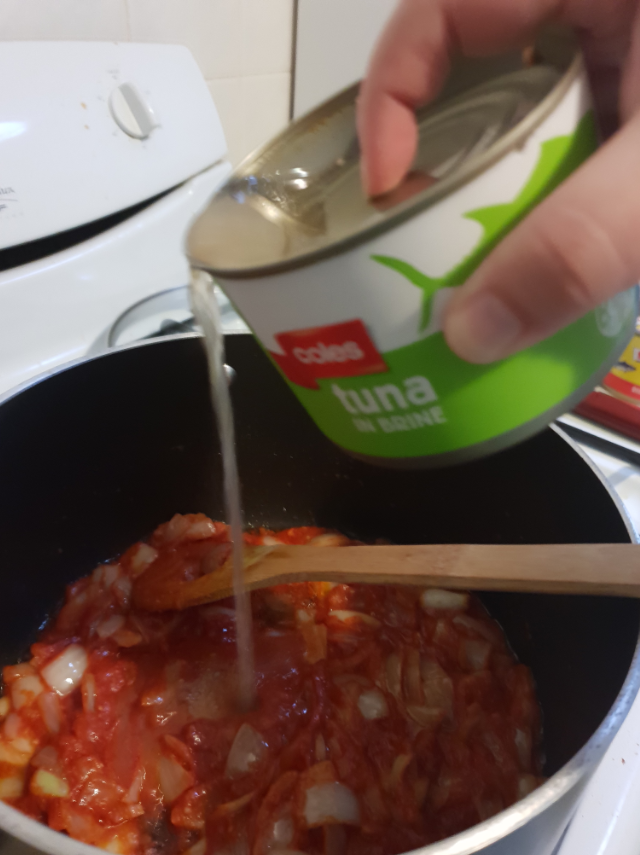 Then set aside the tuna cans. Maybe put them in the fridge if you have an overly curious cat. You won't need them till the dish is pretty much complete.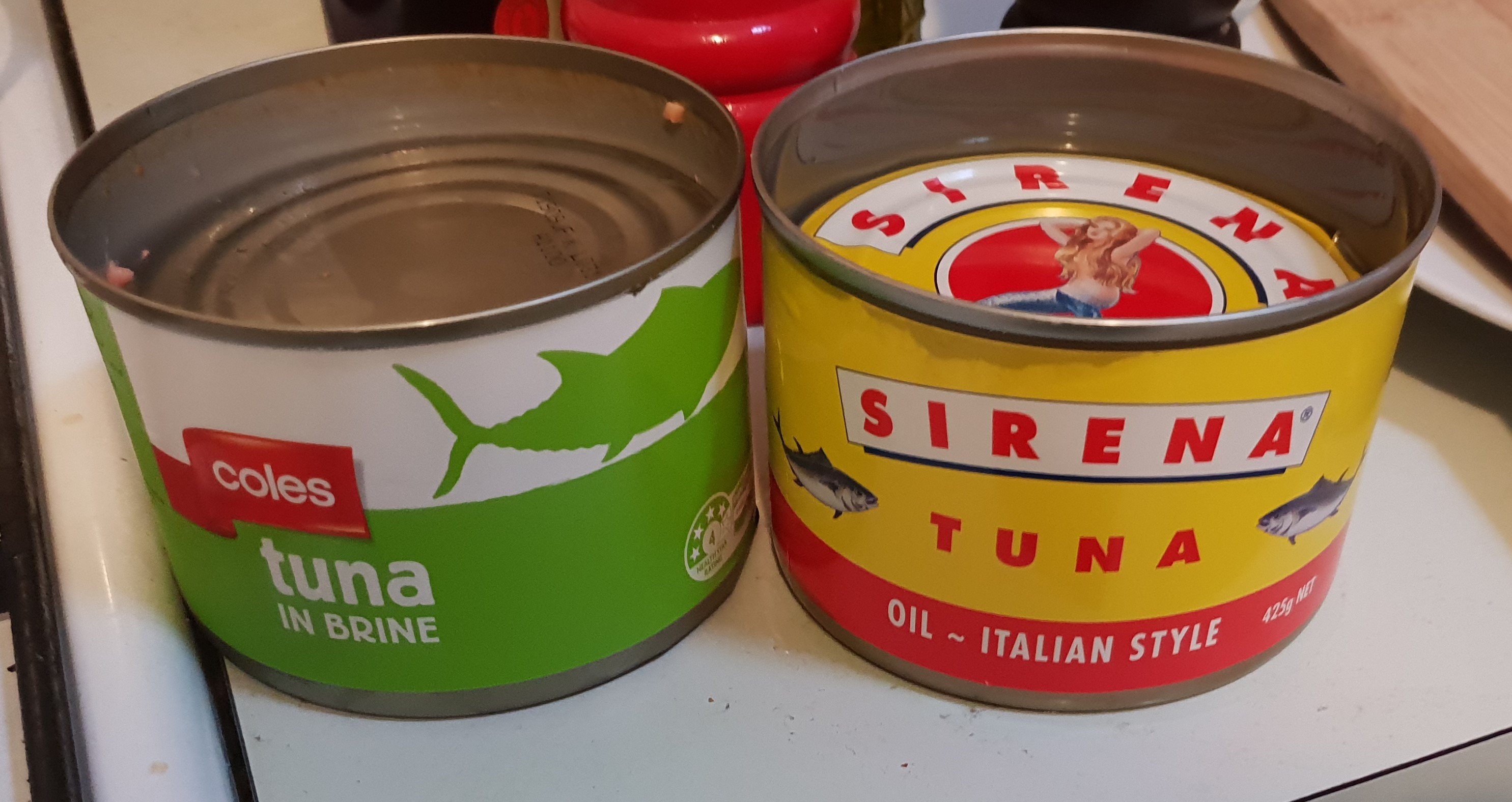 .5.
Add the two cans of tomato stuff be it chopped, diced or whole peeled.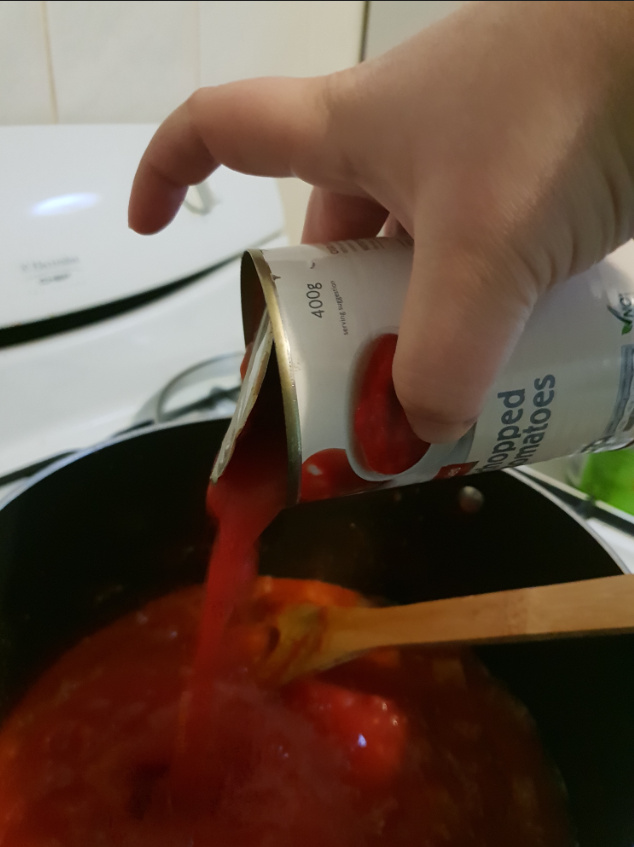 .6.
Last but not least the star ingredient. Vinegar!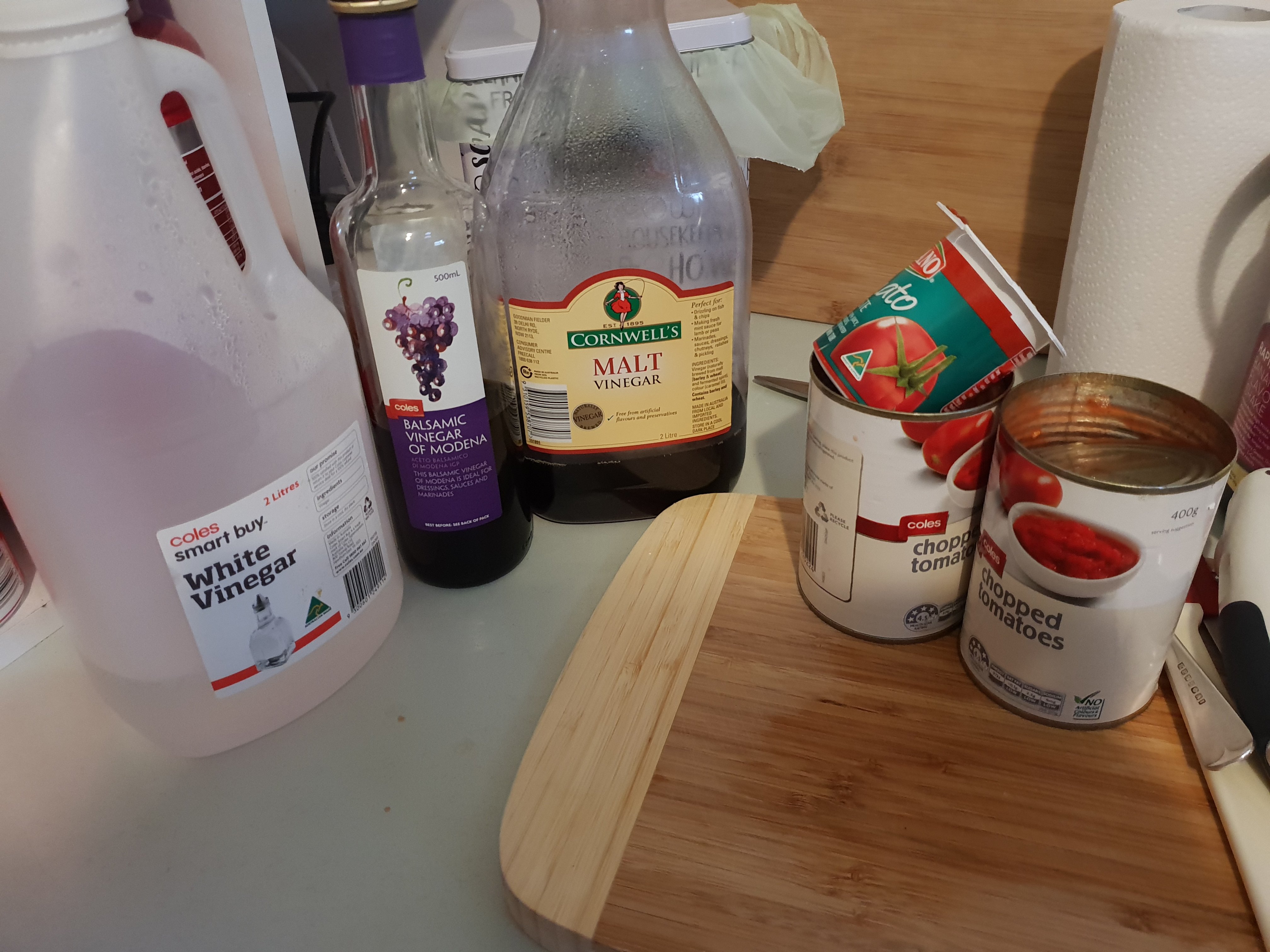 This 1 cup measure is half white, half balsamic and I'll be adding a further half cup of malt vinegar.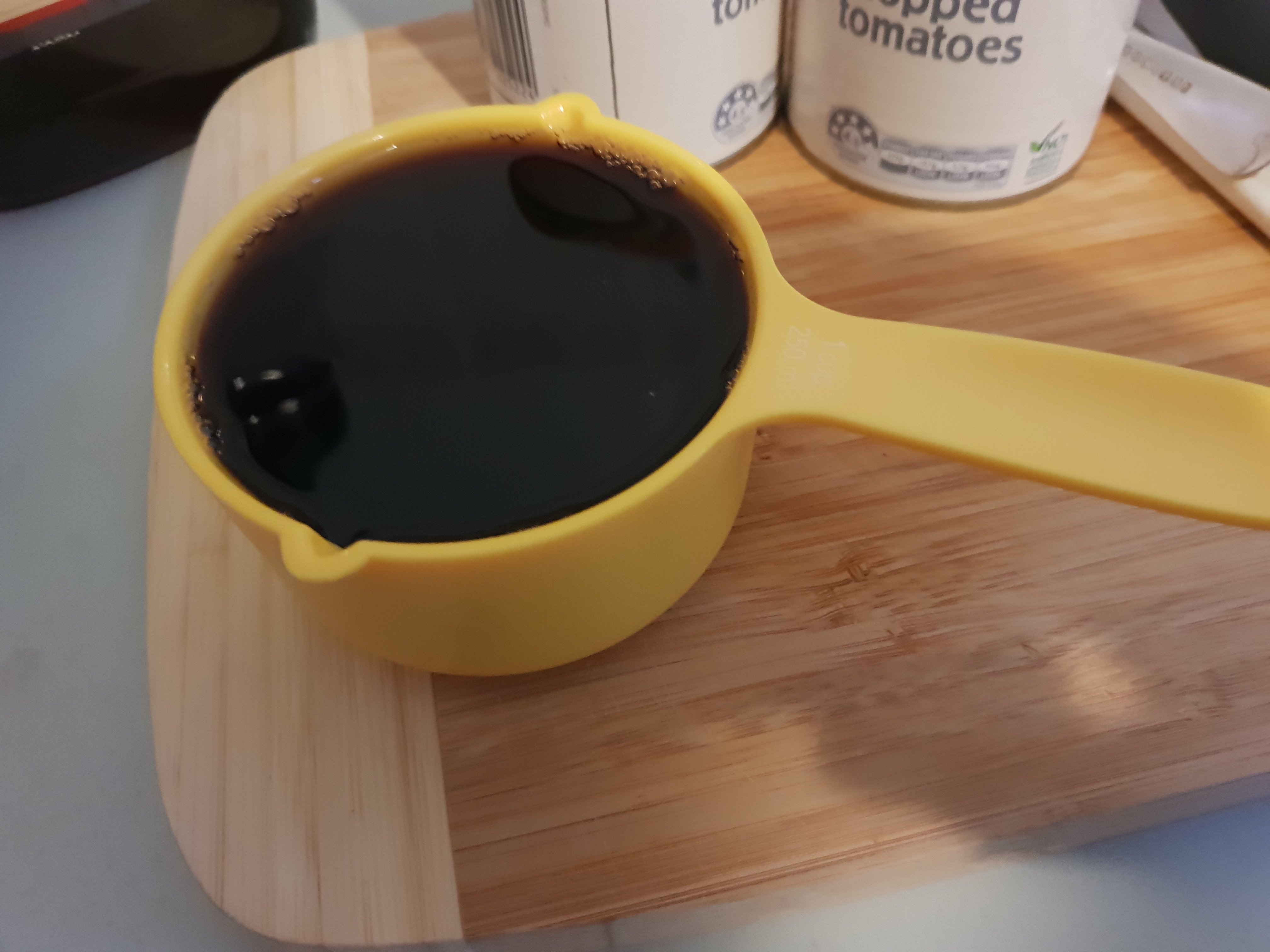 I like the mix of flavours but like mentioned in the ingredients section; use whatever you've got on hand. If you've only got white vinegar then just use that. Also it doesn't have to be fancy, as you can see I've used the cheapest coles brand buy-in-bulk vinegar. All you have to make sure of, is to use at least 1 full cup of vinegar. Less than that, you're not doing this dish any favors. However I wouldn't exceed 2.5 cups. Not unless you plan to cook it to oblivion because the longer you cook vinegar the sweeter it gets.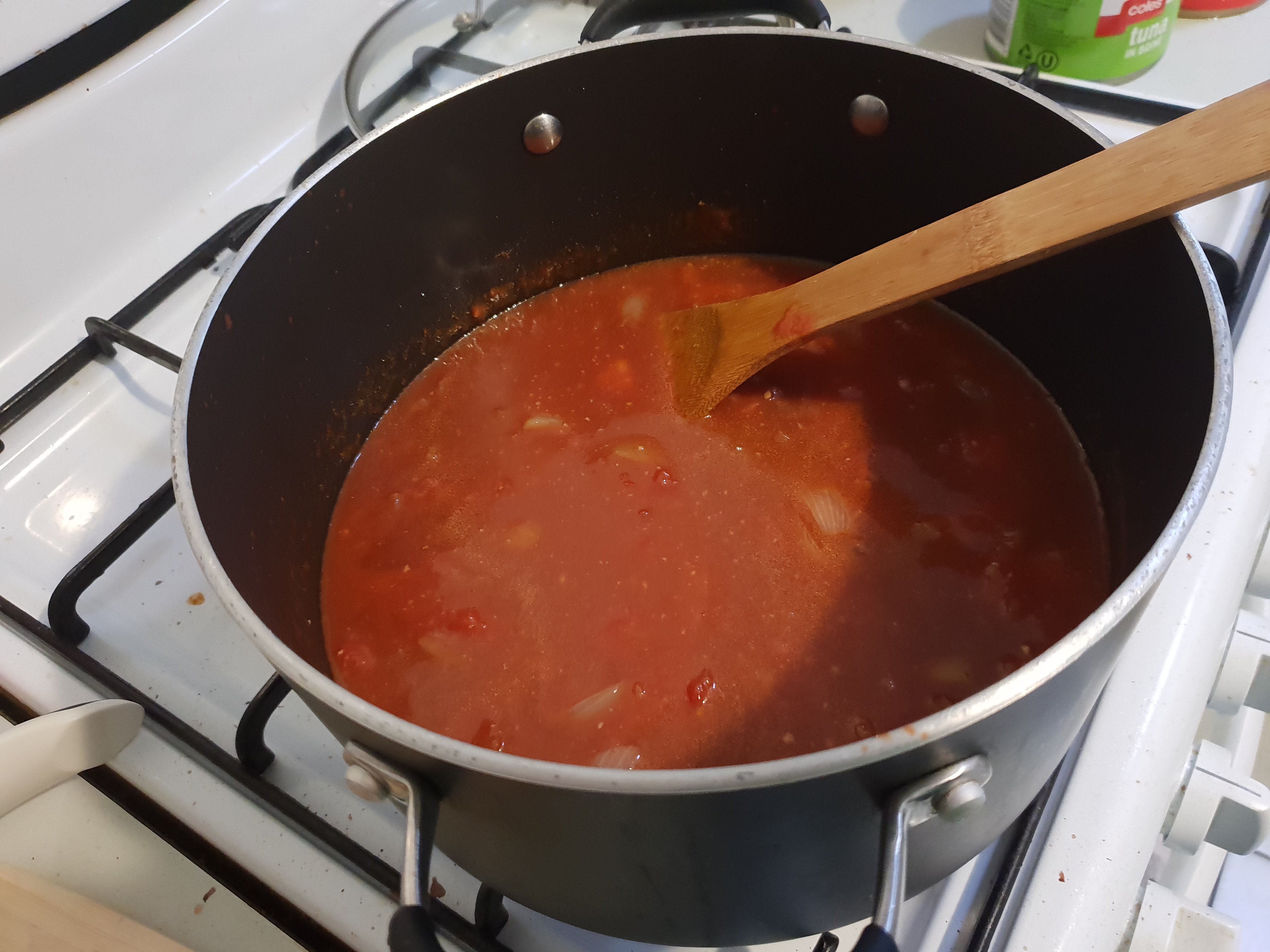 With this amount of vinegar I put a shallow teaspoon of sugar in to help this process along, mainly because I'm too impatient to give it the amount of cooking it traditionally requires (Traditionally it requires you at this point to add water and boil it down to a sauce a minimum of 3 times so that the vinegar can sweeten a little. People are lucky if I do it twice but then I enjoy it super sour.)
.7.
Simmer away for 10-20 minutes and... Yus! This is the look we want. See the scummy stuff floating on the top? If you get that, you know you did it right.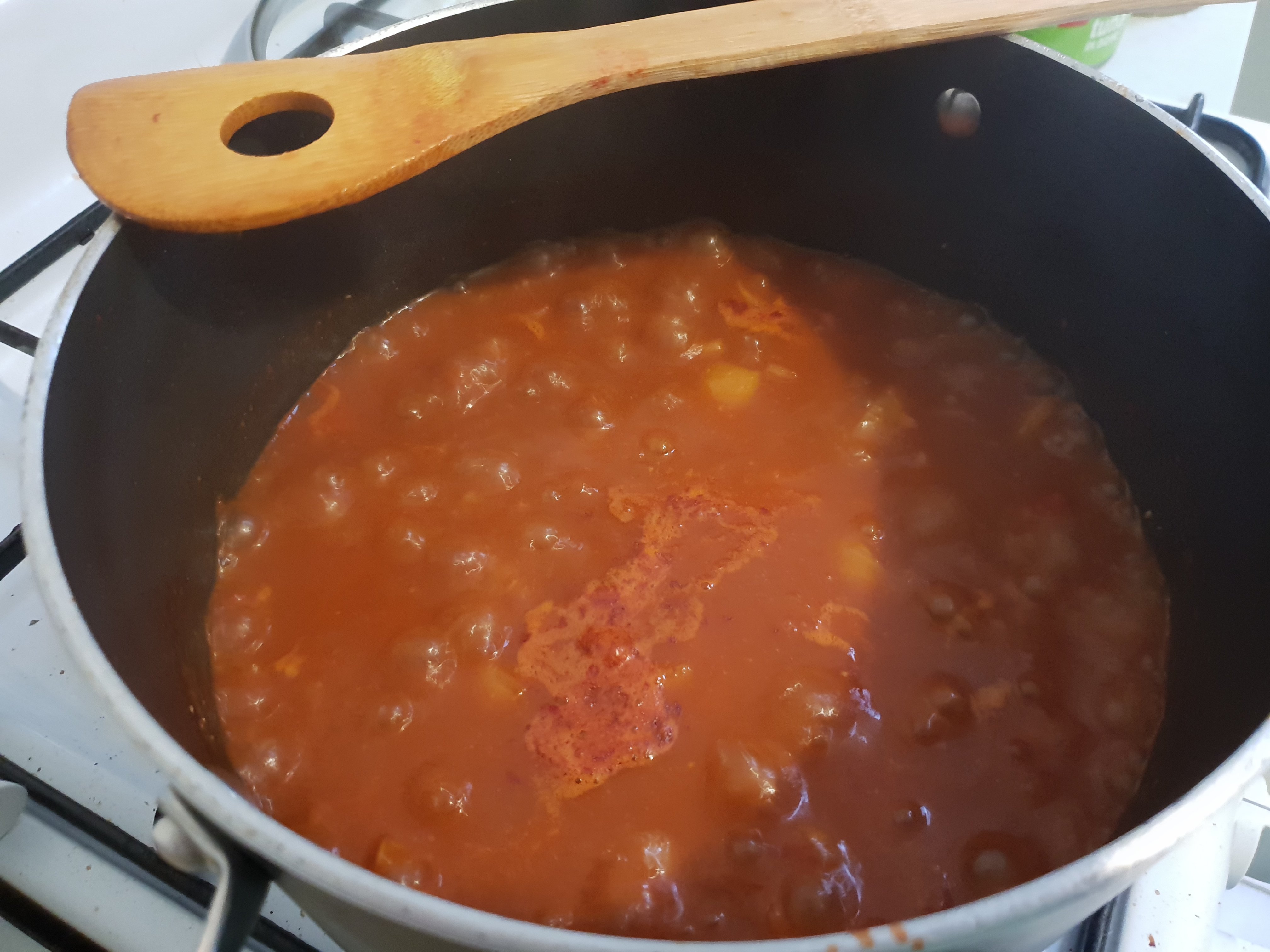 Now it's at this point that traditionally you boil up your pasta, add the tuna in at this point and lower the temperature so the tuna chunks heat up but maintain their shape/character and don't dissolve into fishy paste. If you're cooking with pasta congratulations it's ready.
If you want to do it traditionally, hold off an adding the tuna, add water and boil it down another 2 times. Add the tuna 15 minutes before serving. Drain the pasta REALLY well and then toss the pasta in a mix of toasted breadcrumbs (I usually buy croutons and crush them roughly in a mortar and pestle) and cracked pepper so that the pasta almost looks like it's partially crumbed and top with a light sprinkling of capers before ladling the tuna vinaigrette sauce ontop. I also add parmesan to the pasta crumbing but that is also apparently taboo along with the garlic due to the fact that you are apparently never to mix fish or seafood with cheese in the same dish. Nonsense to that I say! Add parmesan to your hearts content!
But now I have decided against pasta and am instead cooking up quinoa. This is 3 cups of quinoa uncooked. I added water as well so that I could both cook the sauce down a second time and cook the quinoa at the same time.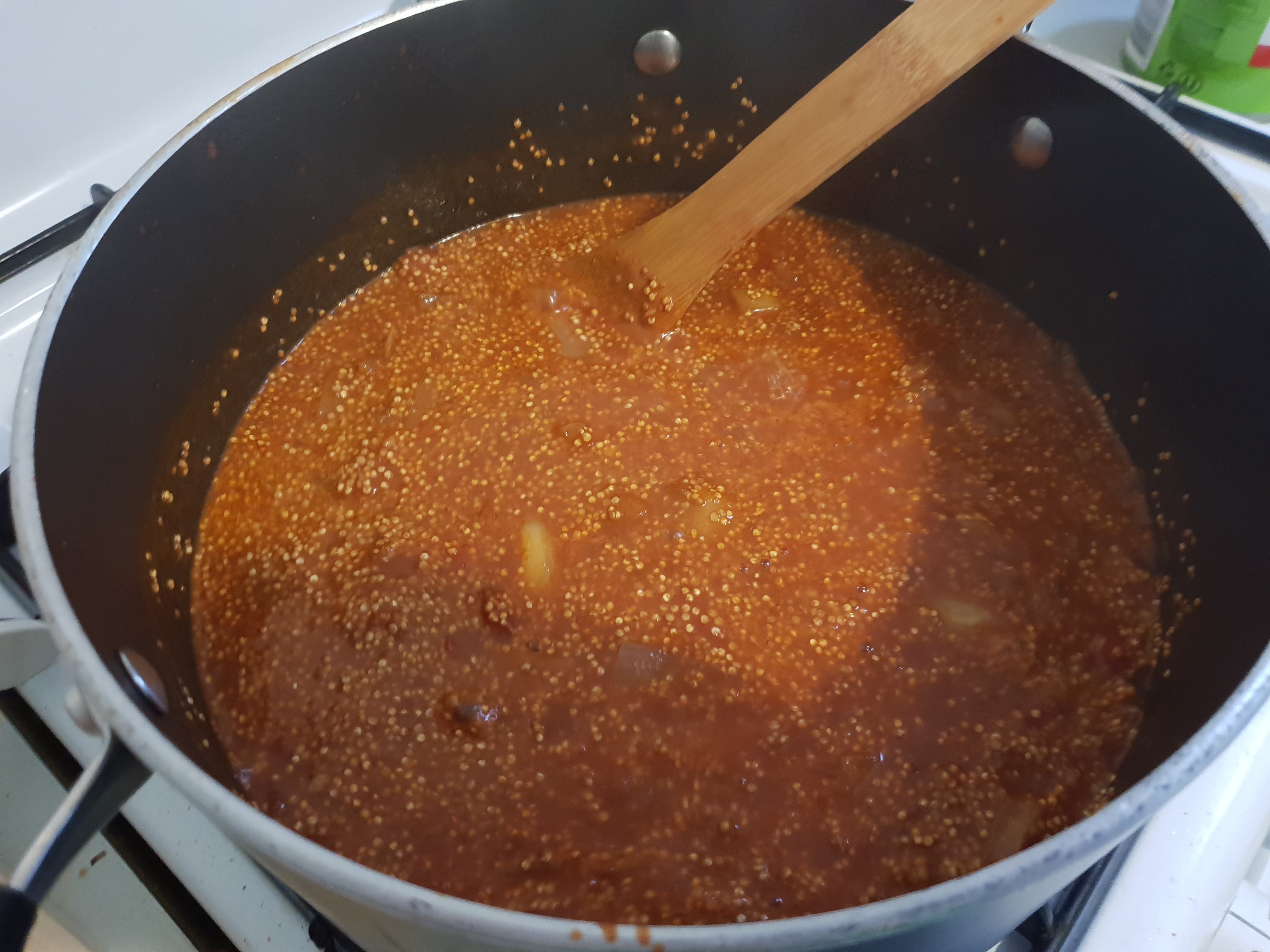 20 minutes later after having to add extra water periodically because the quinoa absorbed quite a bit of it. Quinoa is cooked.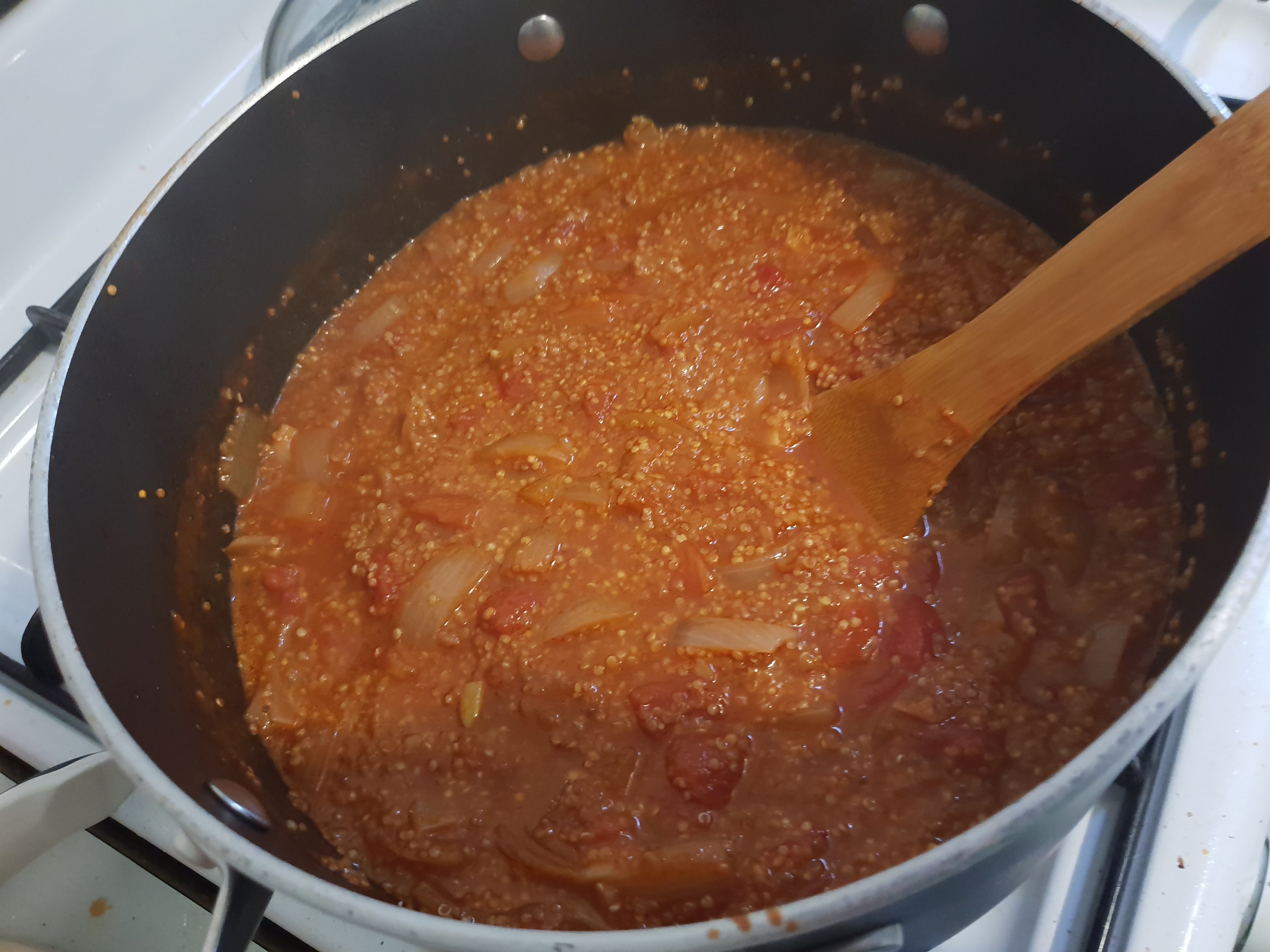 Adding tuna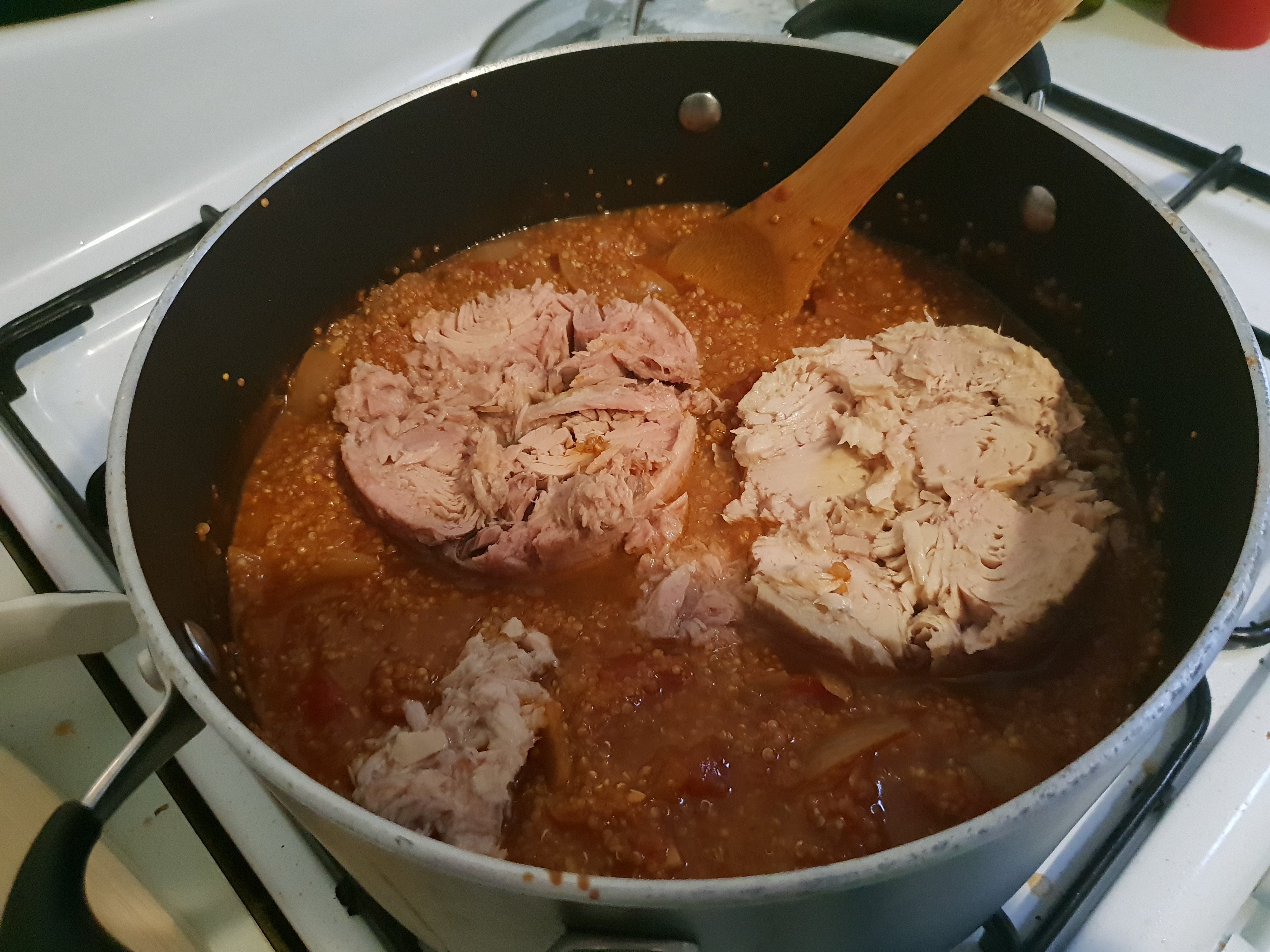 The dish is complete!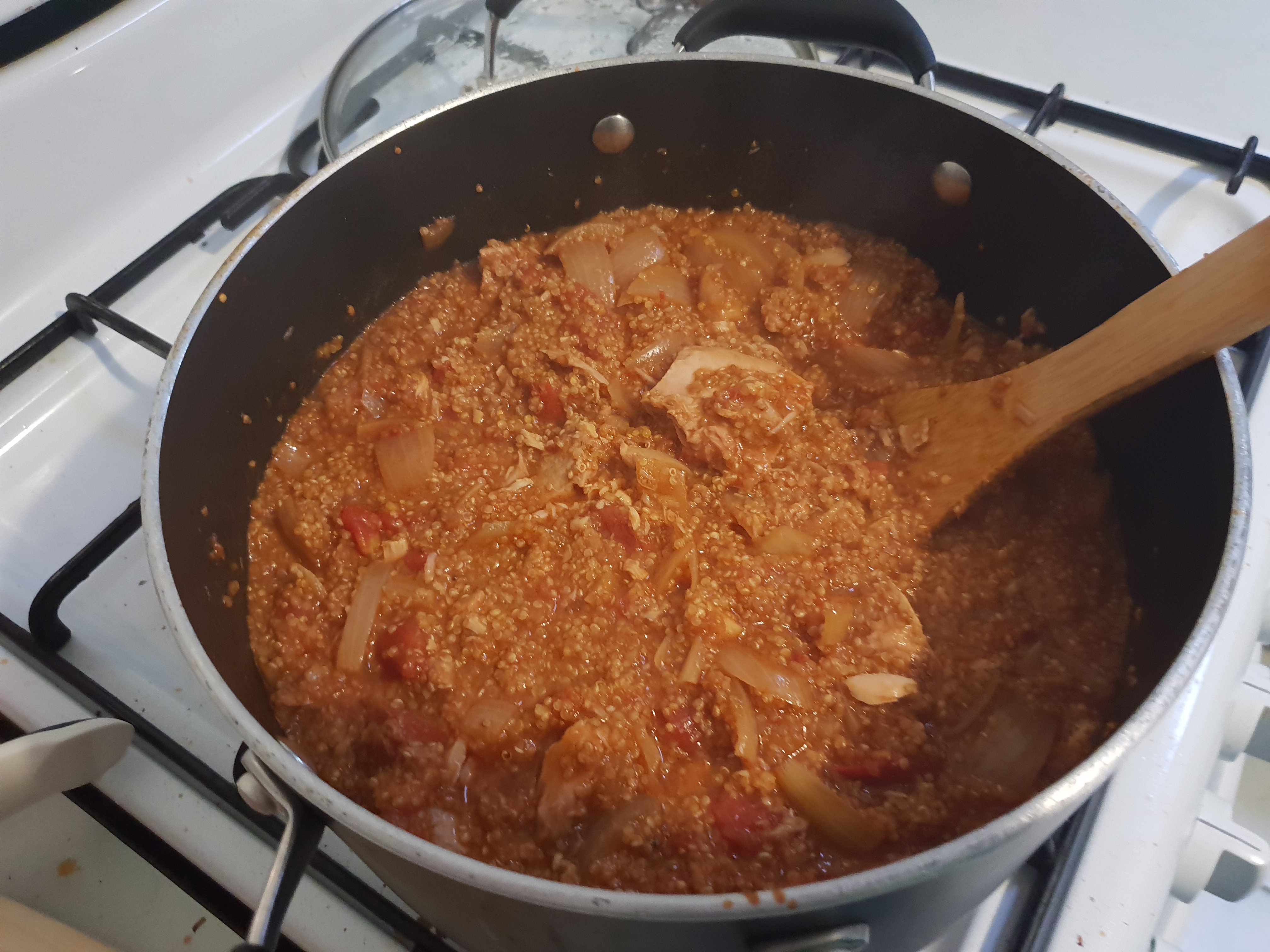 And serve. Admittedly not as aesthetically pleasing or as fun to eat as pasta but still super tasty.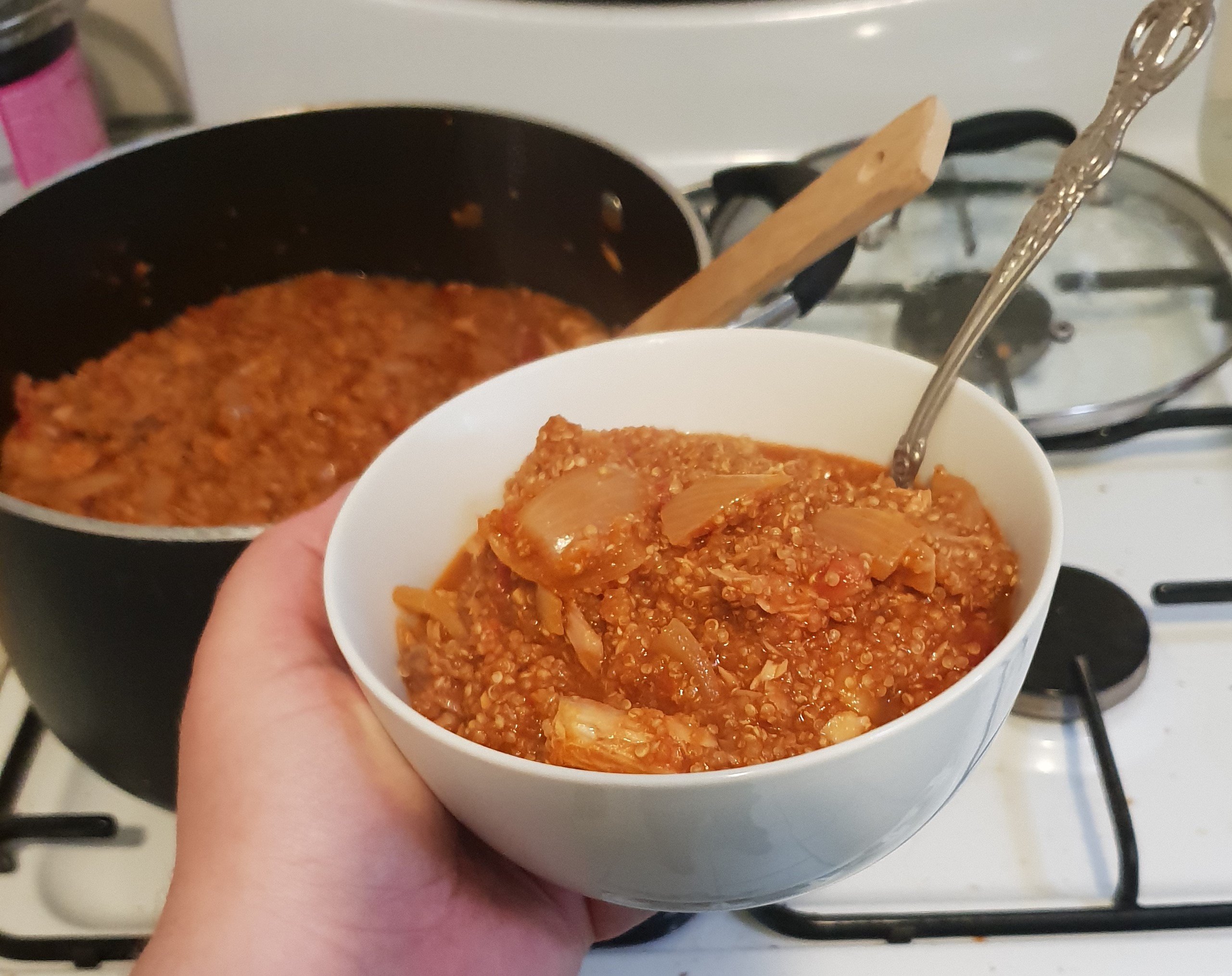 Hope you all get a chance to make and enjoy this dish as much as I do.