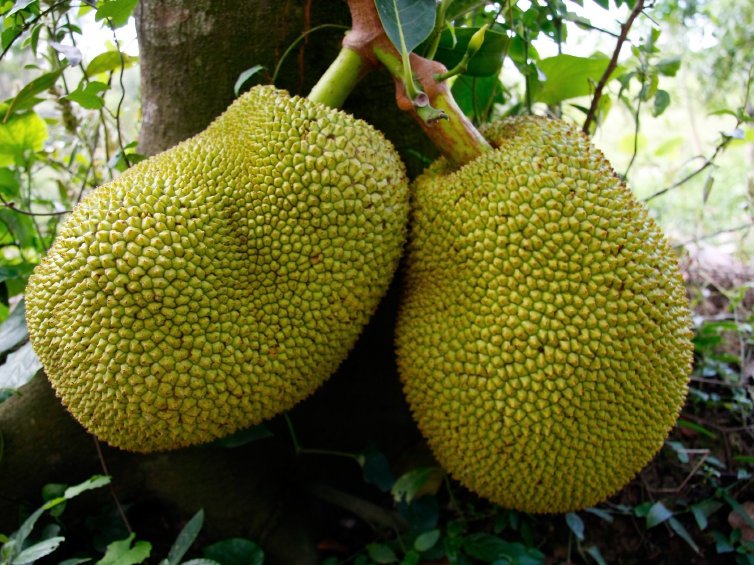 I wasn't sure I would have an entry for the Cook With Us Homework. Let's face it we don't many exotic fruits in Poland. And if we don't I sure have never come across them for my time living there. So I start digging around to find anything interesting in Australia, my adopted country. During my time researching the subject I came across quite an unlikely fruit by the name of Breadfruit. I've never ate it before or came across it at my fresh food market. I'm not even sure how it tastes. And while reading about it I also came across the name Jackfruit which appears to be of the same family. Or to be more factual Breadfruit is part of the Jackfruit family. Both are grown in Far North Queensland and appears to be seasonal fruits.
Before I dug further into their specificities and how they are grown up North I thought I would ask my husband if he has ever heard about them. Well I was only partially surprised that he knows all about it and that both fruits are very much liked in Mauritius. So instead of researching further about those fruits in tropical Northern Queensland. I thought I would get a first hand account of the two fruits from my husband. And God he had a lot to say about them, as usual! It so happened that he had a couple of Jackfruit trees in his backyard and one giant tree in his next door neighbour's backyard. The neighbour were not big fans of Jackfruit. That meant that during peak season, when the fruit was ripe they would invite his uncles to pick them. Apparently, you didn't have to be an expert in Jackfruit to know when they were ripe. It has a very distinctive, musky smell that you can easily picked 50 to 100 metres away. And it is definitely a favourite of fruit bats who would circle over the huge trees in summer and dig into them at night.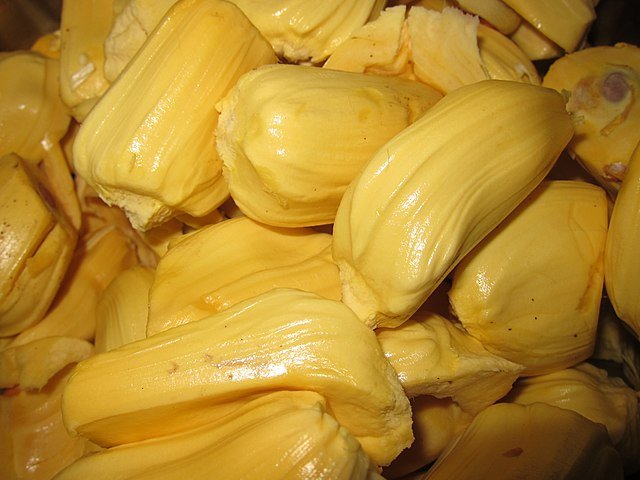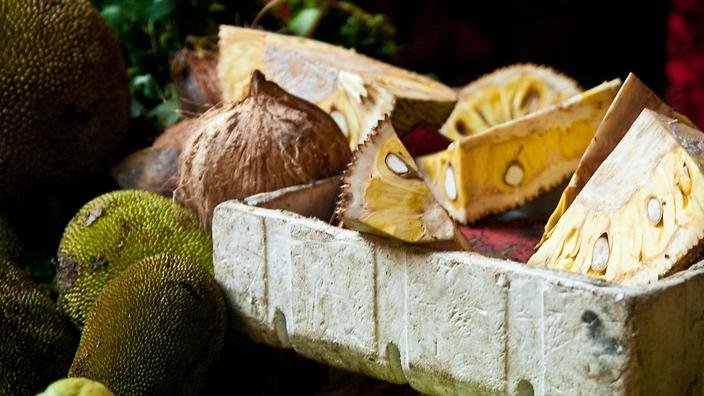 When picked green to eat as a vegetable the Jackfruit's flesh is very sticky. It is therefore recommended to use gloves when removing the skin and dicing the flesh. According to online sources, Jackfruits can be dried, roasted, added to soups, used in chips, jams, juices, and even ice cream. The seeds can be boiled, roasted or ground into flour. Even the tree itself is valuable: high-quality, rot-resistant timber for furniture and musical instruments. Jackfruit can also be eaten fresh. The jackfruit is made up of hundreds or even thousands of individual flowers that are fused together. My husband used to eat it prepared in a curry; sometimes as the main ingredient, other times with beef or tripes. The latter is his favourite way of eating Jackfruit. He admitted never to eating it ripe. "Generally, we would pick the ripe fruits, stuck them on a pole and place them in the middle of the neighbour's sugarcane plantation and wait for bats to come around. My uncle will them shoot them. Far from being a culling process, some people actually eat bats in Mauritius!," Joel told me. And for information Jackfruit is considered the biggest known fruit in the world being able to reach 100 pounds plus at times.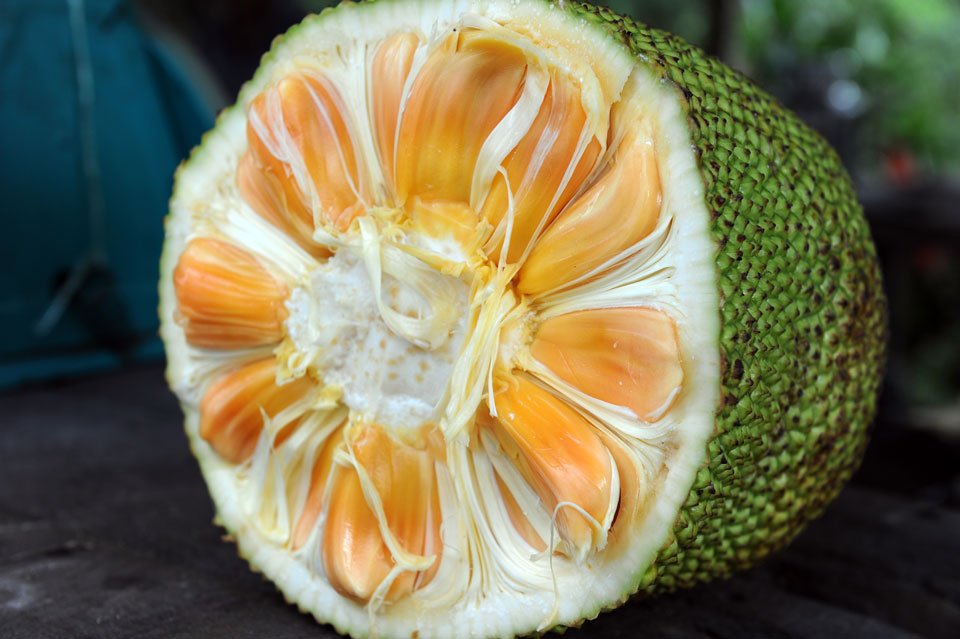 https://cdn.steemitimages.com/DQmNxB45zgidaWPi4dGfjrcuRvSX2ct3eKf7JPo6b4S1Dsn/jackcutseeds.jpg 
Breadfruit is another popular fruit in Mauritius. Although a lot of people seems to be repulsed by the smell of breadfruit my husband is not that bothered by it. He is used to consuming it on a very regular basis as a teenager growing up. In his teens, Joel was part of his local Boy Scout troop. They had a 4-hr scheduled meeting every Saturday in the backyard of his local church, a 275 year old cathedral. And opposite the church they had one of the largest botanical garden in the southern hemisphere. So no wonder they had access readily to breadfruit. As a boy scout they would go on adventures in the wood looking for bamboos to create makeshift tables, bench or mirador. And very often they would loose track of time and only realised they done by their lunch time by the groaning of their tummy. In such occasion they would pick some breadfruit and eat them. Generally if they have some pan with them they would just boil it and eat the flesh. At home that is the preferred way of eating it. Boil the fruit, add butter to eat and then just dug into the flesh.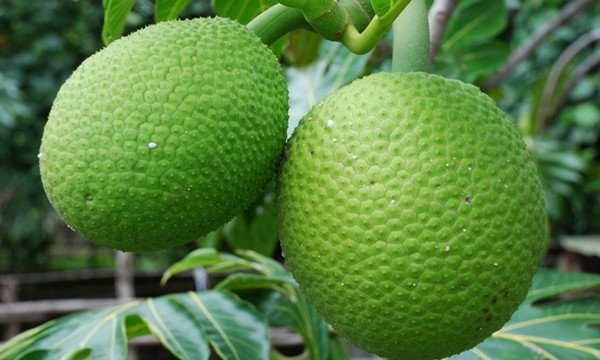 For people not used to it, breadfruit is quite starchy and bland, like bread. The cooked fruit tastes similar to artichoke hearts or potatoes, undercooked ones many people say, or freshly baked bread. Some breadfruit varieties have a slightly sweet taste and a freshly baked bread smell to them as a result of the fruit's high starch content which turns into sugar during ripening. Quite interestingly both fruits are said to have medical benefits either the flesh or the leaves etc. While reading through the internet I've even found that Jackfruit can be used to feed the world. Some fancy vegan restaurants in Melbourne are now proposing pulled pork like Jackfruit dishes. I think this will be my next night out at a restaurant. And one thing is sure next time I get to visit Mauritius these will definitely on my bucket list of exotic fruits to try!
Unfortunately I didn't have any personal picture to illustrate this post. So I had to browse the internet to find some pics. That's it for my CookwithUs homework. I hope I get a good pass mark lol!  
Credits to GettyImages, SBS, iStockphoto, and Wikipedia.