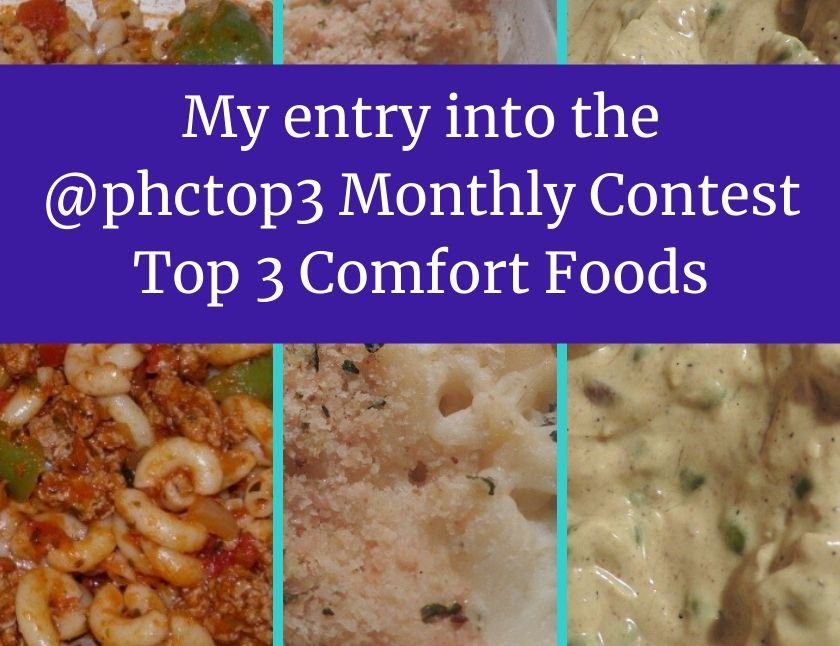 It's been a few months since my last entry into one of the @phctop3 Monthly Contests, but when I saw the topic was comfort foods, I knew I'd have to give it a go! Especially since we're heading into comfort food season (aka winter) here in New England.
After I had a hard time narrowing down my choices, I decided to go with the homemade variety, instead of things like pizza, Chinese food, and ice cream (which of course, now I'm craving). I happened to have a picture of one from a few years ago, and since we've had the other two for dinner in the past week, I grabbed a couple quick shot of the leftovers. I'm thinking I might do separate blog posts on each (with recipes, of course) at some point in the future, especially since I'm now realizing I need to work on my food photography skills. 😜
So here are three things that are in heavy rotation in the York household for meal times...
Nomination 1 - American Chop Suey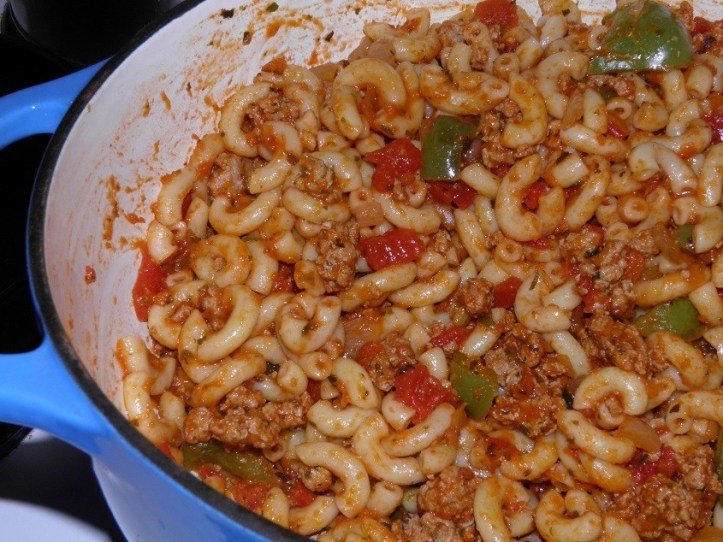 A photo I took after I made Chop Suey for dinner, February 2016
REASON
When I say to the family, "Would you like chop suey for supper?" no one thinks I'm referring to Chinese food. This is one of those quick, easy, and filling meals that we have on a fairly frequent basis, and I believe it's one of the first ones the eldest learned how to make. But where did the name come from? Here's an explanation from the article American Chop Suey Casserole by Aimee Seavey -
So what's with the chop suey in American Chop Suey? According to The Encyclopedia of American Food and Drink, "chop suey" is a culinary phrase with Chinese origins, and dates back (in print, at least) to the late 1800's. It's thought to be a transcription of "tsa tsui," which is Mandarin for "a little of this and that." In time, "chop suey" became a dish containing a loose assortment of bamboo shoots, water chestnuts, celery, soy sauce, and either pork or chicken, which went on to become one of those Chinese-American dishes popular in Chinese restaurants stateside, but likely unfamiliar to a native Chinese diner. Later, another dish of muddled, cobbled ingredients and origins (this time Italian-American) would also carry the "chop suey" name.

Nomination 2 - Macaroni and Cheese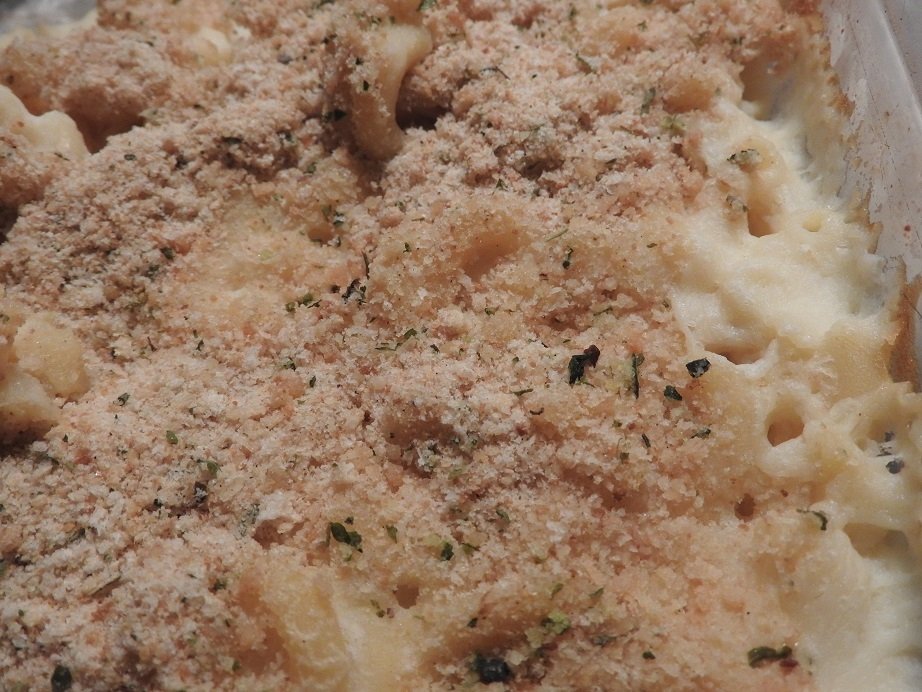 M&C leftovers from last night
REASON
This is another quick and easy meal that we typically pair with kielbasa cooked in Sweet Baby Ray's Honey Barbecue Sauce. It's such a favorite that our boy has requested it as his birthday dinner a few times over the years. Even though it's a simple recipe, there's room to change things up with different cheeses - for a time I did a combo of Vermont Sharp and Seriously Sharp Cheddar Cheeses. Lately we've done just straight up Cheddar. It's an old classic that never gets old!

Nomination 3 - Chicken curry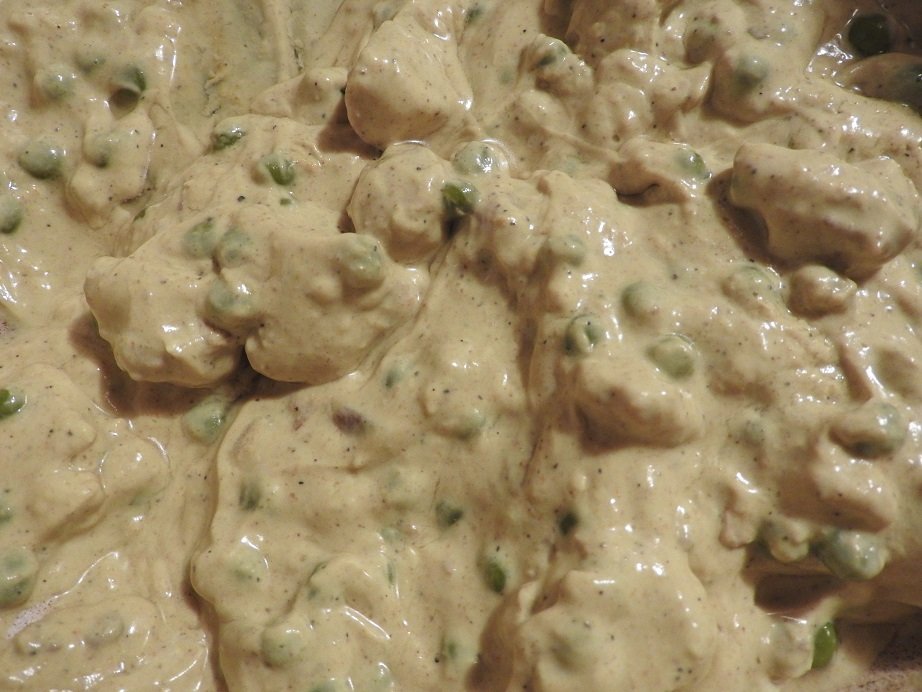 Chilly chicken curry from Tuesday night
REASON
I've had the recipe for this since I was a teen, scribbled on an index card after my mother showed me how to make it. I'm fairly certain, given that the base is Campbell's Cream of Mushroom soup, that it came from some 70s magazine like Good Housekeeping or Woman's Day. Years ago I went easy on the amount of curry powder, but these days I use at least six or seven tablespoons (with a dash of cumin for extra zip) to give it some gusto. Pretty much every time I make it, I think about how I should try making the mushroom soup from scratch (and I have an awesome recipe for it), but it seems time is always short so I end up grabbing the can. One of these days though!

Many thanks to the gals and guys of the Top 3 team for putting together yet another wicked awesomesauce contest! Best of luck to everyone entering, and I'll see you at the dpoll!

Thanks for stopping by!


My posts may occasionally contain affiliate links. If you click through,
I might get a wicked small commission, with no extra cost to you.
Blog graphics created on Canva
My photographs are taken with my trusty Nikon,
sometimes utilizing my handy dandy tripod.
All words and images are mine (unless otherwise indicated),
and can sometimes also be found on my various social media sites.
Speaking of witch which...

I have one billion many homes on the interwebz.
Here are a few...