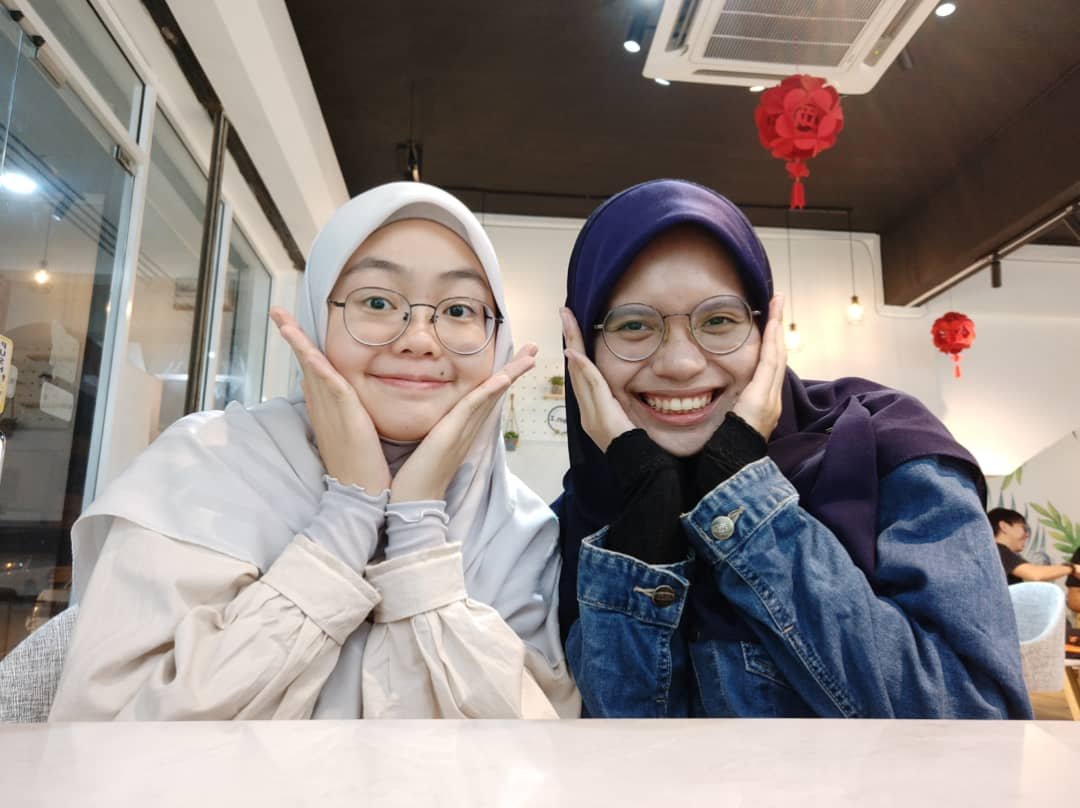 Last week's session, our mentor decided to add a little bit of fun in our creative writing task. We were asked to scroll in our phone's gallery twice and write about the picture that our finger stopped on.(It was a different picture but that was quite blurred, hence I chose a better one, still both of us in the picture.
Ps: She said to express anything and everything on how we feel, no holding back. Thus, here goes nothing...
This is one of my best friends, Afnie, or I like to call her, Chi-chan.
How do I feel about this picture? I feel sad, I feel grateful, I feel quite nonchalant, thinking back all the memories we had back when it used to be so easy to meet up. Meeting up once or twice a week without fail, staying at your house for a while before heading to tuition together, and same goes to visiting my house as well.
I feel grateful for having a best friend like you, all the times that you were there for me, especially on my hardest days, days that you knew well enough I was stupid and wrong, yet you stayed by my side and still went on with endless support. Now that we have all grown up, it saddens me a bit knowing that it wasn't as easy meeting up as it used to be. Now that we are both miles away, although pursuing the same profession, but fate separates our distance. We all had it coming, we knew there will be a point every one of us will get separated. The thought of meeting once a year is now a reality.
The moment we discussed on when we're going back to Lahad Datu, that was the moment we started planning our meet. You were bound for LD two days before I had my flight back to BKI. Just when we thought we could meet in between those days, there were sudden change of plans; you had to stay at Tawau for a night and will only be back the next day, the day we were supposed to meet up. The time was uncertain on when you'll arrive, but you promised you'd immediately inform me once you're on your way back. It tore my heart to pieces, but it didn't break my spirit, hoping that we could meet in time, even if it's just a while...
Then on I go, continue with my endless packing. As the clock strikes 12, your text came in and said you're on your way back. Alhamdulillah! Only 2 hours away and the meet up was possible. Luckily, we were able to meet at night at a boba shop just across my house.
Even if it wasn't for the whole day, even if it was only just a 3 hours, it was the truly one of the happiest moment before going back...