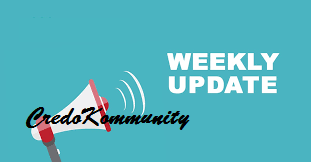 The CREDO KOMMUNITY is a non profitable community project, that is aimed of promoting steemit, registering newbies, guiding and supporting them to ensure they remain active on steemit blockchain until their feet are planted.
Exactly 2 weeks after the Community was founded under the administration of @samiwhyte and @njokuoluchukwu as the Discord channel Moderator, it's LOGO was created and unveiled. It also got her Curation Trail @credo.
For a month now, the community have registered 25 members into the platform, these are:
@Chrioni007 @Michael9ice @Zinnybae @braide @credo @dejojennifa @hadassahwealth @janegrace @janywealth @keban @ketocee @laurettaadomale @matimo @missplendor @nexty @ngjunior @njokuoluchukwu @ododah @samiwhyte @tekadii @thelifewire @ubbytytus @winarobert @wyxlight @gtan
Last week, @credo was nominated for a contest organised by @abh12345 and WON the 2.500 Steem price as the BEST in the contest, which was used to Power Up.
We the @credo Family also appreciate the support from @anomadsoul @hr1 @futurethinker @starkerz @infovore and @gtan
Some of the community Newbies made their
First post on the #introduceyourself. These post can be visiting using the links below:
https://steemit.com/introducemyself/@chrioni007/introducing-myself
https://steemit.com/introduceyourself/@ketocee/introduceyourself
https://steemit.com/introduceyourself/@dejojennifa/introduction-hello-guys-jennie-is-on-steemit-n-loving-it-already
https://steemit.com/photography/@matimo/i-am-martins-keban-brought-me-here
Plan
For the growth of the community;
There will be Meet-up with the community members; Newbies and Knowbies to share thoughts.
Printing of Fliers and design of the Credo Kommunity T-shirt will be done for Publicity.
we humbly request for SUPPORTER, INVESTORS AND DELEGATION; see video in the link below.
https://steemit.com/promo-steem/@credo/promo-steem-promotional-loan-pitch
All earnings gotten from the @credo account will be used to POWER UP to support Newbies.
CAUTION
The Credo Kommunity is not associated with any "CredoCoin" or such like. Please don't be misled.