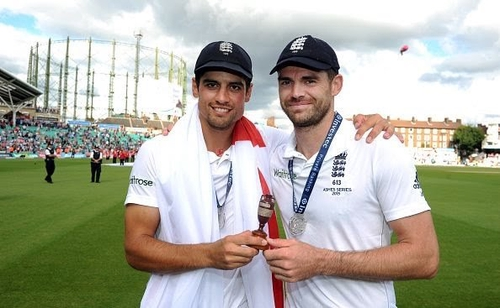 src
England defeated India by 31 runs to win an enthralling test match. The win was a special one but did you know it was England's 1000th test match. Looks like a long journey. England is the first team in International cricket to achieve such a feat and witness it with a famous thrilling win over India. This will go down in history of test cricket as one of the best wins in England's test history.
England test record isn't that bad. Out of 1000 test matches they have won 358 matches, lost 297 matches and 345 matches have been tied. The overall record is fantastic and what journey it has been for England cricket.
Cook is the most capped test player in the History of England cricket with 157 test matches and 59 as Captain of England cricket team. He also has got highest test runs in history of England cricket with 12158 test runs with an average of 45.36 with 32 hundreds to his name which is also a record in England's cricketing history. The next highest run scorer in England test history is Graham Gooch with 8,900 test runs.
Read fuII post here


Do you use eSteem?
eSteem is a Mobile& PC application for steemit with cool features. You get incentives for posting through @eSteem apps.
eSteem Spotlight; eSteem rewards its users with most Posts and Comments.
Download eSteem for your Mobile
Android devices Google Play Store
IOS devices Apple Store
Download eSteem Surfer for your PC
Available for all OS Github
Join eSteem Discord https://discord.gg/tgKCGr4
Join eSteem Telegram https://t.me/esteemapp