London (CNN)Cristiano Ronaldo just can't stop collecting trophies.
The Real Madrid star overcame competition from rivals Lionel Messi and Neymar Jr. to claim the Best FIFA men's player of 2017 for the second year running in London Monday.
Ronaldo can add the accolade to the league and European trophies he won with Real Madrid last season.
Players and managers from around the world flocked to the London Palladium, suited and booted for the second ever edition of the Best FIFA awards.
And it was Ronaldo who scooped the top award yet again, presented by footballing greats Diego Maradona of Argentina and Brazil's Ronaldo.
"Thank you for voting for me," said Portuguese international Ronaldo. "I want to mention Leo (Messi) and Neymar for being here. I want to thank Real Madrid for their support all year.
"This is a great moment for me. Thank you to all my fans all over the world. I appreciate that. I'm so happy, thank you very much and have a good night!"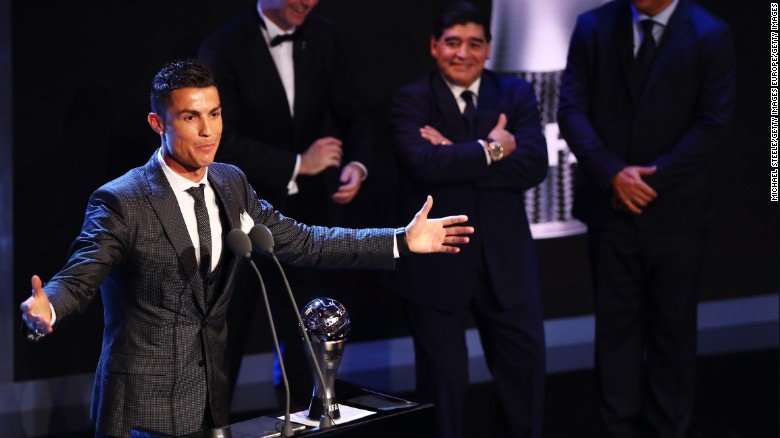 Football's best celebrated
The initial shortlist for the Best FIFA awards is chosen by a panel of former players, with the winners chosen by national coaches and captains, members of the media, and fans.
The star-studded event was hosted by British actor Idris Elba, and the audience was littered with famous footballing names.
For Ronaldo, it was yet another trophy to place in an already bulging cabinet.
The striker helped Real Madrid its first league and European Cup double since 1958 last season -- the first side to win back-to-back Champions League titles in the process.
Does Ronaldo deserve a place amongst football's all-time greatest players? Have your say on CNN Sport's Facebook page.
He currently leads the Champions League goalscoring charts with 110 goals (Messi has scored 97), top-scoring in last year's competition with 12.
There was more success for Madrid, as coach Zinedine Zidane, who lead his side on a record 40-game unbeaten run last season, scooped the best coach award.
Five Madrid players -- Ronaldo, Marcelo, Toni Kroos, Luka Modric, and Sergio Ramos -- made it into the FIFA FIFPro World 11.
Arsenal and France striker Olivier Giroud picked up the FIFA Puskás Award for the best goal of the year.
Giroud netted a stunning "scorpion kick" against Crystal Palace in January -- so-called because he flicked the ball over his head with the back of the heel.
The Frenchman connected perfectly, sending the ball crashing off the crossbar and into Wayne Hennessey's net.
After the game, Giroud was modest about his wonder goal. "I have maximum luck," the French international said.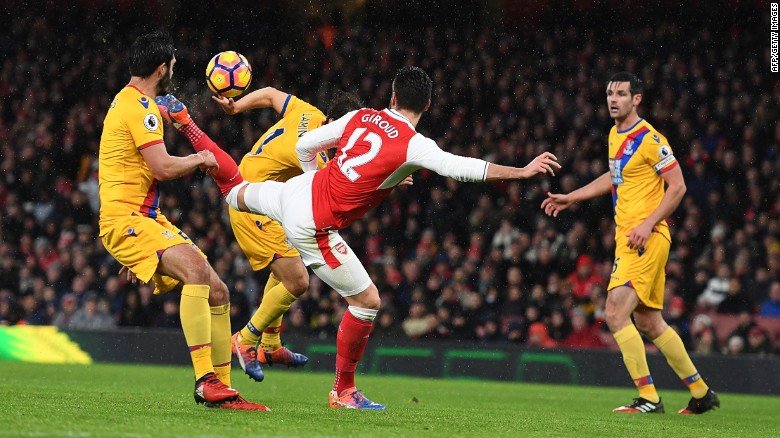 Being the world's greatest
The accolade of being the world's best footballer is a topic of hot debate amongst football fans.
Messi and Ronaldo have dominated that discussion in recent years, while many viewed Neymar's record breaking $222 million move to Paris Saint-Germain as an attempt to emerge from the Argentine's shadow at Barcelona.
Former Argentina international Ossie Ardiles, who won 52 caps for his country in the 1970s and 80s, thinks this competition motivates players to constantly reach new heights -- particularly in the case of Messi and Ronaldo.
"The two of them have had a great, great season," he told CNN World Sport.
"It's great the two of them are playing in the same era because if one of them wins the other feels a little upset so he trains to improve his game.
"I always thought that Pele would be the best player ever, and no one would be better than him, and then Maradona came and he was the very best and we thought no one would surpass him.
"And now we have Messi or Ronaldo. I'm sure we will have the same thing again."