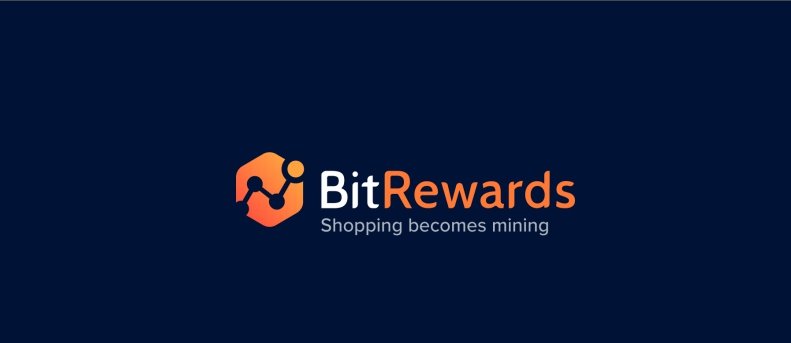 Website- Twitter - Facebook - YouTube - Telegram  
Let's focus today on a business area that was not previously affected by the Blockchain system. Which is namely the loyalty system for customers. How many bonuses do you have that you don't use and which in the end will simply expire. Probably a lot! And what if these bonuses could turn into money, would you take them more seriously?
Bitrewards, a startup based on the Blockchain etherium, solves the given problem. Developers intendedly implemented a single loyalty system for stores, saving money of the latter ones for developing their own product. What is more, the unified system will be provided with its own currency - BIT. Which, in its turn, will be the very that bonus. But unlike common for us loyalty programs, the BIT token is not supposed to be spent or changed inside a single store or alliance (Skyteam alliance, for example, flying with Alitalia you can spend flight bonuses while traveling with Aeroflot), as it itself will already have a real price in $. Of course, the price will vary, but due to reasons, which will be explained later, you will understand why it will grow.
Principle of work
Do not be afraid of Blockchain and its components, if everything is sorted in detail, then any process becomes as easy as a simple equation. The same approach is applied to the Bitreward system. To start with, a store needs to buy software ($ 200 per month), which, by the way, will be the same for all the branches. Furthermore, it purchases BIT on the stock exchange and taking the price into consideration, it picks up the number of tokens that the client will receive as a bonus for his purchase. As, for example, is shown in this illustration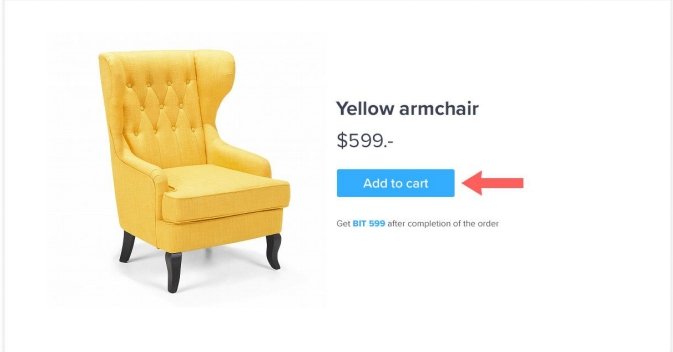 If you buy a chair you'll get 599 BIT. Then, up to your wish, you can either withdraw tokens or spend them on goods that are in the common Bitreward network. That means that tokens are ready to be used in the entire partner network.
A retailer, in turn, has two options for using the system:
1) With the help of the operator
2) Or simply using the system of decentralization.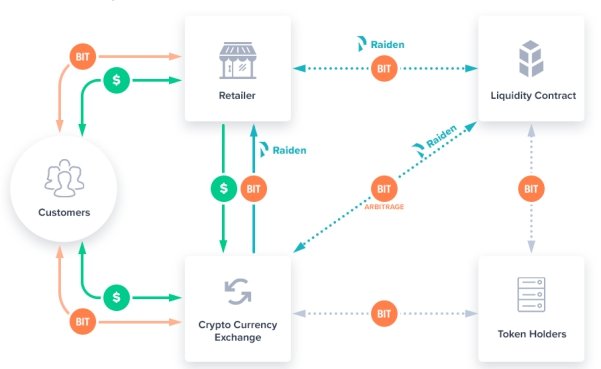 In general, everything is quite clear and simple and you do not need to be an expert on blockchain and DAPP to get started since the operator can solve any problems you face.
Advantages of the system
1) Scalability. A single token and a single application with the same principle of work can be successfully implemented in hundreds of stores.
2) The flexibility of bonuses. Since bonuses are issued in the cryptocurrency, it will not be difficult to exchange them. And, moreover, you can spend it in any other store in the network.
3) Bonuses cannot be expired. BIT cannot be overdue since it is a token of a blockchain. Accordingly, customers' loyalty will be higher.
4) A limited number of tokens. In total, there will be issued 2 billion coins, which, in its turn, will influence the price increase in the future. Let's not forget that the market for cash back is expanding briskly.
5) The simplicity of work for both shops and buyers.
Summary
The coin potentially has a good chance of securing the market. Competitors, in fact, are absent. The development team is efficient. BitReward is a ramification of GIFTD - a team project with a 5-year history of successful work.
ICO

Exclusivly for the telegram channel @stevesbounty 
BTT account: AccidentalGenius 
ETH wallet: 0xe0FEE0610C46d5DE7E3B105239749B994E78a189