INTRODUCTION
The creation of the blockchain effectively ensured that life as we knew it was about to change drastically.
Many industries are already benefiting from the advantages that the blockchain brings.
The Internet of Things is one industry that has been touted as the next big thing, or the next frontier, if you will; and to take the next step in fulfilling its promise, some problems faced need to be resolved.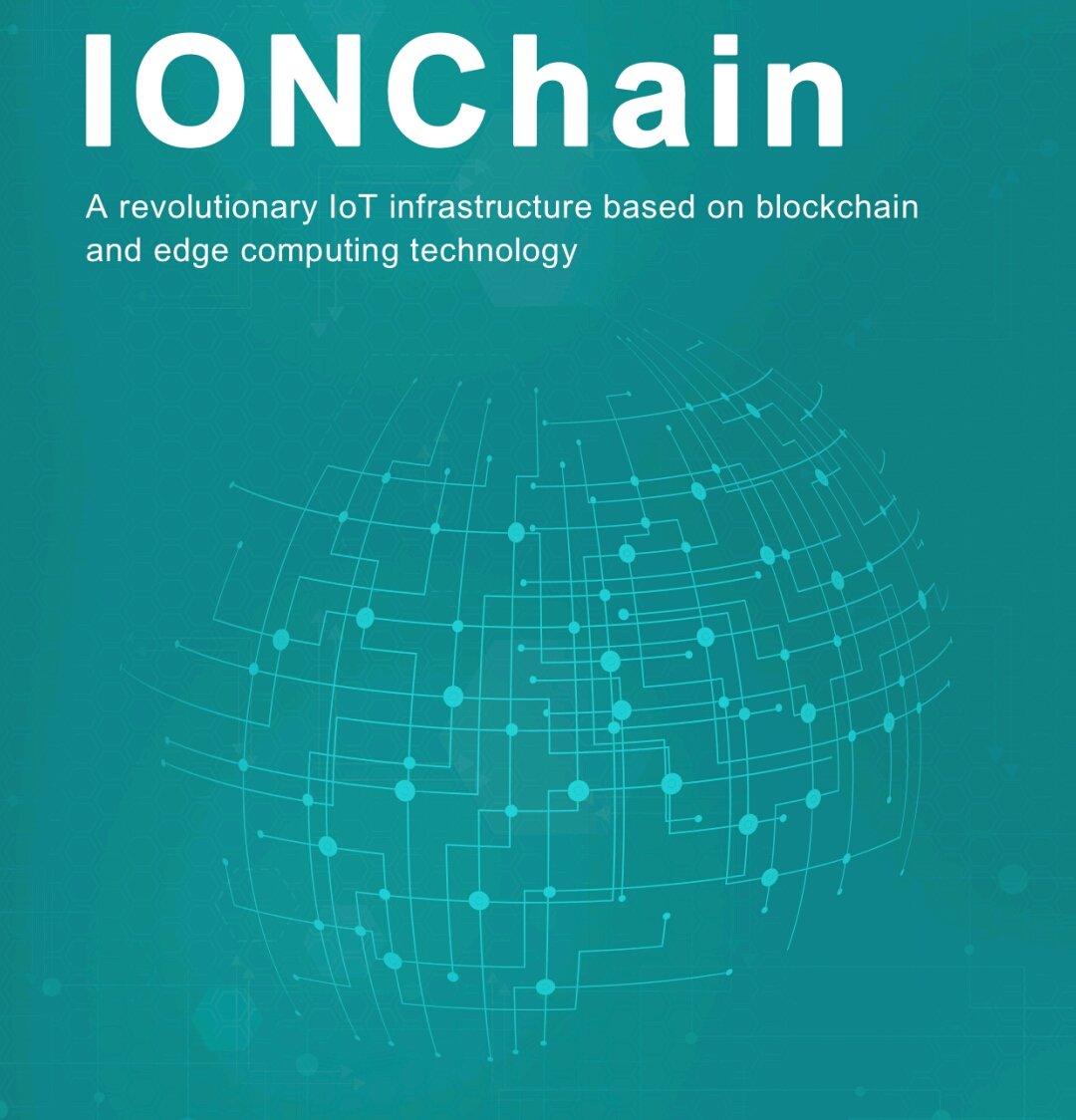 PROBLEMS FACED BY THE IOT INDUSTRY.
Unlike many industries, the IoT industry is yet to have a template that stakeholders in the industry can follow, to ensure that information is free flowing without any restrictions, and application of solutions created can be done on a massive scale, with RFID being the exception.
LACK OF DATA AND PRIVACY PROTECTION
Not too long ago, there was a huge scandal connected to Facebook, with regards to the usage of users data.
In more than one way, centralized organisations have shown time and time again, that they cannot be trusted with users data. Data is usually lost via hacking, or sold to the highest bidder. Users privacy is not respected.
When there are hacks, it is far reaching, because the industry is controlled by a few organizations.
INTEROPERABILITY PROBLEMS
In the early years of the industry, there were few stakeholders, and as we have seen new waves of development, new entrants have come into the industry, hoping to create solutions. These new entrants hope to have a foundation to build upon, but the veterans in the industry are not keen on sharing, as they are viewed as competitors.
When data is stored on centralised mediums, it is difficult for everyone to have access to it or share it.
CLOUD COMPUTING ARCHITECTURE
Network bandwidth has improved in recent years, and cloud computing has been very helpful. However, for some sectors, cloud computing at its best is insufficient.
In Virtual Reality for instance, everything is based on real time interaction and cloud computing solutions ensure that some lag exists.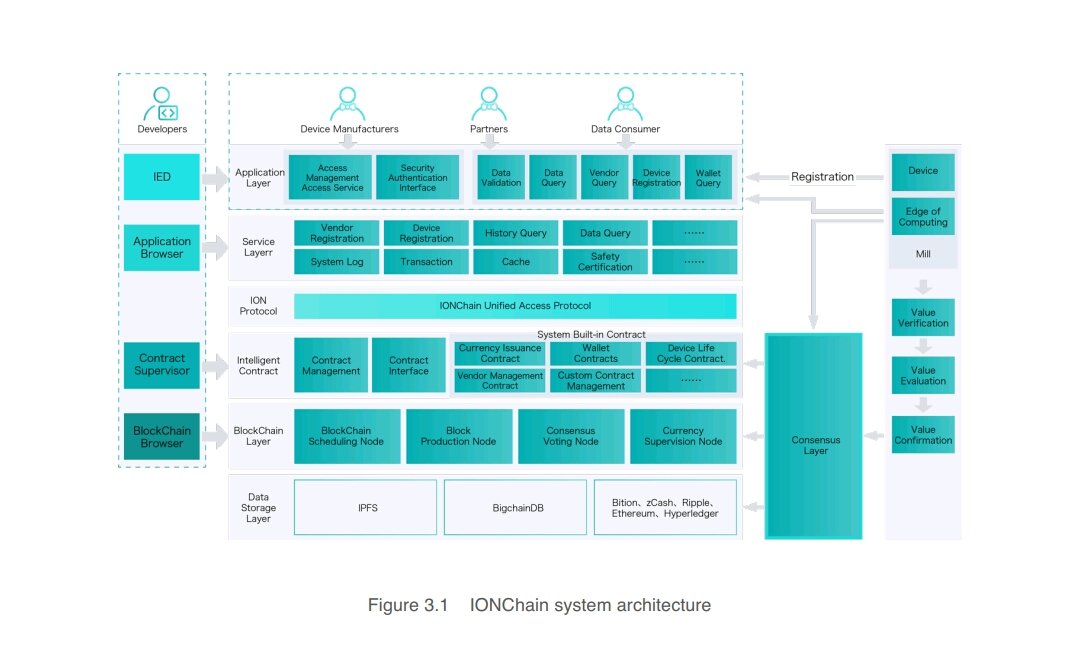 EDGE COMPUTING
Edge computing is an open platform that makes it possible for network, computation, storage and applications to be integrated at the edge of the network.
The benefit it brings is that it answers some of the questions the industry is seeking to answer such as problems related to connection and application intelligence.
With Edge computing in the equation, a connection between physical entities and industrial connections can exist.
ONE DEVICE, ONE COIN , ONE CODE
IONChain has a concept known as "One device, One Coin, One Code" by integrating currently available infrastructure and hardware in the IoT industry.
Device=smart devices on the network
Coin=IONC, which will be used to reward participants, amongst other uses.
Code= a special identification code, that can easily be embedded in smart devices at the initial stage.
INTER PLANETARY FILE SYSTEM (IPFS)
Sharing of data on IONChain is seamless and can be easily distributed. This is as a result of IPFS. IONChain ensures that data is secure, and users need to have the matching private key, to be able to access the data within.
Security of data is handled by the the total computing power of all mining devices on the network.
It is adequate for the present, and also the future, because it will be able to handle huge data volumes.
TECHNICAL ARCHITECTURE
The use of an ionization algorithm is used by IONChain which gets its inspiration from how ions are formed. Ionization mechanism is responsible for separating value creation and value transfer.
IONCHAIN's VALUE GENERATION PROCESS
VALUE GENERATION
Important information needs to be generated first by the mining machines, and value generation calculation needs to be finished, before it is passed on to be verified.
VALUE VERIFICATION
Everyone interested in the data to be generated by IoT devices will be required to carryout value verification.
VALUE EVALUATION
Value evaluation is part two of the value verification stage, and in this stage, the authenticated data is verified. All participants are required to participate in this. Malicious attacks are also taken care of by this layer.
VALUE CONFIRMATION
Verified data is transferred to the value transfer department. This ensures that value generated can be officially present within the ecosystem, and it will be seen as a digital currency.
TRANSFER OF VALUE ON IONCHAIN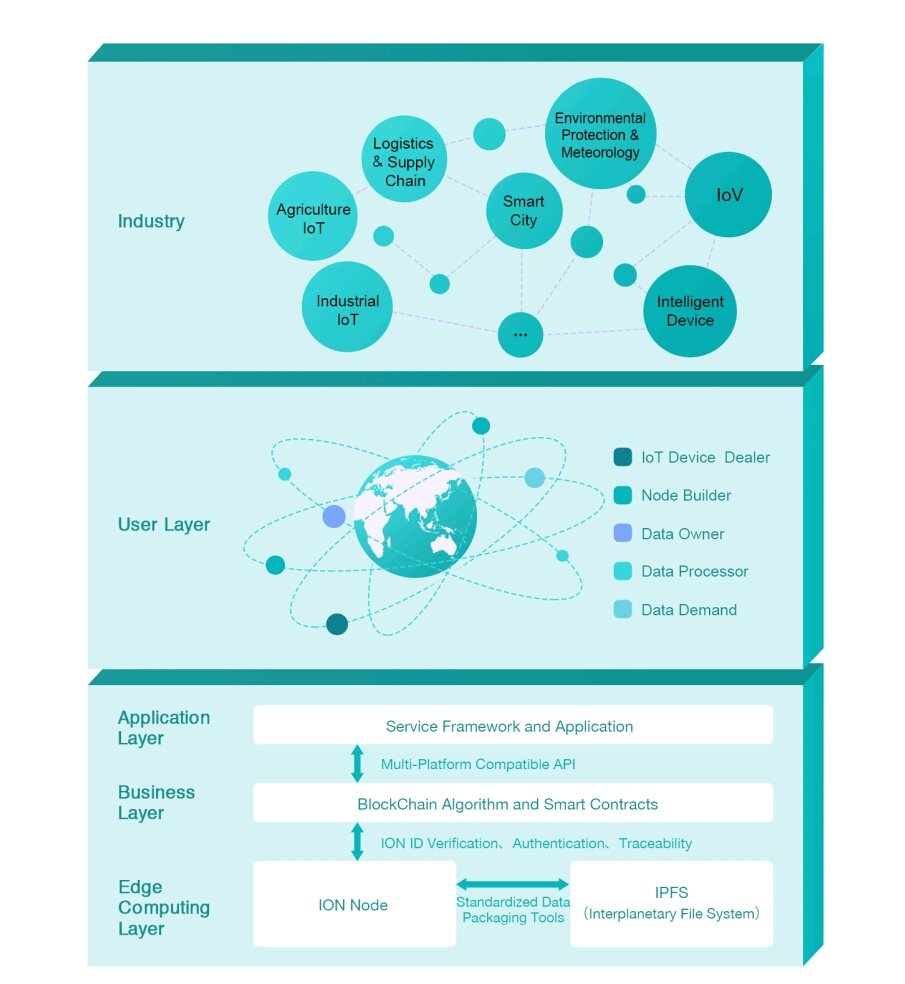 IONChain is made up of six layers, which are:
Application Layer
Service Layer
IONChain Protocol Layer
Smart Contract Layer
Blockchain Layer
Data Storage Layer.
Together, they ensure that the resources to create solutions that can be used on a mass production level are available, and they work as one unit, known as IONChain.
TOKEN
IONChain's token is known as IONC.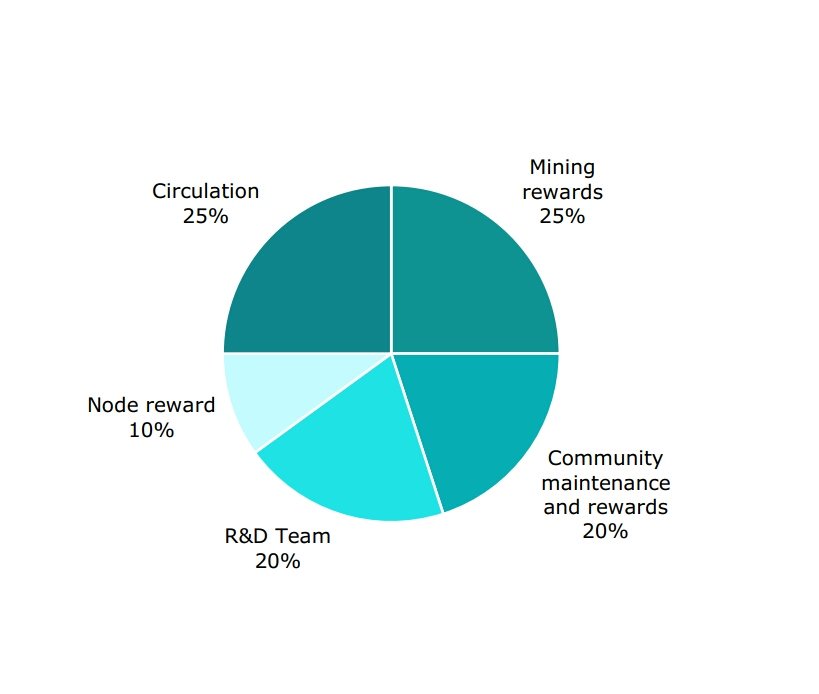 USE CASE
SuMo is a creator of smart home appliances. Previously, they made use of centralised storage facilities, and they suffered an unfortunate hack. To prevent this from reoccurring, they decide to move to the blockchain.
By making the transition, they are 15 times more efficient, and they are also sure that their users data is safe, and their privacy is also respected.
IONChain also ensures that collaboration is a possibility, and this ensures that they can develop even greater products for the mass market.
CONCLUSION
IONChain has the capacity to almost single-handedly ensure that the IoT industry takes the next step in its development, because its solution will be used by solution creators to create services and products that will be beneficial to the industry as a whole.
With the creation of One device, One Coin, One Code, IONChain ensures that industry standards can be much more easily established.
Its revolutionary IPFS technology also ensures that data is superbly protected, and information can be called up easily when necessary. The free flowing of information is another benefit that IONChain brings to IoT.
Smart devices need to send and receive thousands of data-if not millions. IONChain ensures that this can be done efficiently, and users do not have to worry about their privacy being breached. It also ensures that smart devices can communicate with one another easily, and when data needs to moved from one point to the other, it will be done efficiently.
A true IoT economy will ensure that development will be rapid, and collaboration will be possible. This is very crucial, if mass adoption is to be achieved soon.
When information can move from one point to another without hindrances, the industry will grow and will also meet the needs of users adequately.
The use of Edge technology ensures that a large part of the questions that the industry needed to answer have been taken care of. By combining it with the blockchain, every concern is taken care of-security, transfer speed and accessibility are all properly addressed.
Having a global standard ensures that everyone has a strict guideline to follow, and this will ensure that communication between all devices is possible, and also carried out easily.
TEAM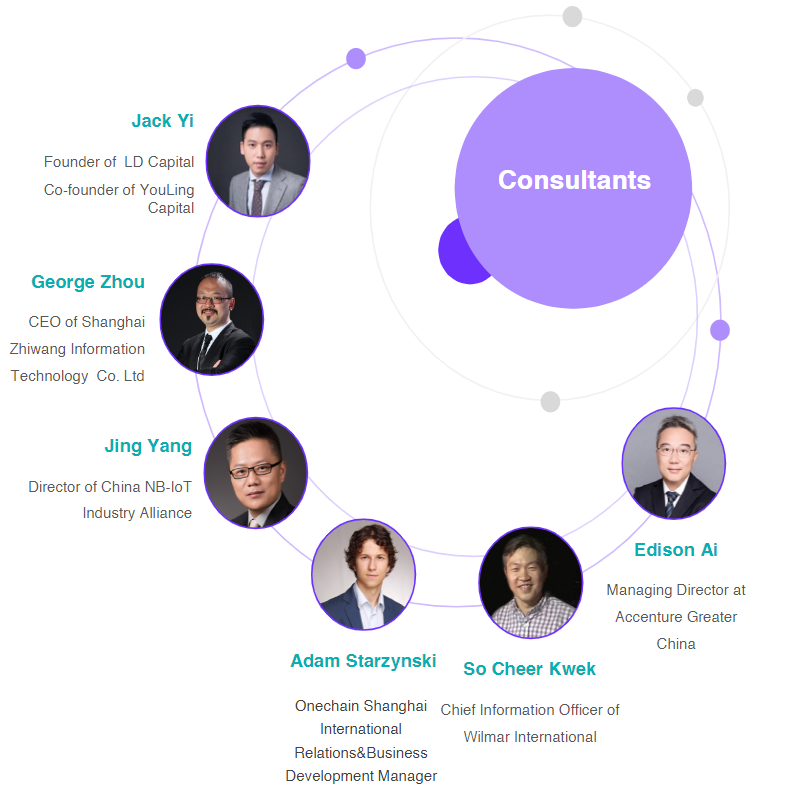 ROADMAP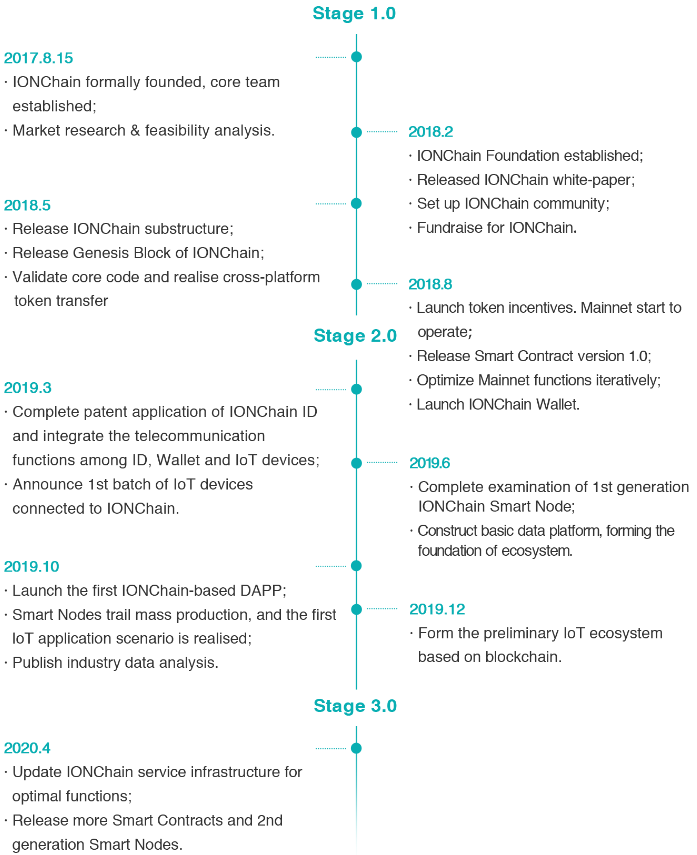 MORE INFORMATION & RESOURCES:
IONChain Website
IONChain Bitcointalk Explanation
IONChain WhitePaper
IONChain YouTube
IONChain Twitter
IONChain Medium
IONChain Linkedin
IONChain Github
IONChain Steemit
IONChain Telegram

My entry to the contest here
Twitter
https://twitter.com/iswapee/status/1059918851612307457
ionchain2018 ionchaintwitter