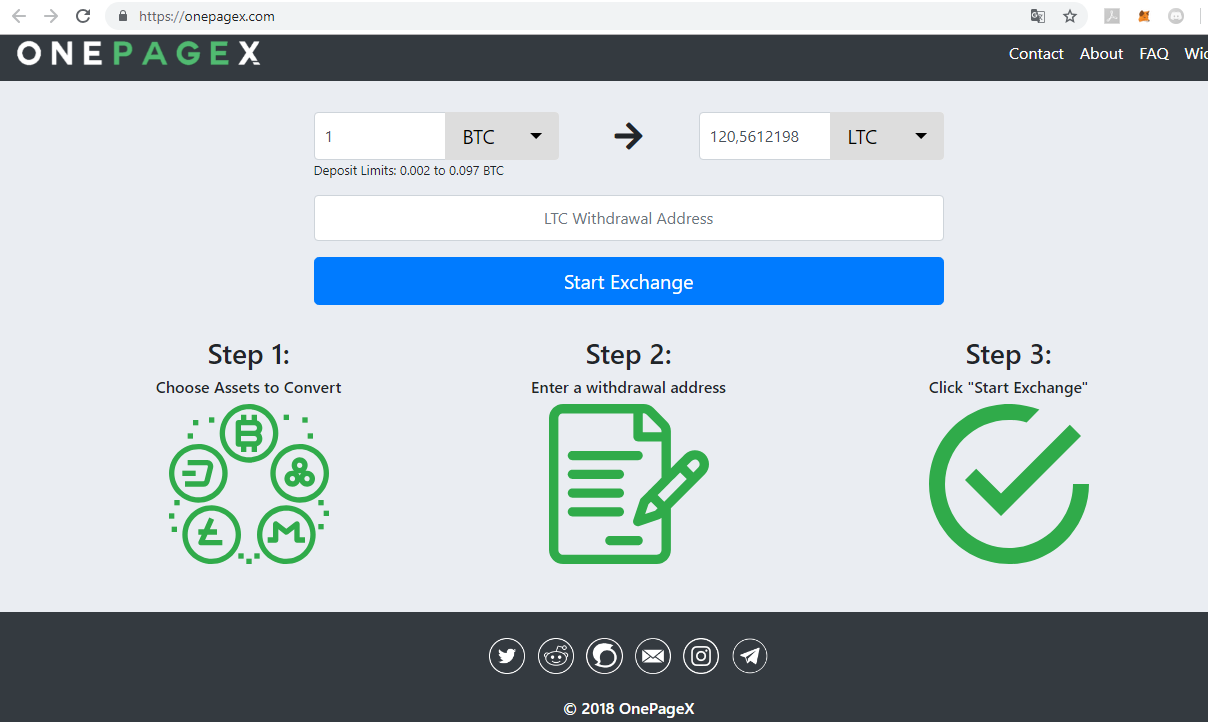 image source
OnePageX is a cryptocurriencies Exchanger that allows you to make trades with multiple cryptocurrencies quickly and easily. "OnePageX" is the abbreviated name that One Page Exchange receives. As its name indicates it is an "Exchange" in "One Page", since it presents an interface integrated in a single page for the user.
OnePageX has three important points:
Multiple cryptocurrencies are supported.

Guarantees anonymity (No registration required).

Simple interface.
OnePageX tries to meet the needs of all users.
The fact of allowing the exchange of multiple cryptocurrencies is very important because it provides greater adoption opportunities for people who have a diversified portfolio. Likewise, not requiring users to register in your system guarantees the anonymity of your users, providing greater security and convenience for people who need to make transactions in cryptocurrencies. These advantages are complemented with a simple and easy to use interface, making one of the main benefits to be able to make multiple exchanges from a single page, this makes OnePageX provides greater comfort and is totally attractive to people.
Use-Case
Individual
Stephanie is a person who owns several cryptodivisors and wants to convert all her cryptodivisors into one in order to protect her funds in a hard wallet. For her safety, anonymity is very important to her. She needs to use an exchange that accepts multiple crypto currencies, and allows her to make exchanges under anonymity easily and quickly.
Stephanie finds OnePageX!
Now Stephanie is happy because she can make exchanges between different crypto currencies simply, quickly and under anonymity.
Business
Jesus is a person who likes to use his cryptodisas to pay for different products and services, but when some companies request payments in a certain crytodivisa, Jesus is frustrated to not have an exchange that allows him to make a quick exchange of their cryptodivisas for the specific cryptodivisa they request at the time of payment.
A friend told Jesus about OnePageX!
Now Jesus is happy because he can make payments in any cryptodivisa thanks to OnePageX that allows him to make exchanges between multiple crypto currencies quickly and easily.
---
More Information & Resources:
---
This is an entry for: 1250 STEEM ~ Sponsored Writing Contest: OnePageX.com
---
Twitter Bonus: https://twitter.com/jesusmontilvala/status/1053803986074198016
onepagextwitter
onepagex2018