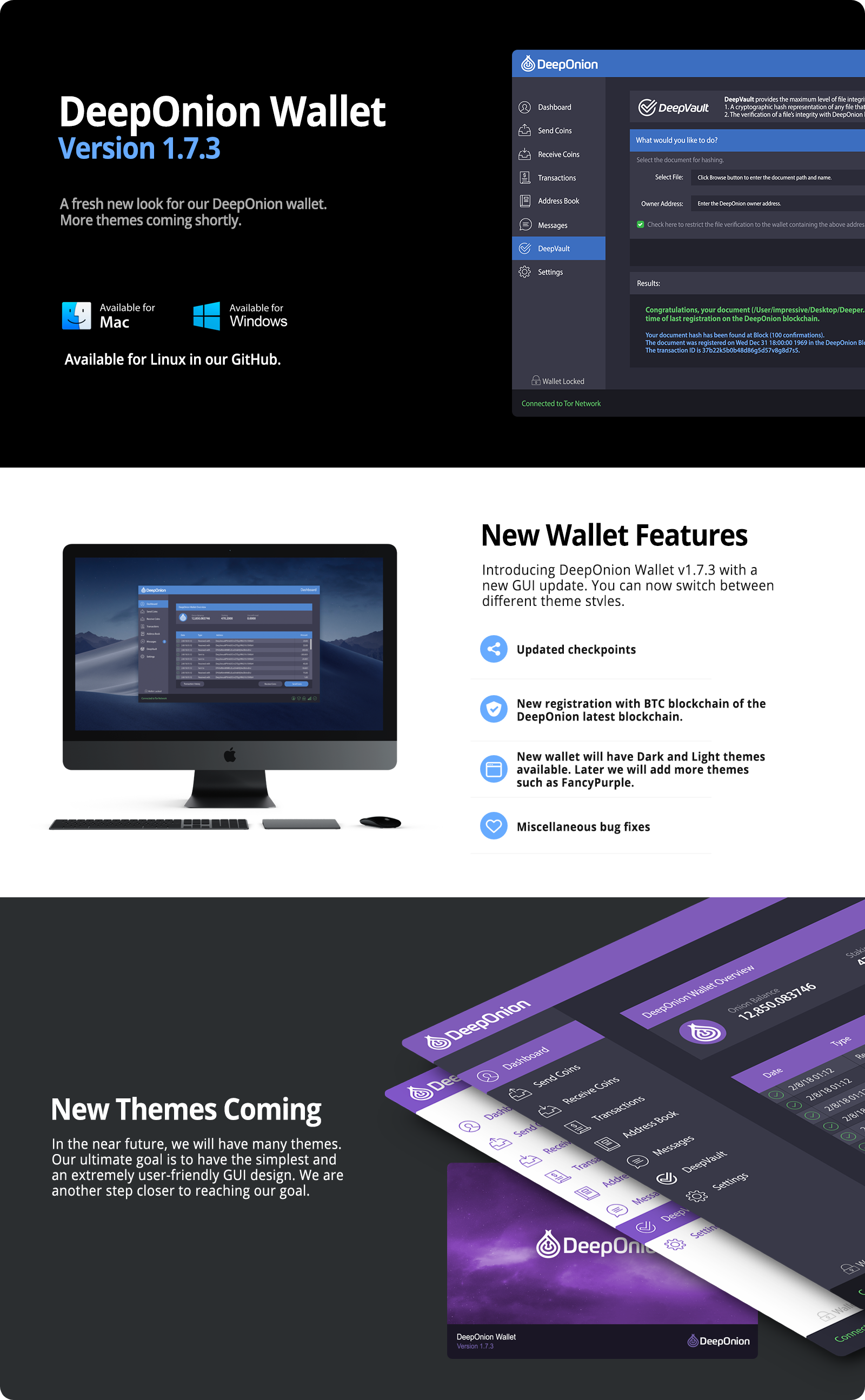 DeepOnion QT v1.7.3.0 Released
This is an Obligatory Increase
Introducing DeepOnion Wallet v1.7.3 with a new GUI update. You can now switch between different theme styles.
Other theme styles will be added in the near future, this is just the beginning. (y)
1.7.3 Release Notes:
The new wallet will have the Dark and Bright themes available. Later we will add more themes like FancyPurple.
Checkpoint updated.
The new blockchain hash (up to Block 624700) is registered with Bitcoin blockchain.
Repair other errors
 Download DeepOnion Windows V1.7.3.0-DV
https://deeponion.org/DeepOnion.zip

The virus report of the Windows Wallet V1.7.3.0-DV can be found here :
http://r.virscan.org/language/en/report/c451086ade11d0f5e954435497b6ab8e (1.7.3-DV.zip MD5:38b3bb40b1f386a967f7d2ffb44b9b3d 0% Scanner(s) (0/41) found malware! - VirSCAN.org - Free Multi-Engine Online Virus Scanner v1.02, Supports 41 AntiVirus Engines!)

Windows Mega Download V1.7.3.0:
https://mega.nz/#!wyIAnILb!e4GW9R9G96JUfoHGvrx_WMtK8mC8pRgUt729UeNGYrE (MEGA)

Attention: Do not use (unofficial) DeepVault unverified wallet files for your security.

DeepVault Verification Addresses:
Dk5CkRpnQzQR9c1UsKU8iH7t9ehJBzqLR6

Mac Wallet with DV V1.7.3.0:
https://deeponion.org/DeepOnion-DV.dmg

Mac Wallet with DV Mega V1.7.3.0:
https://mega.nz/#!hjR1mYoQ!M5l2OKC9HHzXs6_4BV6Csk5THfQ_CMkvZhMgCSoHcXo (MEGA)

GitHub Source Updated:
https://github.com/deeponion/deeponion/releases (deeponion/deeponion)

Keep Up and Lets Continue To Dominate!​
More details Check here : https://deeponion.org/community/threads/introducing-the-new-deeponion-wallet-v1-7-3-deeponion-qt-v1-7-3-0-released.39085/