This Is Not A Good Look
A few days ago, CoinPoker rolled out a feature allowing users to purchase their token (CHP) through the lobby of their app.
I was a bit alarmed by the move, to say the least. It essentially pits the site itself against its investors and users in competition for selling CHP. And it is far from a level playing field.
If you are a player who wants to purchase CHP to play on the site, there is little reason to purchase them on one of the fringe exchanges that have listed the token. Unless, of course, they are much cheaper there. Meaning, if you want to sell your CHP, you will get far less for them.
Demand for CHP on public exchanges has nowhere to go but down. The price of CHP will be crushed. Leaving a lot of investors and players holding the bag.
The only way I saw that this wouldn't happen, is if CoinPoker filled the order by purchasing the requisite CHP on one of the public exchanges.
I decided to get a clarification from their representatives, in the hopes that CHP purchases via the app would transact on public exchanges. So I went to their Telegram, and asked whether they would be selling the tokens from their own reserves or purchasing them as needed.
I was ignored... Eventually I got bored of waiting for a response which was obviously not coming, and I moved on.
But when I saw that the price was down significantly this morning, I decided to follow up...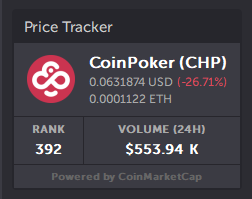 Today was the beginning of their first major tournament series, and I would expect that demand for CHP would be increased as a result. Such a deep loss, today of all days, signaled that something wasn't quite right.
I went back to the Telegram, and asked my question once again... which was promptly ignored. I sat around a bit and asked once again. At this point, I wasn't surprised when my question went unacknowledged.
I did manage to get a response after responding to another user who was asking why CHP was down so much when the tournament series should have increased demand.
The response was: that question is off limits! I tried to make my point a bit, and it became clear that they were not going to answer my question in a public forum. I was quickly banned.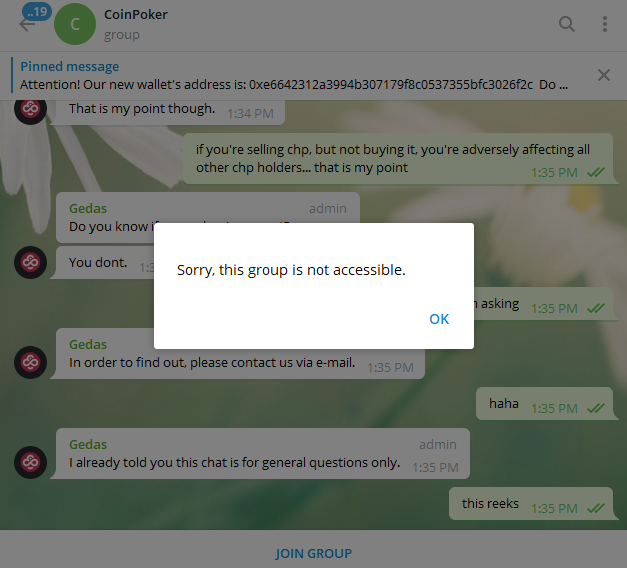 Their handling of my question by not acknowledging it, evading the question, banning me for voicing my concerns, has only made me more concerned.
I'm really starting to see why big names in Poker and Cryptocurrency, like Doug Polk, have been critical of any crypto poker sites that use their own tokens. There's no reason not to use BTC itself. Creating new tokens in this way just opens up a can of worms that can't possibly be good for users or investors.
I checked just before posting this, and sure enough, CHP had continued its slide...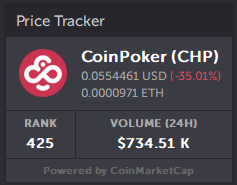 I see no reason to expect anything else under current conditions.
What a shame...