Helping Minnows Form Groups And Friendships In A Cool Social Portal...Where Do I Sign Up?
Over the last few months we have been building a neat social portal where Members of Steemit can meet up and hangout with other members of Steemit and build real friendships.
It is much like Facebook but with a twist...
When members participate in the community they earn rewards points called Steem That Tokens. We are still in beta and working out a few kinks but nearly 500 Members Call https://SteemThat.com home.
What Can You Do On SteemThat?
Many members come to make friendships with real people. It is a place to chat and message and also publish posts. Members join or create social groups and can connect on a whole new level. There are some tools and guides that can help new steemians grow. That is really what it is all about, "Helping Steemians Grow" The Social Portal helps assist with this as their are groups where people promote their posts and support each other. SteemThat is a really cool place to be.
We have tokenized our points system Using ERC20 Ethereum Tokens.
We are working on getting your Crypto Currency Listed On An Exchange to make it super easy to purchase and trade. We are currently pre-ICO and could use your help to get listed..
If you have a moment we are asking you to Join SteemThat.com, but right now go vote for [STEEMISH on the Radex Exchange.](We could certainly use your vote in our attempt to get listed. For a brief moment in time we were in first. We only need a few more votes to stay in the top 3 and get listed on an exchange. We are running facebook ads now and rewarding members with 250 SteemThat Tokens for upvoting. Thank you for your time Please Vote For Steemish. https://forum.rados.io/t/vote-for-new-tokens-batch-2/162) -- You will need to do a quick signup and then select the check box beside Steemish to cast your vote. . We are running facebook ads and community promotions to help assist in this. All we need is to be in the top 3..
Why should you help?
One thing unique about Steemish is that for everyone that We Sell Pre-ICO or during the Token Generation Event coming soon we will be investing 50% into steem power for the community curation specialist..When we are listed and people can buy the token we are going to POWER UP STRONG for supporters and community members.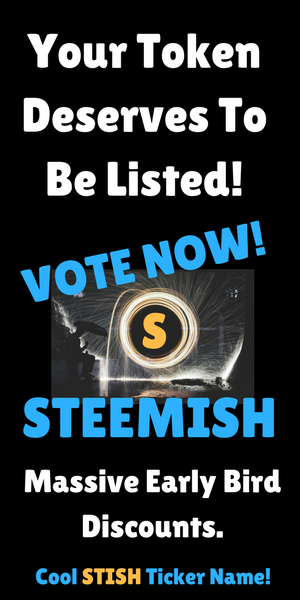 Steemish and SteemThat is not a concept Token. We are a running platform with many more projects to come and with your support we will all be winners! Please support the Project that is Focused on
Helping Steemians Grow!
Here is the link to vote : Steemish --https://forum.rados.io/t/vote-for-new-tokens-batch-2/162
Join the fastest growing social community on Steemit - https://SteemThat.com