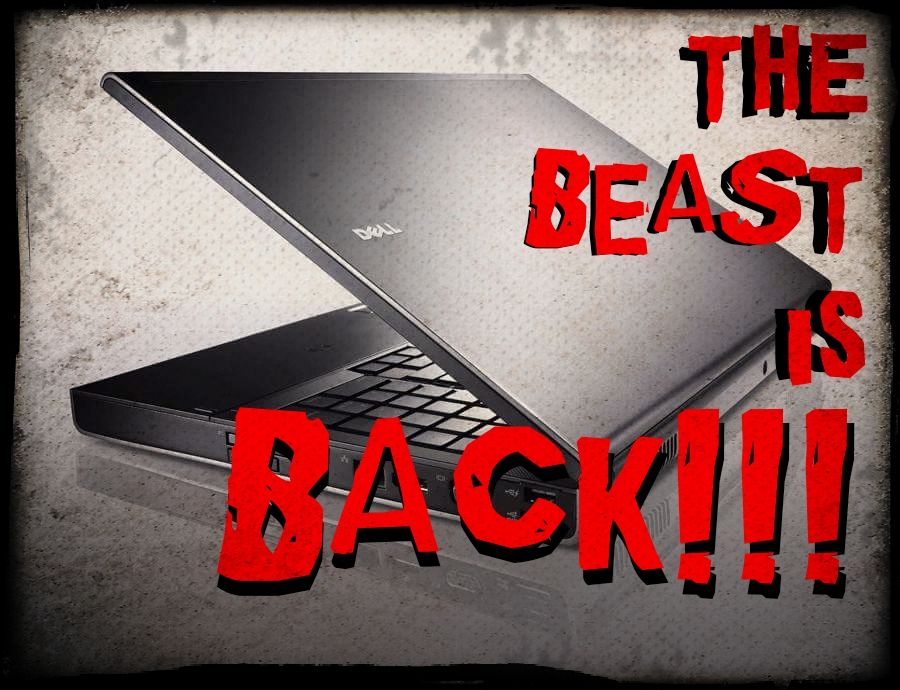 Its crypto animation time! Time to start animating videos and creative new methods of advertising for steemit and all things cryptocurrency! Drop a line and tell me your ideas in the comments of what you would like to see animated and I'll consider it in the upcoming projects. I want my animations to be dictated mostly by my blog audience so fire away in the comments and let's start a dialogue about my next project!
---
Back to the computer :-)
ITS TIME TO GET BACK TO THE ANIMATION TABLE! (BTW - I added the Monster in the pictures for a reference of scale so you can see just how HUGE this laptop is! RAWR!!! Who said machines can't be sexy??!?!?! Not me!!!). I just received my DREAM LAPTOP back!!! I've got just a few more upgrades to do to get her literally maxed out to every specification - but that's just because I have to do that to EVERY machine I own - I'm a little teeny bit of a performance junkie :P...
So - without further detraction from the REAL REASON ANY GEEK WOULD BE READING THIS!! I Introduce the sexiest laptop Dell makes for an ole' animator like me :) (I haven't given her a name yet, but what name could even do justice to such a magnificent monster of absolute unparalleled performance and power?!?! Mao-Tse-Cleopatra maybe? :P)
<<<WARNING!!! GEEK PORNOGRAPHY AHEAD! THIS FACEBOOK POST IS NOT RESPONSIBLE FOR EXPLODED HEADS, MELTED FACES, SUICIDAL THOUGHTS OF JEALOUSY, ETC... - READ AT YOUR OWN RISK!!>>>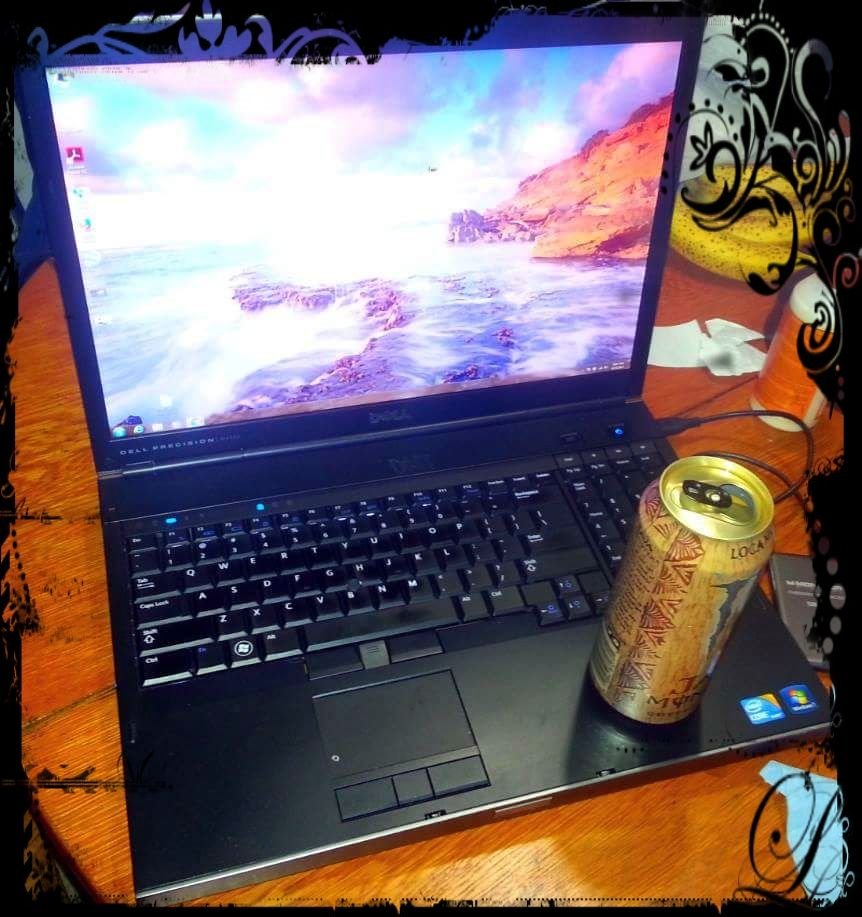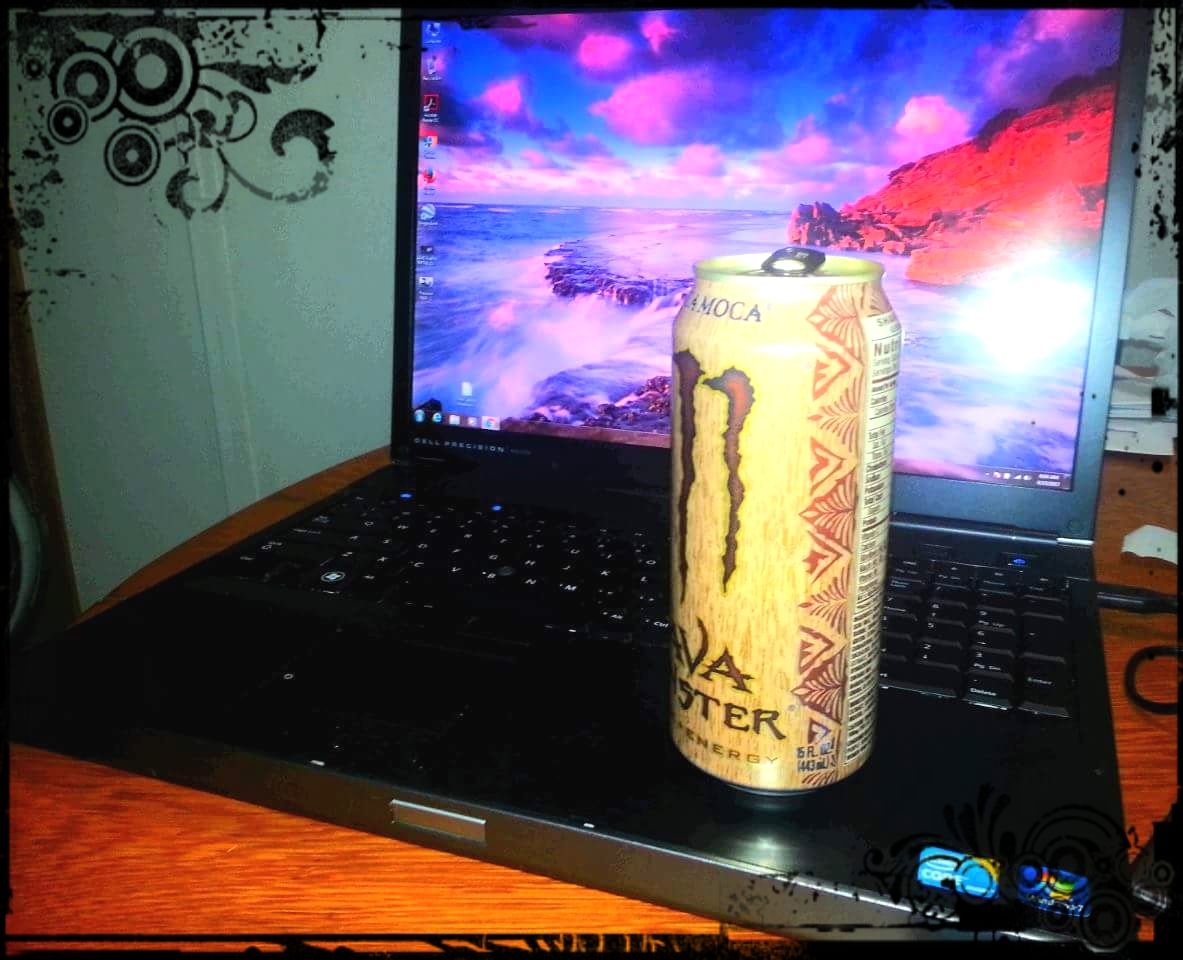 CURRENT SPECIFICATIONS:
■ Dell Precision M6500 Mobile Workstation
■ CPU: SOCKET G1 - PGA988
• --> Intel I7 940XM 64-Bit Octo-Core Processor
• --> 4 64-Bit Cores \ Hyper-Threaded to 8 Cores
• --> 2.13 Ghz (OC @ 3.33 Ghz) x 8 = 17.04 Ghz / OC @ 26.64 Ghz NET/CCPS
■ RAM: MAX 32GB / MAX 1333 Mhz
• --> 32 GB 1333 Mhz G.Skill Ripjaws (4 x 8 GB) Matched KIT
■ VIDEO CARD: - NON-INTEGRATED / Stand-Alone / MAX 2 GB
• --> 2 GB / 6 GB AMD FirePro M7740 GDDR5 256-Bit
■ HARD DISK DRIVE(S): 2 INTERNAL 2.5 INCH CADDIES / RAID 0 / RAID 1 CONFIG
• --> C(1): 2 TB 7200 RPM / C(2): 2 TB 7200 RPM
■ DISPLAY: MONITOR TYPE & SCREEN SIZE
• --> MASSIVE 19-INCH DISPLAY IN NATIVE 1920 X 1080
• --> WUXGA LED DISPLAY - Amazing pixel clarity and depth
■ CHASSIS:
• --> Alluminum / Magnesium Shell & Chassis
• --> Color: Slate Grey
---
AND THERE ARE SO MANY MORE SPECIAL FEATURES TO THIS LAPTOP - I JUST DON'T FEEL LIKE CONTINUING TO RAVE LOL! I'm sure all my "Normie" friends probably don't care in the slightest about ANYTHING I just wrote lol. As for my geek friends, I'm sure they're just going to see this and skip it because they're a bunch of haters drinking their hater-ade and don't want to peek in on this post in fear of any of the above stated warnings happening to them :P.
In all, I've had a pretty wicked day! I am the overly proud owner of the coolest laptop I've even been engraciated enough to even be in its company! I <3 my laptop, she's freaking fantasti-mazing!
It's time to get animating except this time only for crypto! 2018 is my year of the crypto and all of my efforts will be going into animations expressing that! Drop a line in the comment if you have any ideas for animations, I'm open to anything, just as long as it has to do with crypto or steemit. Anyway thanks for reading and hope you are following because the best is yet to come!
---
The Crypto Alchemist
Weapons Grade Media
The world's best source for your FAVORITE crypto media & news! Covering Bitcoin (BTC) / Tron Coin (TRX) / Verge Coin (XVG) / Litecoin (LTC) / Etherium (ETH) / Etherium Operating System Coin (EOS) & the rest of the top 100 Cryptocurrencies! Also, now covering specially picked and personally favorited current & upcoming ICO's!
°•°•°•°•°•°•°•°•°•°•°•°•°•°•°•°•°•°•°•°•°•°•°•°•°•°•°•°
STEEMIT FTW!!! Don't forget - if you like my content:
UP-VOTE & FOLLOW ME PLEASE! <3
☆☆☆☆☆☆☆☆☆☆☆☆☆☆
Other Posts By Me:
PART 2 - SPONGEBOB COLORED WITH NEW PENS!
PART 1 - SPONGEBOB OUTLINE WITH NEW PENS - Black and white
STEEMIANS!!! MUST READ THIS!! - So how much should SBD REALLY be evaluated at? $1,125? If you only knew...
STEEM & SBD BACK UP!!! $5.25 HIGH TODAY!!! CHOO CHOO TO THE MOON!!!
The Great Victor Hugo - An idea whose time has come cannot be stopped by any man or any army! Crypto IS that idea! Bitcoin - Currency? Or Monetary Jesus!