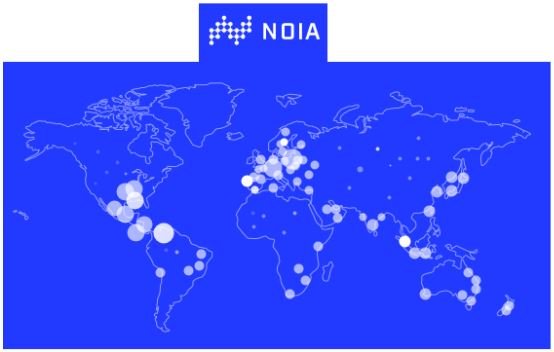 Image Source
Hello fellow Steemians,
Billions of people throughout the world use the internet every day. That gives great opportunity for improvements to be made continuously. One of the latest projects I've been researching involves the NOIAnetwork. This is a project that aims to shake up and alter the way that content is delivered across the internet. We are trying to get as many people involved with their TestNet as we can, it's one of the best methods to further this project. Full details and explanation of their TestNet and how to sign up for it below.
In the days where countries like the United States are talking about laws such as "Net Neutrality" where they will set rules on how content is delivered across the internet, we can take our own private sector approach to it. We can approach this from a business perspective and try to accomplish the goal of delivering content to users faster but in a decentralized manner. The more solutions we can come up with that are out of governments hands the better, particularly when you can earn some good crypto while your computer does the work for you.
Background
There are many things that we take advantage of when it comes to the internet and content in our fast paced 24 hour-a-day life cycle. I can remember when I was a teenager, here in America, having to connect to the internet via a dial-up modem where you would use a service such as America On Line (AOL), Walmart, Prodigy, NetZero and other companies. The speed at which these services used to operate would make us pull our hair out in here in 2018. When you were trying to load a website or pictures it would load lines of pixels at a time. Part of the reason the speeds at which services operated slowly back in those days, besides the internet speed itself, is the lack of proliferation of some innovations that we take full advantage of today. One of these innovations that helps these content speeds particularly well is the technology of "Content Delivery Network's."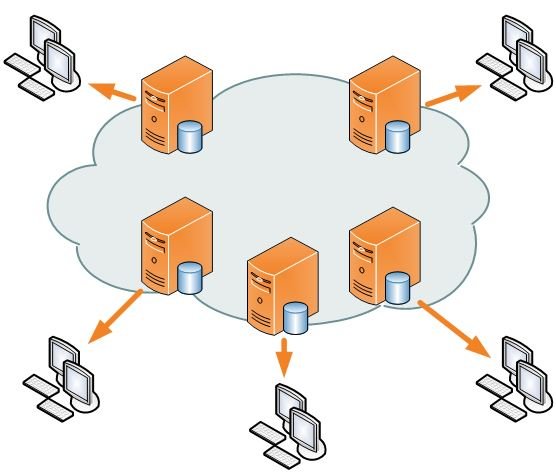 Image Source
Content Delivery Networks or CDN's are one of the best enhancements that were made with the increasing expansion of the internet and the technology that surrounds it. These networks are web servers that are housed in data centers across the world.
Source
Major companies like Facebook and Google have these servers in nearly every part of the world because people use these platforms every second of the day. These web servers function to deliver the content that you are trying to access in a much closer location to you. For example, it's difficult to access a service like Steemit if the servers are hosted in Texas but you live in Australia. The loading times would be incredibly long and it wouldn't be an efficient way to deliver content you would like to customers across the world. With CDN's, the companies will purchase space in data centers in various parts of a country or the world depending on their audience. This allows much faster content delivery times since you are closer to where you are trying to retrieve data.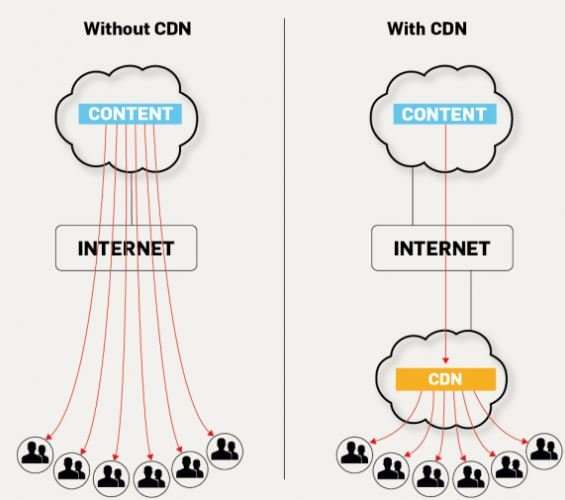 Image Source
Problem
When a business wants to start delivering its content on the internet, there are many ways that they can do it. One of the most popular way to do this is to pay a company for content delivery. The costs of this vary; some have package deals others are exclusively content delivering. Most of these are not a decentralized option though so it's just sticking with how things are done and not allowing innovation to take root. The biggest players in the CDN market, Akami and Amazon, are hampered by the lack of the bandwidth to innovate their products.
We all like to see a website that is well organized with images, links, backgrounds, headers, footers and lots of other sections that together creates an attractive website. It's difficult for me to believe but that type of website won't attract many new customers in our ever changing digital environment. Some of the best ways to attract new customers and build a brand and website is to use video, animated GIF's and high quality, high definition images. Delivering that content uses up a lot of data.
For example, the cost for delivering 10 Terabytes (TB) of content to people who live in North America, Europe, the Middle East and Africa is 800$ per month using the Microsoft Azure platform. source 10 TB worth of data in a company that is heavily active on their website and on various media platforms gets used up really fast. That also does not take into consideration people outside those zones; companies charge premium prices for delivering data to less represented parts of the world.
NOIA solution
NOIA aims to solve many of the problems we have in the content delivery market today in parts of the world that do not have great coverage for datacenters that the large companies use. Large companies like Microsoft, Akami and Amazon are spread throughout the world but they charge higher prices for content delivery in many parts of the world such as South America, India and Asia. sourcesource I envision that with NOIA and the users who sign up for it, they will be able to offer these large companies access to their network. NOIA does not want to join the market as direct competition to these already largely established companies. That is a fight that is very difficult and it's great that they acknowledge this and plan to instead complement these companies in regions of the world not well represented. According to data from 2017, globally the internet connection speeds of greater than 10 megabytes per second is improving in it's expansion but still only 53%. The biggest areas where it has room to grow are in Latin America (27% currently, 73% do not have these speeds), the Middle East and Africa (17% currently, 83% do not have these speeds). source These regions also have the least amount of datacenters and Points of Presence (PoP) in these areas. This is a great opportunity for projects like NOIA to come in and offer a great service for the large companies to expand into these regions. NOIA can connect many individuals in these regions and offer not only a great product for a large company like Amazon looking to expand their reach, but with the presence of NOIA the region itself gains a partner in helping to improve speeds at which content is delivered.
The costs of owning a server are quite extraordinary. For a business that's just starting out, let's say you want a server that's a bit better than a basic unit. You want to run more than just a small web server since you host lots of content like GIF's and short video clips. Overall cost for just the server is 7,653$ a year! source After you set up that initial server, the method of CDN's is to set up web servers in various places. One of those web servers, according to this one companies prices, is 4,435$. sourceThat doesn't include if you need content delivery. From a small business perspective where every dollar needs to add up, that's a very expensive cost. Having one of those web servers in datacenters across the United States and across the world to ensure that your content is delivered to a wide audience you can imagine how expensive that will be, never mind the support nightmare for a growing business. The NOIA solution will allow the individual to only require purchasing their initial server that they are hosting their content on. NOIA will then get the information that you want delivered from your server, transfer it to its Master Nodes and from there they go to the Worker Nodes as people around the network access the content. They also offer a blend solution; NOIA can be the sole CDN that you use or they can complement an existing CDN you are using without interfering. NOIA Whitepaper, page 25,26The latter option is where I think that NOIA can truly do well in the under-represented parts of the world. I think that it has the small business feel to it where they are more connected to their users than the large conglomerates are particularly because they are offering a decentralized platform that relies on its users (worker nodes), wherever in the world those users are.
Find below the chart of price comparisons that show NOIA is poised to be a key resource in the game of CDN that is applicable to both large companies as well as individuals.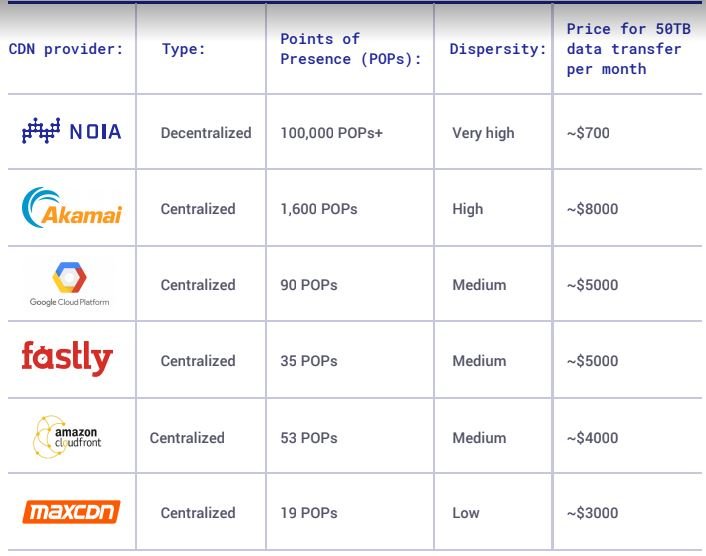 As you can see their prices are far lower with much more applicability having a large presence of nodes utilizing normal folks instead of datacenters.
Technical Specs
The folks at NOIA use a complex blend of content scaling layers (CSL) and governance layers to assist in using the platform from a buyers and users perspective.
Content scaling layers: a combination of peer-to-peer (p2p) file scaling, artificial intelligence and blockchain technologies. source pg4They are combining all of the latest technical innovations into their network.
Governance Layer: a set of smart contracts that rule how NOIA tokens are held as well as transferred to worker nodes and users.source pg4
NOIA will cache popular content on their nodes and incorporate AI in learning how to best deliver content. For example, it will cache the trending topics here on the Steemit trending page because a large number of people would view that content daily so it will speed up that delivery. If a group of people from a region click on the trending page here on Steemit at 12 noon, the AI technology will learn the pattern and cache the page in more of the nodes that are closer to the individuals to deliver the content faster.NOIA Technical Paper
NOIA TestNet
The NOIA TestNet is now open. I was not able to sign up for the TestNet due to being a resident of the United States. You cannot sign up for the TestNet if you are a US resident or:
a resident of the People's Republic of China (excluding Hong Kong, Taiwan & Macau), Japan, Canada, Bosnia & Herzegovina, Ethiopia, Iraq, Sri Lanka, Syria, Trinidad & Tobago, Tunisia, Vanuatu, Yemen, Afghanistan, Burundi, Central African Republic, Democratic Republic of Congo, Eritrea, Republic of Guinea, Republic of Guinea Bissau, Libya, Myanmar, Somalia, South Sudan, Sudan. source
To sign up for it, you should go to their Medium post here. This post directs you to go to their NOIA network dashboard where you sign up. After signing up you give them personal information in a KYC form.
I personally didn't know what a KYC form was but it stands for Know Your Customer. This is one of the new benchmarks for digital transactions used by many groups throughout the world. It's used for increased scrutiny and verification in an increasingly anonymous age of the internet. source It seems like a lot of information to be giving but I think it's a good step, it verifies that the people who are signing up and using this service are legitimate and not signing up to scam people and steal money. I think this KYC form and their requirement of people filling it out is a positive step for the NOIA folks.
Once you complete your dashboard registration, you then visit their GitHub page which is where they have their files. They have clients for PC, MAC as well as Linux. There are certificate warnings though telling you about an unknown publisher. This is due to them being open source and not having full code signing certificates but they are in the process of acquiring those.
Their GitHub page has a great section for issues with the software.
As of August 29th 2018, the TestNet has 628 active Nodes, out of a total of 4,429 nodes. Those 628 active nodes created 80 Terabytes of data storage! That's 4,429 people who are helping change the way we can deliver content across the internet.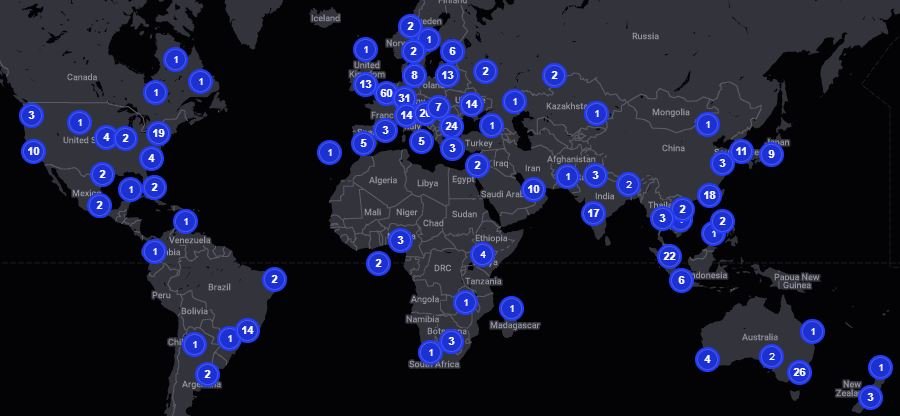 Image Source
I also find it important in the environment we are in on the internet, where people are constantly trying to steal information, is to ensure that our information is safe and secure. A fellow Steemian is the first one I've seen to comment about it directly and has ensured us that the TestNet is safe and free of infections. Thanks @thetimetravelerz. I performed the virus scan myself on both the Windows client as well as the source code and came up with the same results.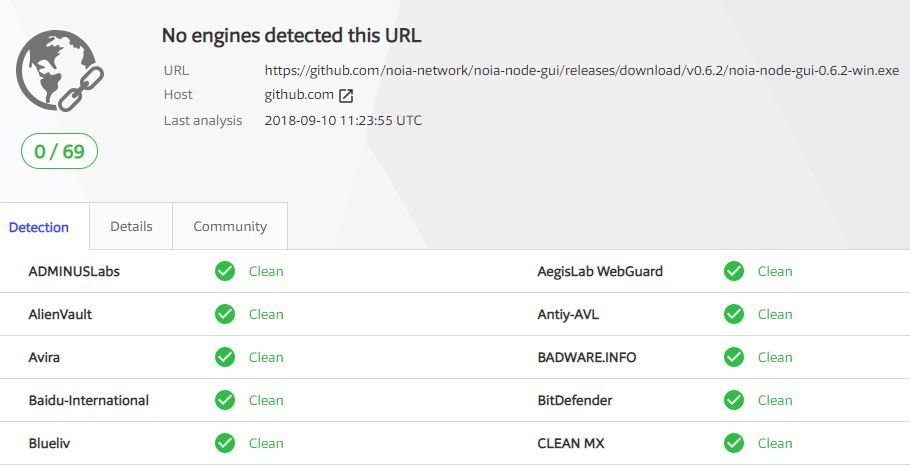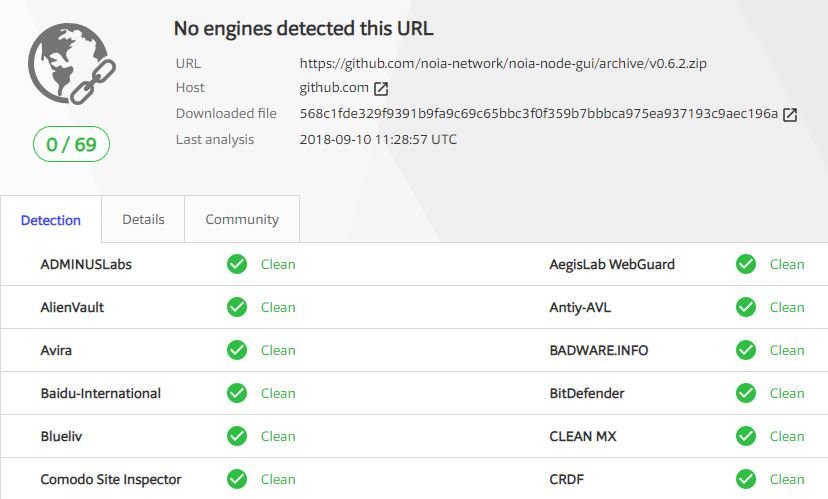 Ending thoughts
I want everyone to understand that the NOIA project is one that is quite complex in its specificity. The sections I have covered are ones that I deemed important and felt I would benefit from learning about and interpreting for people to read and digest. Please connect with NOIA via their website or various social media platforms and check them out for yourself. Their papers are great at explaining their mindset and vision for the project so those are a great resource to look at as well.
It's also important that we get more people signed up for and using the TestNet. There is one very important thing I've learned in my career and that's the importance of testing! Thorough testing that is performed on platforms is the best way that we can ensure the platform has widespread acceptance and smooth usability. The only way that we can do that is for people to sign up, use it and help them work out the kinks! Perspective is important for testing as well; there are often times where one individual looks at something they have tested and thinks it looks acceptable. Another individual comes along and quickly notices a deficiency that wasn't apparent to the first. When we all work together we can ensure that the product that gets rolled out to the public is the best version yet and can only be improved with greater use. It is unfortunate that I cannot participate in the TestNet due to geographical restrictions but I am confident that those restrictions will decrease and more users will be allowed to give this platform a try.
Social Media links
To get all of their great updates, connect with them on their various social media accounts:
Telegram
Medium
Reddit
Twitter
YouTube
Facebook
You can also check out some other peoples reviews of this same topic. I think as a whole we have covered it quite well!
@Focygray's post
@mazzle's post
@machnbirdsparo's post
@jadams2k18's post
Sources
NOIA
https://en.wikipedia.org/wiki/Content_delivery_network
https://azure.microsoft.com/en-us/pricing/details/cdn/
https://www.globaldots.com/content-delivery-network-explained/
https://www.globaldots.com/the-history-of-content-delivery-networks-cdn/
http://its.virginia.edu/hosting/pricingmenu.html
NOIA Whitepaper
NOIA Technical Paper
https://www.paisabazaar.com/mutual-funds/kyc-form/
https://noia.network/testnet/
https://dashboard.noia.network/kyc
https://github.com/noia-network/noia-node-gui/issues