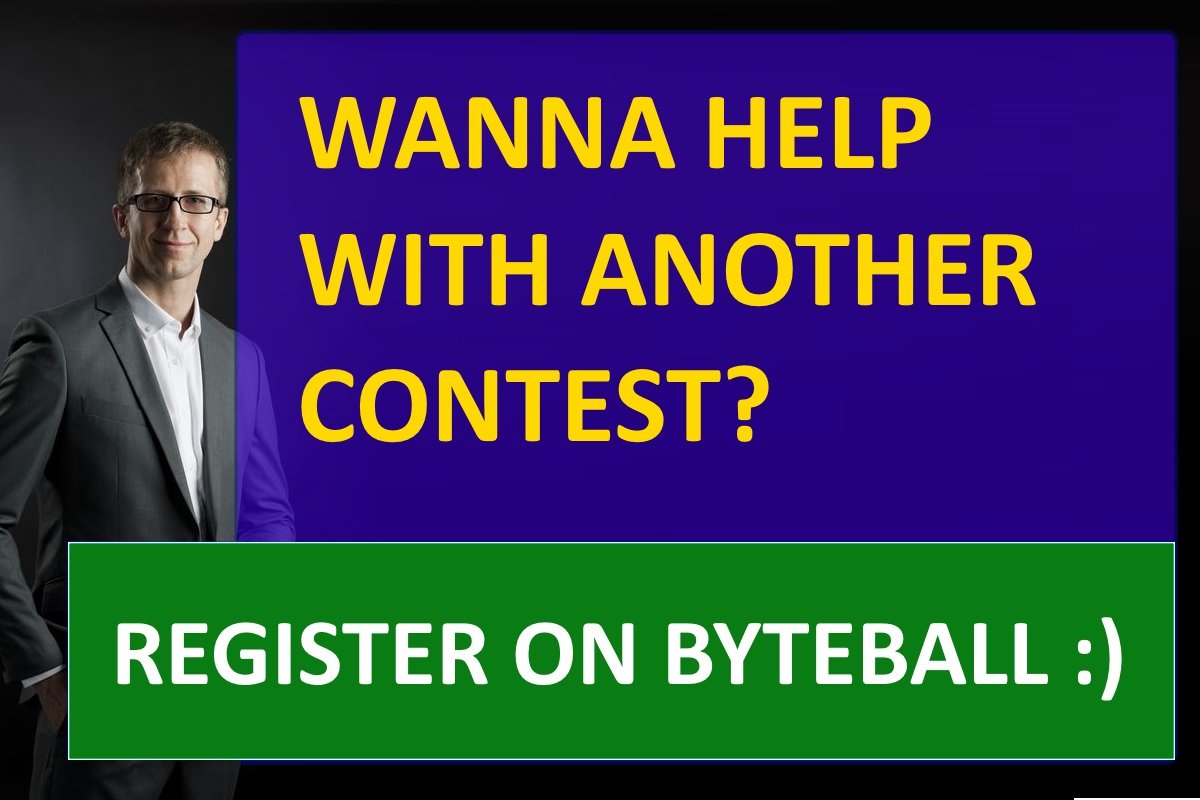 Hello everyone,
INTRODUCTION

Lately I organized sponsored contest related to crypto and blockchain and it has been very succesful one. But it's still not exacly what I would love to achieve. My dream is to be able to organize contests that are not sponsored and are more educational and general. Without writing about any particul ICO.
To make it happend I need to allocate some funds which I would use later to reward most active curators and those who wrote valuable comments. I cannot really afford to pay for such a contest from using my own resources. But ...
Byteball airdrop came with the rescue :)
Byteball Bytes (GBYTE)

I was wondering if you have ever heard about ByteBall Bztes? They are in the middle of interesting airdrop. I would recommend to follow up and see what are they doing. Their solutions and ideas are very unique and I think we could all learn a little bit from them.
Value of received tokens (half of it can trade right away and half will be frozen wallet for period of 1 year) depends on Steemit reputation. I found it quite inspiring and unique :)
Few steps to follow:
Download your BYTEBALL wallet. Link with my ref number: https://steem-byteball.org/#MRKQQ7BCVAU4CYEQFK2VHXXGZKKEQLYV

Once you download the wallet and install it you will be required to follow simple procedure that will allow you to get your BYTEBALL Wallet address.
If you would have any trouble (I really doubts so) then check out this post with more detailed explanation:
https://steemit.com/steemit/@punqtured/official-byteball-airdrop-to-steemians
LET ME BE YOUR ByteBall Bytes SPONSOR

Once you create your wallet then please drop me an address in comments below. I will transfer necessary funds to YOUR WALLET so you could cover "attestation" costs. Currently to complete attestation you will be required to pay 49k bytes (process is really super easy). Allow me please to sponsor this initial cost. I will send you those 49k bytes to everyone who register and leave comment with his wallet address. So it's twice as much as you need :) Keep the change! :D
| Few minutes of your time and you can get some tokens and help your friend :) (obviously I have myself on my mind :P | |
| --- | --- |
Received tokens can be sell on BITTREX and you can easily trade it to all major currencies.
IMPORTANT: If you don't have account on BITTREX and you don't want to trouble yourself then I will be happy to help you as it doesn't cost me anything but little time and effort. Just drop a comment below or contact me via email (you can find it in my profile description).
Have a great upcoming weekend everyone,
Yours,
Piotr