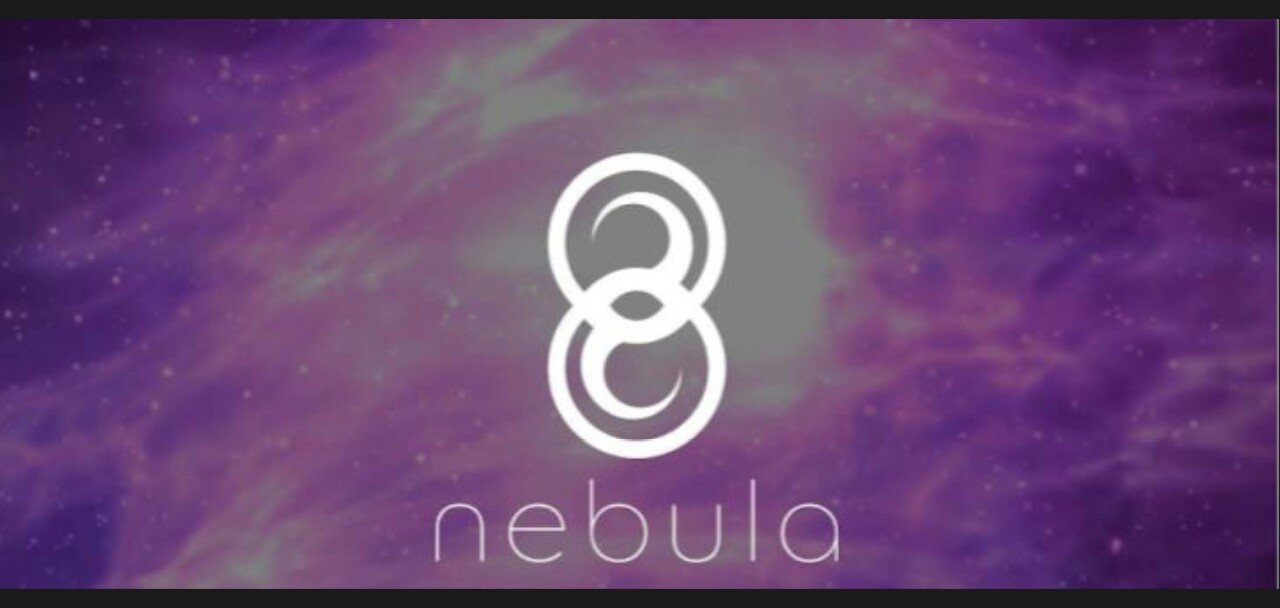 Presently, every crypto currency exchange only give access to price and data. Even when this is done to a certain level, the user is saddled with the work of making meaning with the available data. And while making a decision is not one that can happen just at a fell swoop, the users readily look up to other means to make final decisions. This they do through market sentiments, news and a host of other things.
NEBULA: THE GRAND ENTRANT
This is a platform, a decentralized one at that, which allows users get an all-inclusive trading solution. The NEBULA platform uses technical analyses, user reviews, P2P messaging as well as an up-to-date trading platform to do this.
It is created with the belief that those who trade in crypto currencies need more than just a whole bunch of information to make business decisions. Thus, NEBULA is working towards making sure that traders in these digital assets have the needed information to take the right decision. The platform wants to be among the very early exchanges that give maximum backing for security tokens.
According to data, transactions in Exchanges across the globe reached about $50 billion in January, 2018 and going by projections, is expected to record an increase as time goes by.
Although the competition looks stiff as more and more exchanges are coming up, in addition to the 190 active exchanges, NEBULA has the vision of making it into the top 20 before the year 2018 runs out.
It also hopes to record volumes greater than $100m daily. And with an increased attention to information, community building and support for security tokens, NEBULA is on its way to standing out from among the crowd (exchanges).
NEBULA: A DIFFERENT BALL GAME
Although there are several exchanges across the globe, like noted before now, NEBULA comes with a whole lot of innovation that clearly marks it out from the rest.
Better Security:
Unaware of the rampant spate of phishing and other security issues that have all the while plagued exchanges, NEBULA platform is secure for users with the regular audit of the all smart contracts, a password system that uses the two-system authentication for logging and making of withdrawals, DDoS protection from cloud fire to name a few.
A robust trading system:
This is one that can take up a whole lot of transaction at a go and also able to house seasoned professionals. The NEBULA exchange is equally easy for newbies to navigate. It has the capacity to take up to a million transactions in just one second and exportable trade and order history.
Information or Data Sharing:
One of the major challenges in the crypto currencies trading is getting valid information but the NEBULA platform solves this by having a review system where users can go through and mine valid information. There is also the news and reputation system. The former ensures that each account in the platform makes progress just by giving value to the community while the latter provides credible news from across to globe that will better inform those on the platform. This is as the messaging and P2P platform gives the users opportunity to connect with one another in a multilanguage trollbox.
Utility or Security Token:
This is a token that gives people the access to products that firms giving out the tokens are working on or have already worked on. It means you can get these tokens before the firm finishes the development of the product, to get such product at a lower rate when it is actually out. On the other hand, Security tokens are like traditional stocks but in this case, only digitized, as you get dividends when a firm's token appreciates.
TOKEN INFORMATION
Token Type: ERC20
Token name: Nebula Exchange Star Credits
Token Ticker: NESC
Token Price: USD 0.40
Private Presale softcap: 500,000 USD
Public sale Hardcap: 20,000,000 USD
Token Allocation
Public sale: 65%
Team and Advisors: 20%
Private Presale: 10%
Bounty and Airdrop: 5%
Funds distribution
Product development and Operational Expenses: 50%
Global Team expansion: 25%
Legal and Licensing: 15%
Marketing and Promotion: 10%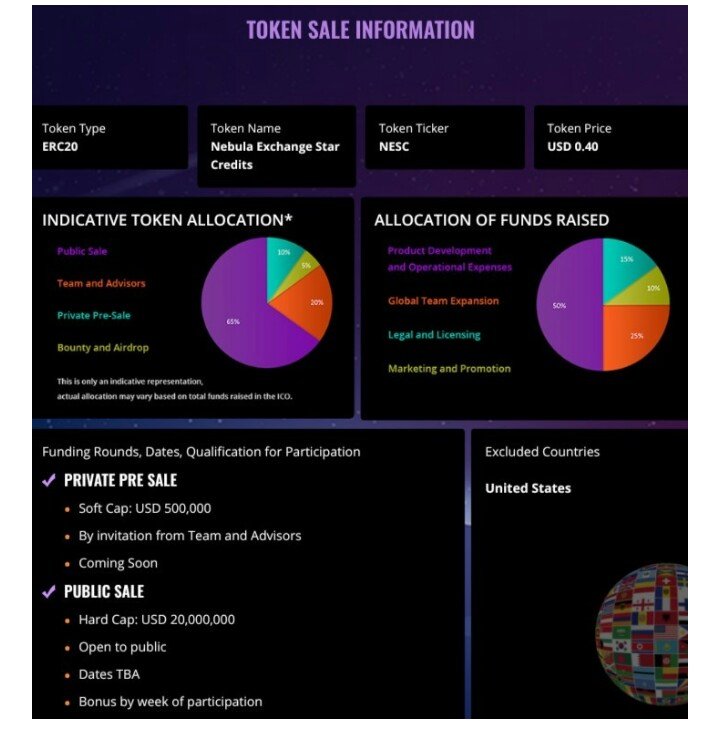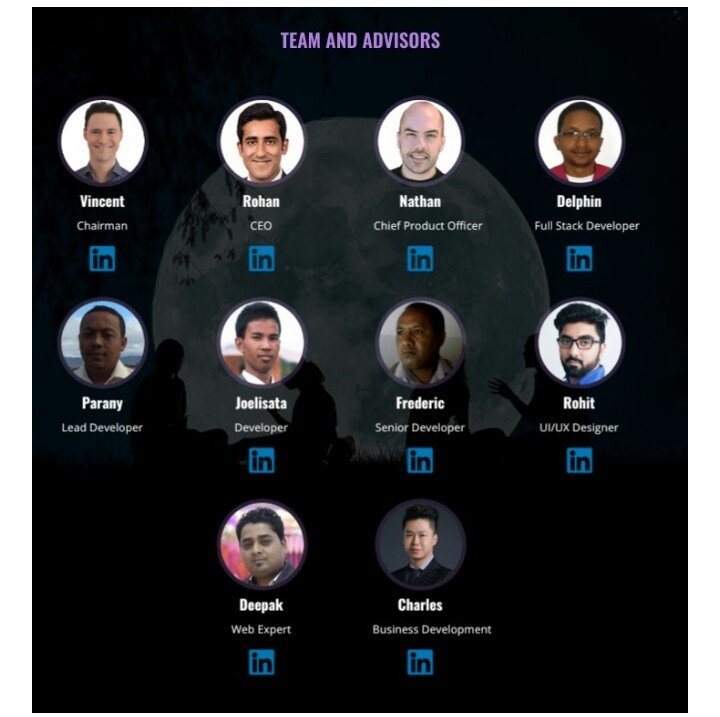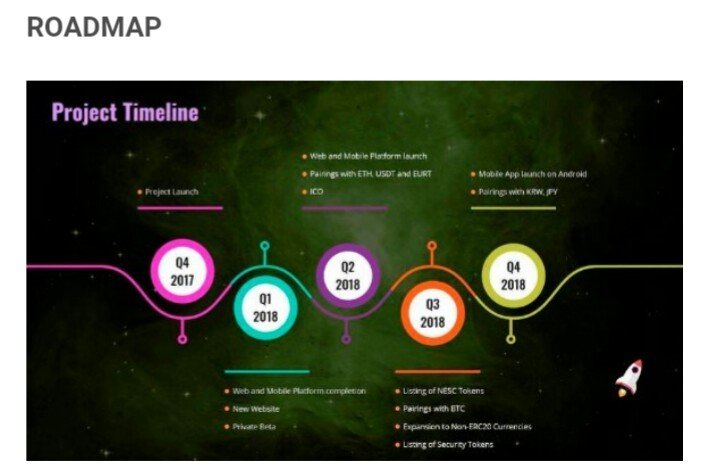 Conclusion
With NEBULA exchange, worry about security is no longer entertained even as you can get up-to-date information on digital currencies.