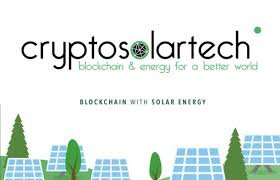 Solar energy is now a huge market, so the idea of trying to incorporate blockchain technology into it does make a lot of sense. That is the very thing that CryptoSolarTech is looking at trying to do, and what they have is a very interesting concept. The theory of 'going green' in this way should certainly be something that is looked at more often, so are we off to a good start with this company?
What is CryptoSolarTech?
https://cryptosolartech.org/en/
They talk extensively about the amount of electricity that is used to mine cryptocurrency with many people discovering that it costs them more in power than what they are able to earn from mining. This is not something that is a positive for the industry, so CryptoSolarTech is hoping to do something about that.
They say that they have two areas that they need to develop, and one is to basically build a solar energy farm in Spain with the energy that is created via the energy farm then being used to run the mining operations. This does sound pretty cool when you stop and think about it all but they still need to build this, and that is where the ICO is going to prove to be important.
The Technical Aspect of CryptoSolarTech
They have to bring in funding to then afford the equipment that has to be bought and installed in Spain for the solar energy to then be generated. However, they have already signed a deal with companies that will then buy that energy, so aside from the mining aspect there is also a second income stream, which is certainly going to be rather helpful.
The tokens are based on Ethereum, as is the entire platform, and the intention is that you will hold onto the tokens which, in turn, act almost like shares in the company. The number of tokens will then determine how much profit you can make when the energy is sold, or you could sell them on the open market if the price climbs enough to make this financially viable.
So, from a technical side of things, this is a mining operation as well as selling solar energy to electricity companies, so there is not much else to say about this side of things.
The Advantages of CryptoSolarTech
What they are trying to do is something that should be applauded, and it does open up the idea of people being rewarded for generating solar energy on their own as that is certainly something that could be incorporated into the blockchain. Also, we cannot fault them for looking at using the ICO to raise the funds for them to complete their project as a number of other companies have followed the same path.
The Financial Details and the ICO
For the ICO, you are looking at them accepting fiat, ETH and BTC and they do also have a soft and hard cap in place. In this instance, the soft cap is set at 983,733 EUR while the hard cap is substantially higher at 71,400,000 EUR. They are also going to produce a total of 1.2 billion tokens for the project and some 80% of those tokens will be made available during this phase. That does mean that there are just over 1 billion tokens for the ICO which is a huge number and certainly far above the average.
During the ICO, the company has set their exchange rate for those that wish to purchase tokens. This is 1 CST costing $0.05, which is slightly confusing in that they are using different currencies for different aspects. There is also a minimum investment figure, but it is only 100 CST so we are not looking at something too crazy compared to other potential projects that are being launched on the market.
Finally, it's worth noting that they have stated they will burn the tokens that are left after the ICO with this then creating the cap for the project.
Overall Conclusion About CryptoSolarTech and the ICO
What we can say about CryptoSolarTech is that they do have an interesting product, and it does have potential outwith the way in which it will be used at the outset. If they are able to construct the solar energy farm and then use the power for mining, as well as selling the extra, then you can start to see how individuals generating their own power should be able to get into a system such as this to ultimately earn money.
Overall, they have a sound business model with two clear potential revenue streams, which is always something that investors are looking at. The environmental angle is also going to prove to be a draw as people are certainly becoming more involved in this kind of project because it is just filled with positive connotations.
This is the kind of project where you need to look at the long-term gains. By simply holding onto those tokens, you will be able to grab your share of the revenue over and over again rather than just looking at the movement of the price of the tokens and then deciding when you should buy or sell. This may be the kind of investment that people new to this industry should also become involved in simply because it will be easier to understand and follow the progress without getting drawn into a world of analysis and charts.
CryptoSolarTech does deserve to be successful with this project. It would be a huge disappointment if this was not the case, and it would then potentially open up questions regarding the entire green energy market and how cryptocurrencies could be used in conjunction with it.
Website: https://cryptosolartech.org/en/
Whitepaper: https://cryptosolartech.org/doc/cryptosolartech-whitepaper-en.pdf
0xA47772062D4BCBDD331dc351eAc8d6ea5893Ff01