It is no news that the crypto world is growing a massive number of users and exchange systems developed to erase the fear of unsuccessful transactions keeps failing in so many ways.
A team of crypto experts have critically looked into the problems surrounding the crypto market and are presenting to us Streamity StreamDesk P2P exchange platform which is by far the most unique decentralized application exchange platform highly concerned about how to serve users in the most convenient ways.
It may interest you to have in depth knowledge about this decentralized exchange platform and tell as many person's possible about them.
Streamity isn't complete without StreamDesk, SmartContract, Payment systems, Buyers orders, Sales orders, you and I.
---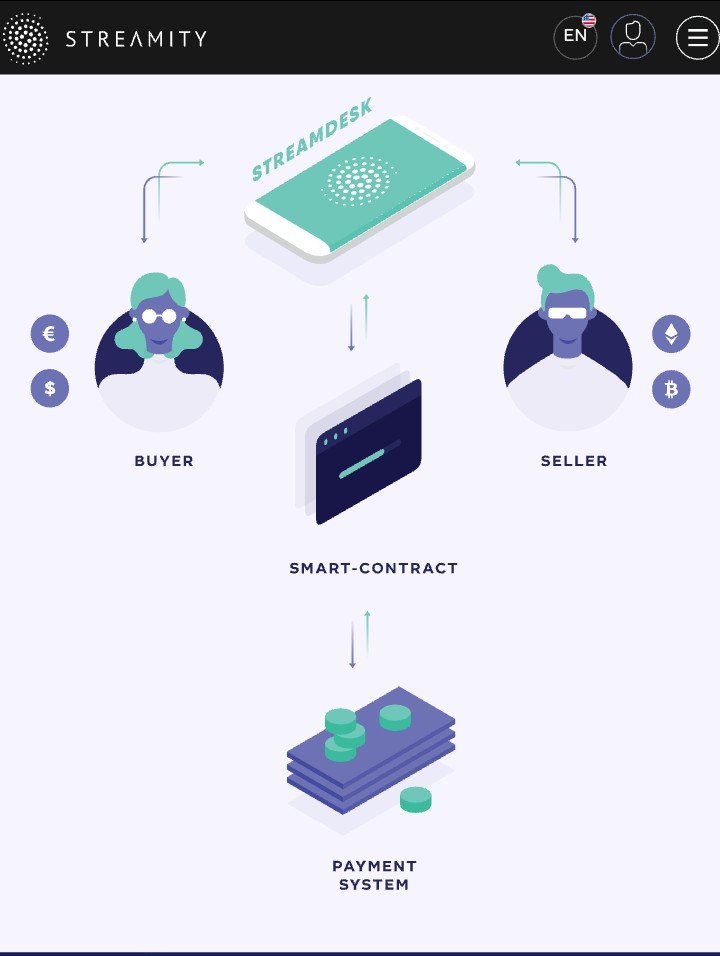 ---

Streamity is changing the P2P exchange industry by creating a brilliant idea of introducing the SmartContract which enables the buyer and seller strike a deal and releases the payment of assets (fiat currency or cryptocurrency) when both of them have made payments, the SmartContract simply transfers the assets to the party that made a deal without the need of an intermediary to confirm if both parties have done according to the deal. Humans can be very funny and dangerously when it comes to transactions dealing with money. A lot of news are heard about users getting frauded in local P2P exchange platform's, I've a friend who was a victim of an unsafe transaction. She sent her crypto in exchange for Fiat this deal was struck on her Telegram chat after she had confirmed sending the amount of crypto from her wallet to the buyer, this person blocked her instantly, deleted every chat she had with him, changed his name and still can't be traced till date. What a sad transaction!
This wouldn't happen with StreamDesk why because it stands out from other exchange systems. Transactions carried out would be secured, safe, fast, profitable, using SmartContract, have an easy low commission conversion etc.
With SmartContract escrowing transactions of users, you cannot fathom the high level or maximum security this creates for you. You're definitely sure of having a smooth transaction, you are sure of not falling for a scam or getting scammed, you're definitely not loosing your money.
To be frank this decentralized P2P exchange platform beats other exchange systems hands down because Streamity has your interest at heart.
Let's see the advantages of this decentralized P2P exchange platform compared to other platforms in existence.
➡Your transactions can never go wrong because the Smart-Contract escrow has got your back on StreamDesk. I'm highlighting "safety" in your transactions. Compared to other existing platforms you may be warned against carrying out transactions with unknown escrows in the platform but the real escrows aren't readily available and the fake ones knowing this are ever ready to make one fall into carrying out a transaction that is a scam(fraudulent).
➡ Intermediaries which are mostly the third-party between buyers and sellers isn't required during an exchange system like Streamity because an escrow system created on this P2P exchange platform is lacking in other exchange systems. SmartContract escrows transactions making Streamity unique.
➡ StreamDesk has been created to provide their users with a standard that suits their customers taste especially when it comes to their transaction terms thus making it highly favourable for both the buyer and seller.
➡Cool payment systems have been introduced on StreamDesk. Payments systems such as PayPal and Yandex Money are greatly partnering with Streamity.
➡ What is the fee to pay in fiat to carry out a transaction on Streamity? There is absolutely no cumbersome fee paid for any transaction on Streamity with Fiat Currencies instead the transaction fees have been cut down to make it easy for users to carry out transactions, you choose what method you want to use for transfers, the feed for transfers are in crypto currency at a percentage ranging from 0-2%.
➡ You may not need to wait for a number of hours before receiving your Fiat or crypto in your wallet, StreamDesk has been designed to carry out speedy transactions because there is a possibility that transactions are carried out to handle emergency situations hence this exchange platform is way too amazing.
➡You're welcomed to make transactions for low amounts of Fiat Currency. It is true that not everyone has a buoyant coin wallet so if you've got need to make a deal that involves you been credited with an amount as low as $2, it is very much feasible.
➡When you've got an exchange system that takes time lag between transactions into consideration, low commission conversions, secures every transaction with an escrow system like SmartContract, has a fixed rate of crypto, gives you the freedom to participate in the crypto world without fear of loosing out what else would make you think twice of participating fully without fear in the CryptoWorld?

The SmartContract system introduced into StreamDesk P2P exchange system is assuring the safety of both the buyers and sellers as the crypto currency market keeps evolving and crypto world growing sporadically, the SmartContract system is been created to solve a big challenge of illegal activities, difficulty in using crypto exchange services. Buying/Selling is done in a few clicks because of the amazing interface created- "Smart-Contract".
How the SmartContract works is simple, you may be freaking scared when you carry out your side of a deal in a transaction first by transferring either fiat or crypto from your wallet in an exchange system and keep wondering what time the other party fulfils their own part of the deal. On StreamDesk there is no room to fear because as you transfer either your Fiat or Crypto a deal is open, StreamDesk locks the buyer and sellers payment in a SmartContract, when both parties have been confirmed to send payments over and locked in the SmartContract, it then releases the assets either Fiat Currency or Crypto Currency to the parties thus eliminating the risk accompanied with transactions, an incompetent intermediary, time consuming transactions, etc.



Streamity has the following Official sites
https://streamity.co
https://streamity.info
https://streamity.site
https://streamity.tech

With Streamity I bet you there would be mass adoption of Crypto Currency because, individuals would be aware that and exchange platform as Streamity exist that enables individuals convert Crypto currency into Fiat currency with ease I.e without the cumbersome task local exchange systems puts one through, no risk of dealing with frauds, unnecessary fears of insecure or slow transactions, fear of high amount of commission to make use of their exchange systems, etc
They're sure of a crypto exchange system with a "fully automatic service" with the best integral core system (SmartContract) which ensures a secure P2P exchange with StreamDesk for users. EOS, NEM, CIVIC are in partnership with Streamity.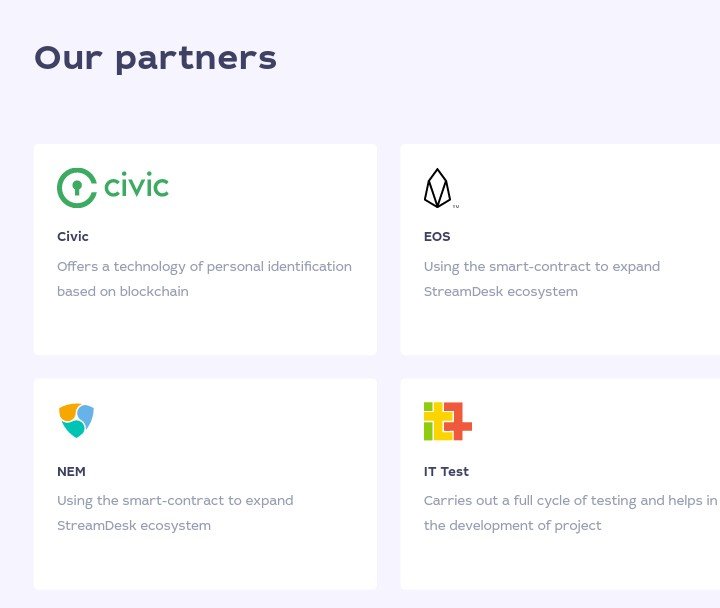 Streamity as well stands out because if you've got no knowledge about the happenings in the CryptoWorld then you're welcomed for free to get information' and updates on the CryptoWorld.
In the Crypto market it becomes difficult for one to carry out transactions using FIAT the risk associated with this is something else and makes even new users interested in investing in crypto currency with Fiat not to give this a second thought, local exchange market systems have been infiltrated with scammers finding genuine buyers for a transaction using a sales order becomes highly tasky, insecure and difficult this shouldn't be so now that StreamDesk has been designed to allow users to buy Crypto with FIAT currencies promising that their dreams to invest in the CryptoWorld won't be shattered. A sales order is created and by the existence of the Start system your payment for Crypto occurs at a fixed rate, selling and buying orders are readily available on the queue.
Please find time to read more about Streamity from the following information and resources links
Streamity
Streamity Website
Streamity OnePager
Streamity WhitePaper
Streamity YouTube
Streamity Facebook
Streamity Medium
Streamity Twitter
Streamity Telegram
Streamity BitcoinTalk
---
STREAMITY ROAD MAP SEE WHAT HAVE BEEN ACCOMPLISHED AND PLANS AHEAD TO BE ACHIEVED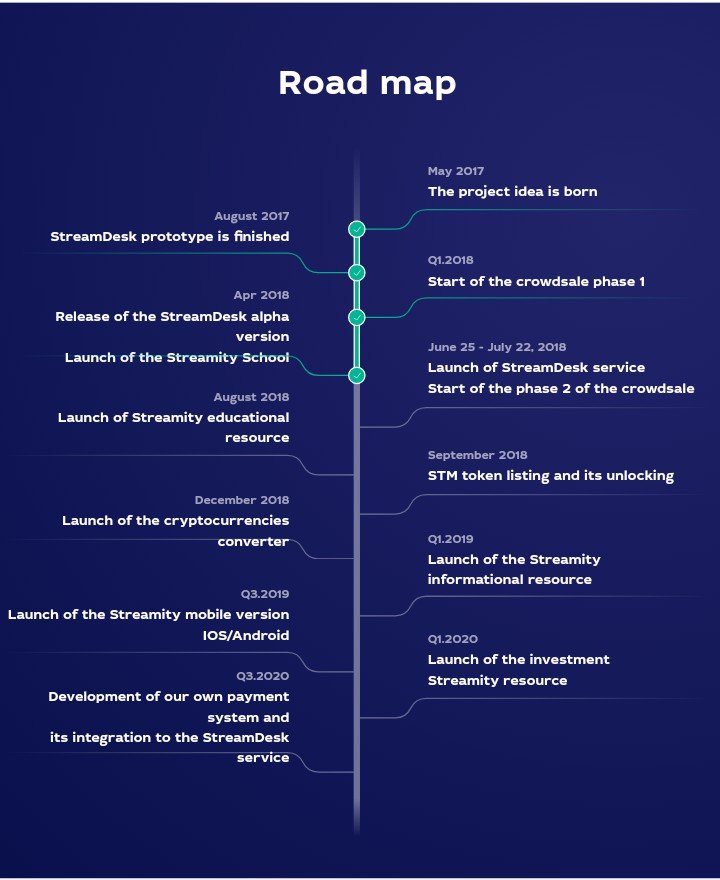 ---
Also read more about Steemit exclusive airdrop and be a part of it it's lasting till 28th Of June 2018, Don't Miss Out.
streamity2018