Introduction
"Decentralised Autonomous Universes"


Over the years, we have had to play interesting video games that let us claim virtual rewards just for the fun of it. What if you could play this video games on the blockchain and earn virtual items and gifts that have real-life value? Well, this is one of the visions of the Xaya: the ultimate gaming platform. The gamers would not be the only ones benefitting from this gaming platform, developers too are given the opportunity to release games in a lesser amount of time and also incurring lesser cost.

In any business, profit maximization and cost minimization are the key to success which is exactly what the xaya gaming platform would be offering to developers. Also, the goal is to offer real ownership and safe trading methods that would aid in converting these virtual items earned in the gaming platform to the real world by the use of blockchain technology. The Xaya gaming platform is proposing a gaming platform on that uses the decentralization, security and autonomous nature of the blockchain to achieve the crypto-gamer dream. A win-win outcome is assured to the gamers and developers as they can both capitalize on brand new revenue streams and also be a part of current activities in the economy.
A new Edge in Gaming

This is a very new development on the blockchain and crypto-sphere that's affiliated with gaming but it's not entirely a new discovery as they had been a feasibility test carried out on a similar project, called the huntercoin in 2013. The hunter-coin experimental project was a huge success with over 35,000 controlled character despite the low-profile launch and other lacking technologies. This experimental project achieved a market capitalization of about one million US dollars within a period of just a few weeks and it kept rising to about six million, three hundred thousand US dollars in 2017. The XAYA gaming platform was built based on the hunter coin experiment and its proposed to help game developers obtain suitable tools to implement their dream projects on the blockchain. The XAYA is designed in a way that would help in the decentralization of games on the blockchain and at the same time create special game affiliated cryptocurrencies that can be traded for 'CHI', other XAYA coins and also have real life value.
Market Overview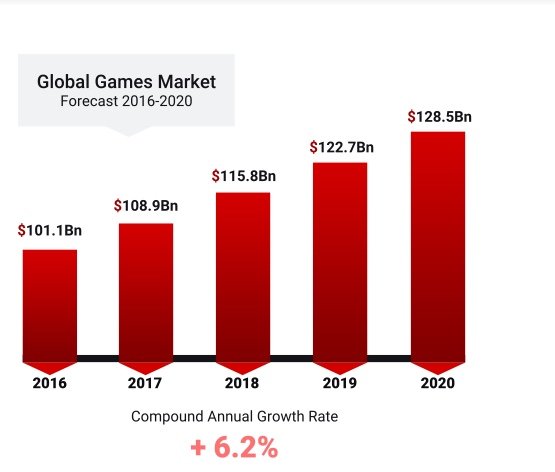 The XAYA gaming platform places its focus on both the gamers and the developers. It also creates a market where virtual assets earned in the virtual game world can be traded and have real life value. This market is a new market where games are created using the blockchain technology. XAYA sets to make the development of games autonomous and democratized at every level. Xaya lets you "THINK IT" and also provides you with XAYA tools and applications to help you "BUILD IT".
Market issues addressed by XAYA
GAMING
The global games market has been increasing over the years and it's expected to grow higher in subsequent years. The gaming market is the target audience for the Xaya platform and it's a very lucrative market with an estimated amount of about 108.9 billion USD per annum.
CRYPTOCURRENCY
It is of a fact that cryptocurrencies obtain their values or real-life value from the number of activities on the cryptocurrency blockchain, from exchanging, trading, usage of the coins and how much of these coins have been used. Technically, when the velocity of money increases the value increases, which means that the Xaya currencies will increase in value as more and more people use the currencies, adopt and participate or be active in the platforms.
Problem Definition
• DEVELOPERS; Developers are often faced with the problem of minimal time and outrageous prices or cost in the development of games. This alone discourages developers but the Xaya gaming platform on the blockchain provide developers with tools and applications that would help set-up projects and builds it as a much more comfortable time. Also, other reoccurring costs are eliminated.
• GAMERS; In every game, ownership of virtual item seems to be of a very big importance as its show's progression in the games. This virtual objects and artefacts that are owned for the fun of it can be traded as real-life value. Gamers spend so much time on interesting games for the fun of it but Xaya pays for the time. The Xaya gaming platform has the challenge of creating means of ownership of this earned virtual items and ensure fair acquisition of this items.
Solution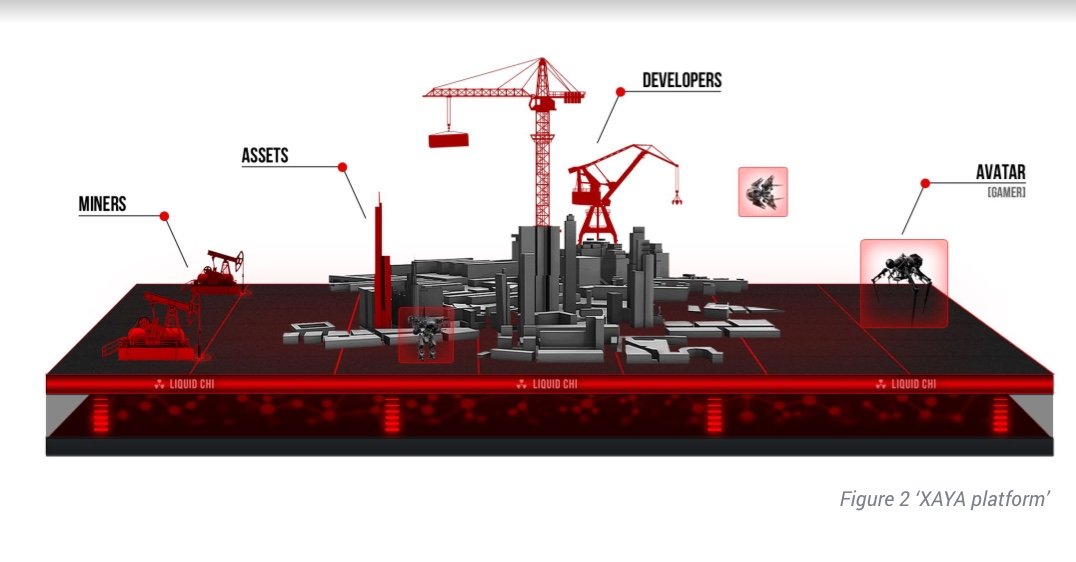 The XAYA platform will provide suitable applications and tools for game developments. Scalability which is a major problem on the blockchain but the Xaya team has beat this problem via Trustless Off Chain Scaling for games.
Key Technologies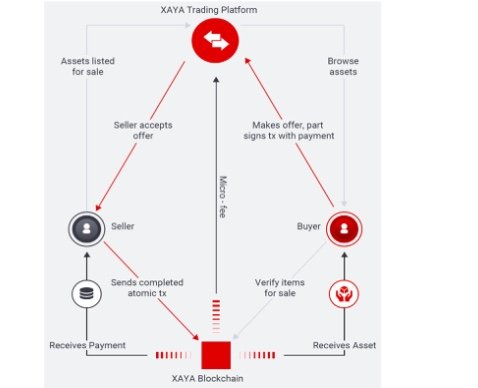 • Based on proof of work on the blockchain
• Decentralized players account
• Atomic transactions
• Game channels
• Ephemeral timestamps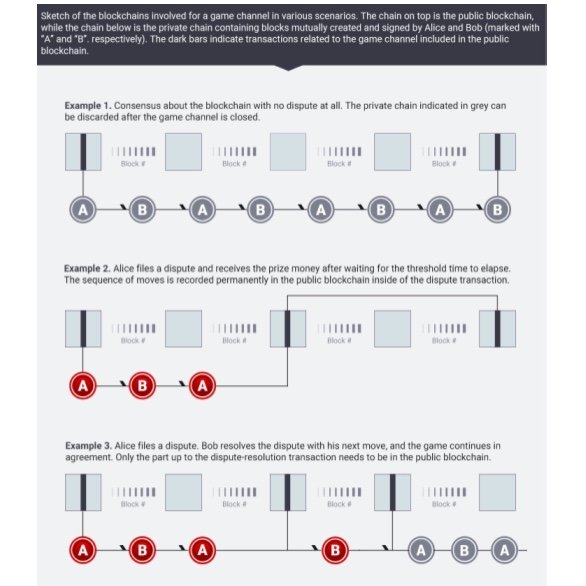 Use Cases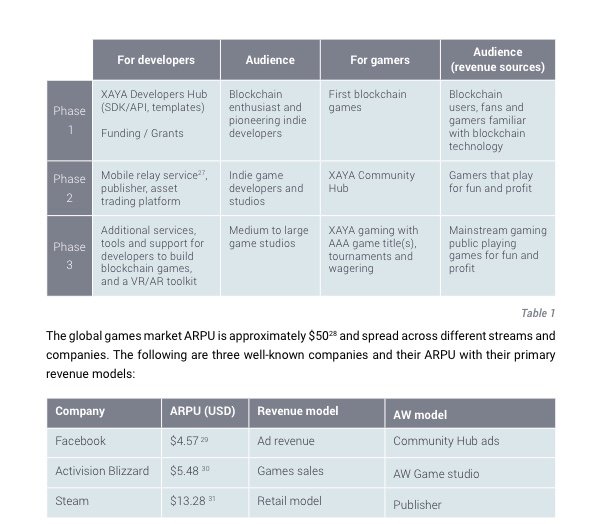 Collectable Card Games
• Storage of assets on the blockchain
• Trading of cards using atomic transactions
• Allows for the building of cards by developers
Real-Time Strategy
• Development of multiplayer online battle arena using ephemeral timestamps.
• High degree of flexibility for developers – if you can think it, you can build it
• Zero gaming server costs
• 24/7 uptime
• Improved scalability
• Easier monetization
Turn Based Games; this can be played by thousands and tens of thousands of simultaneous players. This can be achieved without the use of off-chain game channels and the ephemeral timestamps. Currencies generated can be traded for CHI. Do not need miners to verify moves and actions for validity.
Coin Distribution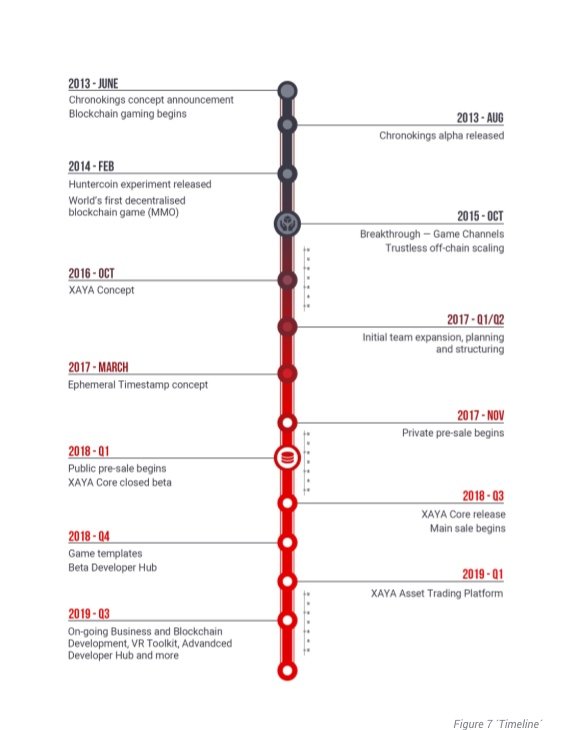 Funds allocation

Road map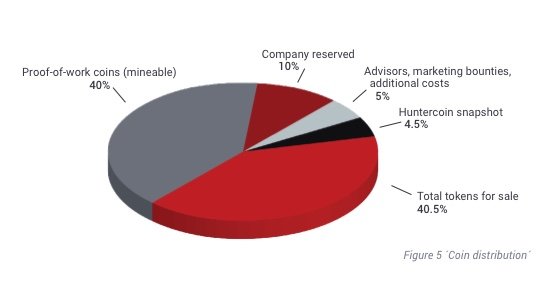 Further Reading
XAYA Website
Xaya WhitePaper
Xaya Medium
Xaya Bitcointalk
Xaya Reddit
Xaya Facebook
Xaya Twitter
Xaya Linkedin
This is a contest sponsored by xaya and presented by @originalworks you can join in here
My video entry

All images used here are from the Xaya website and whitepaper
Xaya 2018