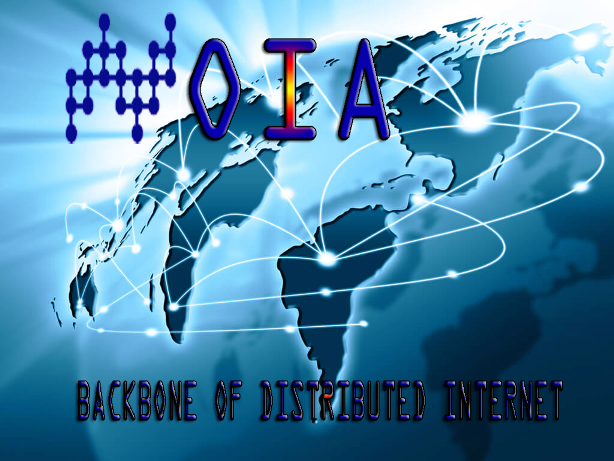 The conventional peer-to-peer file sharing algorithm, allows for different users to quickly and easily transfer files and data, from one point to another using a shared intranet connection grid. This is an improvement of the normal data sharing system through singular servers to a large number of receivers.
Peer-to-peer file sharing seems to enable speedy access to information as every member of the shared grid contributes a particular percentage of processing power to keep the grid up and running.

Similarly, blockchain technology also allows for hosting of data in several inter-connectable grids by users called "nodes". This nodes serves as "potential servers" allowing the speedy flow of data from the source to the end-users.
Blockchain technology allows for data to be stored in blocks which are immutable and interconnected through piles of transactions connected to each other in chains of algorithmic processes.
AI Technology is currently one of the most utilized technology in the world as we speak, large corporations and institutions are incorporating machine learning systems to improve the way they interact with clients, customers and partners, the AI Industry is effective in commanding large sales and services for business as the algorithm have proven to be effective.
Moreover, just like anything else, the internet is in serious need of a revolutionizing, several innovations coming up on the Internet of Things, including online video gaming platforms, media sharing platforms, news and audio/visual interaction websites, there is need for effective improvement on Content delivery ecosystem of the internet.


Because of the urgent need for improvements and innovations for the internet, there came the CDN Technologies, with Content Distribution Networks, a group of connected servers set up in several geographically distributed "Point-Of-Presence" centers usually in data centers are utilized to ensure effective caching of data in order to deliver faster contents across the internet infrastructure.
However, the cost associated with CDN Technology is enormous and would not allow start-ups with innovative ideas and projects to enter into the Content Distribution Industry due to the high cost of service and maintaining of these servers.
This high cost of running servers are seen in the high prices of web hosting services and content delivery by service providers causing enormous challenges including increase in latency and load time,low speed and performance for these internet services.
There is a need for an effective means of Content delivery that would ensure faster connectivity,high efficiency with lower cost and high performances.


Introducing NOIA Network – An All-In-One Solution to the Content Delivery System.
NOIA Network is a Decentralized platform that ensures effective Content Distribution, by utilizing peer-to-peer technology and AI Technology with blockchain technology base.
By utilizing peer-to-peer technology, NOIA Network makes it possible for servers to be run in form of "nodes" by peers in a decentralized manner, therefore by utilizing unused processing powers of users storage, NOIA Network creates a larger network of POPs, ensuring effective distribution of contents across the internet.
Peer-to-peer technology allows for improved features including less latency and load-time, increase in speed and delivery,low cost and stability to the marketplace.

NOIA Network , incorporate Peer-to-peer technology with AI technology to create an effective Content Scaling Layer, in which files are cached effectively and delivered in a faster means.
AI Technology incorporates routing options for web services, optimized caching and data allocations, and better strategies for demand prediction based on users search and online history, all in real-time.
By using blockchain technology as base platform, NOIA Network ensures effective decentralization. This ensures the transfer of data in the most secure and autonomous means, thereby ensuring that nodes being run by users are from different POPs can effectively serve as servers for the ecosystem.


NOIA Architecture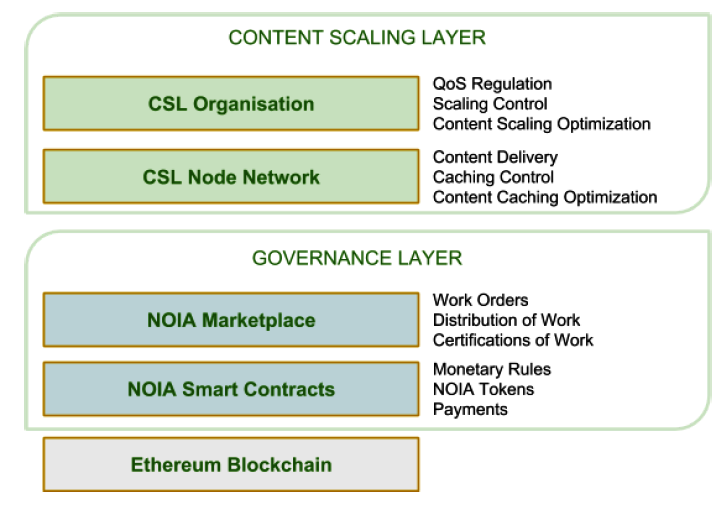 NOIA Network Architecture is built on two structural algorithms:
• Content Scaling Layer
• Governance layer
These two elements works hand in hand to ensure that the entire architecture delivers super inter-connectivity and value for the entire ecosystem.
The Content Scaling layer serves as the technological backbone of the platform, while the Governance Layer determines how value is been distributed within the platform.
Content Scaling Layer is a conglomerate of peer-to-peer technology, AI Technology and Blockchain Technology, creating an effective Content Distribution Network of nodes and decentralized POPs, while the Governance Layer is a set of Smart Contracts that defines the NOIA Token as the token of value in the NOIA Ecosystem and determines how NOIA Tokens are distributed among, master and worker nodes, websites and users in the NOIA platform.
Content Scaling Layer Comprises of two Major Technologies, on which it is built on:
• Peer-to-peer file sharing technology
• AI (Machine Learning) technology
Content Scaling Layer utilizes both p2p content scaling protocol and proprietary mathematical algorithms and pattern recognition of AI to handle requests (merging requests), content caching (smart caching), fastest-route discovery, and network traffic prediction and anticipation.

CSL Stack – Combining Centralization and Decentralization in a whole New Ecosystem
CSL Stack is a compilation of several softwares that makes up layers upon layers of the network infrastructure.
CSL Stack incorporates CSL Cloud Controller Model as a single centralized control center for other CSL Layers in NOIA Network, while CSL DAO Concept Model is a fully decentralized organization with autonomous self-imposed governance.
Combining both CSL Cloud Controller Model and CSL DAO Concept Model, NOIA Network plans on bypassing the several flaws incumbent in both systems and to create a viable product which is scalable across centralized and decentralized systems.
The ineffectiveness of centralized systems and immature effects a decentralized infrastructure would imply on NOIA Network solution is curbed by inter-twinning both systems, making use of their benefits, thereby ensuring a complete effective platform geared toward excellent, fast and secure content delivery.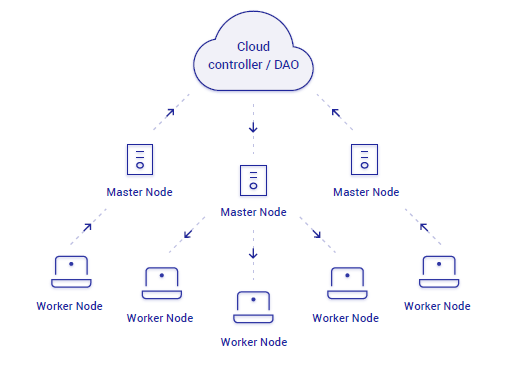 The CSL Cloud Controller/ DAO Concept Model is the basic layer of the CSL Stack, which instructs the Master Nodes on how to efficiently utilize the worker nodes to cache and deliver data effectively, ensures adequate quality of service to websites and serves as an authorization interface, ensuring that Masternodes comply to the directives of the governance layer and fishes out faulty or malicious masternodes, thereby ensuring overall efficiency of he entire NOIA Network Architecture.
Some features of CSL Cloud Controller/ DAO Concept Model includes:
• Authorization
• Selection and load balancing
• Content scaling commands and
• Quality of service control

BENEFITS OF CSL
SCALABILITY:
CSL only stores data for an optimal time moving dynamically throughout a swarm of data and adapt to traffic variability, allowing CSL to scale and distribute data among different locations based on peaking demand.
_These are the key features that allow NOIA to serve not only as a network of content delivery, but more importantly - a network of bandwidth optimization and content scaling.
LEVERAGE:
CSL utilizes AI Technology, leveraging on the proprietary mathematical algorithms and machine learning to predict traffic and content maximization.
CSL leverages on AI Technology to predict and optimize traffic routes, contents demand based on historical data and file popularity based on metadata and content itself, all in real-time.

DATA OPTIMIZATION:
By reducing the amount of data spent on content delivery through CSL caching of user data, NOIA Network enforces cheaper and secure content distribution, with geographically distributed nodes, ensuring closeness to both the source and users,significantly decreasing the number of requests directed to the storage back-ends, thereby reducing costs for use and maintenance of servers.

INTEROPERABILITY:
NOIA Network was built, not to compete with existing centralized content distribution networks but has interoperable features which can be utilized to improve these platforms and enhance their services,also enabling reduction in cost of service delivery, ensuring profit maximization and making rooms for innovation.
NOIA Network can effectively be incorporated with major content delivery systems including Amazon services, microsoft , Google Cloud Platform, etc.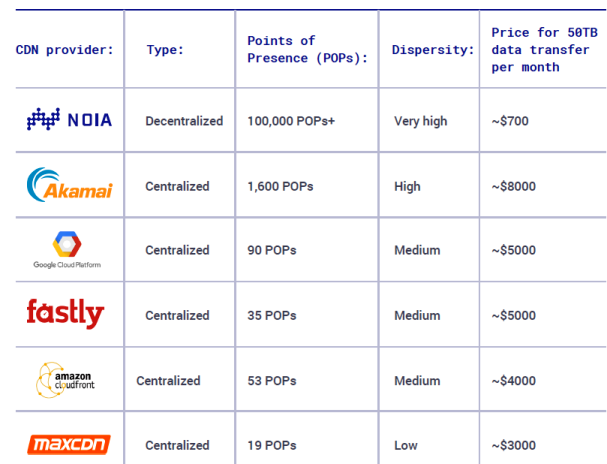 With its lightweight architecture and ease of setup, Incorporating NOIA Network Architecture would be a relatively simple process and would effectively ensure improvement and optimization of the services of any service provider that chooses to incorporate the infrastructure.

APPLICATIONS
NOIA Network infrastructure can be effectively implemented on every platform that delivers all kinds of contents across the internet, the architecture is simple to use, easy to understand and innovative, Some examples of platforms that would need NOIA Network Platform includes:
Video Gaming Platform:
With the plethora of data consumption needed to effectively deliver video graphical illustrations by this platforms, it stems to note that incorporating NOIA Network infrastructure would be an effective means to deliver great contents to their users and still minimize costs in webhosting, bandwidths and data storage for the platforms.
File-sharing and data download platforms:
File-sharing and download platforms, could leverage on NOIA Network's AI Technology's effective caching and routing optimization to deliver contents to their users in a fast and secure means.
Internet of Things:
Corporate News and Large Data sharing companies, startups engaged in data storage,Content Distribution Networks, image and audio streaming platforms, and the entire internet of things can utilize the conglomerate of NOIA Network features to deliver a better internet to their clients and customers, thereby enforcing a better and decentralized internet infrastructure for everyone.






NOIA TOKENS: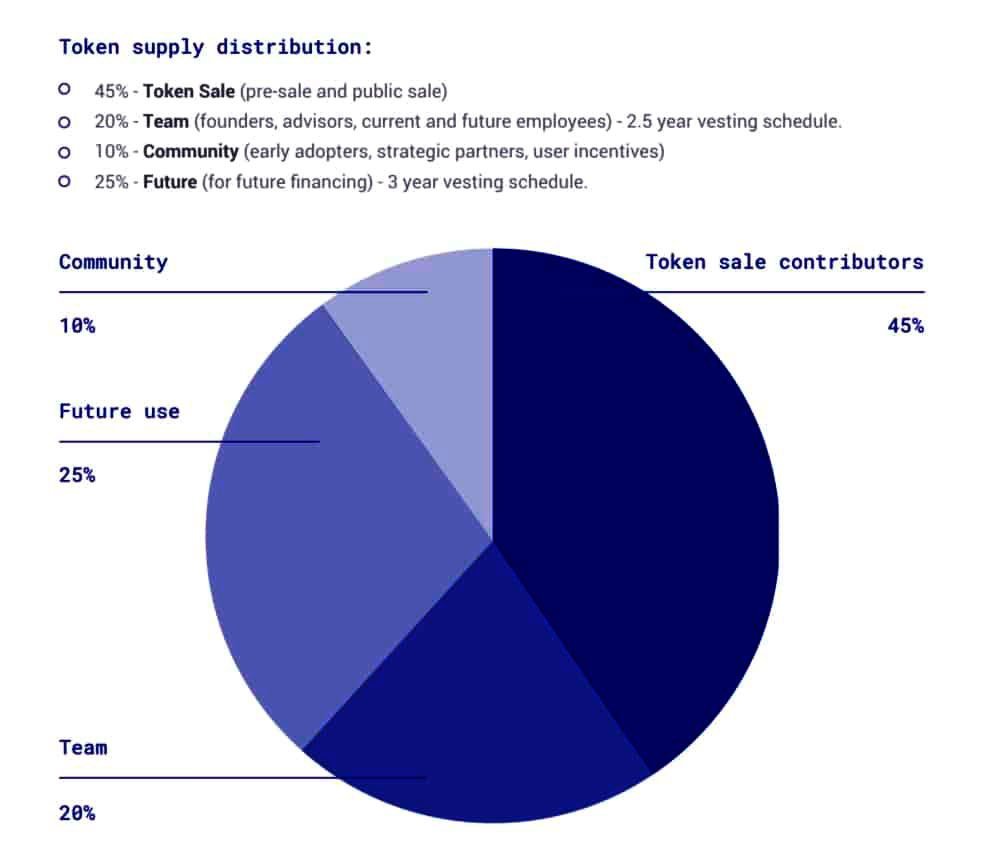 NOIA Tokens is the token of value for the NOIA Network Ecosystem, it is an ERC223 Compliant TOKEN (ERC20 Compatible) based on the ethereum blockchain, which would serve the entire NOIA Network infrastructure as two basic elements:
As a sign of value, which can be transferred between users, nodes and website owners
As a means of Network Governance, for rewarding productive works and penalizing malicious works
NOIA Token is conditioned in such a way that a single NOIA Token is equivalent to 5GB of data transfer, ultimately the value of the NOIA Token would be determined by the decentralized autonomous community, starting with the ICO Price.
NOIA WALLET:
Since NOIA Tokens is an ethereum based tokens, a simple ethereum wallet would serve as a store for NOIA Tokens,NOIA team will alternatively have a provision for an improved Cloud based account with more functionalities, including mining pools.
video introduction
NOIA Network Use of funds
Roadmap


Team:
Technical Team: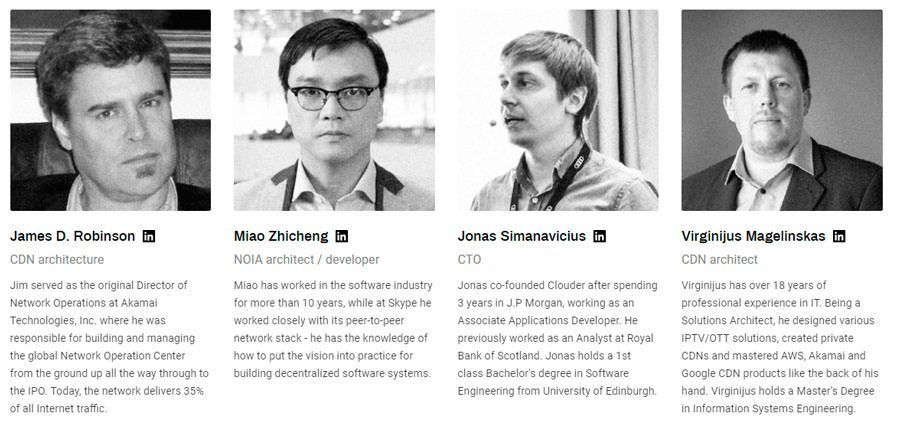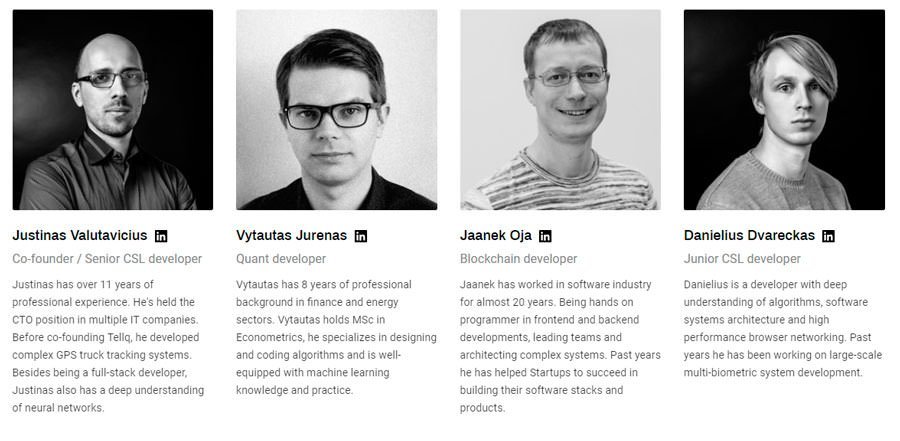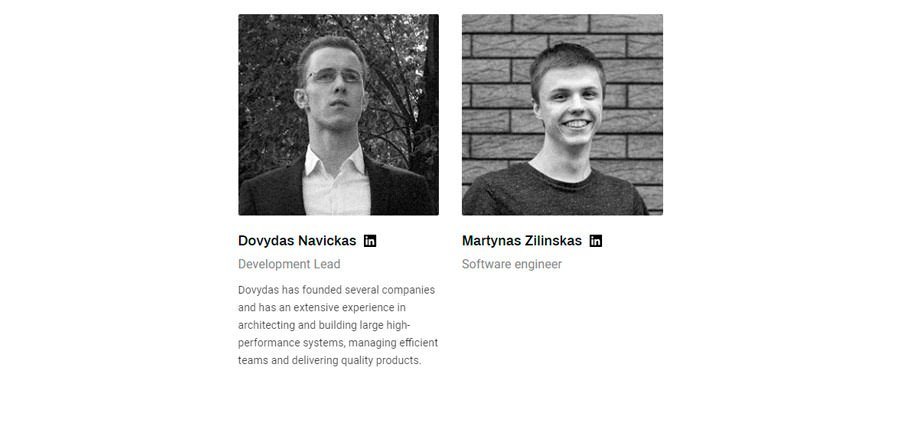 Business Team: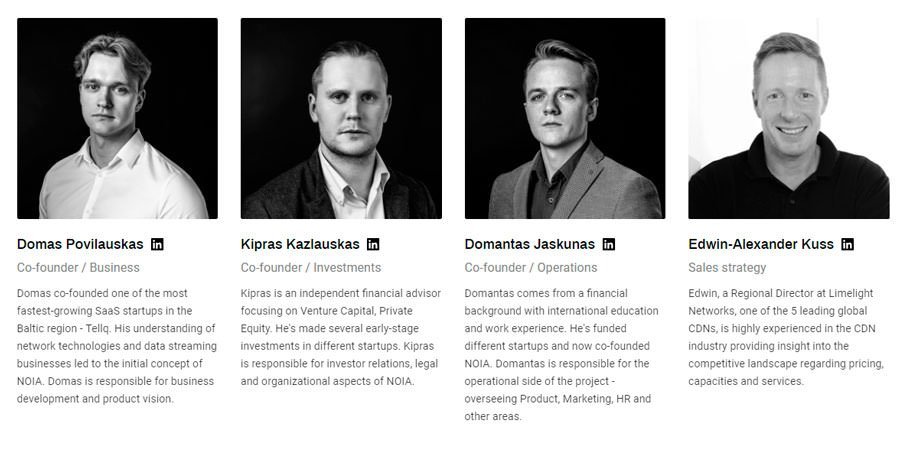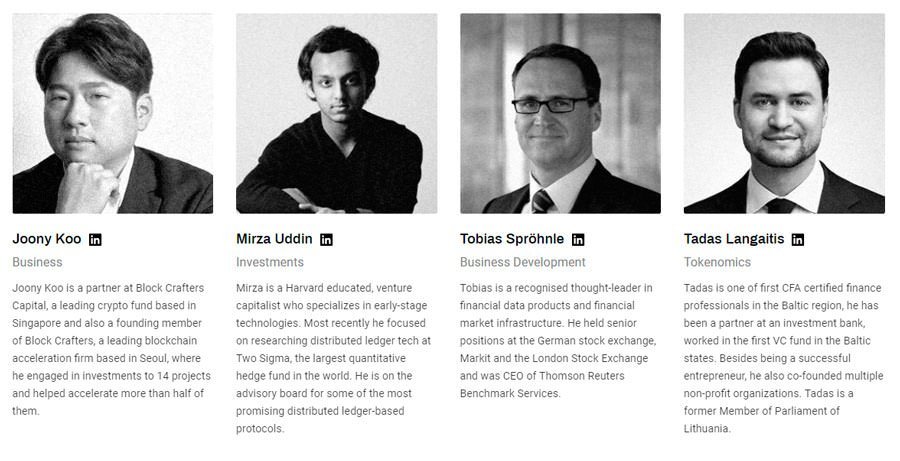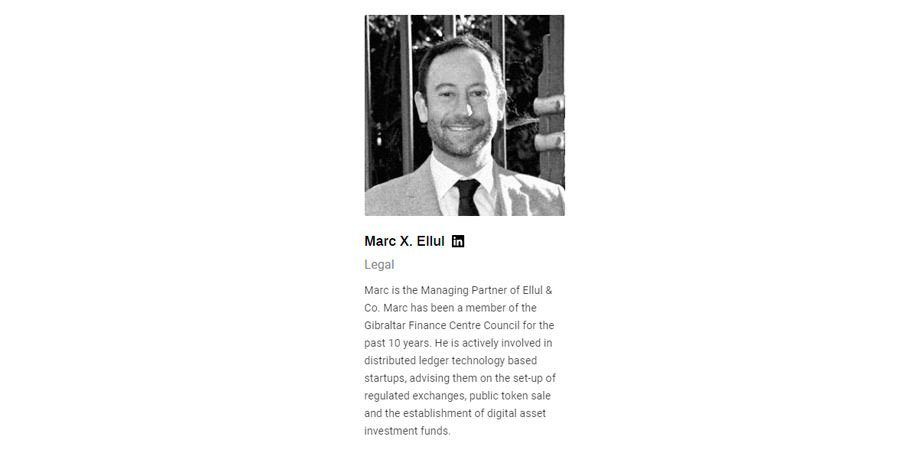 Technical Advisors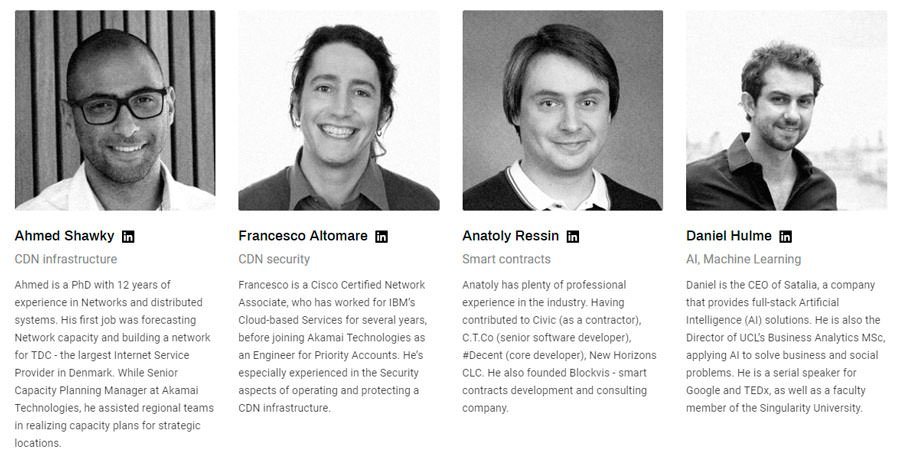 Partners: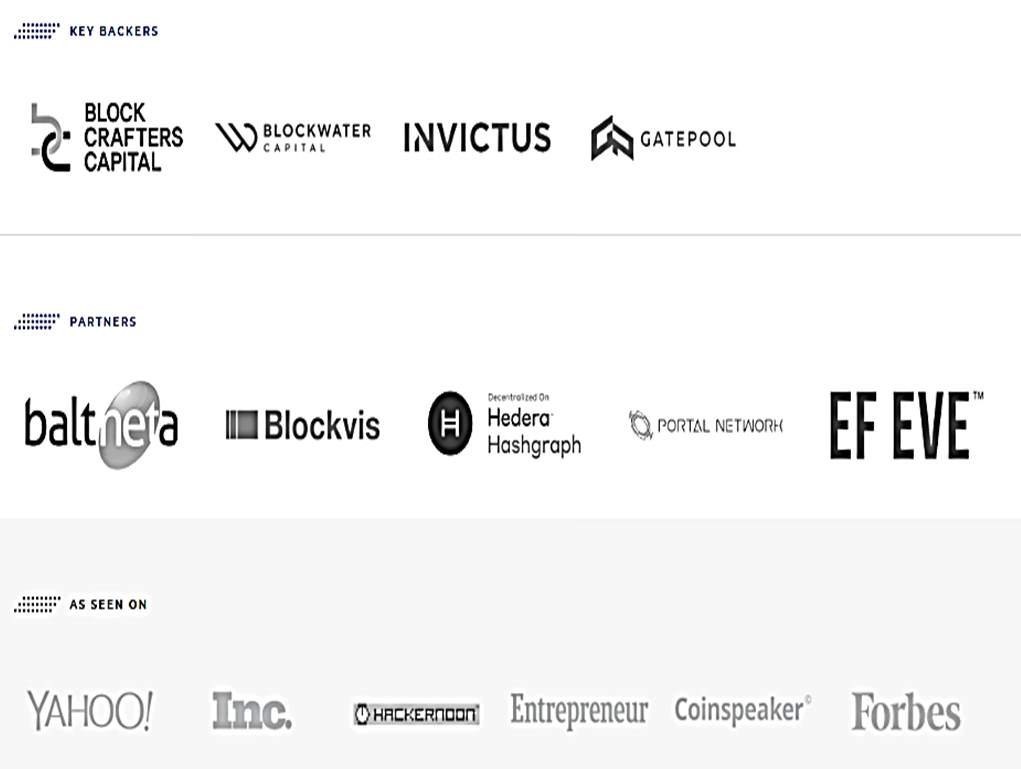 To join the NOIA Testnet

Sign up on NOIA Network dashboard and complete your KYC application in order to get approved and therefore qualify for the Airdrop.
Download and install the NOIA software from the GitHub Page.
In order to qualify for the weekly Airdrop, your node:
Must be properly configured (ETH address in KYC application must be the same as the ETH address in your Node settings).
Must have the 7676 port opened. To check if it is opened, go to Node settings — check port — change port number from 80 to 7676 — hit check.
Must be up and running for at least 72 hours a week (aggregate time).
Timer resets every Friday at 12 pm UTC.
then start running the nodes and accumulating the tokens, even without kyc.
You have to login to your NOIA Dashboard, get your referral link and share with your friends to earn more tokens..


More Information & Resources:
• NOIA Network Website
• NOIA WhitePaper
• NOIA Telegram
• NOIA Medium
• NOIA ICO Token Sale
• NOIA Facebook
• NOIA Twitter
• NOIA Reddit
• NOIA Youtube Channel