There has never been a better time to BUY NewYorkCoin (NYC)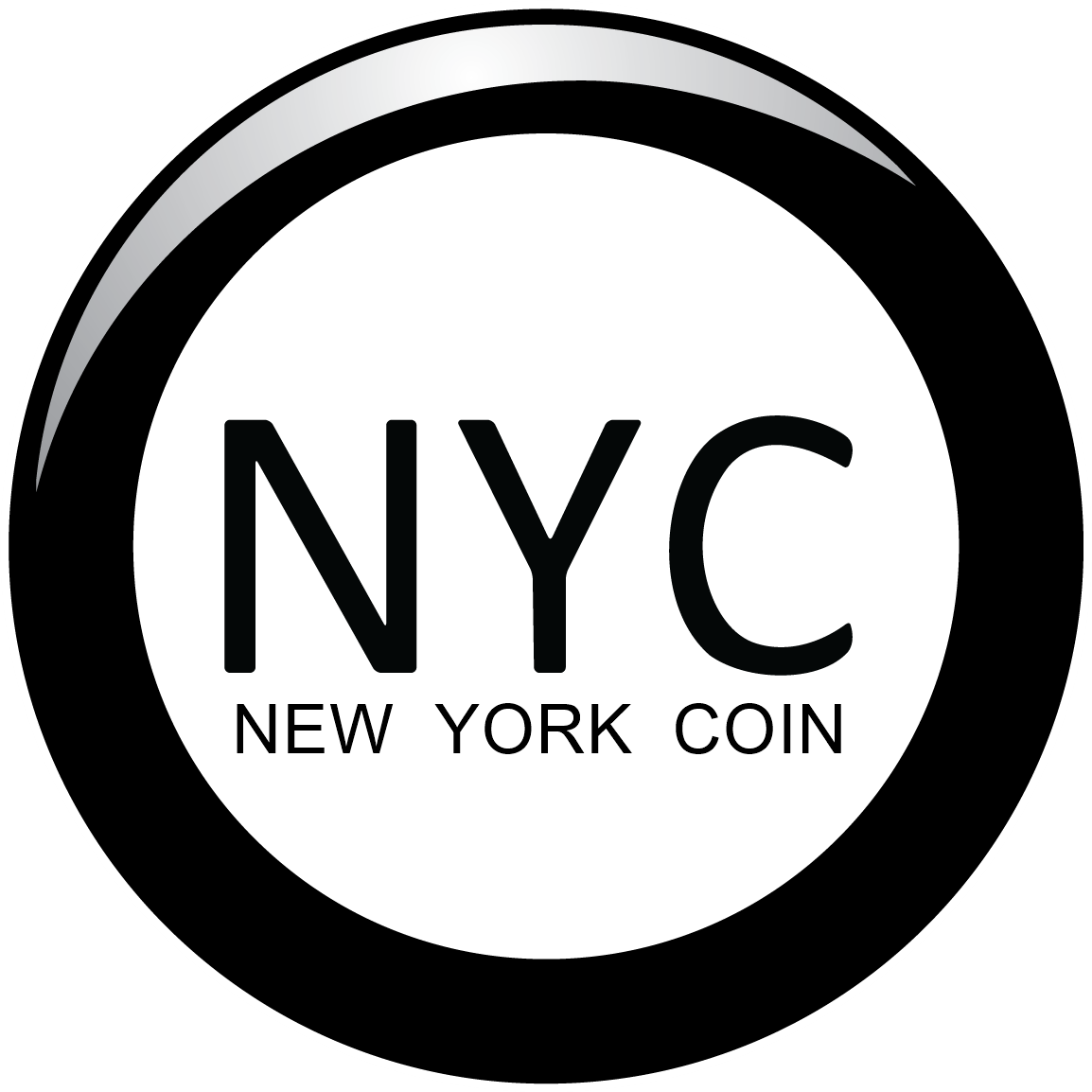 Why do I say this? There are a number of reasons! NYC is rapidly becoming "THE" accepted crypto currency of choice by traders, business owners and New Yorkers alike. NYC claims to be 20X faster than Bitcoin, 5X faster than Litecoin and have lower fees, actually there are ZERO network fees; it is currently FREE to send and receive NewYorkCoins. NYC has a growing community of coin holders and supporters and the number of retailers who accept NYC as a method of payment is increasing daily. Near instant transactions with 30-second confirmations and zero fees, enable NYC to be used at the retail level worldwide for daily consumer purchases.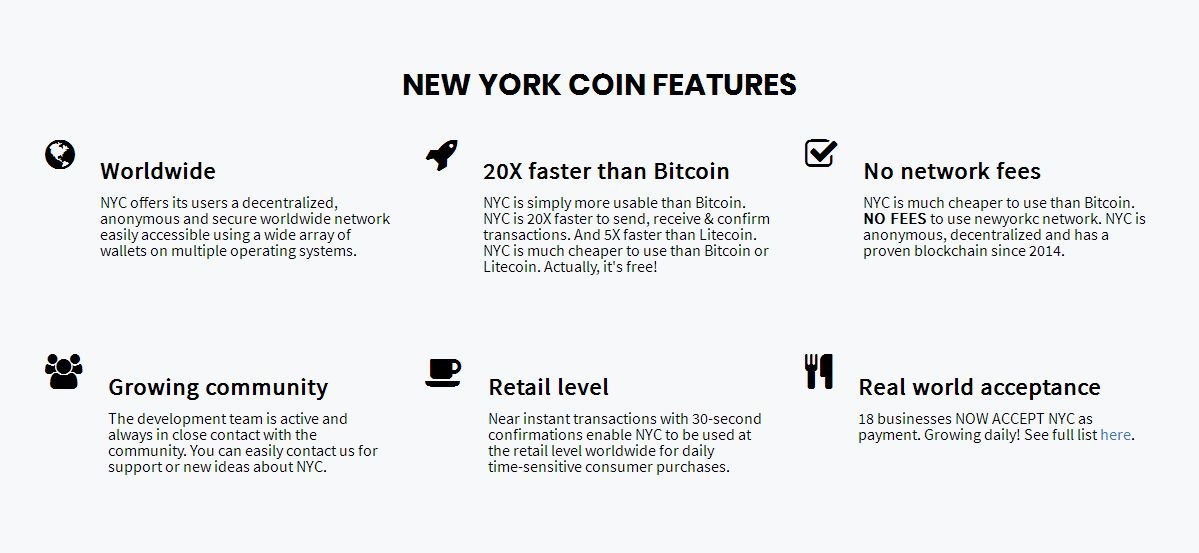 NYC has been trading since 2014 and has a secure wallet that to date, has no reported cases of it ever being hacked. Recently the developers at NYC released a beta updated version of the wallet that is cleaner and easier to use. You no longer have to suffer the annoying "UPGRADE: Warning" message that used to persist and they have also done away with the quirky and defunct mining tab (which never seemed to work anyway). Installing the wallet takes about a (NYC) minute and then you simply need to add-nodes to the "newyorkc.conf" text file, save it and the wallet will sync with the blockchain, quietly and effortlessly in the background.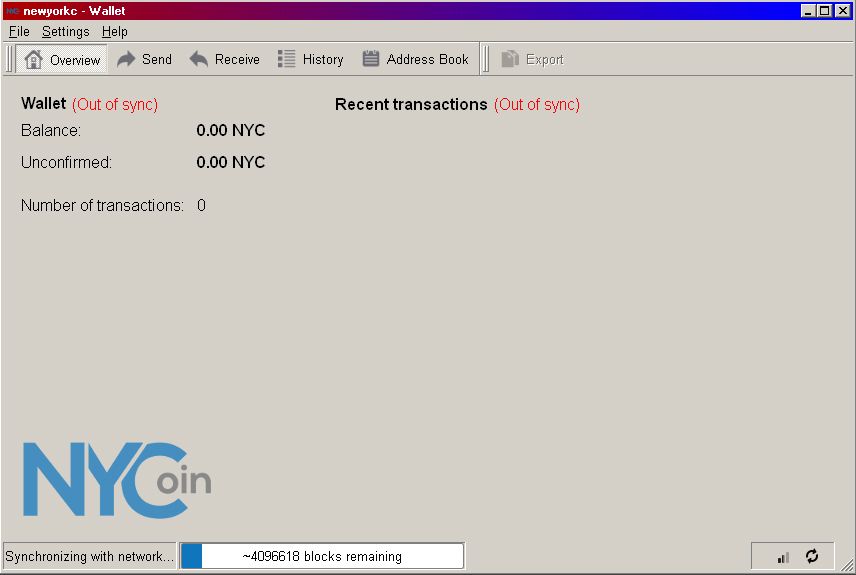 From an investment pont of view, NYC is currently trading at 1 satoshi (0.00000001BTC) and this means NYC does not get any lower than this. There are basically two ways the price can go: up or nowhere! And since NYC is taking great strides to market their coin and commit to its success, NYC isn't going to disappear anytime soon (in my opinion). Look at it this way: if you purchase NYC for 1 Satoshi, any price increase will instantly DOUBLE YOUR INVESTMENT. And for every 1 Satoshi price increase will result in a 100% profit on your initial investment. The only way is UP (in my opinion) and there has never been a better time in invest in NewYorkCoin.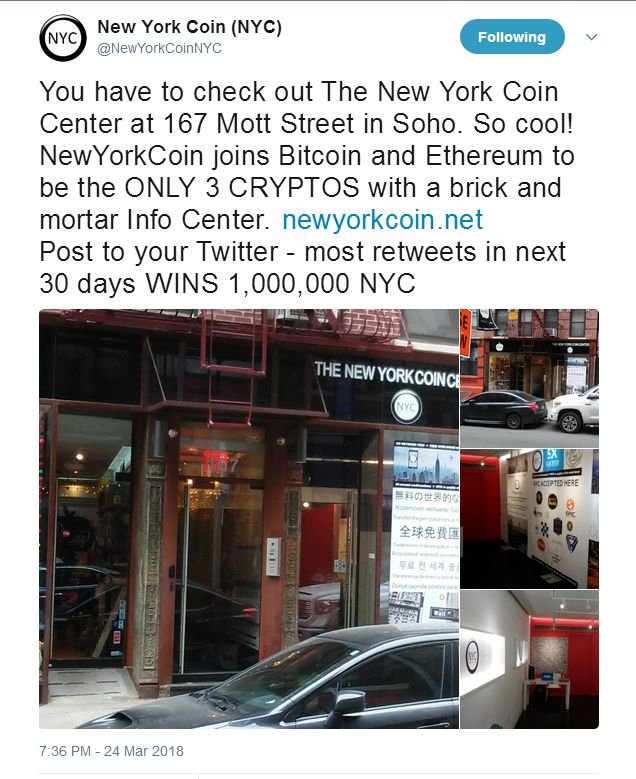 Click to view.
You know how fiercely loyal and passionate NY'ers are about thier finances? Well recently
@NewYorkCoinNYC
tweeted that the first ever NewYorkCoin (bricks-and-mortar) Center is opening in downtown Soho. This means NewYorkCoin now joins Bitcoin and Ethereum to be the only three crypto currencies in the world to have real-world Info-Centers on the High Street that you can actually call into in person. So the coin is bound to take off (in my opinion)!
You can buy and sell NYC on the YoBit trading platform here.
Good Luck, HODL and as always: Do your own research.
Matt Blythe
---
THIS IS NOT FINANCIAL ADVICE OR A RECOMMENDATION
TO BUY OR SELL CRYPTO CURRENCY.
---