Zane's Crypto Chart Spotlight: ArtByte (ABY)!
Welcome back Traders/Investors/Chart Enthusiasts/Everyone!
This 5th edition covers ArtByte (ABY).
Artbyte was created as a person to person digital currency to be used to help fans support their favorite artists around the world. They focus on connecting artists using Twitter and Facebook and also host a forum where new artists can post their art to help grow the community. More can be found at their website.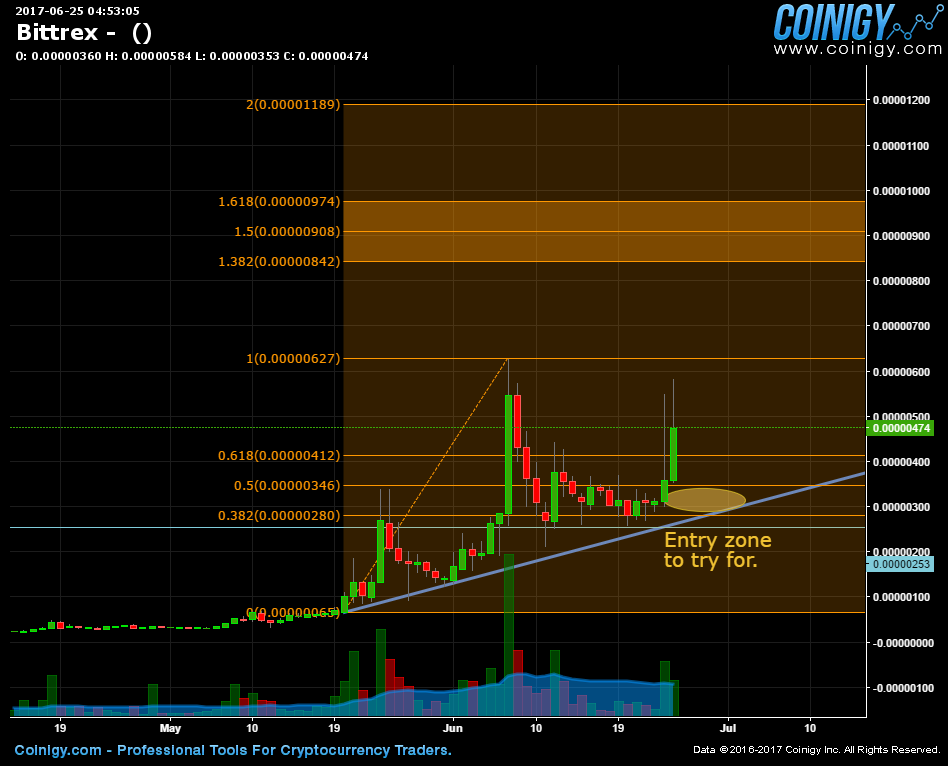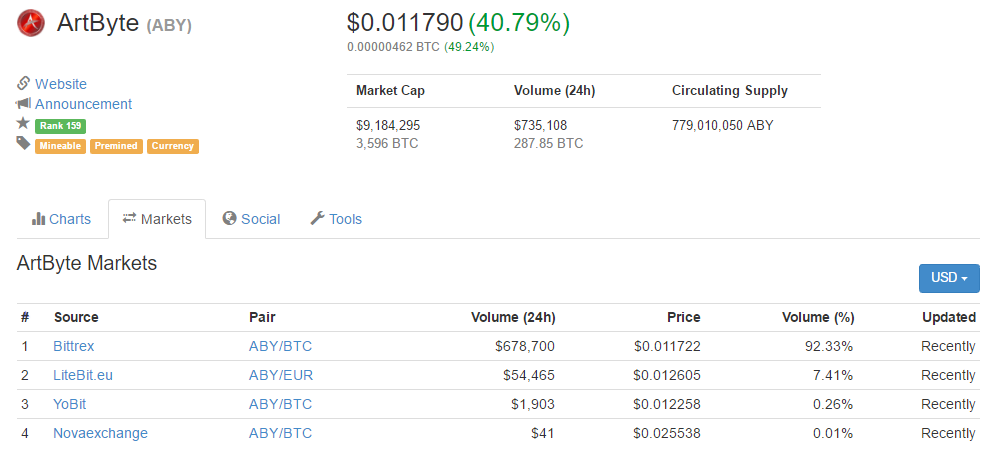 What I'm Seeing:
An uptrend has definitely been established. Old resistance has become new support. Consistent higher lows have given us an uptrend line (shown in blue) to try and time our entries to.

The breakouts are on increased volume and the retraces have been nice and controlled. Key Fib levels have been holding also showing sustained interest in this project.
Entries:
Look for an entry around the 50% Fib retracement level
~0.00000345 BTC
to avoid chasing. It has really moved today already so a patient retrace limit buy would really work well here.
Aside: I had started writing this blogpost a couple hours ago but stopped to fix some food. By the time I came back it had increased 20%! That is the wild world we live in. Now I'm suggesting to wait for a pullback entry, whereas, before I was writing to say "getting in now at .00000350 BTC is a great entry price before it pops again." It popped to .00000584 BTC. Amazing.
Patience always pays in this market. Don't rush in unless you don't mind sitting thru a pullback.
Short Term Targets:
Target area 1: the recent highs of
627 sats
(.00000627 BTC)
Next Fib zone targets:
842 sats to 974 sats.
I like that this project has a 9 million USD market cap so it still has a lot of upside if it catches on.
Trading a daily average volume of 292 BTC is a good start for a newly forming trend.
Downside Expectations:
A drop all the way back into the
250 sats
level would still be OK for this trend to remain intact. A break of that level that holds below it and I would be looking for the exit. I'm focusing on locating trends that are actively moving, so from this perspective I would look to cut my losses and move along.
Thank You for stopping in. I hope you enjoyed this breakdown.
How can I improve?
I look forward to your comments! If you benefited from this please follow and up vote!
Thanks,
Zane
Obligatory Disclaimer:
I can't guarantee any of these coins will do anything I say. I'm bringing attention to what I believe are great looking charts and hoping for the best but expecting anything.