Zane's Crypto Chart Spotlight: FoldingCoin (FLDC)!
Welcome back Traders/Investors/Chart Enthusiasts/Everyone!
Today's pick is Foldingcoin. I think this is such a great project and I'm happy to let people know about it.
Per the website, the coin's goal is to help bring more computational power to Stanford's Folding@home project. From Stanford's website, the following is stated about the project: "Help Stanford University scientists studying Alzheimer's, Huntington's, Parkinson's, and many cancers by simply running a piece of software on your computer. The problems we are trying to solve require so many calculations, we ask people to donate their unused computer power to crunch some of the numbers."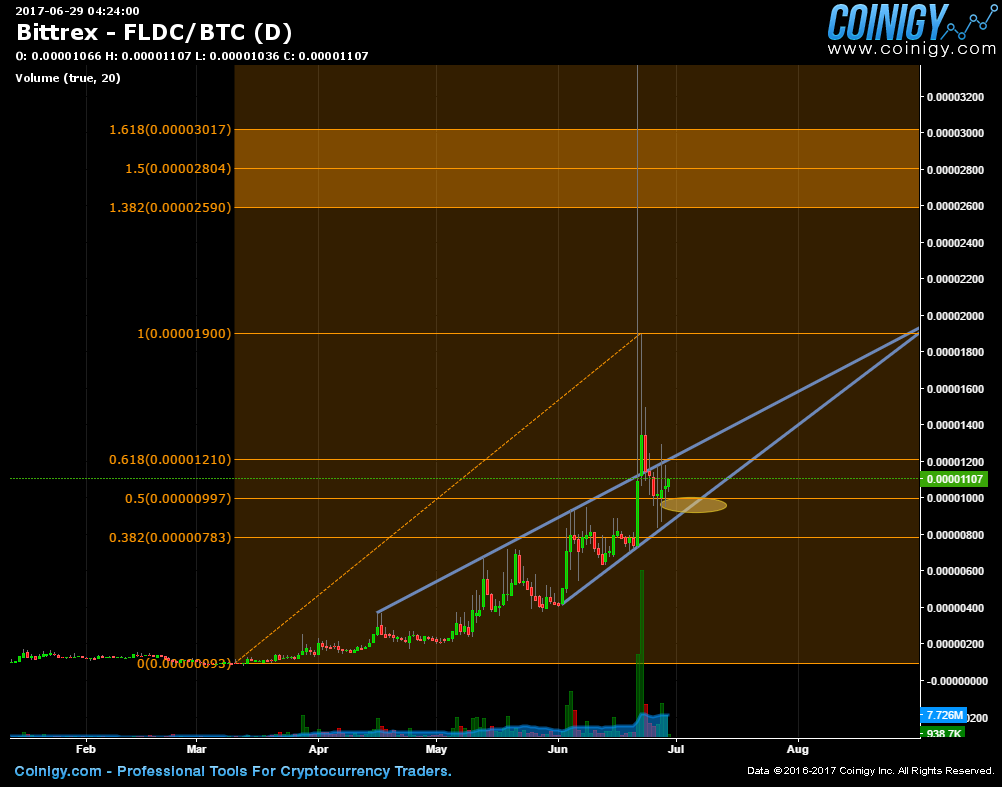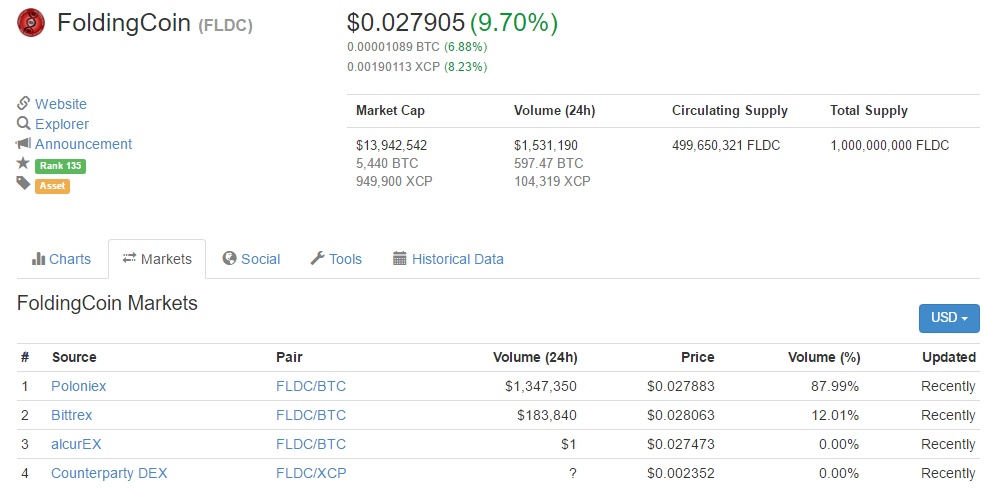 What I'm Seeing in FoldingCoin:
A strong trend has been established and is beginning to accelerate to the upside. The blue trendlines have been respected and has recently broken out to the upside very recently. This shows me that interest is stil growing in this coin alond with the increase in overall daily volume too.

Technically, everything looks great on this chart. The higher lows and higher highs at every wave are as good as it gets when looking for a trend. Even the recent selloff in the overall markets didn't phase this coin as it held its trendline.

Fibonacci retracement levels are also holding at the 50% retrace from the recent spike highs. (I ignored the super high spike just because it isn't very relevant and skews the Fib's.
Entries:
890-950 satoshis
would be a great pullback entry near the lower end of the uptrend line.
Short Term Targets:
Target area 1: Recent highs around the
1900 satoshis
level.
Target area 2: Fib projection zone of
2590-3017 satoshis
Longer term targets:
At 14 million USD market cap this coin has some major upside potential. It is ranked at #135 currently. With a great project that I believe more and more people will pile into I think the rewards system they payout will be a good enough incentive for people to keep joining this project and keep the trend going. To get to 100 million USD market cap would result in a 7.1X move
Downside Expectations:
The current uptrend wouldn't be in jeopardy of being broken until we trade down to the sub 620 satoshi area. I don't see any concerns in this trend as of yet.
Thank You for following!
I hope you enjoyed this breakdown. Let me know what you think about my review.
Which coin do you think will go 10X from here? How are you finding it?
I look forward to your comments! If you benefited from this please follow and up vote!
Thanks,
Zane
Obligatory Disclaimer:
I can't guarantee any of these coins will do anything I say. I'm bringing attention to what I believe are great looking charts and hoping for the best but expecting anything.