For those of us who are not experts in obtaining and moving cryptocurrencies, it is a little complicated to understand the dynamics of this electronic economy, however, as we have become familiar with the concept of blockchain, we have understood part of the transaction process with accounts of cryptographic storage such as; purses, keys with extensive codes, exchange houses, markets with stock indicators and other activities typical of cryptocurrencies.
One of the characteristics of this emerging economy is the diversity of currencies that exist, due to the frequency of new projects that are born with autonomous currencies, this can be clearly seen as a consequence of decentralization but it also results in a problem at the moment of making conversions or trying to conceive all these financial symbols as a harmonious and practical ecosystem.
The platform presented below, manifests in its beta version an easy and simple to use method for exchanging cryptocurrencies, this is OnePageX

OnePageX is a platform that provides the service of converting crytomonedas in only 3 steps, for now it is only limited to converting Bitcoin to a variety of 140 active crypto very simple way. OnePageX uses an easy to read and use interface with the goal of making conversions much more practical and faster to do, this makes OnePageX a highly useful tool for all those who work with a Cryptocurrency portfolios.

As you can see in OnePage.com, just do 3 steps to make the exchange:
a. Pick an asset to convert to.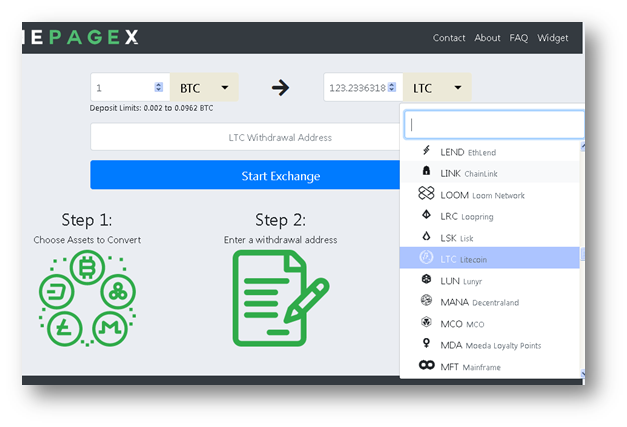 Source: OnePageExchange
b. Enter a withdrawal address.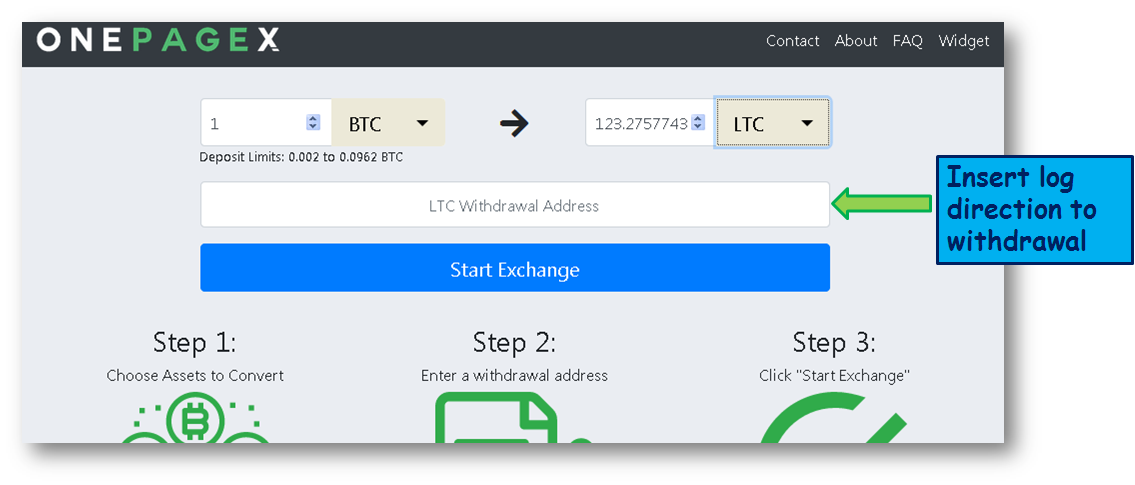 Source: OnePageExchange
c. Click "Start Exchange".
Finally, you will receive an address where you must make the deposit.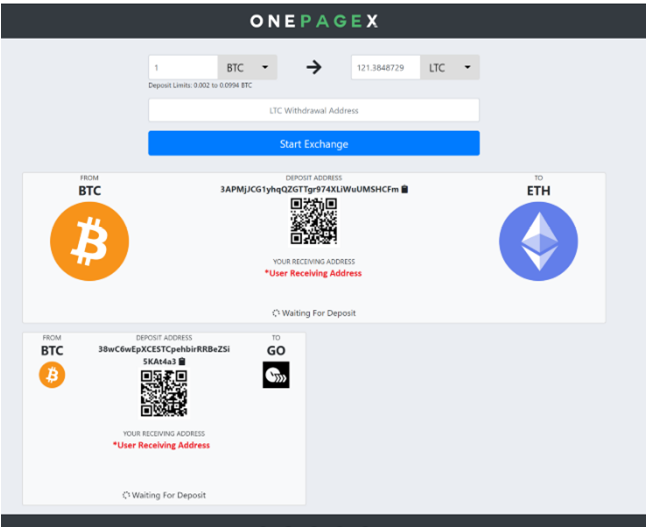 Source: OnePageX on Medium

The novelty in OnePageX is given by the absence of registration in the platform, to perform a conversion is not necessary to log in, or shit personal data as in conventional exchange houses, plus it is not necessary to connect to other pages to perform the transaction, instead, the URL generated in the conversion will be taken as a "session", in which you can enter as many times as you want to check the status of the operation. This modality offers the benefit of privacy, speed and of course simplicity, as is already known, the markets of cryptocurrencies are very fluctuating and often make a conversion at a rapid pace, OnePageX covers this need by offering the best prices and simplicity already mentioned.

As you very well mentioned in the section of the FAQ of OnePageX "the cost of operations are 0.5% plus a small additional network fee " .The time of the transaction starts from the confirmation of your deposit, however this involves several factors such as currency type, circulation in the chain between other, as you will see these causes are independent of OnePageX, however the platform Estimates an average time of 25 minutes for each transaction.

The advantages are clear with OnePageX, reducing the impact of the diversity of cryptocurrencies when making exchanges, maintaining anonymity in transactions and simplifying the complex processes of accessibility and dynamics of the active crypto. As an example we can consider the following case.
Hector is a beginner working with cryptocurrencies, after several months of learning he manages to raise money in Bitcoin, which he plans to invest buying appliances in a store that only accepts Dash as payment currency. Due to the little experience hector desists at the moment of buying, since he is not sure of dealing with Dash.

Source 1, 2 and 3
Then he knows OnePageX and realizes that he does not need to buy Dash, he does not even have a wallet with this currency, he only needs the purse address of the store and he will make the conversion directly from Bitcoin a Dash with OnePageX to make the payment. It's that simple.
---
More Information & Resources:

Contest conducted by @originalworks, for the guidelines visit the following link
Participation on twitter
OnePageX 2018
Onepagextwitter