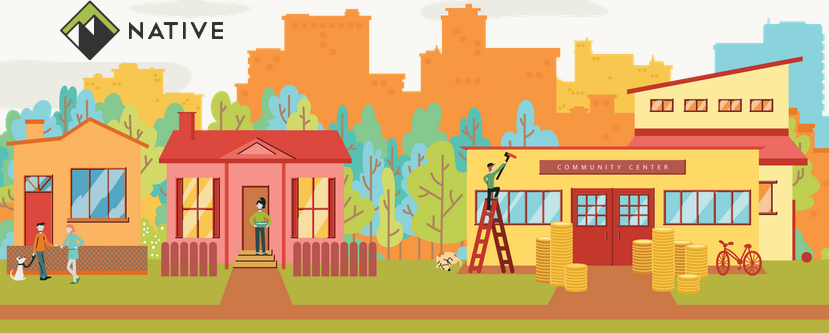 NATIVE: The Best Decentralized Blockchain And Cryptocurrencies To Build The Best And Most Prosperous Communities
I believe that currently almost no one can doubt about the great innovations that have been generated in recent years in the context of the Internet, Information Technologies and the development and sustainability of Emerging Communities; especially, with the birth of the Blockchains, the appearance of Bitcoin and later of Ethereum (with its greater novelty: the valuable Smart Contracts); causing an incessant revolutionary career throughout the world, with multiple and valuable projects and associated Communities in their beneficial environment.
In this sense, we can understand that there are many evidences of the gigantic growth and sustainability of everything related to the previously mentioned (for example: today around the world, there are more than 1,500 different Cryptocurrencies, with billions of US $ invested and millions of US $ in daily exchange).
Adding that the above is also based on the hundreds of millions of users and investors and in the more than 10,000 communities, societies and recognized companies that support, market, interact and execute great and beneficial projects, around this prodigious decentralized digital technology and greatest future.
Therefore, I must emphasize about the increasingly necessary creation of non-technical Blockchains but with innovative, ambitious, interesting and honest projects, framed in the ideal social, community, commercial and entrepreneurial self-sustainable interaction. With great support and financing, both public and private, based on the ethics of decentralization of the transaction verification process to ensure greater transparency and reliability.
In this way, the products, tokens, services, developments, projects, activities/job/professional offers and Fiat money, can be exchanged easily and safely, framed in the cryptocurrencies mentioned above; and with the evident increase in investments that will continue to occur in this cryptographic capital market.

On the other hand, I also recognize that the Blockchain technology offers us several tools that allow us to innovate to work, to store the wealth and progressive growth in scalable community ecosystems, according to our needs and of the nascent or growing community environment. In fact, it can go from the smallest to the largest schemes, and in both cases it is backed by the healthy financing of native cryptocurrencies, which are recognized within a scheme of valuation and use both local and globalized.
Of course, everything previously detailed is completely contextualized in NATIVE (https://nativeproject.one/?utm_source=steem&utm_medium=article&utm_campaign=contest), "The Best Decentralized Blockchain And Cryptocurrencies For Build The Best And Most Prosperous Communities", which has been designed to fill an immense void and offer us its potential online, monetized with its native NTV cryptocurrency with a great vision of the future and in support of those who wish to create or find communities of interest based on Blockchain, decentralization and cryptocurrencies NATIVE.
That is to say, I believe that the design characteristics of NATIVE make it very special for all those who have defined the particularities of the Community that each of us wants, regardless of the continent, country, region, state, city, town or locality of origin, and even so be a Community of virtual, mixed, multinational or multi-ethnic characteristics.
So much so, it seems to me that NATIVE has been designed and developed to offer us its powerful and reliable tools that will allow us to find or create general or specific communities, according to our needs, principles, tastes or desires and depending on the establishment of the interactive contact peer to peer with other people related to us.
Therefore, if you want to know more about what I want to say in reference to the friendly NATIVE, I invite you to continue reading the details...


Preamble With Problems And Needs
Although for some people it is not, to many other people it seems important to define: why do we want to create or find a community? Be it in our country, region or city, or beyond our borders. But, the rationally important thing is that this Community is related to our particular interests.
Therefore, our response could be based on the fact that we want to contact people who are close to us, to share interests around the Blockchain, to let us know, interact socially, give or receive philanthropic or economic support, invest or earn money, find work or workers for an undertaking or project, or for any other reason valid for each individual person.
The transcendental of this matter, is that in the way of search or creation of this Community, we usually run into many problems and obstacles; as well as, we could meet with people similar to our vision and motivations, who also have been trying for a long time what we want, but with failed, negative, complicated or hopeless results.
That is, when analyzing the current problems and needs, with respect to the non-technical Communities circumscribed within the framework of the Blockchains and Cryptocurrencies; We will most likely find that there are many factors that affect the search or creation of such Communities specific to our particular interests.
In fact, among the main setbacks observed, it is evident that there is a greater tendency of investors towards the Blockchain platforms that are created around very specific Technical Communities; but, unfortunately, non-technical Communities are not so appreciated by investors; causing problems of financing, sustainability and scalability.

A problematic example that threatens the creation and growth of non-technical communities is based on trust and credibility; which are weakened when dishonest and unethical people use the discourse of Blockchain's decentralization to promote illegitimate communities, fraud or scams.
Another obvious problem is inferred in what each one wants to be and do in a Blockchain Community and in its motivations; because there may be people who do not want to collaborate due to their negative or selfish motivations, affecting the Community as a whole and the people who do collaborate to help the Community grow.
On the other hand, the limitations in terms of the scalability of the Community associated with the Blockchain and its native cryptocurrency, can cause on the one hand an error of exaggerated issuance of tokens to be devalued and weaken the economy of the Community; or on the contrary, the overvaluation can occurs and with it the failures, delays and collapses before the massive demands of transactions with cryptocurrencies by speculative actions or by specific activities of promotion and financing.
In summary with respect to general needs, the biggest problem today is that there is no powerful Blockchain support structure that generates sufficient trust and benefits, so that non-technical communities can be created and grow, while generating their own cryptocurrencies satisfactorily.
In addition, there is no link mechanism and promotion to increase their aggregate and market values in the global concert; and without affecting the specific needs and requirements of all the members of the aforementioned Community.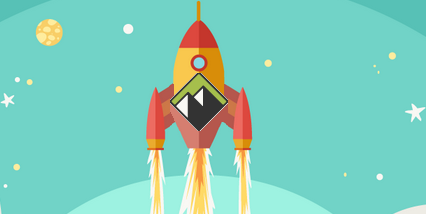 NATIVE And The Solutions
Based on solving previously detailed problems and needs, NATIVE (https://nativeproject.one/?utm_source=steem&utm_medium=article&utm_campaign=contest) was designed with its authentic and decentralized technology to become an innovative Blockchain Cryptocurrency platform that offers us a Community alternative innovative, powerful and remunerative, aligned in the common interest.
That is to say, NATIVE offers us two great solutions, such as helping us to find Communities related to our interests to join them; and support us to form and grow our own Communities.
In this sense, NATIVE bases its design, technological, commercial and benefits strategy in favoring the entry of new users and investors with common interests in a community context, and based on a platform and decentralized ecosystem, autonomous, community, reliable, fast, safe, efficient and remunerative support.
In general, with NATIVE the offered solutions are important, virtuous and remunerative, because they are based on the possibility of seeking or creating new community environments and peer to peer interactions according to our needs and interests, with a superb decentralized platform of Blockchain technology, to promote the financing and profitability of non-technical community projects.
Similarly, it is inferred that NATIVE was designed to offer Communities and users an intuitive, friendly, reliable and optimal interface to facilitate transparent decision-making with a financial component to obtain the maximum possible benefit for its articles.
Therefore, each associated Community in NATIVE will have its own control panel to offer us all the possible information and history of a project, including the assets acquired and earned.
Then, with NATIVE we can interact with different people related to our ideas, projects or needs, safely and reliably; because NATIVE offers a set of tools to avoid frauds, thefts and swindles of the dishonest and unscrupulous, who will be penalized immediately in case of any fault, illicit or abuse; to guarantee the safety, confidence and tranquility of all the members of the community.
That is, NATIVE was designed based on a fundamental structure that includes a set of decision-making tools with a tendency to value, manage, support, operate, link, finance and sustain Communities through their own local cryptocurrencies.

So much so, for the designers, the communities are the soul and the backbone of the Blockchain NATIVE; representing this structure of community pillar with each local or digital collective around the common interest of each user. In this regard, NATIVE provides simple and intuitive templates adapted to each type of needs of the Allied Communities to be as inclusive as possible.
In accordance with the problems and needs evaluated by NATIVE analysts, designers and developers, it became essential to promote several main solutions in the context of a Community protected by NATIVE:
.- To Link people with mission, vision and similar motivations, for all win + win, without fear of Scam or require traditional or complicated financial knowledge.
.- To Encourage the creation of non-technical communities with great attractive value for investors and for users.
.- To Finance by raising capital by issuing local native tokens in activity and generation, but of interest and global value. No need to require financing by traditional Fiat coin methods.
.- To Provide a simple and robust at the same time for making collective decisions, through accurate, truthful and reliable surveys, making use of the Blockchain NATIVE.
.- To Exchange peer to peer or Smart Contract values more quickly and safely.
.- To Create independent local tokens backed by a single reservation cryptocurrency to create the best possible conditions to sustain a healthier and more beneficial global ecosystem.


Best Philosophy of NATIVE
It is very evident that NATIVE (https://nativeproject.one/?utm_source=steem&utm_medium=article&utm_campaign=contest) is an innovative and valued Decentralized Blockchain, with a powerful Ecosystem of Associated Communities and backed by its own native NTV cryptocurrency, which can be derive to create native tokens for each Community.
Likewise, it is recognized that a part of the power of NATIVE is based on Ethereum (ETH), which allows the Communities to generate their own unique tokens (based on NTV and this in turn on ETH with Smart Contracts); and also, to be able to effectively and reliably manage their resources through transparent tools and polls based on their Blockchain for the efficient and appropriate collective decision-making.
Therefore, it is highlighted that NATIVE offers us its fundamental structure Blockchain to search and join or to create, value, operate and help grow Communities, allowing them to launch unique community cryptocurrencies; and in this context, the holders of the community tokens will have community membership rights, the option of activating healings and being able to carry out transactions with their tokens, guiding community decisions and votes, and of course financing and influencing community policies, activated through simple work templates.
In fact, NATIVE comes from an inspiration of Yoga from its creator/founder (Jake Vartanian: attention = value = energy); to design and develop the best platform and the best Community Blockchain Ecosystem of valuable assets; which prior to its birth has already been several years of research, design, development and gestation, to be the first native community of users, organizations, investors and Communities with values and incentives aligned with each other, to grow united by a single common cause.

Similarly, I understand that the founders of NATIVE devised a great high-tech Blockchain project whose mission is to develop a platform that allows communities to prosper, scale and self-sustain with confidence and honesty; and allowing people to be motivated in the things that matter most to them, to maximize their attention, value and energy and consequently direct their efficient production, together with the value, progress and remunerative benefit of all the participants within the Communities.
With regard to the future vision of NATIVE, the provision of real earnings is detailed, starting with the virtual world in NATIVE to make it tangible with the tokens obtained by the activities developed by the users within the Communities; meaning NATIVE an ideal organization that helps to create an excellent operating environment for the integration of users in the Communities, for their particular benefit, community cooperative and all their environment in general.
In addition, the role of NATIVE as an education-oriented Ecosystem is instrumented and facilitated with its valuable tools to activate and learn in the community environment and to provide satisfactory solutions to all the problems that appear in the path of growth, with the guide to strengthen the teaching/learning scheme that improves the quality of life of the people committed to the communities and with NATIVE.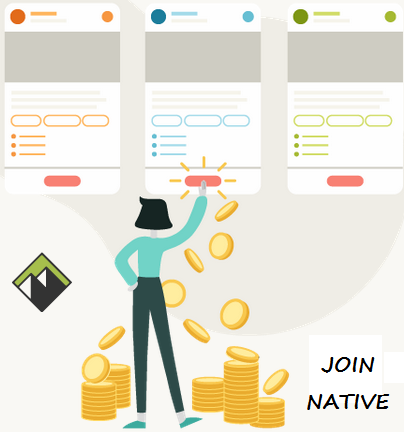 How To Use Native Platform?
Based on the excellent properties of NATIVE (https://nativeproject.one/?utm_source=steem&utm_medium=article&utm_campaign=contest) and its great potential to search and build prosperous communities with an intuitive interface, it will be the point of support to quickly become a brilliant ecosystem recognized, massive, ideal and beneficial.
In fact, to improve its mission, the NATIVE platform has successfully launched its Alpha system on Mainnet, to offer all users the ability to acquire NATIVE tokens (NTV) quickly, safely and in real time; which immediately grants the option to join and interact in any of the pilot Communities on the platform and immediately start earning more tokens.
Basically, all we need is love to start interacting on the NATIVE Platform, to have a small Metamask portfolio, have something of ETH and have a true common or related interest in any of NATIVE's founding communities. To interact with the other members of the communities of interest, to do the community support and growth tasks and begin to be rewarded for such activities.
On the other hand, one of the great advantages of NATIVE Platform is that it is currently fully compatible with the Brave and Cipher browsers, to give a special touch to privacy, power, sobriety and security, also in use to join to discover communities and to create Communities of interest.
That is to say, with the NATIVE tools the possibilities of finding one or more Communities in which we could be interested and facilitated to join with the speed and simplicity that only NATIVE can offer us and to that extent the process of support to the Community through the purchase of their tokens and the performance of simple remunerative tasks. In addition, our direct contribution will be evaluated rationally in the development of the community through our daily activities and our upvotes.
It is important to highlight that once the tokens are acquired, with NATIVE Platform we can track the value of them; and while we decide our functions within the communities that we just entered or try to discover or to build new Communities or to build in the context of a particular Community, we could also operate in exchange, because we can buy and sell tokens with total freedom.

So, What do we expect? I think, we try NATIVE now (https://app.nativeproject.one/?utm_source=steem&utm_medium=article&utm_campaign=contest). The best way to do it is by following the steps that are detailed below:
.- STEP ONE: To join, search and find related communities with us and our ideas. By finding the desired Community, we then empower ourselves with the collective dreams of the communities built on the NATIVE platform. That is, the first step is to explore what NATIVE offers and when finding what we are looking for, it is best to join the Communities aligned with the things that interest us and with love, to putting our money and investment where our heart is.
.- STEP TWO: To participate, choose, build, fund and work on community projects and to donate our skills. If we have got tokens, we are part of the some Community, and we can to participate in building the community, to fund relevant projects and earn more cryptocurrecies by doing tasks.
.- STEP THREE: To thrive, grow and help our community realize its vision. Because the value of the community is derived from its growth and success. Therefore, we must create and support projects with these actions. And one of the main characteristics that Native offers to grow self-sustaining is by own decision of which projects of our community we consider are important to support because our votes are very important and values.
.- STEP FOUR: To claim Tasks and to earn Money by help shape and grow our community by voting on important topics. When we complete tasks for our community, the overall value of the community goes up and we get paid in community tokens for each task we complete.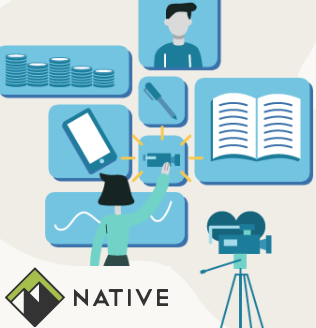 NATIVE: Main Characteristics
I must admit that due to the natural potential of NATIVE (https://nativeproject.one/?utm_source=steem&utm_medium=article&utm_campaign=contest), with its operations and transactions design, it has the following main characteristics:
.- Community with non-technical, decentralized orientation , honest, safe, reliable, efficient, fast, scalable, and of great support for community growth in any part of the world.
.- It has native and unique Tokens, its main one is the NTV and from there a particular one is generated for each community created in NATIVE; being cryptocurrencies that grant membership, and the option of assisting with resources for the community or to use them as an exchange currency within the community.
.- It has quick Surveys, so that the members of the Communities can vote and thus contribute with their comments to the development, growth and effective improvement of the community.
.- It is oriented in Projects, for which the members of the Communities can vote or decide to support the projects of the Community to which they belong.
.- To offer good rewards with the realization of simple tasks that all members can complete at any time, to win community tokens and obtain a high benefit from their investments of time and money.
.- It has a set of excellent tools and templates for decision making; It easily adapts to different types of needs of users and communities.
.- It focuses on social interaction group of people who have common interests to work together, meet the proposed objectives, grow and win together.
.- Each community has its own currency, which gives opportunity to create a new common social space to share; also, a purpose to allow communities to realize the intrinsic value that is given; and Human Flourishing, by providing communities with the tools they need to thrive.

Components and Benefits of NATIVE
The main components and benefits offered by NATIVE (https://nativeproject.one/?utm_source=steem&utm_medium=article&utm_campaign=contest) are based on security, honesty, support, scalability, reliability and real and decentralized monetary profitability based on Blockchain and cryptographic technology.
Because Native is a platform designed to help communities generate their own unique tokens and manage them in the most efficient way possible through the excellent tools they offer for collective decision making; for which reason it also trains and contributes so that the communities increase their value towards a global economy and in function of the community prosperity. Therefore, among the main benefits we have:
.- The collection of a large capital for community projects through the issuance of own tokens.
.- The best tools and accurate information to make the best decisions within the platform.
.- The ability to exchange value within the Blockchain Native and in a global market framework.
.- The real power of Bancor's decentralized liquidity network.
.- The substitution of traditional forms of collective financing.
.- The construction of prosperous communities.


Simply NATIVE Is The Best
It is evident that with its excellent properties and benefits, NATIVE (https://nativeproject.one/?utm_source=steem&utm_medium=article&utm_campaign=contest) and its great potential, will quickly become a massive and beneficial Community support ecosystem, with an economy self-sustainable and progressive real growth; and its high profitability, will surely attract more users and investors. Therefore, it will obviously lead to the progressive increase in liquidity and greater benefits of your platform and your NTV token.
Because NATIVE is designed to focus on building collaborative communities of leaders, entrepreneurs, decision makers of their own and with global influence. Offering great benefits, which makes it attractive to attract users from anywhere in the world; to add great experiences and strengthen happy users to be NATIVE.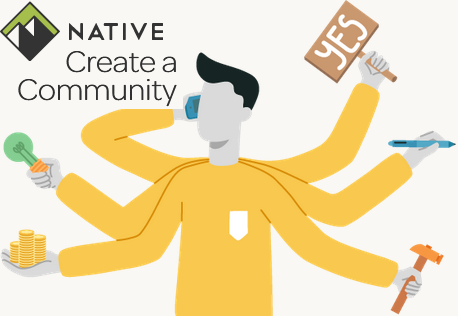 NATIVE First Communities
According to NATIVE Platform (https://app.nativeproject.one/?utm_source=steem&utm_medium=article&utm_campaign=contest) and NATIVE Website (https://nativeproject.one/?utm_source=steem&utm_medium=article&utm_campaign=contest); The First Communities launched are 6 as "Pilot Communities":
.- Earth Guardians: is a large non-profit organization based in Colorado, which promotes young people in programs to empower and raise their voice in protest based on environmental justice.
.- Imaginal Films: is a valuable community of conscious and reflective filmgoers, composed of filmmakers, viewers and financiers gathered in a digital ecosystem to collectively develop, produce and distribute good films that meet their specific community objectives.
.- SDG Futures: is a working group based on blockchains and decentralized communities and distributed to promote compliance with the Sustainable Development Goals (SDG) of the United Nations.
.- Peace Accelerators: is an excellent non-profit organization based in New York, committed to accelerate the spread of world peace using a community, technological and futuristic perspective, to design and provide solutions to promote the improvement of humanity.
.- DOLO: is a spontaneous organization of open and decentralized learning that aims to promote a better future of intelligent education more open, pedagogical, dynamic, satisfactory and interactive for all concerned.
.- Rick & Morty Crew: is a strange and friendly group of entrepreneurial fanatics committed to letting themselves be carried away by all those irreverent things that exist in their particular world.


NATIVE Users
The Curators: they are the natural administrators and in most cases the creators of the NATIVE communities; therefore they are considered to have the deepest knowledge of the overall vision of the community they have created. Therefore, they represent the quality filter to ensure that only beneficial content is added for other members to see and vote. that is, the Curators are authorized to approve or reject the bad or insipid jobs created by dishonest members within the community.
The Members: they are the users that can join multiple communities due to the interests and particular objectives that have similarities. By acquiring the Community Tokens, they have the Membership that gives them certain rights, such as voting for the work done by other members and also making decisions regarding the use of capital and the direction of the community. In the same way, in special cases they can replace the Curators.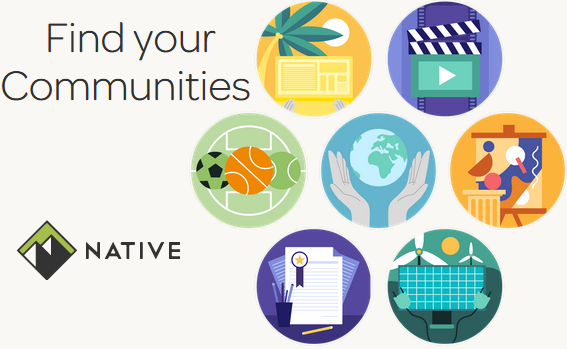 NATIVE Token
The self-sustainability and benefits of NATIVE's economy and ecosystem (https://nativeproject.one/?utm_source=steem&utm_medium=article&utm_campaign=contest) are based on its cryptocurrency called NTV, based on Ethereum with an excellent protocol of cryptography and special functions that securely and reliably safeguard the accounts and data of users and communities. With NTV, NATIVE allows its members to make their personal and collective decisions to create a local and global impact on their community environment.
Therefore, NATIVE based on Ethereum, relied on ETH to create its native NTV cryptocurrency, dispose through a wallet called MetaMask.
Because NATIVE is a virtual and decentralized platform that allows creating other unique and unique tokens for each specific Community; and with this, digital assets can be negotiated between them and the real world, based on honesty and community development to obtain the benefits of real rewards, in synergy with the work of other members of the community for better performance and benefit of the NTV cryptocurrency.
This allows users to exchange tokens at a fair and transparent price within the NATIVE market to interact with the community to which they belong and offer liquidity immediately to the aforementioned Community.
In particular NATIVE allows the funds sent to a token contract which are divided to create new tokens and can be observed through the resource fund for community expenditure or the Smart Token Converter or the Bancoring Converter or the account balance or the Direct value addition of this provides the existing token.
If we want to earn extra NTV tokens? The Catered Content (https://cateredcontent.com/) is running a Native writing event for Medium and Reddit. Please, feel free to participate their as well to earn NTV tokens! The prize pool is 1,500 NTV (~500USD) on CateredContent.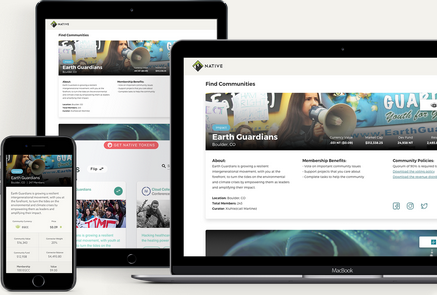 NATIVE: Technical and Economic Details
In technical and economic terms, NATIVE represents a great opportunity for all emerging communities that need a solid financial structure. Because Native allows you to create your own structure, with your own financing currency and with many essential tools to make the appropriate majority decisions.
That is, any community with a clear functional and real objective in common can make use of Native. This requires activating a Metamask wallet, buying some ETH, some NTV tokens and using the Brave or Cipher browsers. Also, install the Metamask extension in Google Chrome.


NATIVE: Use Cases
Somewhere on the planet, Lois wants to be part of a community that shares her ecological passion for nature. A friend told him that there is a community with the features described by him, on the NATIVE platform. Lois immediately enrolls, enters, activates a Metamask wallet, buys something from ETH and several NTV tokens. He use the Cipher browsers and install the Metamask extension in Google Chrome and almost immediately join this community successfully.
Thanks to NATIVE, now Lois is part of the community and of the ecological process of aid and global decision making pursued by the group in defense of nature. Today Lois has been in contact with the group and has proposed his idea to organize an international event to discuss with all the members of the community around the ecology and the protection of nature.


NATIVE RoadMap And Timeline
The following is the work plan and the NATIVE timeline (https://nativeproject.one/?utm_source=steem&utm_medium=article&utm_campaign=contest), structured with the most important points for the project; with what is expected to have a wide scope for its objectives.


NATIVE TEAM
It is highlighted that NATIVE (https://nativeproject.one/?utm_source=steem&utm_medium=article&utm_campaign=contest) was founded by Jake Vartanian, a very influential character in the world of cryptocurrencies (founder of Cryptodex: recognized consulting firm specialized in launches of tokens). Jake's experience in advising projects of communities with healthy and prosperous oriented cryptocurrencies is important as it is directed towards NATIVE. And Robert Swann (community cryptocurrency visionary) stimulated Jake in this regard.
Definitely, the NATIVE TEAM which is presented below is the basis of Community innovation in Blockchain in the decentralized virtual space, with the novelty of NATIVE and the details previously exposed.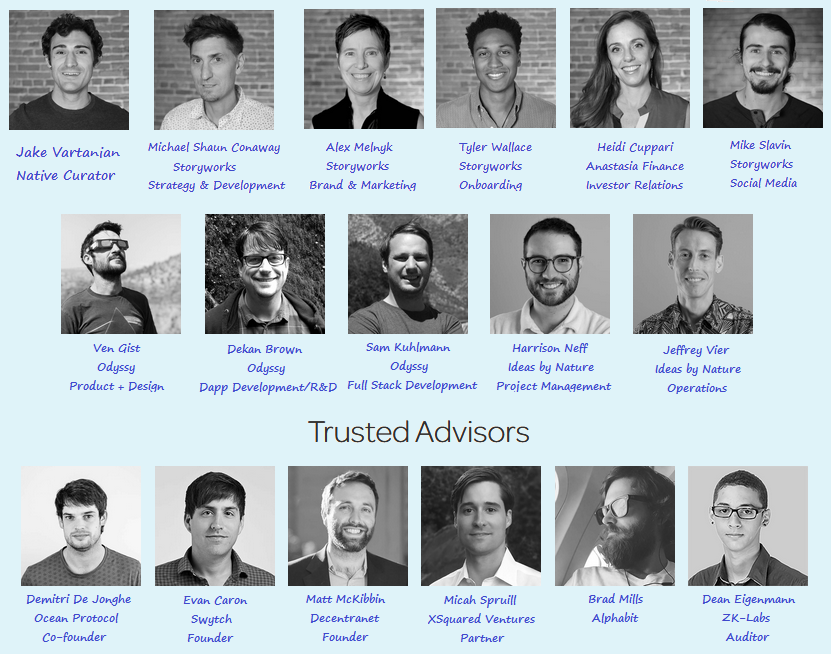 NATIVE: Conclusion & More Information And Resources
In conclusion, NATIVE (https://nativeproject.one/?utm_source=steem&utm_medium=article&utm_campaign=contest) is the platform and community ecosystem of the future, because it is designed and developed to become a unique and powerful decentralized community block chain, which connects people who have a common interest.
For example, this platform can become a great means to sensitize humanity about the damage done to nature and its environment... Please Watch this video that talks about the Native vision:

NATIVE Platform:
NATIVE Website:
NATIVE WhitePaper:
NATIVE Medium:
NATIVE Telegram:
NATIVE Twitter:
NATIVE Facebook:
NATIVE Reddit:
NATIVE YouTube:

ORIGINAL WORKS (@originalworks) & NATIVE Contest:

Images Source (Edited):
&
&

native2018
crypto blockchain originalworks contest native2018