XAYA: Ultimate Decentralized Blockchain And Cryptocurrency Gaming Platform
I believe that from the very moment that Bitcoin was born, the Blockchain and all the technology of today, associated with this digital world, there was a rapid race of technological revolution all over the world, with innumerable and valuable projects oriented towards the great visions of the future
In fact, you can verify the enormous growth of everything related to Cryptocurrencies, Blockchains and their uses and benefits; evidenced in the current existence exceeding 1,600 different Cryptocurrencies that recognize global statistics; in addition, of the millions of users and investors that support and market this innovative decentralized digital technology.
That is to say, the establishment of an autonomous and decentralized giant "cloud" is evident, made up of thousands of network nodes, for the creation of many ambitious possibilities and projects; such as the synergy that can be achieved by combining the world of video games with this complex cryptographic world; and all framed in an exchange of products, services, developments, entertainment, lots of fun and money, based on cryptocurrencies.
In the referred field, it is emphasized that this great autonomous and decentralized "cloud" offers us the opportunity to work, play, have fun, entertain, develop applications, mining and earn money in human interest, shared and in a magical virtual environment; in which we can program or create games or elements of virtual games, monetized, negotiable and convertible into income for the mutual benefit of both the developer and the gamer.
In this context, I have analyzed that in less time and using less resources than usually necessary use, we can also have or develop good tools for the Gaming world. Of course, I'm talking about this is only possible in the XAYA environment (https://xaya.io/), the ultimate decentralized Blockchain and Cryptocurrency Gaming Platform, which was born to fill a gap as the definitive solution for everything related with online videogames monetized with its CHI cryptocurrency of great value, stable and with good vision towards the future.


Preamble With Some Problems And Needs
If we make a brief analysis of current problems and needs, in the interesting world of videogames and in the framework of Blockchains and Cryptocurrencies technologies, both from the point of view of users and gamers, as well as from the point of view of developers; surely we will find there are many factors that tend to affect the entry of new users, developers and investors, as well as a greater development of better, more innovative, fun and complex games.
In fact, among the main problems and needs detected in this environment, it is noted there are many decentralized Blockchain platforms that are used for the storage of assets, but unfortunately the games run on centralized servers; which usually cause the problem that the referred game servers close, collapse or for some connectivity reason the game ends or loses and the assets won immediately disappear.
As an example, there is a very typical problem that usually occurs in centralized gaming platforms when an irritant or bipolar player maliciously ruins the game of others when he start scenarios and games disputes; and then, suddenly he finish the game to annoy other honest players, which makes them lose time and even the possible gains and valuable objects obtained during their development and progress of reached levels.
On the other hand, the problem and necessity is presented in the context of the developer, in terms of the time and cost of investments that he must be made in order to develop the idea of a videogame; because he must always start from scratch to be able to shape and promote his intended concept of game.
In addition, there is a combined need for player-developer, because the former requires more fun, more complex novelties and at the same time more friendly games; while the second must satisfy the referred games demanded; but, in both cases, the time factor should not be wasted because it is a very valuable resource in every way. The problem is complicated because then the developments tend to be less innovative and usually do not reach or do not satisfy the general public.
Another obvious problem lies in the scalability of Blockchains and cryptocurrencies, in real time as a natural necessity for players who obtain monetary benefits in their games; this situation has not been solved by the majority of the blockchains that currently exist, which causes problems of delays and collapses in the face of the massive demands of transactions with cryptocurrencies, such as those that would be made in the course of a massive game.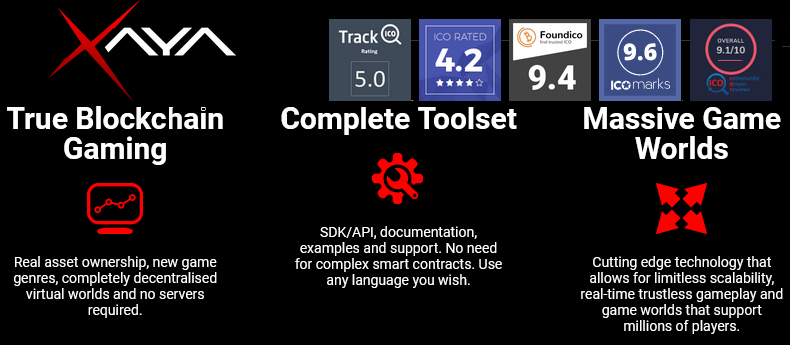 XAYA: The Solution...
In this context, we have XAYA (https://xaya.io/) and its revolutionary decentralized technology, which has been designed, programmed and developed, to become an innovative Cryptocurrency and Blockchain platform that can solve the problems and needs mentioned above; because it offers a truly new and powerful alternative in the environment of monetized videogames.
In this sense, XAYA bases its technological and commercial strategy on encouraging the entry of new users, developers and investors, as well as achieving a greater development of new and better games, more innovative, fun, complex and friendly at the same time; with the privilege of being a decentralized, autonomous, faster, secure, efficient, profitable, competitive and beneficial gaming platform, with respect to other systems currently in existence.
Therefore, XAYA is a decentralized reality that solves the joint problem of asset storage and execution of games in a completely decentralized, autonomous way with Blockchain technology, to eliminate definitively the problem of collapse or closure of game servers or the failures of connectivity; to prevent the assets gained from being lost or disappearing for those reasons.
So much so, that XAYA has completely eliminated the problem of malicious, irritating or bipolar gamers, who by abandoning for any reason the game they started, will not affect the aforementioned game or the players, who will continue to participate in it; avoiding the loss of time and the possible gains and valuable objects obtained during their development and progress in the game in question.
In fact, XAYA is the future innovator and a reality of great benefits in the world of games, Blockchain and cryptocurrencies; and this is evident in the solution found for the previous problem, consisting of the ephemeral time stamps that XAYA establishes in its processes; because the nodes can send time-stamped data through the blockchain and are then released so that the PoW miners/gamers in the game can still process these timestamps and use them to prove that the malicious player who withdrew did not act according to the rules of the game channel; then, XAYA pays the honest player on the spot and covers the cost of the last recorded time stamp.
It is noteworthy that the XAYA solutions in the context of the gamer are based on good and functional features framed in speed and reliability, with minimal time-to-activity scheme to be probably very dynamic and fair, ensuring virtual ownership of assets and interaction with social networks, while having a decentralized, autonomous and simple game application launcher; in addition to an easy system of exchange and conversion between virtual assets and real-world assets, in a friendly environment with accounts and addresses of wallets easily readable and manageable by humans.
On the other hand, XAYA guarantees developers the reduction to their minimum expression of the time and the cost of the investments they must needs to implement the idea of a novel video game, establishing a more functional entry point and with fewer resources required for development of the idea about the referred game. In fact, XAYA ensures the best tools so that developers can focus on programming and developing their ideas freely.
At this point, XAYA reaffirms its willingness to support developers, offering them the possibility of creating their own tokens for their benefit and financing for the creation of decentralized games in any state of the art within their environment, oriented in the compactability and disposition of a reliable gaming engine; besides allowing an almost unlimited, safe, fast and best access to excellent pre-built libraries, combined with the best and easiest payment and management options, which allows the disposition of exportable and ideally manageable game engine templates; and the potential to have the access of a gigantic group of thousands or millions of gamers/users that can be loyal to the specific games created by the aforementioned developers.
Regarding the combined need of both the gamer and the developer, Xaya offers us more fun, new and friendly games; because it focuses on helping the developer to satisfy the games that users demand and without losing our valuable time. In this sense, XAYA favors the balance of benefits between the gamer and the developer to satisfy everyone as the winners in this ecosystem and with its CHI cryptocurrency.
Similarly, XAYA has solved the problem of the scalability of Blockchains and cryptocurrencies, in real time, with great speed in its transactions, without delays or collapse in the face of the massive demands of operations with cryptocurrencies, and regardless of whether different games are running massive. The problem of safe and reliable escalation has been solved in the Xaya platform through the game channels and ephemeral timestamps, which register movements in private side chains, with digital signatures and cryptographic hash chain structures that ensure the fidelity of the movements without option to be reversed and to avoid fraud.
In general, the solutions offered by XAYA are essential and virtuous because it foster the possibility of creating new virtual environments very flexible multiplayer games, based on the experience that the Team XAYA has with Huntercoin and Namecoin. That is, XAYA maintains a spectacular decentralized and autonomous platform based on Blockchain technology, to promote equitable ownership with secure exchanges in a profitable environment for gamers and developers.


Philosophy of XAYA
In the first place, it is evident that XAYA (https://xaya.io/) is a new generation of online games with a lot of value, decentralized, autonomous and based on the self-sustaining ecosystem with its own native cryptocurrency (CHI). Then, XAYA is the first and ultimate decentralized Blockchain and Cryptocurrency gaming platform.
That is, XAYA is the best Blockchain Games Platform that was born after many years of research, design, development and testing in the world of online games and in the Blockchain environment; to become now an ecosystem of assets and games executed in a completely autonomous, decentralized, fast, friendly, safe and reliable way.
In this context, I understand that XAYA is a new high-tech project whose mission is to be the best and safest, fastest, scalable, equitable, profitable, beneficial and reliable human mining protocol (Proof of Work: PoW), focused on videogames, for satisfaction of the players, developers and investors of Blockchain and Cryptocurrencies.
On the other hand, I believe that the vision of the designers and programmers of XAYA has been based on building a platform that really becomes the best blockchain of gaming, because it is the most powerful, successful, scalable, equitable and reliable. In this vision of the future of XAYA, the provision of extension of the payment channels in Bitcoin is observed for the gains obtained with the games in XAYA, may be applicable outside the chain, to be a total global scale; with which it can guarantee that global multiplayer games in real time are possible, along with real gains, starting with the virtual world in XAYA.
In an equivalent way, an important part of the mission, vision and action of XAYA, is emphasized in having a decentralized, autonomous, flexible, equitable and safe system to protect the player from all points of view. In addition to updating the concept of good market beneficial for developers, and the promotion of fair play for players and without loss of time or of gains or values; because it focuses on protecting the ownership of assets, the conversion of virtual value into real for the players and the greater profits for the developers.
I must reiterate that the interesting experiences and principles of the XAYA team are located in the knowledge acquired for many years with Namecoin and Huntercoin; experiences that have served as a fundamental support for the creation of XAYA; and on that basis, XAYA implements the use of accounts and assets of truly tradable games, with an innovative system that allows ownership of the virtual values obtained in the game can be traced easily and safely, to ensure that all transactions they are carried out with confidence, honestly and really, without problems, or frauds and avoiding losses.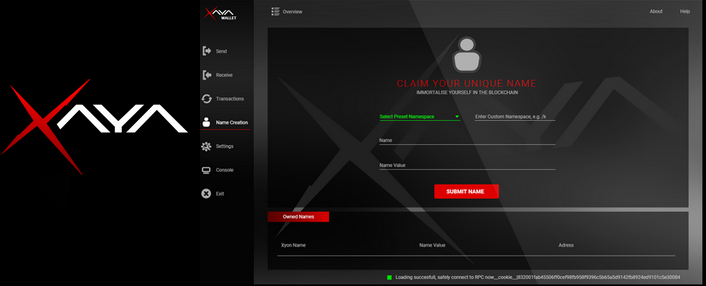 Simply XAYA Is The Best...
With such excellent properties, XAYA (https://xaya.io/) and its great potential, will quickly become a massive and beneficial ecosystem of games with self-sustainable economy and in real progressive growth; because with all its profitable benefits, easily extracted from the virtual world to the real world, it will surely attract more users, gamers, developers and investors. Therefore, it will obviously lead to the progressive increase of liquidity and greater benefits of its platform and token.
In this sense, it can be said that XAYA is an innovative and cryptographic gaming platform that combines the gaming channels with the speed, security, autonomy, stability, scalability, profitability and reliability of the decentralized Blockchain systems, to position itself in a level privileged to fill the gap and make itself the world of games monetized by human mining PoW.
Likewise, it is evident that XAYA allows, supports, promotes and finances the development and presentation in the world market of good multiplayer, interesting, novel and friendly virtual games; hosted in a decentralized manner and without the need for servers, to reduce both the time required for the aforementioned developments and the time it takes the games to pass from one concept to another; which implies a reduction in the financial burdens of management, design, programming, infrastructure, development, administration, testing, marketing, computing and advertising.

XAYA: Main Characteristics
First of all, I must understand that due to the natural potential of XAYA (https://xaya.io/) and its transactions, to be the ultimate blockchain gaming platform; then, it has as main characteristics: to be decentralized, safe, reliable, fast, autonomous, independent, scalable, without direct interactions and without servers.
Therefore, developers can gain momentum, progress and create good games quickly; and so gamers benefit directly by playing those games and earning real values and money; to radically change the gaming industry, the vision of the cryptocurrency allowed for human mining (PoW) in blockchain and the benefit of millions-dollar market capitalization.
In the same way, the format and characteristics of Huntercoin and Namecoin have been inherited and applied to the resources of the Xaya ecosystem, granting its good characteristics of guarantee of profitability, and the saving of time both for the development and for the implementation and reproduction of the same video game; for being an equitable, democratic, fair and honest platform for the development of games; to be able to play and win gaming experience and cryptocurrencies, with reliable and fraud-proof transactions.
Likewise, they acquired the main features and benefits of many popular games, which have been received with alliances made with recognized and overcrowded games, such as Soccer Manager and Treat Fighters; which have joined XAYA to attract a large base of experienced users and gamers, which will encourage greater use and increase in the value of the CHI cryptocurrency, increasing its value. In addition, it will boost the entry of new developers, attracted by the greater opportunities for their games to be seen, played and generate higher revenues.
In summary, other main features are: Scalable, No Servers, Safe Trading, MMO, Real Ownership, Easy Development, Proven Secure and Provably Fair.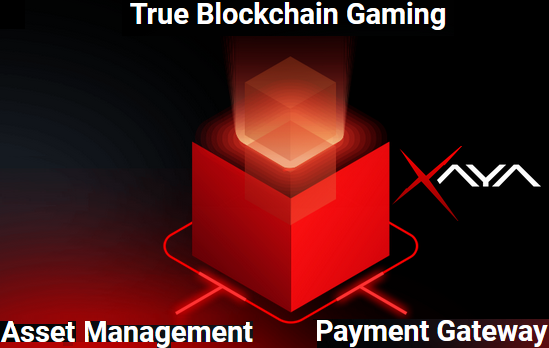 Components and Benefits of XAYA
Among the main components and benefits offered by XAYA (https://xaya.io/) are security, autonomy, scalability, reliability, equity and real monetary profitability; because XAYA is decentralized on the basis of Blockchain and cryptographic technology.
In this context, gamers can obtain tangible benefits in the real world, which will be obtained as a product of human mining in PoW and the achievements of gamers in the wonderful universe of virtual games with real transactions in the XAYA ecosystem.
In other words, XAYA supports and uses all the benefits that the Blockchain provides for its online gaming schemes; for example, the consensus to avoid cheating and achieve demonstrable and honest gameplay; allowing with CHI cryptocurrency the exchange of elements, coins, accounts and other things obtained during the execution of the complete game, to guarantee its growth and revaluation.
Also, XAYA offers us the components and benefits of gaming channels, to enable games and unlimited transactions, in real time and in the blockchain; associated with ephemeral timestamps to resolve disputes in the game and in transactions (Merkle Hash Commitments), which will result in incentives for human mining, avoid fraud and at low transaction costs.
On the other hand, both for developers and players, the benefits of games played on the XAYA platform are obtained by monetizing through flat rates, advertisements that will appear during the game, the issuance and sale of cryptocurrencies and values related to games, and the achievement of higher levels and gaming experiences.
It is noteworthy that for the same reasons, components and previous benefits, the XAYA rewards well will be almost unlimited, so that developers can earn a lot of money for their products and gamers can play without problems or limitations in human mining PoW, through activities and their progress in games; because XAYA will generate a lot of income through the development of games, advertisements and sales of specific elements in each game and for the benefit of all.
In short, according to the XAYA website (https://xaya.io/), its components and benefits are oriented in three main aspects:
.- "True Blockchain Gaming: Real asset ownership, new game genres, completely decentralised virtual worlds and no servers required."
.- "Complete Toolset: SDK/API, documentation, examples and support. No need for complex smart contracts. Use any language you wish."
.- "Massive Game Worlds: Cutting edge technology that allows for limitless scalability, real-time trustless gameplay and game worlds that support millions of players."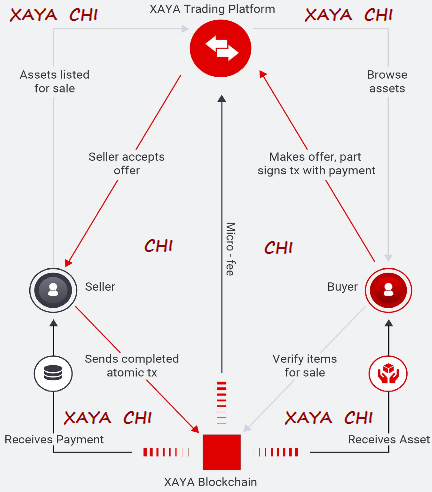 XAYA Token
The self-sustaining and monetary benefit engine of the economy and ecosystem of XAYA (https://xaya.io/) is a cryptocurrency called CHI, whose encryption is protected by the Proof of Work (PoW); and in accordance with the design of XAYA, possession of CHI is required for all internal activities, transactions, developments and games. In fact, CHI is based on an excellent protocol cryptography PoW and special features that securely and reliably safeguard gamers' accounts and the data of all games and plays made.
It should be noted that the CHI cryptocurrencies will increase their value when the estimated balance level is reached and this will be achieved when many users play and carry out many transactions in a certain period of time that motivates a high speed of movement of digital and real money in the environment of XAYA.
Because XAYA is a virtual and decentralized platform to negotiate digital assets towards the real world, which is based on honesty, equity, justice and democracy in the development of the game and to obtain the real benefits; in synergy with the work of the developers so that their games are played massively, for a better and better performance and benefit of the CHI cryptocurrency.
In this context, it can be deepened considering that XAYA is a blockchain platform with its native CHI cryptocurrency for human mining and the trade and exchange of elements, scenarios and virtual games. Therefore, the ecosystem needs to be massified, because as more users enter and play the online games and the developers generate more interesting games, the direct and positive consequence is that CHI will increase its demand and its value.
For this and other more beneficial reasons in the near future, it is why the XAYA team recommends buying the Chi tokens (currently available approximately 116,000,000), to later play, mining and win more cryptocurrencies. The main sale of the CHI of XAYA is currently live and this promotional sale of tokens will last for 5 weeks starting on September 7.


XAYA: Games and Technical Details
The life and engine of XAYA (https://xaya.io/) are the videogames, analyzed based on its design, development, implementation and the fact that the gaming industry generates more than 100,000,000,000 US $ annually, with an annual growth rate of over 5% and with guarantees that this market will continue to expand.
The technical and commercial design of XAYA for its games is divided into two main categories "Free" and "Payment". The "Free" games will generate income through advertisements during its execution; while for the "Payment" games it is required to pay a fee to enter or manage, obtain tools, skills and for the passage of levels, among other possibilities.
In this regard, games compatible and supported by the XAYA platform, and of course those that a developer has options to create are focused on classic games, collectible card games, sports games, real-time strategy games, racing games, online multiplayer battle games, turn-based and solitaire games.
As an example, XAYA already plans to launch two valuable games: Treat Fighters, which is a game to build fighters and compete against others in battles of fights. And Soccer Manager which is a very popular game of soccer team management.


XAYA: Use Cases
Somewhere on the planet, John is tired of playing and wasting time with many video games that run on centralized servers and can not earn any real money, and he has even used some decentralized Blockchain platforms, which are only available for storage of assets, games continue to run on centralized servers; leaving John with the unpleasant taste that every time he reaches a certain level of play and believes that he has earned some money or cryptocurrencies, the game servers suddenly close, collapse or become offline, the game is over and immediately disappear the assets he has won during the game.
Very tired and disappointed to lose his valuable time, John does not want to know anything more about online games; but, as a light of hope, a friend recommended him to enter XAYA; and for the friendship and the curiosity, he again decided to try his luck and in a satisfactory way, John now obtains big profits and good experiences with his favorite videogames and with the cryptocurrency CHI of XAYA. Now John considers himself an excellent Gamer and earns a lot of money playing, thanks to XAYA.
Elsewhere in the world, Mary has made a careful analysis of the different Blockchains and Cryptocurrencies; One day, she decided to enter XAYA because of the good recommendation she read in the @originalworks contest, and so she decided to try her luck developing her own game in the XAYA environment. Satisfactorily, since that day Mary was supported by the XAYA team and has obtained very good profits because her game is very visited and played; in addition, their exchanges of cryptocurrencies by fiat have made Mary improve her life and she was even able to buy a house, thanks to XAYA.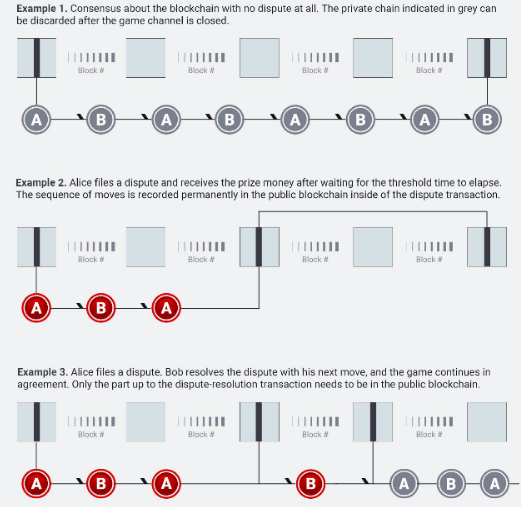 XAYA RoadMap And Timeline
The following is a diagram of the work plan and the XAYA timeline, which is structured with the most important bookmark points for the project, in logical and direct phases of aggregates of tools, products and services for developers and players. ; with which it is expected to have a wider reach in the video game industry.


XAYA TEAM
The XAYA team presented below is always looking for innovation in the Blockchain, first with Huntercoin, as the first multiplayer game built in Blockchain, within the decentralized space and in the human crypto-mining format. Now he presents his latest and greatest innovation with XAYA and the details previously exposed.


XAYA: Conclusion & More Information And Resources
In Conclusion, I reiterate that XAYA (https://xaya.io/) is planned, designed and developed to become a unique and powerful decentralized blockchain technological gaming system; in which players will have real ownership and autonomy of their online assets and share the potential for profit from the games that the developers have created.
In an equivalent way, the XAYA team is based on world statistics to guarantee profits with this platform and to demonstrate that during the last years there has been a great monthly increase of users, players, developers and income in the games without being a loss of time and that the development of the Xaya platform is an economy waiting to emerge; with the assurance that everyone feels valued within the ecosystem so that players spend more time playing and winning.
To finish, XAYA is the Ultimate Decentralized Blockchain And Cryptocurrency Gaming Platform, and if you require more information, please watch the video and follow the links presented below:

XAYA Website:
XAYA WhitePaper:
XAYA Bitcointalk:
XAYA Medium:
XAYA Telegram:
XAYA Twitter:
XAYA Facebook:
XAYA Reddit:
XAYA Linkedin:

ORIGINAL WORKS (@originalworks) & XAYA Contest:

Images Source (Edited): https://xaya.io/ & https://xaya.io/downloads/XAYA_White_Paper.pdf

xaya2018