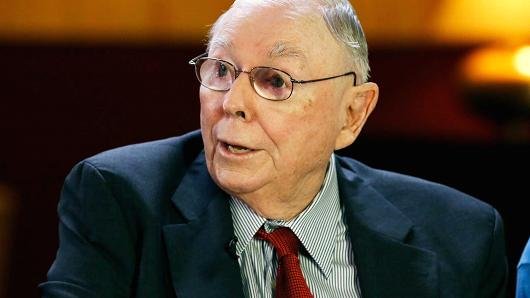 Image credit
Well, one of the most vocal cryptocurrency haters who happens to be VP of Berkshire's ( above 90yrs) is at it again. According to a report by David A. Grogan of CNBC as captured below -sic-
Berkshire Hathaway Vice Chairman Charlie Munger went after bitcoin again on Monday, doubling down on remarks he made about the digital currency over the weekend.
In his own words-
"Bitcoin is worthless, artificial gold," Munger told CNBC's "Squawk Box." "Now that is not something I think the world needs."
"The fact that its clever computer science doesn't mean it should be widely used, and that respectable people should encourage other people to speculate on it," he said. "Bitcoin reminds me of Oscar Wilde's definition of fox hunting: 'The pursuit of the uneatable by the unspeakable.'"
More so,
Munger went after the popular cryptocurrency at the Berkshire Hathaway annual meeting on Saturday, calling it a "turd," adding that trading cryptocurrencies are "just dementia."
Also
His partner, Warren Buffett, also commented negatively on bitcoin on Monday, saying it is an asset that does not create anything.
Source link
In the same vein, Maryan Manzoor of Crytovest reported that;
In an interview with Yahoo Finance, Munger claimed that while the "computer science" behind cryptocurrencies such as Bitcoin is "a great triumph of the human mind", Bitcoin itself is nothing more than "an artificial speculative medium" devoid of intrinsic value.
Bitcoin is "anti-social, stupid and immoral", said Munger.
Furthermore,
When questioned about his claim that Bitcoin is immoral, Munger elaborated in his own words:
"Suppose you could make a lot of money trading freshly harvested baby brains. Would you do it? To me Bitcoin is almost as bad."
"I regard the whole thing as a combination of dementia and immorality," he added. "I think the people pushing it are a disgrace. There ought to be some things that are beneath you, that you just don't do, and this is one."
More so
"I think people who are professional traders that are going to trade cryptocurrencies, it's just disgusting. It's like someone else is trading turds and you decide I can't be left out."
As usual, Munger is not alone in this as his longtime friend has the same line of thought as captured below;
CEO Warren Buffet has expressed similar disdain for the cryptocurrency, claiming it is "probably rat poison squared". Earlier, the Oracle of Omaha dismissed it as a tool for "charlatans", predicted a "bad ending" for Bitcoin, and dubbed it a "mirage" and a "bubble" that would soon burst in spectacular fashion.
However,
Good news is not all in wall street share similar view. Interestingly, Goldman Sachs (in which Buffet's Berkshire has a significant stake) has recently moved to open a Bitcoin trading firm, making it the first major bank to step into the realm of cryptocurrencies.
On a personal note, I respectfully disagree with these folks on their views on bitcoin and cryptos in general as they really do not understand the technology and impact bitcoin and cryptos like steem, eos, ether, elyte.io are having already in many folks lives which they as core capitalists cannot match. Feel free to comment if you agree with them or not with your reasons and resteem to share this, follow for more and kindly support with an upvote.
Read also
Bug attacks twitter and why you need to update your password

See this vital info
Interesting offer from www.elyte.tech
Join Elyte whitelist via this link https://elyte.tech/whitelist.html
Join Elyte bounty via this link and win free cryptos https://docs.google.com/forms/d/e/1FAIpQLSeOcKUUoTU6IKr1qX5osYaWMdVL8-nB5RmroYtYBir6YYof9A/viewform
Join elyte.tech telegram group https://t.me/joinchat/E6tXj0dThqzzjVlWJRuxLw for info on their bounty and thus join the next best thing