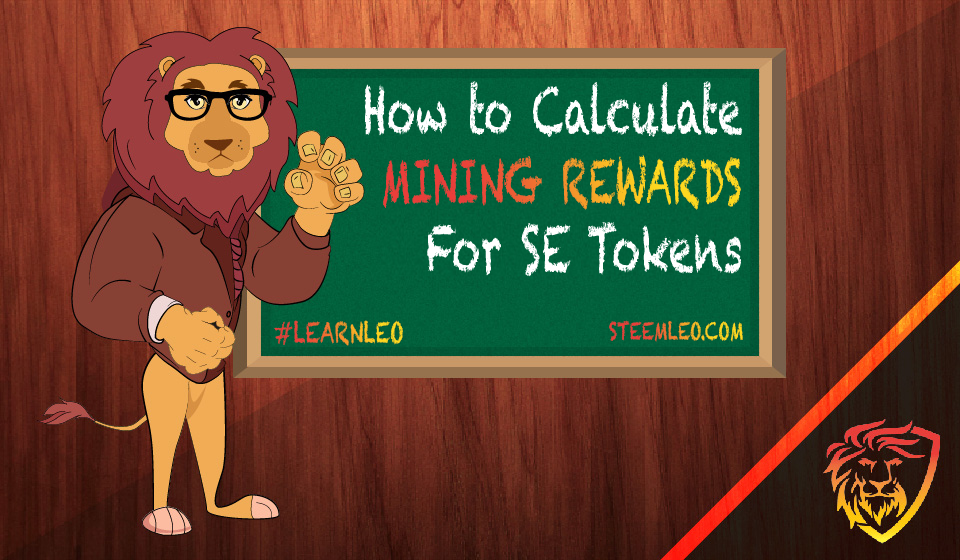 Hello and welcome to the first ever Learn Leo post. Learn Leo is an initiative that we at Steemleo (@steem.leo) have decided to create. The goal here is to teach new and existing Steemians how to use Steemleo and the Steem blockchain.
There are so many tools at our disposal and so many things that can be done on Steem. It's overwhelming for anyone (especially new users) to learn how to use these tools and even learn that they exist in the first place.
Today, Leo the Lion is here to teach you about calculating real-time mining rewards for any Steem-Engine token.

Why is It Useful to Be Able to Calculate Mining Rewards From Steem-Engine Tokens?
The #1 question that is asked in the Steemleo Discord (and I'm sure, for any other tribe) is: "how much will I make if I buy a mining token and stake it?"
Many people ask why there isn't just a set figure that tribes can talk about in a post to tell everyone..
It's not that tribes are keeping some sort of secret about how much the miners earn, it's that the calculation is based upon the total staked mining power which fluctuates constantly.
Digital Mining tokens are just getting started. The skill of being able to calculate the rewards from any digital miner on Steem-Engine will come in handy beyond just Steemleo's as you consider & explore mining tokens in the future.
So without further adieu, here's how you can acquire this skill and calculate the mining rewards from the tools that the beautiful Steem blockchain provides!
How to Manually Calculate Mining Rewards
We'll use LEOM and LEOMM (Steemleo's digital mining tokens) as an example to show you how to calculate mining rewards. Note that you can use this method for calculating the mining rewards of any Digital Miner that's built on Steem-Engine.
1). What is the mining power of each mining token? This is stated by the issuer of the token. For LEOM and LEOMM it works as follows:
1 LEOM = 1 mining power
1 LEOMM = 4 mining power
2). Calculate the % chance of mining based on the current amount of mining power staked.
https://steemleo.com shows the total staked LEOM and LEOMM statistics on the homepage, but not every interface has this feature.
If you don't see these staking statistics for the tribe you're researching, then head over to Steemd.com using the method that follows this image to determine the mining power.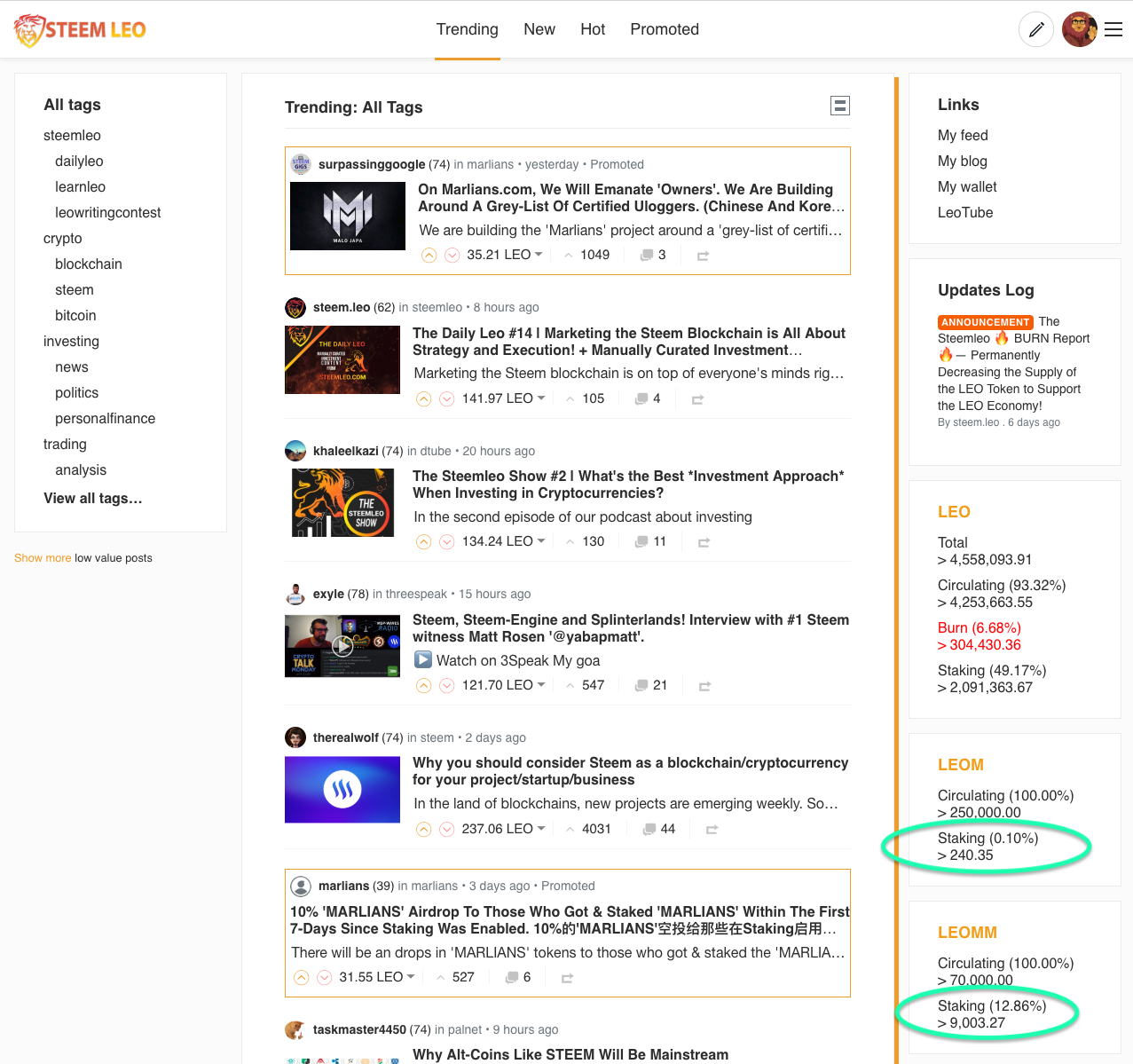 (multiply the LEOMM staking number by 4 to get mining power and then add the total LEOM staking --> 9,003.27 * 4 + 240.35 = 36,253.43)
Ok, here's where you get to use a fun blockchain tool. Head over to Steemd.com/@khaleelkazi (replace "khaleelkazi" with the issuer of whatever token you're researching —> khaleelkazi is the issuing account for the LEO token)
Once you're on Steemd, scroll down and find the the most recent mining claim tx (tx = transaction). The fastest way to do this is to open the search command on your browser, type mining and then your browser will automatically find the latest mining tx:
3). Now take the total mining power that you have staked and divide it by the current total staked_mining_power
i.e. if I have 10 LEOMM miners staked right now, then my mining power would = 40. My % chance of winning a "LEO mining round" would be 0.110334%

(40 / 36,253.413 = .00110334 * 100 = .110334%)
Bam! Now you have your % chance of winning a mining round.
Take that % chance and consider it with the settings of the tribe token you're researching.
For LEO:
the mining rounds are every 1 hour
30 winning miners are chosen
the mining pool is 15% of the total inflation (also see: claim_token_amount from that Steemd TX = 1.12 which is the current amount of LEO tokens paid to each winning miner)
So in my example, I have a .110334% chance of winning 1 mining round every 1 hour and the reward for winning a mining round is a fractional reward from the mining pool (currently ~1.12).

#steemleo - A Tokenized Community for Investors


Steemleo -- Blogging Platform
LeoTube -- Video Platform
LeoPeak -- All-In-One Interface
Join us On Discord --> Steemleo Discord