INTRODUCTION
When it comes to the cryptocurrency trading space, traders are usually faced with varieties of trading limitations. Prominent amongst these is getting an easy trading access to platforms that offer an exchange of a variety of altcoins. This especially does turn off risk-loving traders who love to try out different coins. They find it hard to convert these altcoins as well-known exchange platforms do prioritize listing of the more established coins over the less valued coins.
Another major turnoff is the compulsory registration required to use these exchange platforms. This doesn't only take away the transaction anonymity privileges from the trader, many platforms do require the traders to provide proof of identity before funds transfer services can be possible. Other times, more complex procedures are usually involved.
Summing all these, noobs and even established traders are easily discouraged from actively investing in a variety of coins. Especially because many exchange platforms also require a great deal of technical know-how to use the trading interface.
However, the OnePageX management has taken a step ahead to help us solve these issues by launching a one-page exchange platform that offers cryptocurrency traders exchange of over 150+ cryptocurrencies.
Yes, you read it well! OnePageX is here to promote ease of access to altcoins exchange up to 150+ coins!
OnePageX is an acronym for OnePageExchange which is a newly launched cryptocurrency exchange platform that offers seamless cryptocurrency conversion on a one-page interface. This is done by integrating with exchanges and finding the best prices for which a selected cryptocurrency is offered.
The philosophy behind this platforms' operation is the simplification of trading and conversion process of cryptocurrency which is believed to be a driving force for a thriving crypto economy. This is well stated in the platform's vision statement quoted below:
We believe that ease-of-access is important to a thriving economy. With this in mind, it is our vision to continue adding cryptocurrencies to our selection in order to satisfy every potential users' needs. [Source]
So how will OnePageX change the exchange industry?
As highlighted in the introduction, ease of access, registration limitations, and sophisticated trading platforms really delay trading and conversion process of cryptocurrencies. With these in mind, the OnePageX team is here to eliminate these limitations by offering us the following features:
- No Registration
OnePageX
platform requires no registration before a trader can have access to exchange services as in existing platforms. The user only needs to select the coins he wishes to convert and enter the receiving address.
Once the transaction is created, a "session" is added for the transaction URL. This transaction URL can be saved and revisited to monitor the transaction status until it becomes successful. Also, the addresses used in the transaction can be used indefinitely on the platform.
This doesn't only improve trading but also give the traders control over anonymity as no proof of identity is needed before the service can be used. Isn't that fabulous?
- Easy access to the Largest selection of currencies!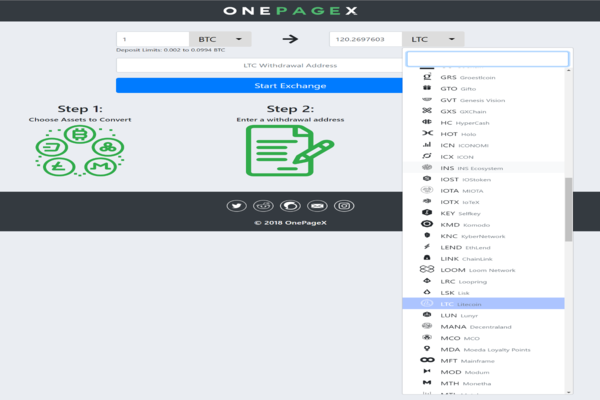 Source
As emphasized in the vision statement, easy of access is a driving force to a thriving economy. The OnePageX team is dedicated to providing its users with easy access to exchange a variety of cryptocurrencies up to 140+ cryptocurrencies!
This is made possible by integrating with exchanges and finding the best selling price for a selected coin. So, traders who take a risk by investing in new coins would find it easy to convert the coins to their preferred altcoins when it is ripe for exchange.
- Simple Trading Interface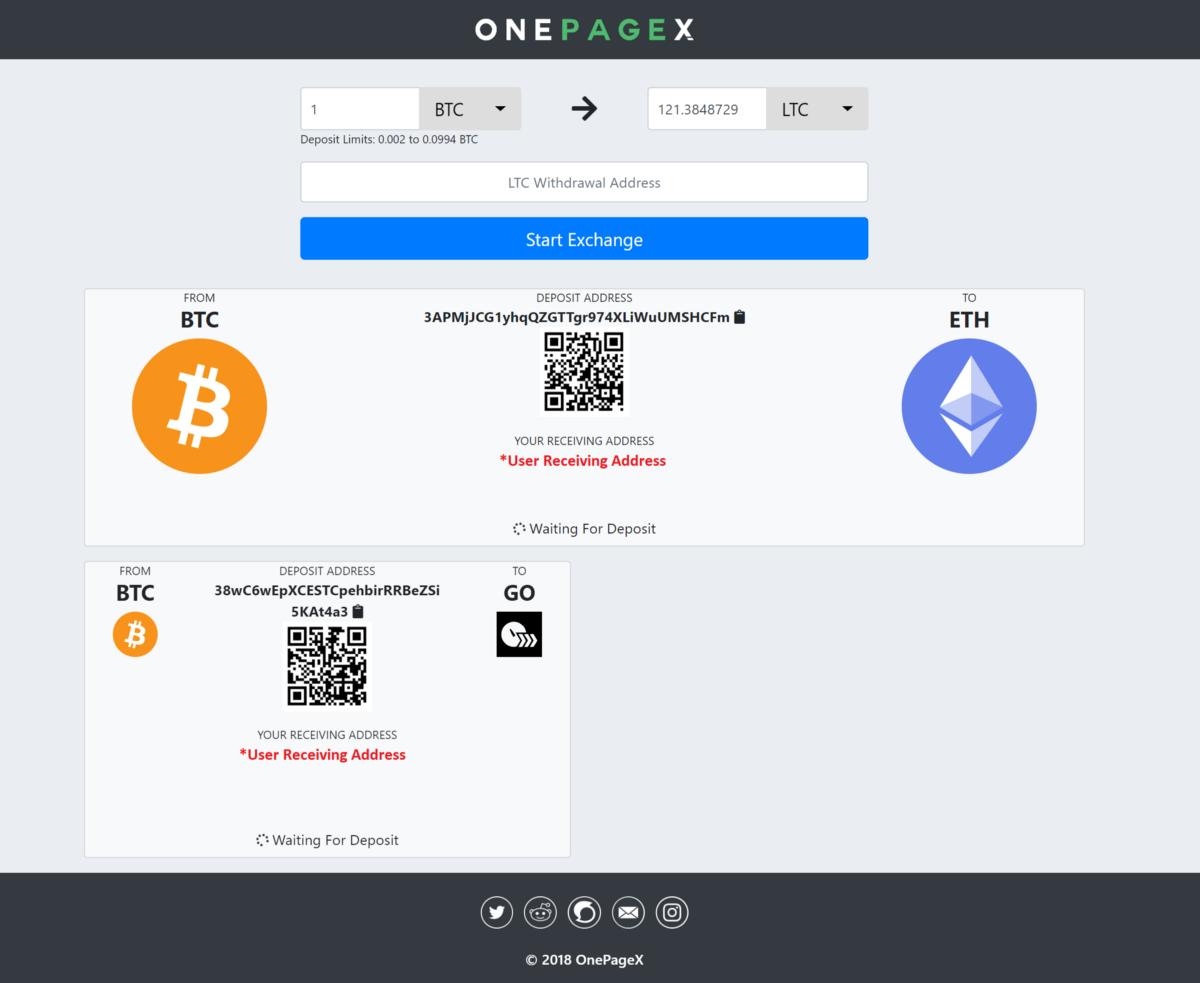 Source
Navigating through a sophisticated trading interface is often a turn off when it comes to crypto trading. Exchanging less popular coins can be very tedious most times as some may require scaling through multiple pages on exchange platforms before getting to convert it to FIAT or a well-established coin. But with the OnePageX platform which offer a one-page trading platform, transaction can't be any easier.
On this one-page interface, coin selection is done, receiving address box is provided and transaction status is also displayed. So, there is no need to navigate through pages to complete an exchange giving noobs and experts a platform of their dream.
How the OnePageX exchange operates
The OnePageX exchange process is completed in three steps:
Choosing of Assets to convert
Inputting of withdrawal address
Clicking of the "Start Exchange" button

Source
So basically, a OnePageX exchange transaction involves selection of the preferred coins, provision of receiving address and initiation of the exchange process. In keeping the trading simple, OnePageX offers a display of the transaction stages as it initiates till it is completed. This is referred to as Transaction Cards which shows the status of the transaction as it awaits confirmation and transfer.
As each transaction is initiated, it is being displayed as a transaction card. This card acts as a transaction status indicator to give the user an idea of the current state of their transaction. Below are the transaction status indicator levels as represented in form of transaction cards:
How fast are transactions on the OnePageX exchange platform?
The OnePageX platform doesn't have its additional processing time as transactions only depends on confirmation of the deposited currency. Once the confirmation stage is passed on the blockchain, the transaction is completed almost instantly. So, the speed of the transaction is dependent solely on the currency being converted. So, it is advised that the appropriate transaction fee for each currency is used when converting.
Currently, as a newly launched platform, BTC is the founding coin from which other coins can be converted. The team is actively working on adding others.
The OnePageXWidget - OneBox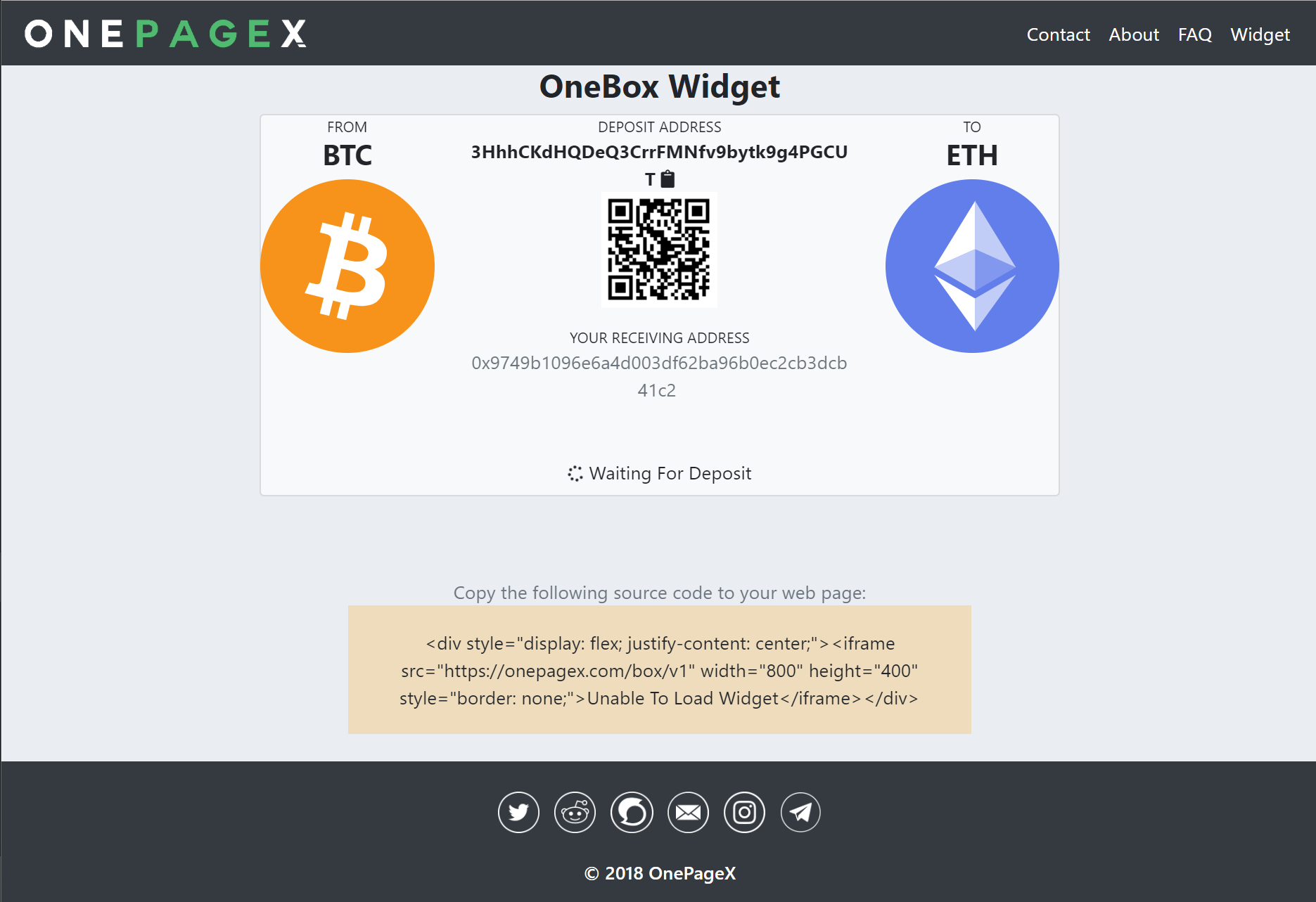 Source
Other than making life easy for traders on the OnePageX platform, the OnePageX team has also developed a widget called the OneBox Widget. This widget can be integrated into websites giving their users access to a seamless exchange platform experience without leaving their website. This doesn't only help them retain more users on their website but also give them an edge over other websites that only provide references.
The OneBox integration only requires the copying and pasting of a snippet to the web page. Once the source code is embedded within the page, bloggers are given the power to offer their users a quick cryptocurrency exchange service while they explore their articles.
Use cases of the OnePageX platform
Case I - Individual
Nicolas is an airdrop expert who has gathered varieties of coins over the years of his active participation in the airdrop community. It was a time whereby the majority of the free coins he got rose at a rate significantly higher than the established coins. So he thought to convert this coins to the established coins as the rates wouldn't be as high as it was some weeks ago. He opted to search the web for exchange platforms that offer conversion of varieties of coins and viola! the OnePageX exchange platform popped up. On visiting the page, he was so happy seeing the numbers of coins listed on the platforms.
He was able to seamlessly convert his coins while also discovering more coins he could invest in.
Case II - Business
Dorcas is a new crypto blogger who is finding it hard to attract subscribers and visitors to her web page. She decided to conduct a research on services that her competitors are offering that made them unbeatable. On completing her research, she found out that she has implemented almost all the services that they offer and their stronghold was owing to the big share of users that have attracted overtime and highly budgeted promotions they do.
She sat down to research on a new service she could add to her blog to shift the momentum to her page and she thought of adding an exchange service to her page. She knew that will cost her more funds to hire developers and might actually lead to her losing more users probably due to a temporary suspension of her page for the upgrade. While searching around for alternatives, the OnePageX website popped up in her search results. She discovered the OneBox widget and took no time to integrate it into her website.
After a little promotion of her new service, Dorcas now owns the biggest share of users.
Summary
So the OnePageX platform give users easy access to varieties of coins and operates in a simple and understandable interface. Anonymity issues, registration delays and ease-of-access to altcoins for exchange is thus solved.
Also, with the OneBox widget, websites can benefit in the quick crypto exchange service that they can offer their users while they explore their website.
---
More Information and Resource
OnePageX Website
OnePageX FAQ
OnePageX OneBox
OnePageX Twitter
OnePageX Medium
OnePageX Steemit
OnePageX Telegram
This is my entry for the @originalworks writing contest
My Twitter Link
onepagetwitter
onepagex2018